| Net Worth: | $20 million |
| --- | --- |
| Age/Date of Birth: | September 25, 1965 |
| Height: | 6 ft 8 in or 203 cm |
| Ethnicity/Race: | Black |
| Nationality: | American |
| Wife or Girlfriend: | Karen McCollum (m. 1988, div. 1990), Larsa Younan (m. 1997, div. 2018) |
| Parents: | Preston Pippen and Ethel Pippen |
Scottie Pippen is an American retired professional basketball player who is best known for his days with NBA's Chicago Bulls where he accomplished tremendous feats (including winning 6 NBA championship titles) alongside Michael Jordan.
Pip, one of the 50 Greatest NBA Players in History retired from the NBA in 2005 to become a basketball analyst for the Bulls, ESPN, and ABC. He returned to pro basketball briefly in 2008 playing in Europe. In 2010, he became an ambassador for the Bulls and In 2012, a senior advisor to Bull's President/COO Michael Reinsdorf. He has also worked as a special assistant coach for the LA Lakers.
During his 17-year NBA career, The Legendary NBA player was named the All-NBA First team three times, He also earned about $110 million in salary alone. Scottie Pippen currently has a net worth of about $20 million.
How Scottie Pippen Began and Built His Net Worth
Scottie Maurice Pippen was born on September 25, 1965, in Hamburg, Arkansas. Being the last of 12 children, he was also the tallest; thanks to his parents who both stood at not less than 6 ft. Pippen began making waves in high school basketball. As a point guard at Hamburg High School, he led his team to the state playoffs. By his senior year, he earned all-conference honors. Pip's high school stats meant he would go on to have a decorated college career. However, his parents who were low-income earners couldn't afford college tuition and he didn't receive any college scholarships.
As fate would have it, Pip got invited to the University of Central Arkansas to serve as a student manager of the basketball team. Soon, he got a place on the college team as a walk-on. As Pip grew in height so did his performance on the court. His skills eventually attracted attention from NBA scouts.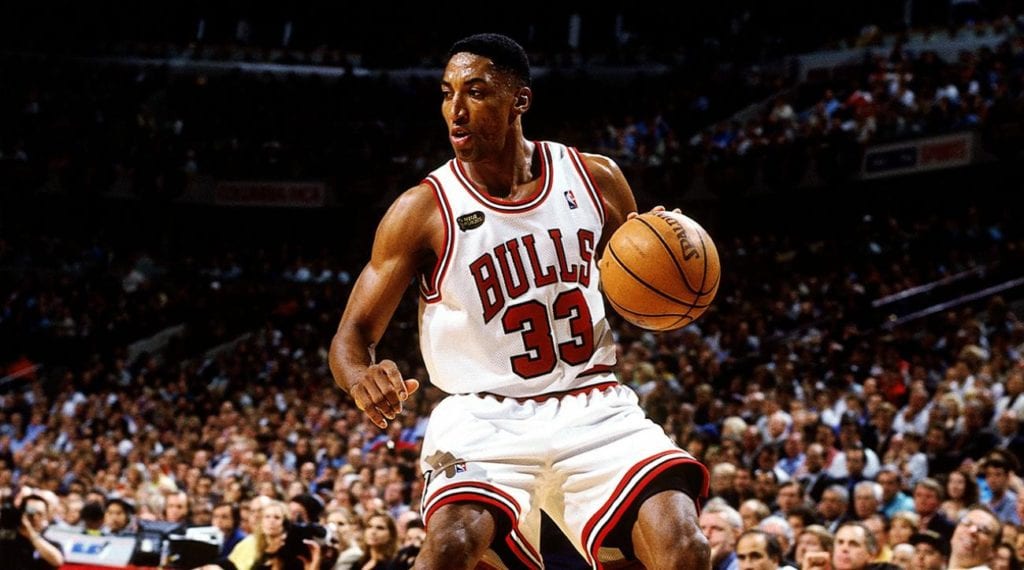 NBA Career And Earnings
Pip was selected fifth overall in the 1987 NBA draft by the Seattle SuperSonics. However, a few weeks later, he was traded to Chicago Bulls for Olden Polynice and a draft pick. After a moderate rookie season where he earned $725,000 in salary, Pippen proved himself in the 1988/1989 season. First, he landed a berth in the starting team for the first time and then, led the team to her first-ever conference semi in over 10 years.
Scottie Pippen improved into one of the most versatile players in the NBA, playing as a point guard, power forward, off guard, and small forward. He trained frequently outside team practices with MJ and together, the duo not only led their team to the NBA title in 1991 but also helped boost the popularity of the sports by winning the title three consecutive times in 1991, 1992, and 1993.
In 1992, they also became the first players ever to win an NBA title and Olympic gold medal in the same year as they both played for the first US Dream team in the 1992 Barcelona Olympics. Following his first NBA title win in 1991, his annual salary graduated from 6 to 7 figures. The following season, he earned around $2.7 million.
Following the departure of MJ in the 1993/1994 season, Pippen emerged as the star player of the team. However, he was unable to lead the team to an NBA title until the return of MJ in the 1995/1996 season. The Bulls staged a second three consecutive win of the NBA title. Pippen also won gold with the Team USA at the 1996 Atlanta Olympics, to become the first player ever to win Olympic gold and NBA title in the same year twice. During the 1996–97 season, he was named as one of the 50 Greatest Players in NBA History.
After 11 decorated seasons, the Bulls in the 1998/1999 season traded Pippen to the Houston Rockets for Roy Rogers. The move saw his salary increase about four times from $2.7 million to $11 million. However, after one season, he was traded to the Portland Trail Blazers with his salary increasing to almost $15 million. His peak salary with the side and the highest in his career came in the 2002/03 season when he earned over $19.7 million.
After 4 seasons with the Blazers, Pippen returned to his roots, signing a two-year, $10 million deal with the Bulls. He fulfilled the terms of his deal, retiring after the 2004/05 season. His No. 33 jersey was retired by both the Bulls and Central Arkansas. In 2011 the Bulls honored him with a bronze statue in their home arena, the United Center.
He Enjoyed Lucrative Endorsement Deals That Made Him Wealthier
Because of the fame and attention exceptional athletes get, they are often pursued by popular brands and organizations that are eager to have them promote their products or advocate for the services they offer. Given that Scottie Pippen was one of the most outstanding sportsmen of his era, it is only natural that he received a lot of endorsement deals.
Pippen made good money from endorsement deals with the likes of Nike, Coca-Cola, Right Guard, McDonald's, and Mr. Submarine. He banks from his own sneaker brand with Nike and is in partnership with brands like Market America, and Prime Joint Support Formula by Isotonix, a joint health food supplement.
That's not all, he featured in several commercials for famous brands like Visa USA TV and Frito-Lay. In 1996, it was suggested that he's making as much as $3 million from his off-the-court endorsements.
How Much Did He Make from Nike?
To the best of our knowledge, Scottie Pippen's endorsement deal with Nike is among his most lucrative. First, he made a three-year pact with the famous multinational corporation, and when it was time to renew the contract, it circulated that he would get a better deal with the footwear firm. But then, the figures involved were never disclosed to the public.
It was towards the end of the 1996-97 NBA season that Nike released an official Pippen shoe which came with its own logo and whatnot, it was called the Nike Air Pippen 1. Over the years that followed, Nike released the Nike Air Pippen 2, Air Pippen 3, Pippen 4, and Pippen 5.
Following his retirement, Nike would release one more Pippen model called Pippen 6. In view of this, one can conclude that Scottie made several millions of dollars from his partnership with the footwear company.
Scottie Has Made Good Profit from Investing in Real Estate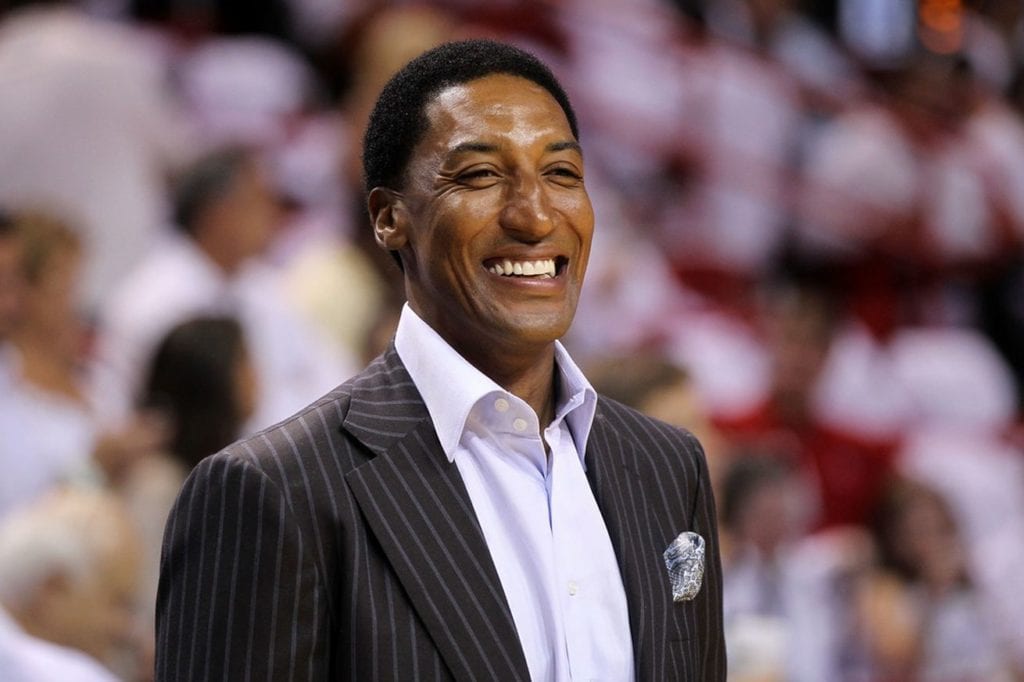 While his career blossomed, Pip spent a part of his paycheck on real estate shopping. In 1993, he had a 21-room mansion custom-built in Highland Park, Chicago. The house came complete with its own basketball court and gym. He sold it in 1996 for about $1.8 million. Shortly after the sale, he purchased a house in Lake Shore Drive, Gold Coast Illinois for $850,000, a decade later, he sold it for $1.43 million. In 1998 he bought 10.5 acres on Telegraph Road in Lake Forest for about $1.8 million which he later sold.
Again, in 2004, Pip bought another Highland Park mansion for $2.3 million. Pippen and his wife expanded the 10,500-square-foot, 5 bedrooms, and 5.5 bathrooms mansion to include a pool and a gym. They placed it on the market in 2016 for $3 million. He also owned a 6-bedroom, 9,782-square-foot mansion in Fort Lauderdale, Florida which he placed on the market for $11.5 million.
Scottie Pippen Had Some Financial Issues But He Never Filed for Bankruptcy
The world has seen several wealthy and famous people who blew their wealth away due to reckless spending and poor decisions. At some point, it was claimed in various quarters that the former basketball player had lost almost all of his money and had to file for bankruptcy, this is not true.
From what we gathered, the Scottie Pippen that filed for bankruptcy is Scottie Lee Pippen and not Scotty Maurice Pippen (Scottie Pippen). Given that the names are similar, it is easy to see where the confusion emanated from.
That being said, the 6-time NBA champion has faced some financial problems. Prominent among them was the one involving a financial adviser named Robert Lunn. Through the adviser, Scottie invested more than $20 million. Almost as soon as he retired, he learned that the man is being investigated for bank fraud. Among other things, Lunn forged Pippen's signature on a $1.4 million loan that he used to pay off personal debts. He was sentenced to 3 years in prison.
How Much Does His Net Worth Compare to Michael Jordan's?
Scottie Pippen is reportedly unhappy with Michael Jordan over how he came across during 'The Last Dance' documentary pic.twitter.com/da5RG1PWrO

— Bleacher Report (@BleacherReport) May 21, 2020
Based on the foregoing, it is clear that Scottie Pippen was well-rewarded financially for being a remarkable basketball player. It has been over a decade since he retired, so the fact that he is still worth $20 million shows that he has been very prudent and has continued to stay relevant.
Pippen played alongside Michael Jordan who has remained the most prominent name as far as professional basketball is concerned. Given that, people often wonder how they have fared since they retired with many comparing their earning power and net worths.
Anyway, it's quite embarrassing to compare Scottie's net worth to Jordan's. Pippen's $20 million fortune is massive, but it is nothing compared to Michael's who is now a billionaire. His wealth is currently estimated at a massive $1.6 billion.
The NBA Legend Is Married to Larsa Pippen But the Union Is Troubled
Birth Name: Larsa Younan
Date of Birth: July 6, 1974
Duration of Marriage: 1997 –
Occupation: Reality TV star and Model
The former NBA star got married to Larsa Younan on the 20th of July 1997. Larsa is an Assyrian-American former model and Bravo TV star. Their union has been blessed with four kids but the marriage is heading down the drains.
In about two years, the couple has filed for divorce twice. First, it was Scottie that filed for divorce in October 2016. This happened a few days after Larsa called the police to complain that Pippen was being verbally abusive. At least twice, the police had to visit their Fort Lauderdale home over reports of domestic violence. People expected the couple to part ways but they sorted things out in February 2017. Nevertheless, the reconciliation wasn't meant to last.
In November 2018, Larsa filed for divorce citing irreconcilable differences at the LA County Superior Court. From what we gathered, she is asking for spousal support and for the court to share their property.
Meet Scottie Pippen's Children With Larsa
Even though their marriage may not survive for years to come, Scottie and Larsa would always have reasons to be a part of each other's life, thanks to their four kids: three boys and a girl.
Scottie Pippen, Jr
Date of Birth: November 10, 2000
Occupation: College Basketball Player
Almost that time????…Year 2 pic.twitter.com/XM40QKZkwe

— Scotty Pippen Jr (@spippenjr) November 21, 2020
Scottie Pippen Jr. is the first child of the NBA star and his second wife. Like his father, Pippen Jr. is a basketball player and he hopes to someday play in the NBA. As of this writing, he plays as a guard for the Vanderbilt Commodores men's basketball team which represents Vanderbilt University in the Southeastern Conference.
Preston Pippen
Date of Birth: Sometime in 2002
Occupation: High School Basketball Player
https://www.instagram.com/p/B1j40oLFrcx/
The second child of Larsa and Scottie, Preston has followed the footsteps of his father and older brother. He plays basketball for Sierra Canyon High School as a guard. Preston is quite an internet celebrity as he has a verified Instagram account with thousands of followers.
Justin Pippen
Date of Birth: Sometime in 2007
Occupation: High School Basketball Player
Justin is the youngest son of Larsa and Scottie Pippen. Like his older brothers and father, he has also embraced the path of a basketball player. He is a part of the Sierra Canyon High School basketball team.
Sophia Pippen
Date of Birth: Sometime in 2009
Occupation: TV Star and Model
Sophia is the last and only girl child of Scottie and Larsa. She became a part of the fashion and beauty industry at a young age after she was signed to Wilhelmina Kids and Teri B. Talent. She is also a cast member of the children's dance competition television series, Dancing with the Stars: Juniors.
Pippen Had a Short Marriage With His First Wife
Birth Name: Karen McCollum
Date of Birth: Undetermined
Duration of Marriage: 1988 – 1990
Occupation: Undetermined
Scottie got married to his first wife Karen McCollum in 1988 but they quickly parted ways in 1990. Because of how brief their marriage was, and the fact that Karen evades publicity, it is hard to tell why they parted ways and what Karen has been up to.
Nonetheless, it is not a secret that they had a child together, a son named Antron Pippen
Meet Antron Pippen
Date of Birth: November 1987
Occupation: Undetermined
We welcome to the Baltimore Ogden Speaking Academy, Antron Pippen, son of 6 Times NBA Champion Scottie Pippen!!!! #blessed #nba #hardworker pic.twitter.com/BOf245ZZGm

— Marques Ogden (@Marques_Ogden) June 9, 2017
Antron Pippen is the only child that Karen and Scottie had before their marriage hit the rocks. It is hard to tell what Antron does for a living but he tried to walk in his father's shoes. Antron played college basketball for Texas A&M international but never made it to the NBA.
Apart from the children Scottie Pippen had from being legally wed to two women, he also has two others who were conceived by different women from relationships in the past. Therefore, he has a total of 7 kids from four different women.
 Sierra Pippen
Date of Birth: February 17,  1995
Occupation: Undetermined
Mother: Yvette DeLeone
Yvette DeLeone is one of the many women that have been romantically linked with the NBA star. What they had led to the birth of a daughter named Sierra Pippen. Sierra was arrested in 2015  for peeing publicly in a Sheraton Iowa City Hotel lobby. Apart from this arrest, she has had quite a number of unruly altercations with the law from drunk driving to bad conduct. Many attributes these behaviors to lacking a father figure in her life.
Taylor Pippens
Date of Birth: July 20, 1994
Occupation: Volleyball Player
Mother: Sonya Roby
Scottie Pippen's relationship with Sonya Roby led to the birth of a set of twins named Taylor and Tyler Pippen. As fate would have it, Tyler passed away a few days after the twins were born. It is said that Taylor doesn't have a relationship with her father and she was once a volleyball player.
Profile Summary
First Name:
Scottie
Last Name:
Pippen
Also Known As:

Scottie 2 Hottie, No Tippin' Pippen (Nickname given by restaurant workers), Pip
Sex/Gender:

Male
Profession:

Former professional basketball player
Famous For:
Being a 6 time NBA Champion with the Chicago Bulls, 7 time NBA All-Star champion, and 8 time NBA All-Defensive First Team champion, He is also known for winning two Olympic gold medals with USA's national team in Barcelona in 1992 and Atlanta in 1996. He is also known for becoming a part of Naismith Memorial Basketball Hall of Fame, class 2010
Colleges/Universities Attended:

University of Central Arkansas
Educational Qualifications:

N/A
Religion:

N/A
Birthday & Zodiac

Age/Date of Birth:

September 25, 1965
Zodiac Sign:
Libra
Birth Place:

Hamburg, Arkansas, USA
Nationality:
American
Ethnicity/Race:

Black
Country of Residence:

USA
Physical Attributes

Height:

6 ft 8 in or 203 cm
Weight:

103 kg or 227 lbs
Eye Colour:

Dark Brown
Hair Color:

Black
Other Body Measurements:

Chest – 50 in or 127cm
Arms / Biceps – 16 in or 41 cm
Waist – 37 in or 94 cm
Relationships

Marital Status:

Divorced
Spouse/Partner:

Karen McCollum (m. 1988, div. 1990), Larsa Younan (m. 1997, div. 2018)
Family and Relatives

Father:

Preston Pippen
Mother:
Ethel Pippen
Children:

Antron Pippen, Sophia Pippen, Justin Pippen, Preston Pippen and Scottie Pippen, Jr.
Siblings:
Scottie has a total of 12 brothers and sisters
Other Relatives:

N/A
Net Worth
Estimated Net Worth:

$20 million
Salary:
He finished his career with salary earnings of $109.9 million
Source of Wealth:

His basketball career, television appearance,