Several iconic names have graced the world of late-night talk shows since its inception. In modern times, names like Jimmy Kimmel, Stephen Colbert, and Jimmy Fallon have been the dominating personalities in the world of late-night talk shows and have earned considerably for their work. However, David Letterman's net worth stands well above them.
His high net worth is a further example of his iconic and legendary status in the world of late-night talk shows. There are very few people who would argue a declaration that David Letterman is one of the greatest late-night show hosts in history. He is a legend of late-night TV and it is why he is one of the richest late-night hosts in existence.
Although he has since retired from the talk show game, he continues to make a considerable sum through his show on Netflix. Here is his net worth along with what he does with his money.
What is David Letterman's Net Worth?
You may very well argue that he is the best in the world of late-night talk shows and that very well be true but when it comes to wealth, David Letterman does not stand at the apex of talk show hosts.
However, even though he is not the richest TV host ever, David Letterman is very much up there among the richest in the medium. According to sources like Celebrity Net Worth, he has an estimated net worth of $400 million.
According to a similar platform, The Richest, where his fortune and earnings were presented with more detailed analysis, he is believed to be worth an estimated $425 million.
His astounding net worth began its growth when he hosted his first TV show, The David Letterman Show in 1980. The show ran for 90 episodes and the talk show legend earned $1 million in salary per year. His second show, Late Night with David Letterman, which began in 1982 saw him earn as much as $7 million per year and by the time his name became a household name, and his iconic status had been well established, he was earning as much as $40 million per year. This was earned while he hosted the show, Late Show with David Letterman, which ran from 1993 until his retirement in 2015.
While his salary alone has been enough to make him a really rich man, his large net worth has been down to owning the rights to all the contents produced on his show. The contents, which are owned by his production company, Worldwide Pants, has enabled him to earn residual income from reruns of the show and syndication rights to other media outlets.
Outside of owning the contents of his show, his production company also owns the right to shows like The Late Late Show and the popular sitcom, Everybody Loves Raymond.
How Does He Spend His Money These Days?
When you are as rich as David Letterman, luxury is a given and spending big on a variety of luxurious items comes at a very small price.
Since he became a wealthy man, David Letterman has spent his money on some choice items and made some notable investments, starting from the late 90s when he bought a small stake in an auto racing team. Over time, his stake in the auto racing team has grown and the team is now named Rahal Letterman Racing.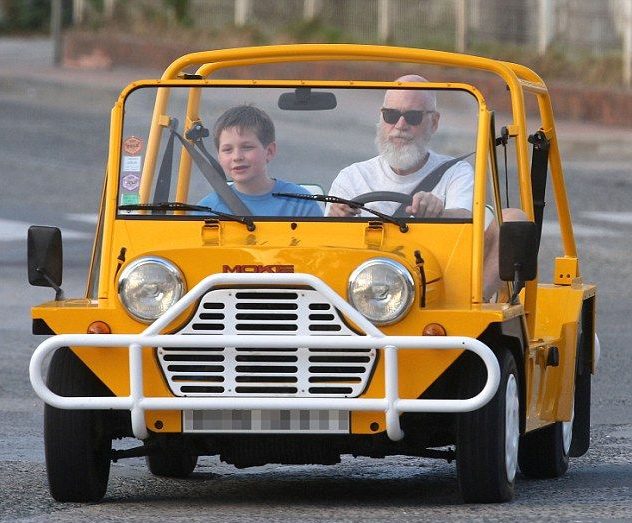 Just like a variety of comedians, David Letterman is also a big fan of cars and he has spent a considerable sum on them over the years. He has an admirable car collection that is worth over $1.2 million. Some of his cars include several Ferraris that are well worth over $1 million on their own and he is believed to be paying as much as $26 thousand in taxes a year for his car collection.

Another major item David Letterman spends his enormous wealth on is his land investments. The Indianapolis born talk show host owns a bunch of land in various parts of New York, such as 108 acres of land he acquired in Westchester County, N.Y for $10 million and another in North Salem in Westchester County that costs $5 million. Other landed properties owned by David includes properties in Martha's Vineyard, St. Barth's and in Montana.

See Also: Jay Leno – Bio, Wife, Age, Height, Cars and Car Collection

When it comes to his money however, the talk-show host isn't spending it on a ton of material things alone. A man with a philanthropic heart, Letterman has given out over $2 million in publicized philanthropic efforts since he became a wealthy man.

His philanthropy has been carried out through his foundation, The American Foundation for Courtesy and Grooming. He also has a scholarship program, Letterman Telecommunications Scholarship that works in partnership with Ball State University.

His other notable philanthropic gestures include a donation of over $600,000 to Habitat to Humanity between 2011 and 2013 and he gave $10,000 in grant for cancer research to Case Western University in 2011.

Fact Check: We strive for accuracy and fairness. If you see something that needs updating,