The 21st century has been very good to the Lesbian Gay Bisexual and Transgender (LGBT) community as it has broken all the limitations and barriers that have hitherto held back this community from being themselves and enjoying their life to their utmost best. Members of this community that had no voice in the past have suddenly found their voice and are expressing themselves freely. In this vein, many members of the LGBT community, from all races and walks of life have been able to make defining life choices and openly enjoy their life and sexuality without being judged or looked down upon. There are several black Americans that are members of this community – who have come out as either being lesbians or bisexual and we will be looking at a few of them here with particular focus on black lesbian celebrities.
Black Lesbian Celebrities and Their Relationship Status
1. Wanda Sykes and Alex Niedbalski
Popular writer, actress, and comedian, Wanda Sykes, officially came out as a lesbian in 2008. That was the same year that she married her longtime lover, Alex Niedbalski. It is worth noting that before Wanda came out as a lesbian, she was once married to producer Dave Hill in 1991. The marriage did not last long before it ended in divorce in 1998. Wanda is currently married to Alex, and they both have two adopted children.
Wanda and Alex Niedbalski who is French first met in 2006 and in 2009, they had their twins; Olivia and Lucas.
2. Dana Owens (Queen Latifah) and Eboni Nichols
Dana Owens popularly known as Queen Latifah – the famous rapper and actress, is one of the most popular black lesbian celebrities. Though she has been coy with answers when asked about her sexual preferences in interviews, she has been in quite a number of relationships in the past.
Although she is more popular with women, she was rumored to have dated Kendu Isaacs from 1992 to 2001. From 2002 to 2011, it was rumored that she dated fitness enthusiast Jeanette Jenkins and then from 2013, she was in an on-and-off relationship with dancer and choreographer Eboni Nichols. In 2019, it was rumored that Eboni had their first child together. There have been recent claims that Eboni and Queen Latifah have been engaged.
3. Robin Roberts and Amber Laign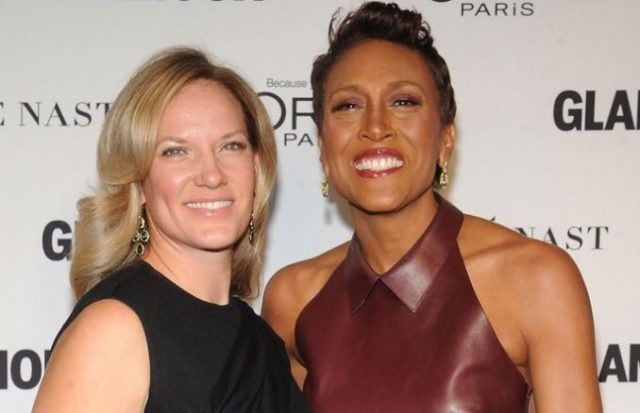 The beautiful television broadcaster is known to have publicly declared that she was a lesbian and prefers dating women in 2013. Robin, who has had a history of medical challenges, has been dating her long term partner, Amber Laign since 2005.
Through all the health challenges of Robin, she has always had the support of her lover who although craves for private life, still manages to appear in public with Robin.
4. Sheryl Swoopes and Alisa Scott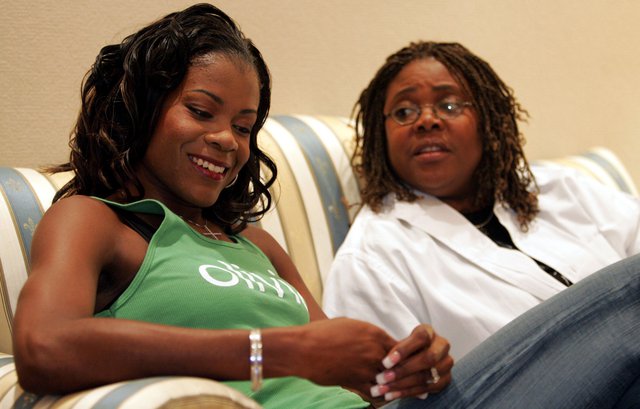 Among other black lesbian celebrities, Sheryl Swoopes has a pretty much interesting and different story considering how her love story moved. She seemed straight to many at first because the retired professional basketball player did not only date Jordan Jackson since they were in high school, but she also got married to him in 1995. The two remained together for the next four years before their union ended in 1999. Their marriage produced a son in 1997 named Jordan Eric Jackson.
In 2005, she became one of the first people in basketball at that level to announce that she was gay. From then, she dated her partner Alisa Scott who was also a basketball player. They parted ways in 2011 and that same year, Swoopes was engaged to her male friend of a long time, Chris Unclesho whom she later married in 2017.
5. Tracy Chapman and Guinevere Turner
Chapman has always been all about her life as a musician and so he has managed to keep her love life away from the media. Although the popular American singer has never come out to publicly make a statement about her sexual orientation, it is known that she is lesbian. More so, she has been identifying with the LGBT community for a while now, and many believe that her very popular song Talkin' About A Revolution, was about her coming out as a lesbian.
She dated a couple of women in the past. Her first known lesbian relationship was with American writer, Alice Walker in the 1990s. According to the writer, she enjoyed the relationship which she described as delicious and no one's business. After this relationship, Chapman later started another relationship with actress and screenwriter, Guinevere Turner. The two have maintained a notoriously private relationship that hardly is anything of significance known about them. In 2010, it was reported that the two were planning in together.
 6. AzMarie Livingston and Raven-Symone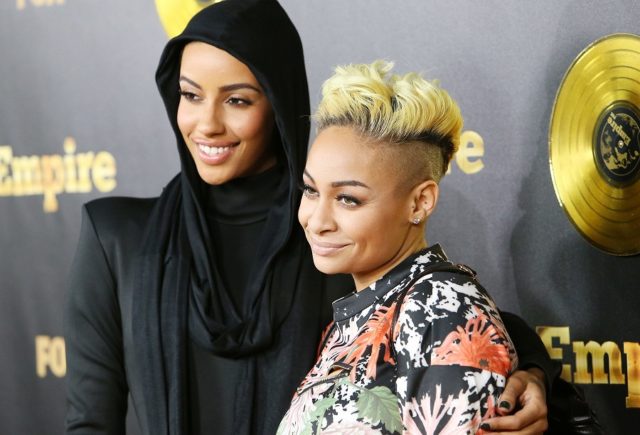 In 2015, Livingston revealed that she had troubles reconciling her gender identity as a black woman and her sexual identity. She is one of the black lesbian celebrities that came out very early in their lives as she was only 14 when she identified as bisexual. It was easy for her father to accept it because he was gay. Growing up as a tomboy, it was also not difficult for her mother to also accept her and she even went with her to her girlfriend's house when she revealed to her that she was already in a lesbian relationship.
The popular model, actress, and Disc Jockey is known to have been in a very serious relationship with Raven Symone for about 5 years before they ended their relationship rather abruptly. It seemed like the perception of the public and/or Raven's own confusion about her sexuality affected the relationship with Raven. Since the relationship came to an end, Livingstone has managed to keep her relationships away from the public and so it is not known if since then she has dated anyone secretly.
7. Felicia Pearson and Bernice Burgos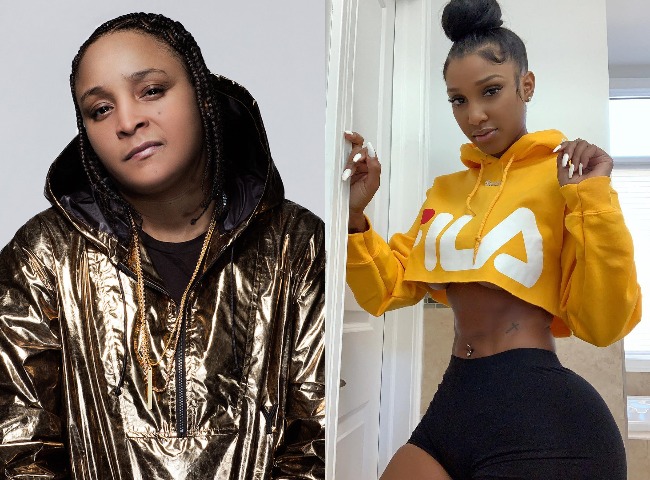 Growing up as a child, Felicia Pearson wasn't sure about her sexuality until her Uncle, Arnold, introduced her to his lesbian friend to "show her the ropes", she was 12 at the time and her lesbian friend was 6 years older. She hasn't looked back since then and has always been upfront about her preference for dating women. She stated in a recent interview that she can't wait to "put a big rock" on the fingers of her current lover when the time is right.
Looking at her dating history, the rapper was in a relationship with Judith "J" Adrienne. The two dated for a long time and although they had some misunderstandings on Love & Hip Hop New York, they still managed to pull things through but by December 2016, the two had parted ways. As of this writing, Felicia Pearson is dating Instagram model Bernice Burgos whom she met in 2018. She stated in a recent interview that she can't wait to "put a big rock" on the fingers of her lover when the time is right. More so there have been plans for having children.
8. Tessa Thompson and Janelle Monae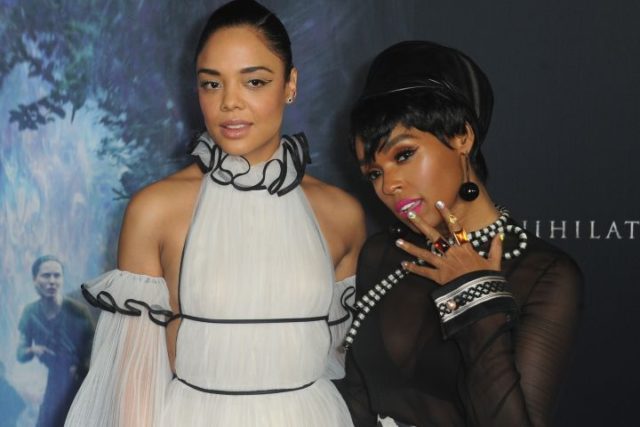 The Thor: Ragnorak star actress Tessa Thompson is very open about being bisexual, and she stated in an interview that none of her family members has any problems with her sexuality. However, she has always preferred not to label herself.
Tessa has been linked in the past to Ben Crowley in a relationship that was highly publicized. Nonetheless, it ended almost as soon as it began. Currently, she is rumored to be dating singer Janelle Monae who came out in 2019 to identify as pansexual. The two are said to be protecting their "fragile" relationship and declining to speak to the public about them right now.
9. Dee Rees and Sarah Brown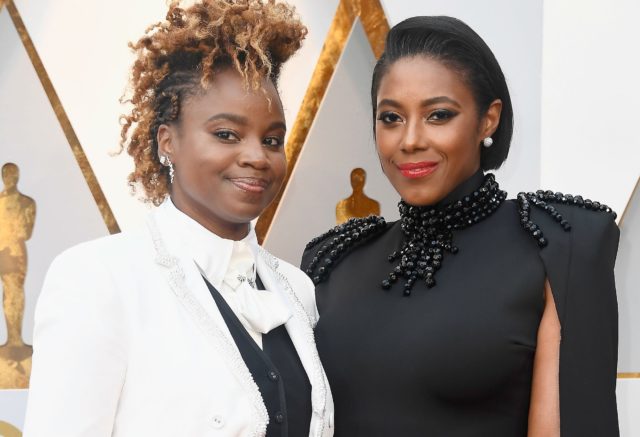 In the community of black lesbian celebrities, Dee Rees holds a rather special place. When the popular director and screenwriter came out when she was much younger she revealed that her parents found it extremely hard accepting it. They kept calling, texting and emailing her to have a rethink and change of mind, they went as far as sending her bible verses to help her remember her Christian upbringing and help her change her mind, but she remained adamant and stood her ground. She would later cut off all communication with them until they came to be more accepting.
Dee has been in a relationship with her partner, Sarah Brown – who is a poet and writer, and their relationship blossomed to the level where they decided to get married, and they are still madly in love with each other till date. Dee revealed that her popular movie Pariah which captures the struggle of a young woman coming out as a lesbian is actually a semi-autobiographical work that captures her coming out in her late 20s as well as how her parents felt guilty for who she had become.
With her film Mudbound, she got an Oscar nomination for Academy Award for Best Adapted Screenplay. This made her the first black lesbian woman to be so nominated as well as the first black woman ever to get the nomination.
See Also: 20 Rare Pictures of People with Black Hair and Blue Eyes
10. Raven-Symoné Pearman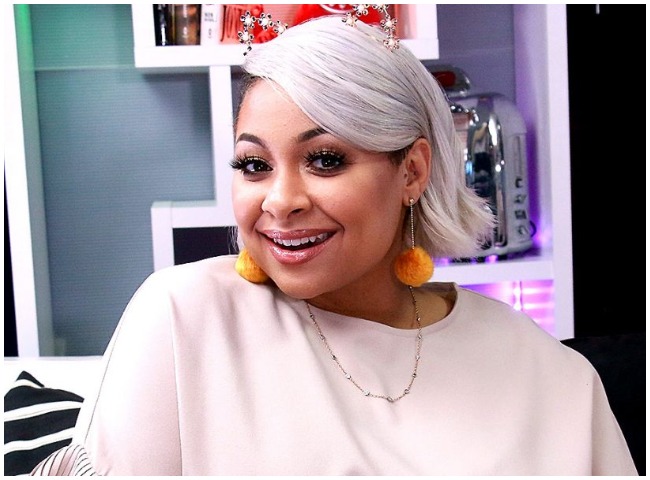 Actress, Singer, and model Raven-Symoné Pearman is one of the celebrities to applaud the decision to legalize same-sex marriages in America. In a 2014 interview with Oprah, she confirmed that she was in a happy relationship with her female lover.
In the past, Raven-Symoné was in a relationship with her partner, AzMarie Livingstone – a model and singer, who she later broke up with in 2015 after dating for three years. Raven who has always maintained that she wants her sexual life kept private may probably be in another relationship presently that she has refused to disclose to the public.