Movie stars and musicians may constitute some of the most popular personalities in Hollywood but stardom is not their exclusive preserve. We also have celebrity chefs and two of the biggest names amongst these ranks are American chef, Bobby Flay and British dynamo, Gordon Ramsay. Both men have quite a lot in common. They are not only blessed with extraordinary culinary skills, which have helped them establish their own signature restaurants, they also boast of charismatic personalities that have enabled them to forge award-winning careers on TV.
Like other celebrity chefs, Flay and Ramsay have scored endorsement deals with several brands. They also have dozens of cookbooks to their names and have both been inducted into the Culinary Hall of Fame. All these achievements have resulted in significant wealth for both men with their net worth running into tens of millions of dollars. It must however be noted that one of them tops the other with a higher fortune.
As at the time of this writing, Bobby Flay's net worth is $30 million while Gordon Ramsay's net worth is $220 million
Bobby Flay Vs Gordon Ramsay: How Both Chefs Acquired their Respective Fortunes
Bobby Flay has 25 Restaurants to his Name While Gordon Ramsay owns about 35 Restaurants Worldwide.
Bobby Flay and Gordon Ramsay followed varying routes to get to the top of the culinary world. While the American chef fell in love with cooking at the age of eight and pursued it from thereon, Ramsay's first love was football. He, however, left it after a niggling knee injury and turned his sights to the food industry. Both Flay and Ramsay would undergo formal training before going on to work as an assistant for other chefs. They later opened their own establishments as their profile grew.
Gordon Ramsay opened his very first restaurant, Restaurant Gordon Ramsay, in the Chelsea area of London in September 1998. Since then, he has opened an additional 34 establishments which are spread out over Europe, North America, and Asia. These establishments are not limited to fine dining alone. There are also grills, pubs, and burger places. On the other hand, Bobby Flay scored his very first restaurant, Mesa Grill, in November 1993. Since then, he has gone on to open an additional 24 places which majorly showcases his fine southwestern cooking style. There is also a chain of casual dining places known as Bobby's Burger Palaces.
It is estimated that Bobby Flay makes tens of millions of dollars per annum from his restaurant. While this is an impressive figure, it quickly pales when compared to that of Gordon Ramsay whose establishments generate about $150 million in revenue in a single year. Such disparity may be down to the fact that Ramsay's restaurants have accumulated a distinguished 16 Michelin stars, out of which 7 are still existing, while Flay's have only acquired one which was later taken away.
My new cookbook #BobbyAtHome is released on Tuesday (!!) but I'll be making appearances beginning on Monday… visit this web address for all of my book tour info.. can't wait for you to check this one out: https://t.co/OPgKKspdIp pic.twitter.com/FGA6zkDM0G

— Bobby Flay (@bflay) September 19, 2019
Bobby Flay has Penned 13 Cookbooks While Gordon Ramsay has Authored about 26
No celebrity chef is complete without some cookbooks to his name and as such, Bobby Flay and Gordon Ramsay have penned several. On Ramsay's part, he has authored a total of 26 cookbooks including Cooking For Friends: Food From My Table (2008), Recipes From A 3-Star Chef (2007), Ramsay's Best Menus (2010), and Gordon Ramsay: Quick And Delicious – 100 Recipes To Cook In 30 Minutes Or Less (2019). Most of these books have gone on to become bestsellers internationally and it is estimated that Ramsay makes as much £1 million ($1.35 million) per book.
On the other hand, Bobby Flay has a publishing deal with Clarkson Potter and some of his cookbooks include Bobby Flay's Bold American Food (1994), Bobby Flay's Grill It! (2008), and Bobby Flay's Throwdown (2012). His latest effort is Bobby At Home: Fearless Flavors from My Kitchen (2019). In it, he shares over 165 approachable recipes and creative variations that cover every day favourites such as pan-seared meats, pasta, roasted vegetables, bountiful salads, and homey desserts. The exact earnings that Flay has made from his books are not known but it is should also be substantial.
My new book 'Ultimate Home Cooking' comes out tomorrow!! You can get a copy here http://t.co/LL5EFOj0tJ pic.twitter.com/SC9T9BhdjH

— Gordon Ramsay (@GordonRamsay) August 28, 2013
Bobby Flay is a Major Star on the Food Network while Gordon Ramsay reigns supreme at Fox (U.S.) and ITV (U.K.)
Bobby Flay and Gordon Ramsay commenced their respective TV careers on a humble note in the 90s. Since then, they have gone on to become some of the biggest cooking personalities on television. Flay is renowned for his good looks and charming smile while Ramsay is famous for his fiery temper complete with expletives. Such contrasting styles have still worked out well for both men as they now have more than a dozen shows between them.
Flay has hosted several of his own shows on the Food Network. They include Brunch@Bobby's, Beat Bobby Flay, Barbecue Addiction: Bobby's Basics, and Throwdown with Bobby Flay. He is also a regular face on other Food Network shows such as Food Network Star and Iron Chef America. On his own part, Ramsay is one of the most ubiquitous personalities on Fox with hugely-popular shows such as Hell's Kitchen U.S., MasterChef U.S., MasterChef Junior, and The F-Word. In his motherland, he also hosts several iconic cooking shows on the leading British network, ITV.
It is estimated that Ramsay makes as much as $400k per episode of his Fox shows (about 51 episodes each year) meaning that he earns about $20.4 million per annum from the network. Across the pond in the U.K., he earns not less than £2 million ($2.7 million) per annum from ITV. Flay, on the other hand, earns about $50,000 per episode. This makes for between $1.8 million to $3 million per annum.
Flay has Invested in Diary Harvest while Ramsay has Several Cookware and Tableware Collections to his name.
Bobby Flay and Gordon Ramsay are not just skilled in the kitchen but also blessed with savvy business acumen. Flay is the founder of Bobby Flay Fit, a service that aims to help people stay healthy by giving them healthy recipes, suggestions for exercise regimes, the latest tips on workout gear, and apps for one's smartphone. The American chef is also one of the early investors in the innovative frozen meals delivery service, Dairy Harvest. He bought into the company in 2017 and has reaped good rewards thanks to the company's continued growth over the years.
With regards to Ramsay, he is the majority shareholder of Gordon Ramsay Holdings and in 2020, sold half of the company's ownership to Lion Capital. He received $100 million in return and will use same to build 100 additional Gordon Ramsay Restaurants throughout the United States in the next five years. Beyond this deal, the British chef also has a lucrative partnership with home and lifestyle products company, WWRD. The deal has yielded several eponymous lines of tableware and cookware collection featuring pasta bowls, dinner plates, mugs, cereal bowls, and dinner sets. These items start from £8 and can reach as high as £150 for the set.
Both Chefs Have Scored Juicy Endorsement Deals over the Course of Their Stellar Careers
Thanks to their star appeal, Bobby Flay and Gordon Ramsay are not without an abundance of companies who want them to serve as their spokesman. Flay has scored juicy deals with the likes of the Greek yogurt company, Fage Fruyo. Another is Sentient Jet, a private aviation company offering industry-leading solutions such as private jet cards and on-demand jet charter.
Ramsay, on his own part, has also endorsed several products over the years, raking in millions in the process. He however faced controversy after appearing in an ad for a South Korean beer named Cass. In the ad, Ramsay described the drink as a great beer and many derided him as they believed that it tastes horrible and is one of the worst beers in the world. Ramsay took the criticisms in stride and maintained that even if the beer was a little too spicy for the delicate European palate, he nevertheless enjoyed it.
When I'm in the kitchen trying out new dishes I always grab a #FAGEfruyo. Sometimes it actually ends up in a recipe!

— Bobby Flay (@bflay) October 7, 2013
Bobby Flay Vs Gordon Ramsay: Who has a Higher Net Worth? 
Given the estimated incomes that Bobby Flay and Gordon Ramsay pull from the different sources above, it is already obvious that Ramsay is the richer of the two and this is as it is. The British chef is about five times richer than his American counterpart as he is worth $220 million while he (Flay) is worth a much smaller $30 million. This great disparity doesn't come as a surprise given that there is also a great disparity in their per annum incomes. While Bobby Flay pulls in about $15 – $20 million per annum, Ramsay earns about $54-$70 million per annum, a fact that has seen him emerge the only chef to make it to Forbes list of the 100 highest celebrity earners for each year.
Bobby Flay Vs Gordon Ramsay Lifestyle 
Both Celebrity Chefs Own Impressive Real Estate Portfolios
Bobby Flay and Gordon Ramsay both have enviable real estate portfolios. Flay owns about four houses including a three-acre estate in the Hamptons, a one-bedroom apartment on Manhattan's east side, as well as a duplex in Manhattan's Chelsea Nabe which value is put at $7.25 million. The American chef's latest purchase is a modern Los Angeles home which he purchased for $6.5 million in 2019. The single-story home measures 3,820 square feet and has four bedrooms and 4.5 baths. There is also a chic kitchen, hot tub, swimming pool, sunbathing terrace, and an outdoor dining area.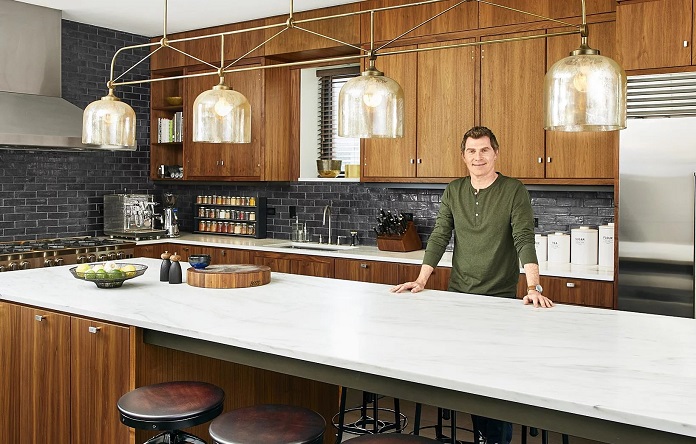 Gordon Ramsay's real estate portfolio is no less impressive. The award-winning British chef owns several homes both in the U.S. and the U.K. They include three different properties in the Cornwall area of England, all of which are worth a collective £11 million. There is also a three-story home in London worth around £7 million. In the United States, Gordon Ramsay maintains a befitting residence in Los Angeles for himself and his family. He bought the Beverly Hills mansion for about £4.3 million in 2012. It features five-bedrooms, six bathrooms, an infinity pool, gorgeous gardens as well as a stunning view of the Los Angeles landscape.
Gordon Ramsay Boasts of a Jaw-dropping Car Collection While Bobby Flay's is Much Reserved
Judging from their respective real estate holdings, it is obvious that there is some parity between Bobby Flay and Gordon Ramsay. However, it is a different ball game with regards to cars. Flay's only known vehicle is an Audi S5 which goes for about $70,000. Ramsay, on the other hand, has an impressive car collection which GQ has dubbed "effing brilliant".
Some of the rides in this sick collection include a Ferrari F355 GTS, Ferrari 500 Maranello, Aston Martin DB7 V12 Vantage, Ferrari F430 GTB, Porsche 918 Spyder (£511,000), Land Rover Defender 110 SVX Spectre JB24 (£245,000), LaFerrari Aperta (£950,000), BAC Mono (£168,000), Ferrari F12TDF, McLaren Senna (£750,000), Ford GT, and Ferrari SP2 Monza (£1.4 million).
Neither Bobby Flay nor Gordon Ramsay has a private jet but they do travel long distances in style. Flay's endorsement deal with Sentient Jet means that he gets free as well as discounted charter flights. Ramsay, on the other hand, does not get free charter flights but his net worth means that he and his loved ones can afford to fly first class.
The renowned chef does not however let any of his five children fly first class as he believes that they should work hard for such a luxury rather than being handed it on a platter of gold. Such a mind-set has caused some stir but Ramsay has stuck to his guns. He has even gone ahead to reveal that none of his kids would inherit his massive fortune or get a substantial trust fund. The only thing they get is some help with the deposit on their flats.
Bobby Flay and Gordon Ramsay Both Have Daughters That Are Following in their Footsteps
Neither Flay nor Ramsay is one to pressure their kids into following in their footsteps. Some of their kids have however caught the culinary bug over the years and have collaborated with them. For instance, Flay's only child, Sophie, is a budding journalist who works for ABC. She has also appeared on some of her father's TV shows including Brunch@Bobby's and Beat Bobby Flay. Sophie and her father also have a cooking show on the Food Network's digital channel known as In The Kitchen with Bobby and Sophie Flay. On the show, the lovely duo whip off delicious family recipes including Sophie's favorites of course.
Gordon Ramsay, on the other hand, has five children but it is his second child, Matilda, that has followed in his footsteps. Just like Sophie Flay, Matilda has a career as a TV presenter. She has also appeared on several of her father's cooking shows including The F-Word, MasterChef Junior, and Hell's Kitchen. Matilda Ramsay also has her own cooking and entertainment show known as Matilda and the Ramsay Bunch. The show debuted in 2015 and follows the family's summer holidays during which she weeps up delicious meals as well as take-outs.