Arnold Schwarzenegger is an Austrian-American actor, filmmaker, producer, former bodybuilder and politician. He has an estimated net worth of over $300 million.
Arnold Schwarzenegger Net Worth: Career Beginnings – Bodybuilding
Arnold was born on July 30, 1947 in Thai-Austria. His first career interest was soccer. However, he chose to focus on bodybuilding instead. At 15, Arnold began body building training and at 17 started contesting in competitions. At 18 he won his first competition, the junior Mr. Europe contest. He was serving with the Austrian army at the time. Arnold won the 1966 Mr. Universe at the second try at the age of 20 making him the youngest ever Mr. Universe. He went on to win the competition three more times.
Arnold saw body building as a ticket to America as one of his dreams was to become "the greatest actor". He moved to the US at the age of 21 and just two years later, Arnold grabbed his first Mr. Olympia title in New York. He would go on to win the title 6 more times. He also won the Mr. World 1970.
As his bodybuilding career bloomed, Arnold began to write columns for several fitness magazines. Today, he is considered as an icon in the field of body building. He owns several gyms and have written many books on fitness.
Arnold Schwarzenegger Net Worth: Business Ventures
Upon his arrival in the US, Arnold schooled and earned a degree in international marketing of fitness and business administration. From the money he made form bodybuilding, he ventured into business. First up was a bricklaying business which proved very lucrative.
Arnold then started a mail order business before venturing into real estate. He became active in the business of buying and flipping real estate properties which soon made him a millionaire. He also invested in a shopping mall in Ohio. He opened a restaurant in Santa Monica and sold it in 1998.
Arnold has since enlarged his investment portfolio. He is a part owner of Texas-based investment firm Dimensional Fund Advisors which has about $414.0 billion in assets under management.
Arnold Schwarzenegger Net Worth: Hollywood
Arnold began his acting career when he was already a millionaire businessman, however, Hollywood brought him worldwide recognition and fame. He made his debut appearance in 1970 movie "Hercules In New York". He got his first Golden Globe award for his role in 1976 movie "Stay Hungry".  Arnold struggled to look the part in Hollywood as he was criticized for his weird sizable body and accent. However, he drew attention with 1977 bodybuilding film "Pumping Iron".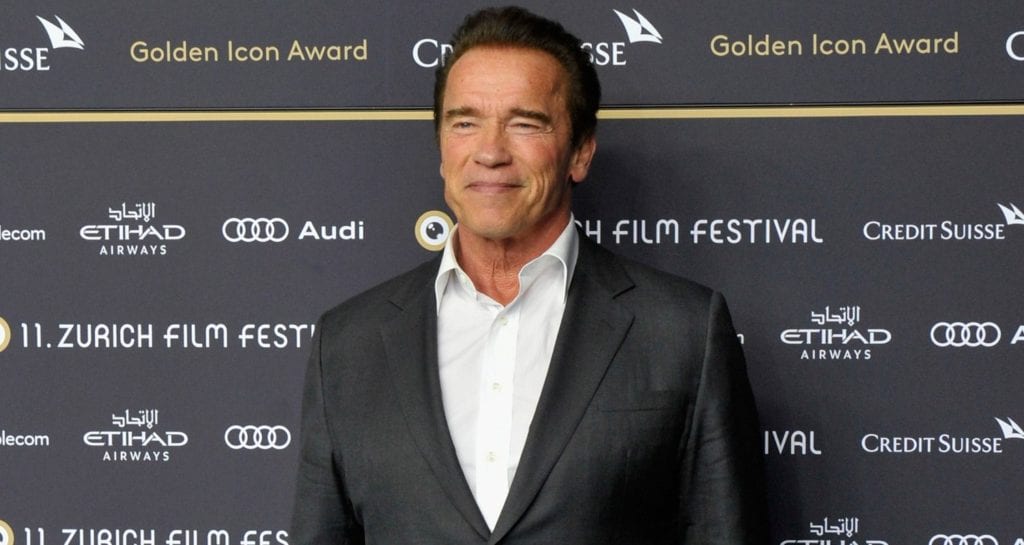 After appearing in a series of movies, his breakthrough came in 1982 sword-sorcery epic movie "Conan the Barbarian" which was a box office hit. Arnold then starred in James Cameron's first installment of Terminator which became his signature role. He soon became an an action superstar, he starred in other box-office hits including "Commando" (1985), "The Running Man" (1987), "Twins" (1988), "True Lies" (1994) and more.
Arnold Schwarzenegger Net Worth: Politics And Return To Hollywood
Inspired by Richard Nixon's speech in the race to the White house, Arnold became a Republican. In 2003 he announced he was going to run for the Gubernatorial recall elections in California. He won the election as was re-elected in 2006. Arnold served as the governor of California for two tenures, leaving office in January 2011.
Immediately after leaving office, Arnold returned to his acting career. The most notable of his comeback movies is The Expendables and its sequels. Arnold also starred in remakes of his previous movies.
In 2016, the former California Governor replaced billionaire republican presidential nominee Donald Trump as the host of Celebrity Apprentice. He made his debut appearance in the 15th season. The show will also feature appearances from billionaire investor Warren Buffet. The new role will undoubtedly boost Arnold Schwarzenegger's net worth. Donald Trump's financial statement revealed that the real estate mogul made over $213 million throughout his 14 season with the NBC show that runs into about $16 million a year.