Amber Rose has been in a relationship with rapper Kanye West and has also been previously married to another rapper, Wiz Khalifa. She does have her own career, Amber Rose is a model, fashion designer, and actress with an estimated net worth of $5 million.
In a bid to provide for her family after her parent's divorce, Amber performed a striptease at 15 years old. Amber rose to limelight when she featured in a Louis Vuitton ad campaign which also featured Kanye's Yeezy.
Amber Rose Bio
If you didn't get the memo, your favourite bad girl Amber is of a mixed race. She was born in Philadelphia on October 21st, 1983 to Irish and Italian father "Michael Levonchuck"  and a Cape Verdean African and Scottish descent mum"Dorothy  Rose." She also has only one brother named Antonio Hewlett. She and her brother have been reported to fall out with each other in the past but things seem to be going well now as the pair has reconciled their differences.
In a bid to provide for her family after her parent's divorce, Amber performed a striptease at 15 years old. Amber rose to limelight when she featured in a Louis Vuitton ad campaign which also featured Kanye's Yeezy.
Modelling And Music
In 2009, she signed a contract deal with modelling agency Ford Models and worked with them for a year. She has walked the NY Fashion Week runway for Celestino. She has also appeared in a number of music videos including Nicki Minaj's Massive Attack, Fabulous' You Be Killin' Em, Wiz Khalifa's No Sleep and Ludacris' What Them Girls Like.
In addition to appearing in a number of music videos, Amber has also released some songs of her own. Her debut single "Fame" which featured her rapper ex-husband was released in 2012 while the second album 'Loaded' was released later the same year. She has also featured in some of Wiz Khalifa's songs as well.
Relationship And Marriage
The gorgeous Amber had a relationship with rapper Kanye West. According to reports, Kanye spotted Amber during the video shooting of What Them Girls Like and as a result, the duo started dating in 2008; however, they split in 2010 just barely two years after. She accused of cheating and being unfaithful to her in their relationship. The lady in question to which Kanye was accused is reality TV star, Kim Kardashian. Interestingly, this turned out to be true as Kanye and Kim later got married and have beautiful kids together.
Moving on, Amber began dating ace rapper Whiz Khalifa. The pair decided to tie the knot in 2013. At the wedding, it is reported that Amber's parents didn't show up and this is attributed to the possibility that her parents think that their race is superior to the black race.
Unfortunately, the marriage crashed in 2014 just barely a year a year into it. They, however, have a son "Sabastian" of whom they both have custody of.
Amber Rose Net Worth: Business Ventures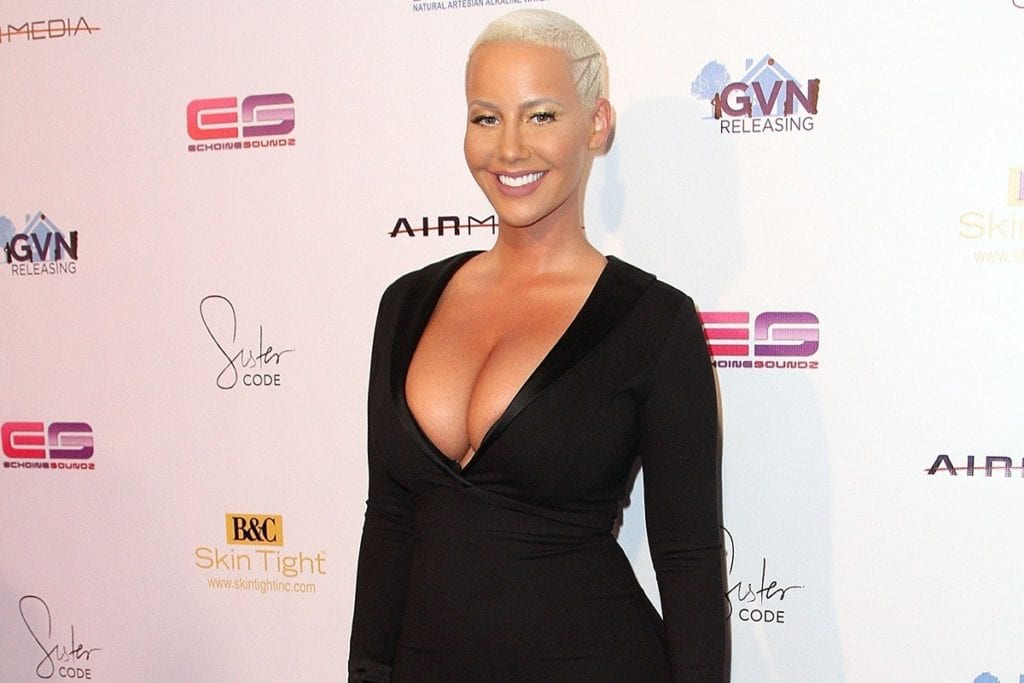 Amber Rose has always had or eyewear since she was little and launched her own eyewear line the "Bash Collection" which is named after her son. She also has a clothing line "Rose & Ono" which she founded in partnership with Priscilla Ono. In her book "How To Be A Bad Bitch", Amber offers candid advice on finances, career, love and fashion.
Also, since 2011, Amber has been endorsing Smirnoff. She has appeared on ads and billboards for Smirnoff's new flavours, Whipped Cream and Fluffed Marshmallow.
TV and Film Ventures
She has made a number of cameo appearances in reality TV shows like MTV's Wild N Out and Running Russell Simmons and as a guest judge on RuPaul's Drag Race, Season 3 and Master of The Mix season 2. Apart from the reality TV shows, Amber has also appeared in a handful of movies including Gang of Roses 2: Next Generation, School Dance which was directed by TV personality Nick Cannon, Sister Code and Zoolander 2. Amber promoted her infamous slut walk with a 2015 video "Walk of No Shame" which was released on comedy video website Funny or Die. The video went viral, sparking huge controversies.
Her Feet And Fetishes
Amber Rose is no doubt a gorgeous mixed raced woman who happens to have great feet of which she loves to flaunt for time to time on the red carpet and high-class events especially visible in her numrous open toe shoes. She also takes routine massages and claims that playing with your partner's feets when in a romantic relationship can add to the fun and sensuality during intimacy.