Instagram was launched only 6 years ago in 2010 and today with almost half a billion users it has since joined the big boys of social media. Like YouTube, Instagram has grown beyond a mere photo and video sharing device. It is now a tool for "InstaModels" to make millions. Through the numerous 15 sec fitness tutorial videos and saucy images they post, InstaModels have been able to garner a mammoth following which in turn helps them land lucrative sponsorship deals and magazine shots. Some of them have used their large fan base to promote their individual businesses. Starting from the bottom up, these are the highest-earning Instagram Fitness Models.
10. Alexa Jean Brown
Earnings: $2.2 million
Many potential mothers worry so much about how to lose pregnancy weight. Well, Alexa Brown's Instagram page may just be your answer. The 24-year-old  mother of one began her Instamodelling career by sharing tips on how to shed pregnancy fat after she gave birth to her first child. Her 2 million Instagram following shows you just how much the info helped many people. And she didn't go unrewarded. Thanks to the popularity she created for herself, her own website which is focused on sharing lifestyle, fashion and of course fitness tips have brought her $2 million. She is also an ambassador for Shredz supplement.
9. Bella Falconi
Earnings: $2.5 million
28-year-old Falconi is a Brazilian model and life coach. She bolsters her modeling income working as a motivational speaker. Her Instagram followers? 2.2 million.
8. Amanda Lee
Earnings: $2.8 million
Amanda Lee is a 29-year-old resident of Los Angeles. When she isn't posing for the cameras, the model works as a fitness coach and a Pilates instructor. Pilates is a mind-body exercise that gives a toned body, it practically transforms the way your body works and looks without excess bulk. Thanks to her 2.3 million IG followers, she's a millionaire.
7. Laci Kay Somers
Earnings: $3 million
A former ring girl for mixed martial arts matches, the 24-year-old still works as a personal trainer. Somers owes her millions to her 2.4 million Instagram fans. The Blondie also promotes Shredz supplement.
See Also: Top 16 Highest Paid Models In The World 2015
6. Claudia Alende
Earnings: $3.1 million
Arguably an astonishing look-alike of Transformers star Meagan Fox, the 22-year-old Brazilian model came 2nd place in the 2014 Miss Bum Bum competition in her native land. Alende models lingerie and has a massive 2.8 million Instagram fans.
5. Abigail Ratchford
Earnings: $3.4 million
Like Amanda Lee, 23-year-old Ratchford lives in LA. Her sultry Instagram posts have won her 2.7 million followers. Her looks and fame helped her land gigs with Sports Illustrated and Playboy. Ratchford supplements her earnings with the online sales of her own clothing line and calendars.
4. Ana Cheri
Earnings: $3.5 million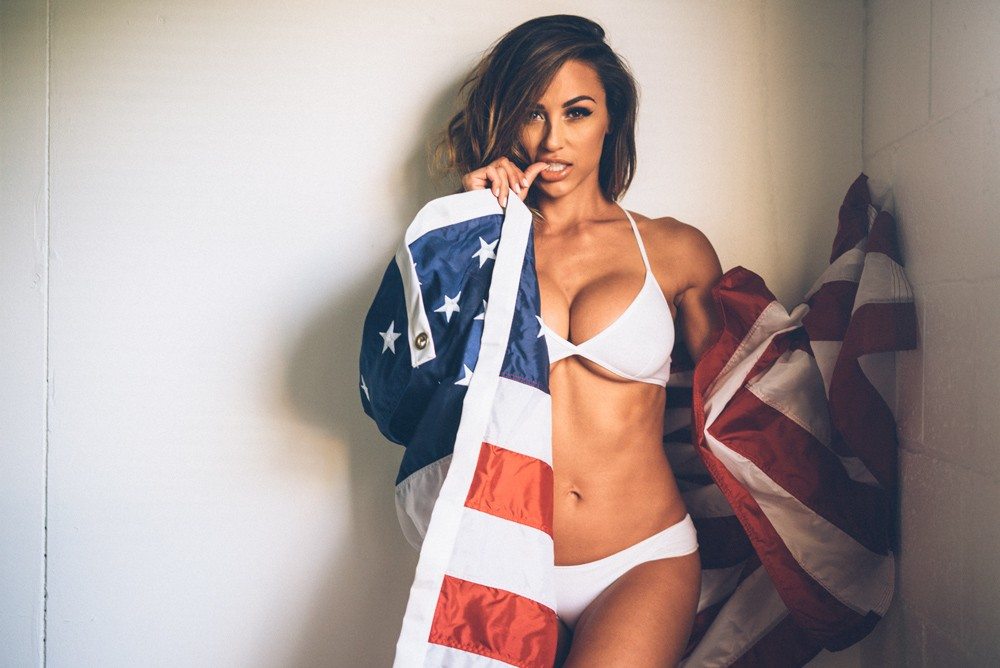 If this list was ranked according to the number of followers, Ana with 4.6 million followers would be sitting at the top. The 29-year-old is the most popular fitness trainer and have posted her own range of fitness tutorial videos to her fans online. She's had a gig with Playboy and like many of her InstaModel brethren, she also promotes Shredz supplements.
See Also: 10 Highest-Earning YouTube Stars 2015
3. Chantel Zales
Earnings: $5.3 million
Siting on the third spot is Zales, a 25-year-old resident of LA and promoter of Shredz with 3.1 million IG following. The model has been featured in FHM and Maxim magazines and also has her own calendar.
2. Paige Hathaway
Earnings: $5.6 million
Another Shredz promoter is 26-year-old Paige born in Minnesota. Like No. 4 Ana Cheri, the model conducts her own fitness training course and has her own website where she posts a 90 day fitness and nutrition plan. Her 3.2 million followers have helped to bring her $5.6 million.
1. Kayla Itsines
Earnings: $7.2 million
Ladies love to look sexy in a bikini and this is where Itsines comes in- her "bikini body" exercise guides have brought her millions of followers as well as millions of dollars more than any other fitness trainer/model on the list. 24-year-old Itsines hails from Adelaide Australia. In doubt of how well her exercise guides would work? head to her Instagram page where you'll find before-and-after photos of ladies who've tried her routines.

Fact Check: We strive for accuracy and fairness. If you see something that needs updating,