The dream of most parents is that their offspring will not only do well in life but surpass them in terms of accomplishments. As the times get harder, such dreams are becoming increasingly difficult to accomplish with many children buckling under the weight of societal expectations. Some may even get overwhelmed by it all and start acting out in one manner or the other. But despite such a grim reality, there are still several individuals out there who have gone on to surpass their parents' accomplishments and made a name for themselves.
In the case of Hollywood, these personalities/celebrities have not only gone ahead to have award-winning careers but have also gotten richer than their famous parents. So, who are these celebrity kids that are now richer than their famous and equally-celebrity parents? Let's find out.
Celebrities Richer Than Their Famous Celebrity Parents
15. John David Washington ($6m) and Pauletta Washington ($1m)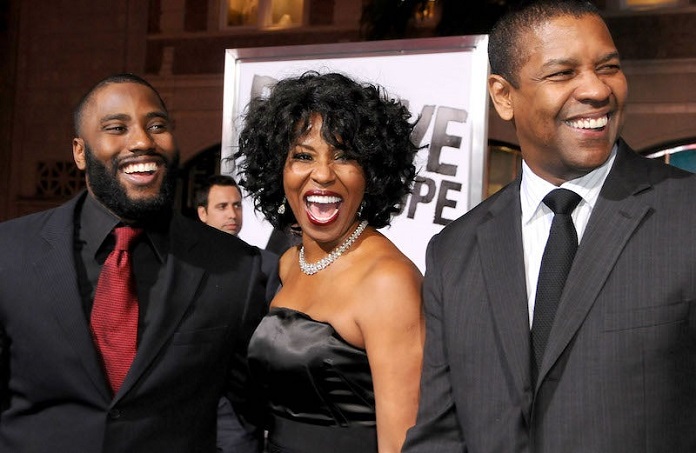 Unless you have been living under a rock, then you would have heard that legendary Hollywood actor, Denzel Washington, has a son who has followed his footsteps into acting. Named John David, the younger Washington initially tried his hands at pro football. He then took to acting in 2015 and has since enjoyed a meteoric rise. John David has appeared in acclaimed works such as Ballers, BlacKKKlansman, Tenet, and Malcolm & Marie. His acting has fetched him good reviews as well as a couple of accolades including the SAG and Golden Globe award nominations for best actor. He has also been able to build up a modest net worth of $6 million. While this quickly pales in comparison to his dad who is worth $300 million, John David is now wealthier than his mother who used to be an actress back in the day.
14. Chris Pine ($30m) and Robert Pine ($2.5m)
Another celebrity kid who has grown richer than his famous parent is Chris Pine. The actor hails from a long line of Hollywood stars that includes his father Robert Pine. The senior Pine featured in over two dozen movies in the course of his career. He also appeared in about a hundred TV shows. Such a prolific career inevitably rubbed off on his son who has now gone on to become a major A-lister in Hollywood. Father and son meanwhile appeared together in one episode of the TV series, Angie Tribeca, in 2017.
13. Jake Gyllenhaal ($80m) and Stephen Gyllenhaal ($10m)
If you describe the Gyllenhaal family as Hollywood royalty, you won't be wrong as they have produced some accomplished stars. There is Jake who is not only an award-winning actor but also vocal on political and social issues. Then, there is his father Stephen, an award-winning director who has made his mark in projects such as Paris Trout, Family of Spies, and Girl Fight. Jake's mother Naomi has also made waves as a screenwriter, receiving a Golden Globe award for Best Original Screenplay in 1996.
Another award winner in the family is Jake's sister Maggie who has appeared in movies such as Crazy Heart, Hysteria, and Nanny McPhee and the Big Bang. She is a Primetime Emmy Award recipient.
12. Kate Hudson ($80m) and Bill Hudson ($5m)
Kate Hudson doesn't just have one but two celebrity parents. It must however be noted that she is only richer than one of them – her dad Bill Hudson who initially joined hands with his brothers to form a successful teen pop band in the 70s. Bill then switched to acting and went on to appear in some movies and TV series. All this enabled him to achieve a net worth of $5 million which his daughter clearly surpasses. It is a different story when it comes to Kate's mother, Goldie Hawn. The Oscar-winning actress held sway between the 70s and 90s and was one of the most bankable stars of her era. She was able to build up a fortune estimated at $90 million, making her slightly richer than her daughter.
11. Kiefer Sutherland ($100m) and Donald Sutherland ($60m)
There are several similarities and differences in the careers of this father-son duo. Both are inductees of the Canadian Walk of Fame and have stars on the Hollywood Walk of Fame. Father and son have also received multiple awards in the course of their careers. Donald is a recipient of two Golden Globes and one Primetime Emmy award while Kiefer has received two Screen Actors Guild, one Emmy, and one Golden Globe award. The senior Sutherland largely made his name in movies such as The Italian Job, Pride & Prejudice, and The Hunger Games. His son on the other hand is most famous for his role as Jack Bauer in the hit TV series, 24.
10. Angelina Jolie ($120m) and Jon Voight ($55m)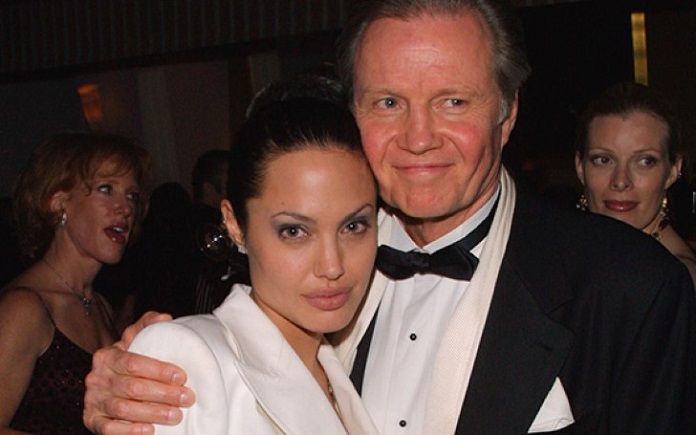 Another Hollywood celebrity that is richer than her famous parent is Angelina Jolie. The Oscar-winning actress has however had a complicated relationship with her father, Jon Voight, who also happens to be an Oscar winner himself. Father and daughter have endured several periods of estrangement starting from when Voight divorced Jolie's mom. By the time the actress tied the knot with Brad Pitt in 2012, her father was famously not invited to the ceremony. Thankfully, Jolie and her father are on the mend now and he has been pictured with her and her kids getting lunch and enjoying each other's company. Her father was also by her side during her divorce from Pitt.
9. Gwyneth Paltrow ($150m) and Blythe Danner ($45m)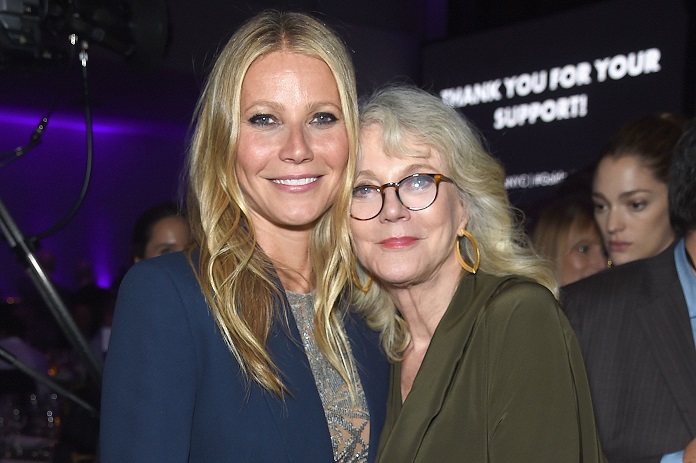 Paltrow and her mother have both enjoyed distinguished careers in Hollywood. Danner was quite active on TV and in theatrical productions. She notched up several accolades during her time, including two Primetime Emmy Awards and one Tony award. She also received two Primetime Emmys and one Golden Globe Award nomination. Paltrow, on her own part, is famous for movies such as Shakespeare in Love, Proof, and A Perfect Murder. She has also made money from endorsement deals with the likes of Estee Lauder, and Coach. The actress is also the owner of a lifestyle company known as Goop. The wellness brand carries various products, treatments, and magazine publications.
8. Miley Cyrus ($160m) and Billy Ray Cyrus ($20m)
Most people love to separate business from personal relationships in order to avoid disputes. Miley Cyrus and her dad do not have such problems though as they have collaborated professionally on several occasions. Father and daughter both featured in the Disney sitcom, Hannah Montana, which catapulted Miley to fame. Since then, the young lady has surpassed her country music star of a dad to become one of the most popular musicians of the 21st century.
She has released about seven albums out of which three have topped the Billboard 200. She has also released several hit singles including The Climb, Party in the U.S.A, We Can't Stop, and Wrecking Ball. Away from music, Miley has also made waves as an actress. She has thus been hailed as one of the rare examples where a child actor has successfully transitioned to an adult star. There is no gainsaying the fact that her father's guidance played a part in that success.
7. Janet Jackson ($175m) and Joe Jackson ($500,000)
The patriarch of the famous Jackson family primarily made his money as a record label boss and manager of his talented children. One of those children was Janet and Joe financed the recording of her first demo. He also arranged her first contract and oversaw her debut album in 1982. All these efforts have since paid off as his daughter is now one of the bestselling musical artists of all time. To date, she has dropped 11 albums and has sold over 100 million records worldwide. She is now regarded as the second most successful dance artist of all time and has notched numerous accolades including an induction into the Rock and Roll Hall of Fame.
6. Ben Stiller ($200m) and Jerry Stiller ($12.5m)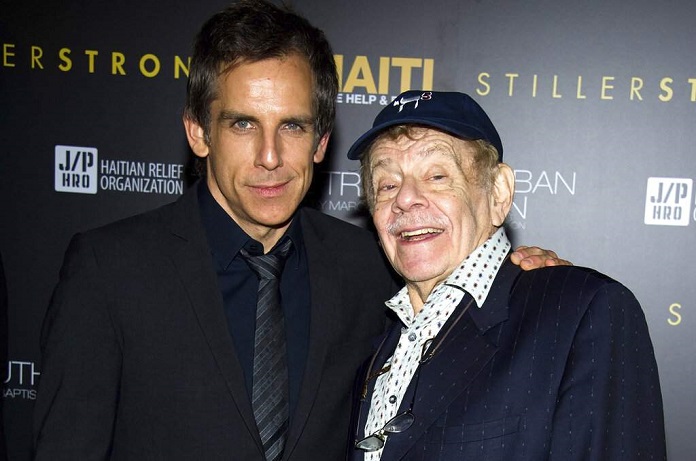 Zoolander star Ben Stiller grew up with two actors-cum-comedians as parents; Jerry Stiller and Anne Meara. It, therefore, came as no surprise that he followed their footsteps into Hollywood to become one of the most famous comedy actors in the industry. He has featured in, produced, and directed unforgettable films such as The Cable Guy, Meet The Parents, Tropic Thunder, Madagascar, and There's Something About Mary. He has also won many awards. Both of Stiller's parents have now passed away but he has not forgotten the influence that they had on him as well as his eventual career path. According to him, comedy was the fabric and energy of their household and as such, he and his sister Amy naturally delved into showbiz.
5. Jessica Simpson ($200m) and Joe Simpson ($20m)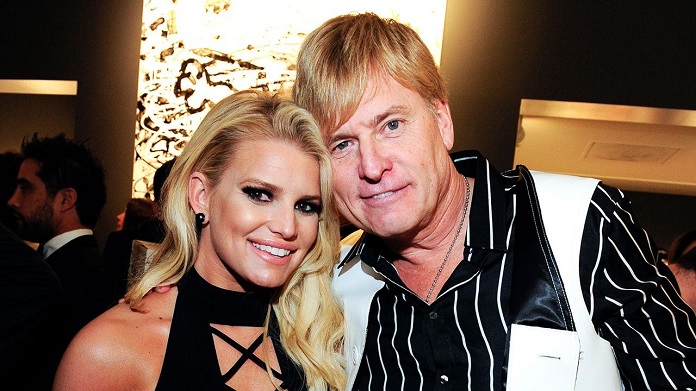 Jessica Simpson's dad was previously a psychologist and a Baptist youth minister. He however scaled his duties back to become his daughter's manager. He is therefore one of the main architects of a career that has seen his daughter drop about seven albums and sell tens of millions of records. She has also successfully diversified to acting and featured in movies such as Employee of the Month and The Dukes of Hazzard. Simpson is also the owner of an eponymous fashion line that launched in 2009. The line is carried in numerous departmental stores and high-end shops and has generated revenue exceeding $1 billion since its establishment.
4. Jennifer Aniston ($300m) and John Aniston ($10m)
Jennifer Aniston and her actor dad have also had a complicated relationship. According to reports, he deserted her when she was just ten and she thus grew up resenting him. The abandonment also affected her relationship with her mother. This strained relationship between father and daughter would last for several years before they eventually made peace in 2020. Both now have warm relations and Aniston is keeping an eye out for her dad who is no longer as healthy and as strong as he used to be. The actress has even called on the producers of the soap opera, Days of our Lives, which he has featured in for over 35 years to shoot his scenes from home so as to protect him from contracting coronavirus.
3. Michael Douglas ($300m) and Kirk Douglas ($60m)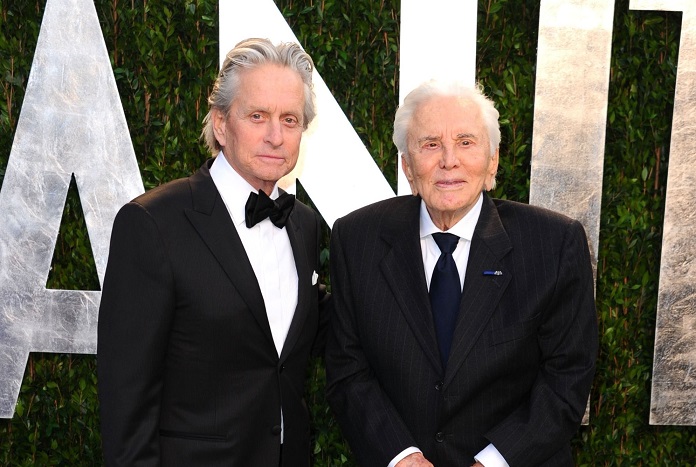 The senior Douglas, who was regarded as one of the last surviving stars of the Hollywood golden age, passed away in February 2020. He was laid to rest that same month amidst a flurry of tributes. Leading the encomiums was son, Michael, a multiple Oscar and Golden Globe winner. Michael described his dad as a wonderful husband, grandfather, and father-in-law. He stated that he left a legacy in the film business that will endure for generations to come. He also made history as a renowned philanthropist who worked to aid the public and bring peace to the planet. Michael additionally revealed that he loved his late dad so much and was very much proud to be his son.
2. Kylie Jenner ($700m) and Kris Jenner ($190m)
Kris Jenner famously built her wealth from the earnings that she made as an executive producer of the family reality TV series, KUWTK. She is also the ultimate "momager" and takes a cut of the deals that she negotiates for her daughters. One of those daughters is of course Kylie Jenner who reigned supreme as the youngest self-made billionaire in the world. The lion's share of Kylie's wealth comes from her eponymous cosmetics company which she started with $250,000 in 2015. The company now generates hundreds of millions of dollars each year and in January 2019, Kylie sold 51% of her stake to Coty Inc. The deal fetched her $540 million pretax.
1. Kim Kardashian ($780m) and Kris Jenner ($190m)
Kim Kardashian, another member of the Kardashian clan, tops the list of celebrities that are now richer than their famous parents. The reality TV queen earns upwards of $100,000 for each episode of her family's reality TV show. She has also been able to parlay her fame into endorsement deals with several companies as well as a mobile game. Kim is also an astute businesswoman. She has her own KKW Beauty line which features cosmetics and fragrances. She sold a 20% stake in the company in 2020 and netted $200 million from the deal. Her remaining 72% stake is meanwhile valued at $500 million. Kim is also the founder of an inclusive shapewear brand known as Skims. It launched in 2019 and raised $5 million from investors.