It is probably impossible to list five modern companies across any sector today without naming Apple, which is one of the leading tech companies in the world. Just as the company is popular, so is its co-founder, Steve Jobs who is considered one of the greatest minds in history. Although he has passed away, his company, Apple continues to grow and is now worth over a trillion, which has led many to wonder what the net worth of Steve Jobs would be if he were alive.
Before he died, due to his position as the mastermind behind the company's unparalleled successes, Jobs was worth a significant amount of money and it is generally believed he would be worth a whole lot more if he was alive today. But how much exactly? Find out below.
What Would Steve Jobs Net Worth Be Today?
At the time of his death, Steve Jobs had a remarkable net worth of $10.2 billion. After dropping out of college, he and his friend, Steve Wozniak, co-founded Apple, and he became a millionaire via its success.
His first go-around at the helm at Apple, between 1976 and 1985, Jobs was worth millions of dollars. Two years after the company was formed, he was worth $1 million and by the following year, the rapid growth of Apple had made him a millionaire in double digits. By 1980, he was worth $217 million, after Apple went public.
During his first period as Apple's CEO, he owned 20% of Apple's shares which was worth just over $100 million at the time. However, after he was fired as CEO, he sold off all of his shares except one and made $100 million from it.
During his time away from Apple, Steve Jobs founded the company, NeXT, and despite early financial hemorrhaging due to the company's lack of success, his net worth began to drop as he poured more and more of his money into the failing enterprise, until he partnered up with a billionaire investor whose new injection of funds helped the company to begin turning profit.
Eventually, Jobs sold the company for $427 million to Apple, recouping and getting a significant boost in his net worth. Along with the company's sale, he also got back 5.5 million in Apple's shares, which were at the time, worth $300 million.
At the time of his death, Apple's success under him had turned the value of the shares to $2 billion. But he was worth $10.2 billion at the time of his death, so where did the rest come from?
The answer is Pixar, the animation company he invested in during his years away from Apple. At the time of his death, having had the company bought by Disney, he owned 138 million shares of Disney, which at the time was worth $3.5 billion, giving the Apple founder his large net worth at the time.
However, with Pixar growing in strength well after his death and Apple hitting the trillion-dollar mark, one wonders how much the tech genius would have been worth today.
Well, based on the assumption that he never dumps any of his shares, particularly his original 20% stake in Apple, Steve Jobs would have a net worth of $200 billion, which when combined with his shares in Disney, would make him the richest man in the world by a distance.
However, considering he did actually sell his stock and only owned 5.5 million shares at the time of his death, Jobs would only be worth an estimated $23 billion today, which is still not bad for the tech giant.
How Was The Money Made?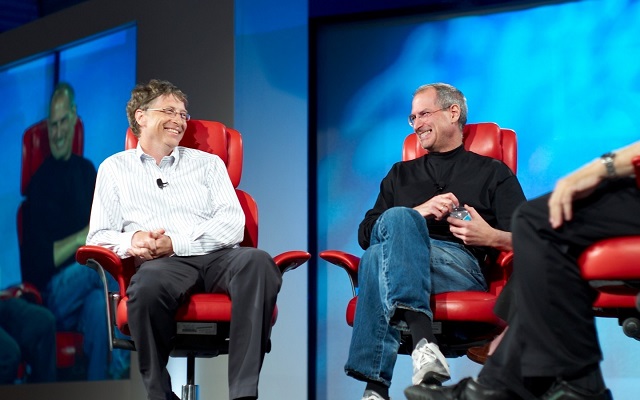 As mentioned earlier, Steve Jobs is primarily known for his work with Apple, a company he helped transform into a leading tech company and helped design one of the leading phone brands in the world, iPhone.
He made a sizeable portion of his money through the company, having owned 5.5 million shares of the company. Steve Jobs also made his money from the sale of his rogue company, NeXT, which he founded after he was fired from Apple as CEO. The company was eventually bought by Apple and he returned to the company as CEO.
See Also: 15 Young Tech Billionaires Under 40
Another way Steve made his money was through Pixar, an animation company he bought from Star Wars producer, George Lucas. The company is known for movies like the Toy Story franchise, The Incredibles, Cars, and WALL-E.
The company was bought by Disney for $7.4 billion, giving him 138 million shares of Disney. This made him the largest shareholder in the company at 7%.
Other than Disney, Apple, and NeXT, Jobs was also an investor at Gap Inc.