What is Steve Harvey's net worth?
Net Worth:
$200 million
Age/Date of Birth:

66 years old (January 17, 1957)
Height:

6 feet, 1 inch (1.85 meters)
Ethnicity/Race:

Black
Nationality:
American
Wife or Girlfriend:
Marjorie Bridges (2007).
Previously married Marcia Harvey (m. 1980⁠–⁠1994), Mary Shackelford (m. 1996⁠–⁠2005)
Parents:
Jesse Harvey and Eloise Harvey (nee Vera)
Steve Harvey is an American comedian, TV Presenter, comedian, actor, broadcaster, author, businessman, Award-winning show host and entertainer who has a net worth of $200 million
Once homeless for three years and having to live in his car, Steve Harvey has come a long way. Raised in the streets of Cleveland, Harvey has risen to become one of the world's most successful comedians. His journey to the top has been rough and bumpy, he has tried his hands at boxing, has been a cleaner, mailman, and many other things.
Now a celebrated author, Harvey has thrived as a radio and TV host as much as he has excelled as a screenwriter and film producer. Over the last decade, Steve has evolved beyond a comedian, becoming someone with an interest in mentoring and helping younger folks with relationship advice. The story of his relationships is equally instructive in shaping the man that he has become.
Steve Harvey's Net Worth and Sources of His Wealth
As the new and first black host of "Family Feud", Steve Harvey helped the show achieve position two in 2012 in terms of the highest-rated shows. The man had to juggle between cities to produce his shows. Currently residing in New York, Steve has to travel to Atlanta to film Family Feud, while The Steve Harvey daytime talk show is filmed in Chicago.
Besides being an accomplished actor, comedian, screenwriter, and producer, Steve is also an author. He has written several books, three of which turned out to be best-sellers. "Act like a Lady, Think Like a Man" is, without doubt, Harvey's best-selling book. As a relationship expert, Steve offered advice on relationships through the book that earned him a publishing deal worth $5 million.
The 2009 bestseller was later made into a romantic comedy titled "Think like a Man" in 2012, it featured Kevin Hart, Terrence J, Gabrielle Union, Taraji P Hensen, Chris Brown and many other popular actors. In its first week of release, the film topped the charts and has earned $100 million. Steve Harvey also makes good returns from his clothing line called The Steve Harvey Collection.
From humble beginnings, Steve Harvey has risen to become an influential figure in the world of comedy and entertainment. He is featured in many shows and participates in forums that aim at helping budding actors, comedians, and entertainers make it in the real world. He once said he owes his success to the support of his third wife Marjorie Bridges Wood, who has stood and supported him in his endeavour.
His net worth is now estimated to be over $200 million in 2021. According to Forbes, he made over $42.5 million in 2017.
Steve Harvey owns a home in Atlanta which is quite luxurious. It has a waterfall, a cigar cabinet containing his private cigar collection, an in-house grill, a mini-golf course, and a huge closet that houses his specially designed shoes.
Highlights of His Career
Steve began his stand-up comedy career after he entered an amateur contest at a comedy club in Ohio and won the grand ultimate prize
He is a Four-time winner: NAACP Image Awards Outstanding Actor in a Comedy Series (1999, 2000, 2001, 2002) for his work in The Steve Harvey Show
2007: Syndicated Personality/Show of the Year – Radio & Records magazine
2011: BET Humanitarian Award – 2011 BET Awards
2013: Favorite New Talk Show Host Winner – 39th People's Choice Awards
2013: Star on the Hollywood Walk of Fame
While hosting the 2015 Miss Universe pageant, Steve accidentally named the runner-up as the winner
2016: Honorary Doctorate Degree Received at Alabama State University in Montgomery, Alabama

2016

Emmy

–

Outstanding Host for a Reality or Reality-Competition Program:

 

Nominated

2017: Daytime Emmy Award for Outstanding Informative Talk Show Host – Steve Harvey
2017: Daytime Emmy Award for Outstanding Game Show Host – Family Feud
Meet The Women He Had Been Married To
Stories about Steve Harvey's relationships and marriages are a regular feature in his comic work. He doesn't shy away from sharing his past experiences and the impact his love life has had on him as a person. Fondly referred to as the Chief Love Officer by his audience and lovers of his books, Steve has surely had an eventful love life.
Marcia Harvey (1980 – 1994)
Steve's first marriage was to Marcia Harvey whom he met at a mutual friends party. After dating for a couple of years, they married in 1980. They have three kids together: Brandi and Karli who are twins and a son named Broderick Harvey Jr. After 14 years together, they separated sometime in 1990 but were officially divorced in 1994.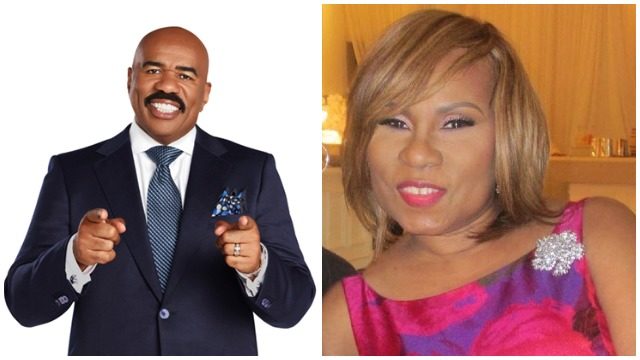 Mary Shackelford (m. 1996 – 2005)
Steve was married to Mary Shackelford for 9 years. The marriage ended in tumultuous circumstances that culminated in a nasty divorce which played out literally in front of the American public.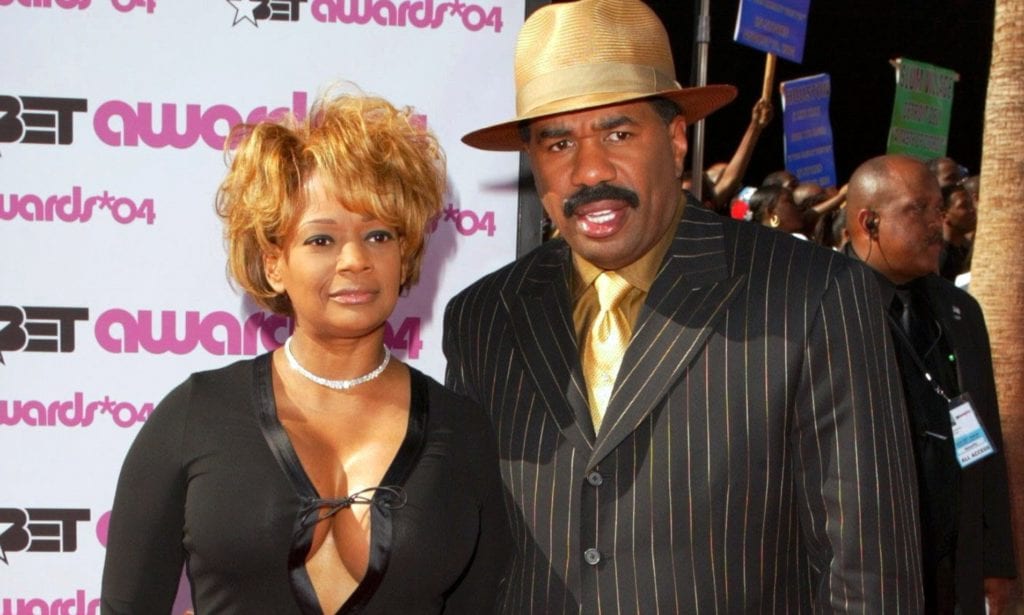 Mary resorted to all kinds of public smear campaigns. After an agreement for financial compensation was reached, she still went on to accuse Steve of leaving her hanging, a claim the Judge debunked in a strong statement. Their divorce proceedings were concluded in November 2005.
Together, they had two sons: Wynton Harvey who was born on July 18, 1997, and Broderick Jnr born in 1991. There were rumors that infidelity was one of the reasons that led to their divorce, this hasn't been confirmed by either party.
Steve Harvey Is Now Married To Marjorie Bridges
Steve is married to his third wife whom he met way back in the early '90s. At the time he was still married but instantly knew he was going to be in a relationship with Marjorie Bridges. They got married in June 2007, after Steve had finalized his divorce from Mary.
Marjorie was previously married twice, to men of questionable character. Her first husband Jim Townsend was imprisoned for life in 1992 for drug trafficking. Her second husband Donnell Woods whom she married in 2000 was also investigated for drug smuggling. Marjorie's three children from her earlier marriages: Morgan, Jason, and Lori have been incorporated into the Harvey household.
Harvey has been immensely complimentary of Marjorie on the impact she has had on him as a person. They remain happily married.
An Overview of Harvey's Kids and His Big Household
Anyone who follows Steve Harvey would know he is really big on family and is devoted to raising his kids. He is a father of seven children in total. Three of those seven are the stepchildren mentioned above; Morgan, Jason, and Lori. Apart from them, Harvey has a set of twin daughters (Brandi and Karli) from his first marriage. Also, he has two sons from his second marriage, they were named Broderick Jnr and Wynton.
Broderick Jnr is a fashion enthusiast who runs a company making footwear. Wynton is still in College but has interests in modeling and photography. Jason Harvey is married to a model called Amanda Harvey. His company Yevrah is specialized in handmade luxury shoes sourced from Brazil.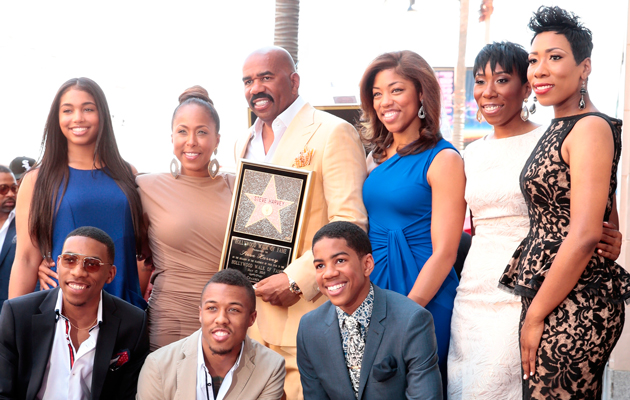 Brandi Harvey is a fitness teacher who alongside her twin sister Karli Harvey runs a female empowerment organization called YOUNG, FIT, and FLY. The NGO is solely focused on empowering underprivileged women in vulnerable parts of society.
Lori is a fast-rising model. In June 2017, Steve took to Instagram to announce that his youngest daughter was engaged to Memphis Depay. A little over a year later, they parted ways. Though without an official announcement, it became apparent when she was spotted without her engagement ring. Since then she has been with other popular figures like Justin Combs, Trey Songz, and more recently, Future.
Morgan Harvey-Hawthorne runs a food blog and is married to Kareem Hawthorne. A graduate of the Culinary Institute of America with a degree in Baking and Pastry, Morgan is an author of "Party Heart", an e-book that contains her recipes.
Profile Summary
First Name:
Broderick
Last Name:
Harvey
Also Known As:

Steve Harvey, Steve
Sex/Gender:

Male
Profession:

Comedian, Businessman
Famous For:
Famous for hosting The Steve Harvey Morning Show,
Colleges/Universities Attended:

Kent State University, West Virginia University
Educational Qualifications:

None
Religion:

Christianity
Birthday & Zodiac

Age/Date of Birth:

66 years old (January 17, 1957)
Zodiac Sign:
Capricorn
Birth Place:

Welch, West Virginia
Nationality:
American
Ethnicity/Race:

Black
Country of Residence:

The United States of America (USA)
Physical Attributes

Height:

6 feet, 1 inch (1.85 meters)
Weight:

104kg (229 pounds)
Eye Colour:

Dark Brown
Hair Color:

Bald
Other Body Measurements:

Not Available
Relationships

Marital Status:

Married
Spouse/Partner:

Marjorie Bridges (2007).
Previously married Marcia Harvey (m. 1980⁠–⁠1994), Mary Shackelford (m. 1996⁠–⁠2005)
Family and Relatives

Father:

Jesse Harvey
Mother:
Eloise Harvey (nee Vera)
Children:

Brandi Harvey (1982)
Karli Harvey (1982)
Morgan Harvey (1987)
Broderick Harvey Jr. (1991)
Jason Harvey (1991)
Lori Harvey (1997)
Wynton Harvey (18 July 1997)
Siblings:
Terry Harvey (Brother)
Mona Harvey (Sister)
Pauline Harvey (Sister)
Other Relatives:

None
Net Worth
Estimated Net Worth:

$200 million
Salary:
$45 million
Source of Wealth:

A media empire that includes Radio, Television, Clothing, Books and more