Steve Harvey Net Worth is $120 Million
Steve Harvey is an American comedian, author, radio and TV host, screenwriter and film producer. Harvey is one of the top earning entertainers today earning an average salalry of $30 million. He is certainly familair with the saying "smiling all the way to the bank". Here is a look at his rise to fame and wealth
Steve Harvey Net Worth: Bio
Broderick Steven Harvey is an African-American entertainer and was born on the 17th of January, 1957 in Welch, West Virginia. He spent his early life in Cleveland, Ohio where his dad worked in the mining industry. He attended Kent State University before proceeding to West Virginia University. After graduation, Steve took up several jobs before finally settling for standup comedy. These included carpet cleaning, boxing, insurance salesman, and also mailman. He is currently married to Marjorie Bridges (his third wife) and has four children (Karli, Brandi, Broderick Jr, and Wynton).
Steve Harvey Net Worth: Stand-up And TV Success
Stephen Broderick Harvey ventured into the world of entertainment as a standup comedian in 1980. He regularly performed in bars and nightclubs. The world of comedy took notice of Steve's talent after he achieved the first runner-up position in a national Comedy Search contest hosted by Johnnie Walker.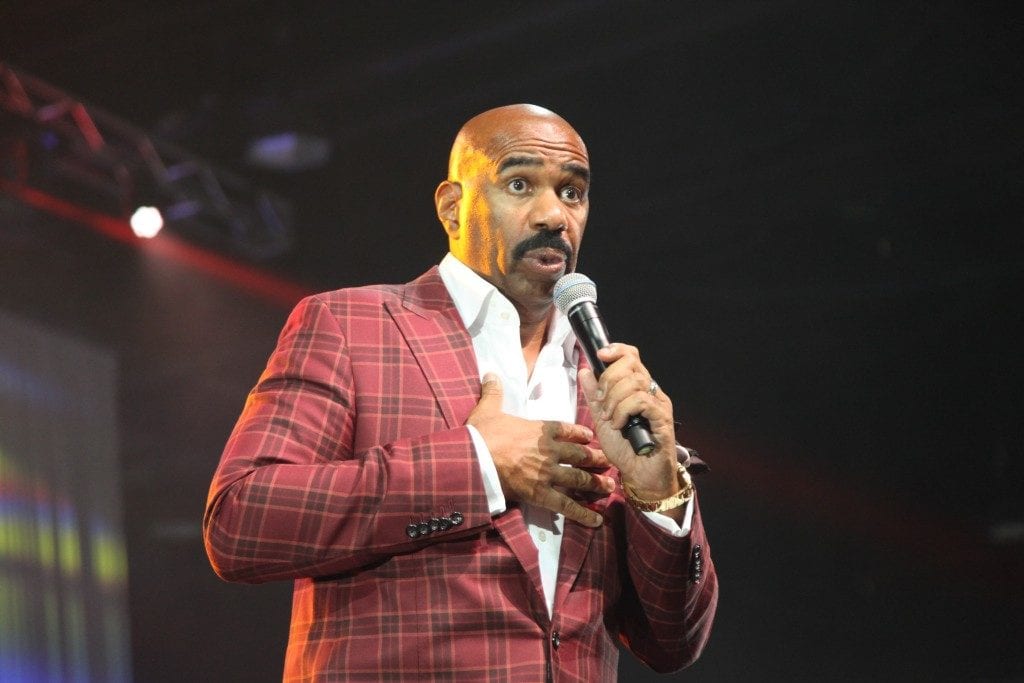 Following this achievement, he was offered a role as the host of a popular TV show "Showtime at the Apollo" which ran from 1992-2000. This was Steve's first taste of success and stardom. While hosting the Show, he also wrote and co-produced another TV show "The Steve Harvey Show" playing the role of Steve Hightower. The comedy show ran from 1996 until to 2002.
More success was to follow Steve Harvey as he was among the four comedians in "The Original Kings of Comedy" show produced by Spike Lee. Good performance and creativity has not only seen Steve Harvey's Net Worth increase over his entertainment career but has also earned him titles such as reigning King of Comedy. Over time, he has expanded his wings and took on other roles in the entertainment industry. Currently he hosts a radio show "The Steve Harvey Morning Show", a morning show that has a huge following. Also popular are two daytime talk shows "Family Feud" and "Steve Harvey."
See Also: Bill Cosby's Net Worth
As the new and first black host of "Family Feud," Steve Harvey helped the show achieve position two in 2012 in terms of the highest rated shows. Making money doesn't come easy for Steve as he has to juggle between Cities to produce the shows. Currently residing in New York, Steve has to travel to Atlanta to film Family Feud, while The Steve Harvey daytime talk show is filmed in Chicago.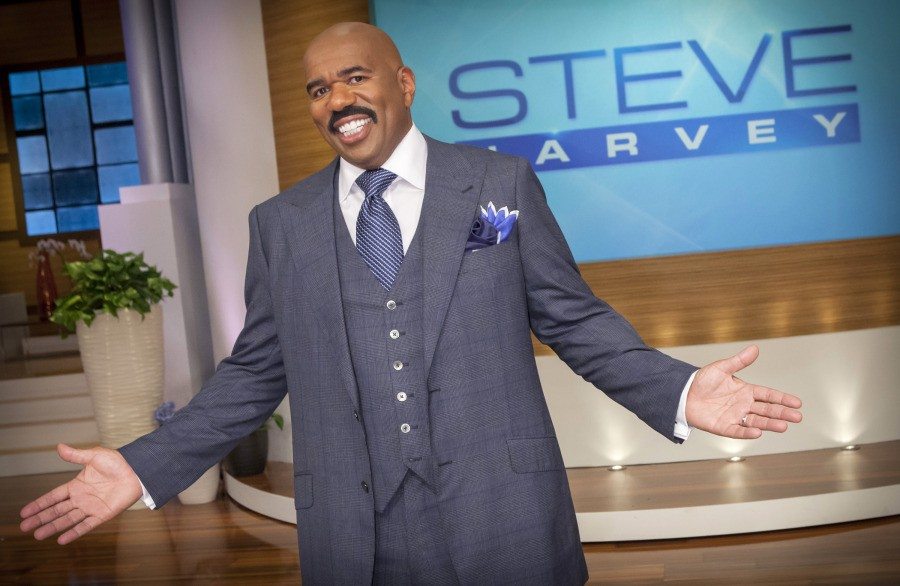 Steve Harvey Net Worth: Book Earnings, Business
Besides being an accomplished actor, comedian, screenwriter and producer, Harvey Steve is also an author. He has written several books three of which turned out to be best-sellers. "Act like a Lady, Think like a Man" is without-doubt Harvey's best-selling book. As a relationship expert, Steve offers advice on relationships through the book that earned him a publishing deal worth $5 million.
The 2009 bestseller was later on turned into a romantic comedy "Think like a Man" in 2012 and featured an ensemble cast that included Kevin Hart, Terrence J, Gabrielle Union, Taraji P Hensen Chris Brown and many others. In its first week of release, the film topped the charts and has earned $100 million.
Steve Harvey also makes good return from his clothing line "The Steve Harvey Collection" which is doing quite well.
From humble beginnings, Steve Harvey has risen and become not only a successful entertainer but also an influential figure in the world of comedy and entertainment. He is featured in many shows and participates in forums that aim at helping budding actors, comedians and entertainers make it in the real world. He once said that he owes his success to the support of his third wife, Marjorie Bridges Wood, who has stood and supported him through his a career.