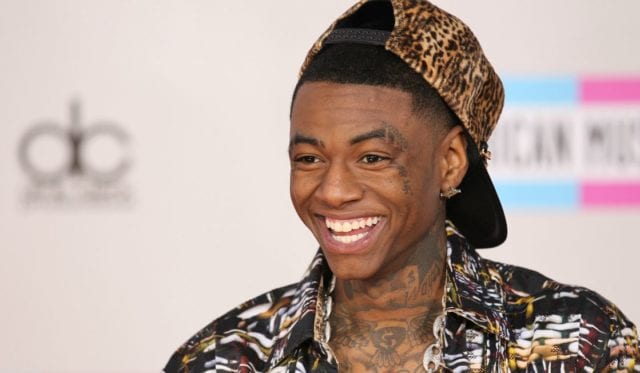 Drama King and former Love & Hip Hop show star, Soulja Boy is well known for his talent and the uniqueness he brings on screen. But there is more to learn about him.
Soulja Boy Biography
Born DeAndre Cortez Way on July 28, 1990, in Chicago, Illinois, Soulja Boy is an American rapper, producer, and entrepreneur.
Soulja Boy has made most of his money through rap music. In 2010, he was named by Forbes as one of the Hip-Hop cash kings. But how did he get there so fast? Soulja boy's passion for music began when he was a teenager. His father supported his passion by giving him a studio to work with at 14. He immediately established his own label Stacks on Deck Entertainment.
In 2007, Soulja Boy released his first ever album 'Unsigned and Still Major: Da Album before da Album'. The hit track from the album was "Crank That". He used social media platforms like MySpace, SoundClick and YouTube to popularize his music. A video for the Crank That dance which he uploaded on YouTube caught the attention of Interscope records. The label quickly signed him and reproduced "Crank That". The single topped the US Billboard chart for two consecutive months, became certified platinum 4 times and earned him a Grammy nomination.
Here is a breakdown of the success brought about by 'Crank That':
First song ever to sell 3 million digital copies in the US
Sold 5,080,000 downloads by February 2014 in the US
Nominated for 'Best Rap Song' at the 51st Grammy
In October 2007, he released his first major album 'Souljaboytellem.com'. This album reached number 4 on the US Billboard 200. It was also certified platinum by RIAA. His follow-up album 'iSouljaBoyTellem' was released 14 months later. 'The DeAndre Way' followed in 2010 and is till today his most successful album. Soulja Boy has also collaborated with other Hip Hop artists, including Sammie, Gucci Mane, Arab, and Shawty Lo.
Soulja Boy Net Worth
Like every successful artist, Soulja Boy enjoys more income from endorsements. He endorses Yums, a Dalla brand that deals with footwear and apparel. His most recent endorsement is with World Poker Fund Holdings, a gaming company that mainly operates online casinos and social gaming apps. A tweet by the rapper showed the deal is worth $400 million, but not technically, Forbes explains in this article.
Thanks to his early exposure to the studio, Soulja Boy knows more than a thing or two about producing which also brings in more money. Some of the songs he has produced include; 'Get Silly' by V.I.C, 'Marco Polo' by Bow Wow, and 'Wowzers' one of the songs in Lil Wayne's 'I am not a Human Being' album.
As an entrepreneur, Soulja Boy owns two clothing lines, S.O.D. Clothing, BLVD and 'Ocean Gang'. He also stars in a reality TV show "Love and Hip Hop: Hollywood".
See Also: Yung Joc Dating, Girlfriend, Wife, Kids, Net Worth, Height, Gay
He owns a number of luxurious cars: a Bugatti, a Porsche 991, a Bentley Mulsanne, and an Audi R8. He also owns a private jet which he allegedly bought for $55 million.  Overall, the rapper's net worth is said to be estimated at $25 million.
Problems with the Law
Soulja Boy has been in jail a number of times. In 2009, he was arrested for obstruction of justice after he ran from the police. He had been shooting a video in an abandoned building. In 2011, he was sued for drug charges and copyrights. He had used a phrase belonging to another designer on his brand. The plaintiff demanded charges. In 2014, he was arrested twice for illegally possessing a loaded gun.
Soulja Boy Height
Recognized as a handsome rapper despite his body tattoos,  Soulja boy has a reasonable height standing some 5 ft 9 inches or 175cm; quite taller than Lil Wayne. He is of average build and has a smile that many find charming.
Soulja Boy Girlfriend
Soulja Boy has had a fair share of relationship dramas just like most stars in his class. The rapper used to have a very blissful love affair with a producer, Teddy Riley's daughter, Nia Riley. Their friendship hit a rocky path in 2016 but has remained one of the most-talked-about celebrity relationships. The duo started dating in 2006 and share a daughter named Kamryn.

Before Nia Riley, Soulja has been linked to different women in the entertainment sphere including India Westbrook, Nastassia Smith, Karrine Steffans, Lil Mama Kirkland Niatia, Irene The Dream, Diamond (rapper), Teyana Taylor, Meagan Good, Trina, and Keri Hilson. He was once said to be engaged to Rosa Acosta but there was no substantial information on when their affair ended or even started.

Apparently, the rapper seems to be taking his time after his relationship with Nia Riley failed. He is reportedly single or decided to keep his personal life private.

Fact Check: We strive for accuracy and fairness. If you see something that needs updating,