The level of success Rihanna and Beyoncé have enjoyed throughout their careers has often spawned a comparison between the two pop stars' net worth and accomplishments. They made the Forbes 2020 list of the richest self-made women in the United States and are ranked among the best-selling music artists of all time. Interestingly, the two successful female black singers share a lot more in common, including dropping out of high school to launch a music career as teenagers and expanding their empires into the fashion industry.
Though they have different music artistry and style along with other differences, Beyoncé and Rihanna have relentlessly worked hard to establish themselves as icons in the music and fashion industries. Find out who amongst the two singers sits on a higher net worth, has won more Grammys, and is older.
Rihanna is the Richest Female Musician in the World
Riri surprised many in the music world and beyond when she was named the richest female musician in 2019 with a net worth estimated at $600 million. She made the most of her wealth from her partnership with the French luxury goods giant, LVMH. Besides music, the Barbados singer has established herself as a fashion icon and makeup entrepreneur. She is the first black woman to run a major fashion house and equally, the first black woman to be chosen as the face of Dior.
Rihanna's cosmetics line, Fenty Beauty, grossed $570 million in revenue just after fifteen months in business. Over the years, Rihanna has signed endorsement deals with Optus, Secret Body Spray, Kodak and was featured in Budweiser's global "Made For Music" campaign in 2013. Through her plethora of careers, she has amassed such a massive fortune.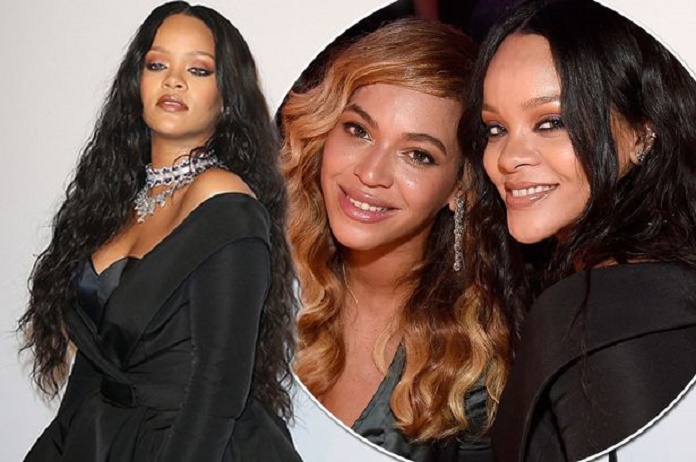 Interestingly, Rihanna cites Beyoncé and Destiny's Child among her musical influences and idols. Currently, Queen Bey has accrued a total wealth estimated at $420 million. She started building her net worth in the late 1990s when she enjoyed tremendous success as a member of Destiny's Child. The group released several commercially successful albums that spawned multiple chart-topping singles such as 'Say My Name' and 'Jumpin Jumpin'.
Moving on to a solo career, Bey reached new heights as she landed the title of the world's best-paid music artist in 2008, with earnings of $80 million. The multi-Grammy-winning singer then emerged as the highest-paid black music artist in history in 2014 when she topped the Forbes Celebrity list with an estimated earning of $115 million.
Rihanna Has Also Sold More Records Than Beyoncé
Unarguably, Beyoncé and Rihanna have left indelible marks in the music industry with their astonishing accomplishments. Both are ranked among the best-selling music artists of all time, having released multiple chart-toppers, as well as RIAA-certified platinum and multi-platinum songs and albums. However, Rihanna comes out on top when it comes to record sales as she has thus far, sold more than 250 million records worldwide.
Riri has released 14 no. 1 singles in the US, and equally 31 top-ten singles. In the United Kingdom, she has recorded 30 top-ten entries and has sold more than 18 million singles and 7 million albums, emerging as the second best-selling female singer in the country, behind Madonna. Her worldwide album sales are over 50 million copies. Rihanna achieved more than 100 million gold and platinum songs certification from the Recording Industry Association of America (RIAA) in 2015, thus, becoming the first music artist to attain such a feat.
Rihanna is bigger than Beyoncé if we talking record sales. Rihanna has sold 100 million more copies than Beyoncé since their individual debut albums. Before you Bees argue, gather your facts else I will make you look like a headless chicken.

— ???????????????????????????? ???????????????????????????? (@iamkurupt3rd) April 20, 2019
Mrs. Carter, on the other hand, has not done badly either when it comes to record sales. She has had sales of over 117 million records worldwide as a solo artist plus 60 million records sold with Destiny's Child. She sold more than 17 million albums in the United States as a soloist and over 75 million albums globally. Having recorded a total of 64 certifications from the RIAA in the 2000s, the music sensation emerged as the top certified music artist of the decade. She is the first artist to record six consecutive No. 1 albums on US Billboard 200.
Additionally, the singer-songwriter has raked in more money from tours and concerts than Rihanna. Alongside her husband, Jay-Z, she made a total of over $250 million from their joint tour, On The Run II in the year 2018, pulling in roughly $5 million per night. This has emerged as the couple's highest-grossing tour to date. Prior to that, she also earned $256 million from her Formation World Tour in 2016. Notably, Riri's highest-grossing tour so far is the Diamond's World Tour which grossed $137.9 million.
Queen Bey Has Won More Awards With a Total of 24 Grammy Wins
With Grammy wins considered by many as a major checkmark for true musical legacy, Beyoncé is apparently reigning supreme in the music industry as she has clinched a total of 24 Grammy Awards over the course of her career. This makes her the second female music artist with the most Grammy wins, behind Alison Krauss. In addition to that, she is the most nominated musician in the history of the Grammy Awards as she has gathered a total of 79 nominations. The 'Formation' singer is also the most awarded music artist in the history of the MTV Video Music Awards, having won a total of 24.
Bey has thus far gathered over 800 award nominations, taking home 431 awards. She is the first African American woman to win the American Society of Composers, Authors, and Publishers' Songwriter of the Year Award. For her outstanding contribution to the arts, she also received the Legend Award at the World Music Awards, as well as the Michael Jackson Video Vanguard Award at the MTV Video Music Awards. More so, she is a recipient of the Fashion Icon Award from the Council of Fashion Designers of America.
Though not on par with the Houston native, Rihanna's career has equally been decorated with numerous awards. She has received nine Grammy Awards, thirteen American Music Awards, twelve Billboard Awards, eight People's Choice Awards, seven MTV Video Music Awards, six BET Awards, six Guinness World Records, and many others. She has also been recognized with the Fashion Icon Award from the Council of Fashion Designers of America, as well as the Michael Jackson Video Vanguard Award. Throughout her music career, the entrepreneur has gained over 600 award nominations and won 234 of them.
The Multi-award-winning Singers Have Very Successful Business Careers
Beyoncé took to the path of entrepreneurship at the early stages of her music career. Along with her mom, she launched a contemporary women's fashion label called House of Deréon in 2005. Five years later, she founded her entertainment company, Parkwood Entertainment. In that same 2010, she released her first official fragrance line called Heat that amassed $75,000 on its first day. She has since followed that uop with Heat Rush, Pulse, and The Mrs. Carter Show Limited version of Heat. Bey has in total so far released six editions of Heat that have grossed more than $400 million in revenue, ranking as the best-selling fragrance line in the world.
Beyoncé also serves as the owner of an activewear line, Ivy Park. She signed a partnership deal with Adidas in April 2019 that would further develop her activewear line, as she will be working as the company's creative partner.
As both singers are fashion icons, Rihanna equally, has been making worthwhile contributions to the fashion industry since the onset of her career. She first partnered with Armani in the year 2011 before collaborating with the British brand, River Island, and other fashion houses such as Manolo Blahnik, Stance, and Dior. She later worked as the creative director of the German sportswear giant, Puma, and then went on to establish a cosmetics brand, Fenty Beauty, in partnership with LVMH in September 2017.
The makeup brand recorded sales of $100 million in its first week of launching and has gone on to become a huge success. It distinguished itself from other brands by producing 40 shades of foundation. Riri reportedly has a 15 percent stake in Fenty Beauty that has a market value of over $3 billion. She also co-founded Savage X Fenty lingerie line with TechStyle Fashion Group in 2018. The fashion brand has been acclaimed for having products that match all skin tones and body types.
Additionally, the music star launched a fashion line called Fenty under LVMH in 2019. This makes her the first and youngest black woman to lead a major fashion house. The brand produces high-end clothes, accessories, jewelry, and shoes. Later in 2020, she established a skincare line called Fenty Skin.
They Have Both Starred in Major Hollywood Productions
Not only are these two black queens dominating the music industry, but have moved onto the acting scene where they have made impressive waves. Rihanna had her first acting role, a cameo in the 2006 straight-to-DVD movie, Bring It On: All or Nothing. She then starred in Battleship in 2012, portraying Petty Officer Cora Raikes. The movie grossed $303 million on a production budget of $209 million-$220 million. Later in 2018, she starred alongside Sandra Bullock, Anne Hathaway, and Cate Blanchett in the blockbuster film, Ocean's 8. The film grossed $297 million on a production budget of $70 million. Her acting talent can further be seen in This Is the End (2013), Home (2015), Valerian and the City of a Thousand Planets (2017), and Guava Island (2019).
Beyonce, on the other hand, most recently starred in The Lion King (2019) which grossed $1.6 billion at the worldwide box office, becoming the highest-grossing animated movie of all time. It is not surprising that she earned $25 million for voicing the character Nala in the megahit musical drama film. Bey also reportedly pocketed a paycheck of $12.5 million for her role in Dreamgirls (2006), a movie that earned $155.4 million at the worldwide box office against a production budget of $80 million.
Other commercially successful movies she has featured in include Austin Powers in Goldmember (2002), The Pink Panther (2006), and Obssessed (2009). More so, Beyoncé has directed a good number of movies including Life Is But a Dream (2013), Beyoncé: Lemonade (2016), Homecoming (2019), and Black is King (2020).
Rihanna and Beyoncé Are Both Known for Their Expensive Lifestyle
With excess money, comes excess spending. Having accrued such staggering net worths, Beyoncé and Rihanna have been living extravagant lifestyles. In 2017, Beyoncé and Jay-Z bought a vacation home in the Hamptons for almost $26 million and in that same year, spent $88 million on a new luxury home in Bel-Air with a $52 million mortgage. While on vacation in Paris, the couple often stay in a penthouse at the Hotel Le Meurice, paying $20,000 per night.
The singer's most exorbitant holiday was on board superyacht Galactica Star which costs $900,000 for a weekly charter. She also spends on her family, having purchased a Bombardier Challenger 850 private jet worth $40 million for her husband and an $80,000 diamond-encrusted Barbie doll for her daughter Blue Ivy on her first birthday.
On Rihanna's part, the 'Diamond' singer spends £16,000 a week on rent as she lives in a seven-bedroom home in London. She also hires private jets and yachts for her travels. In 2011, she toured around the French Riviera on a chartered yacht, paying $300,000 a week. More so, she has had numerous expensive night outs, having spent $17,000 at a Houston-based strip club in one night and equally $8,000 at a Miami strip club. She reportedly further spends $38,000 per week on her beauty regime.
They Have Donated Millions of Dollars To Charity
Though the two superstars enjoy living lavishly, they are also passionate about giving back to society. As a result, they are ranked among the most publicly charitable celebrities. In 2012, Rihanna established The Clara Lionel Foundation that aims at providing quality education and healthcare to children across the globe. Since the breakout of the coronavirus pandemic, she has donated over $8 million to relief efforts.
Also, during the COVID-19 worldwide lockdown, Beyoncé partnered with Twitter CEO Jack Dorsey through her charitable organization, BeyGOOD, to donate $6 million to mental health efforts. In 2009, she made a donation of her full salary ($4 million) from the movie Cadillac Records to a non-profit drug and alcohol rehabilitation organization – Phoenix House. She also spent at least $7 million in an effort to maintain Knowles-Temenos Place Apartments which she founded for those displaced after Hurricane Katrina in 2016. The 'Drunk in Love' crooner has so far supported more than 30 charities.
What is the Age Difference Between Rihanna and Beyoncé?
The 'Work' singer came into the world on February 20th, 1988 in Saint Michael, Barbados. She was born Robyn Rihanna Fenty to parents, Ronald and Monica Fenty, who worked as a warehouse supervisor and accountant respectively. Following her love for music, Rihanna abandoned her studies to pursue a music career. She attended Combermere School, as well as Charles F. Broome Memorial Primary School. Prior to leaving high school, she was a member of a trio girl group that she formed with her classmates. She was later discovered by American record producer Evan Rogers who helped her move to the United States and get a record deal with Def Jam Recordings where she put a start to her music career.
Though looking younger than her age, Beyoncé Giselle Knowles-Carter is six years and five months older than the Barbados native. She was born in Houston, Texas, on September 4th, 1981. Her father, Matthew Knowles, is a record executive and talent manager while her mother Celestine "Tina" Knowles is a fashion designer.
Queen Bey's singing talent was discovered during her childhood. She competed in a school talent show when she was seven years old and won, outshining many teenagers that participated in the show. She continued to display her singing prowess as a member of her school's choir before rising to prominence as the lead singer of one of the best-selling girl groups of all time, Destiny's Child. She then kickstarted her solo career in the year 2002 with the release of a Billboard 200 No. 1 album, Dangerously in Love.
Here's a Quick Comparison Between The Two Grammy-winning Singers
| | | |
| --- | --- | --- |
| | Rihanna | Beyoncé |
| Age | 35 | 42 |
| Nationality | Barbados | United States |
| Height | 5 feet 8 inches (1.73 m) | 5 feet 7 inches (1.7 m) |
| Net Worth | $600 million | $420 million |
| Total Albums Released | 8 | 6 |
| Total Grammy Wins | 9 | 24 |
| Highest-grossing Tour | Diamonds World Tour ($137 million) | On The Run II Tour ($254 million) |
| Company Founded | Fenty, Fenty Beauty | Parkwood Entertainment, Ivy Park |