Net Worth:
£309 million ($400m)
Age/Date of Birth:

36 years old (24 June 1987)
Height:

5 feet, 7inches (1.70 m)
Ethnicity/Race:

Italian
Nationality:
Argentine, Spanish
Wife or Girlfriend:
Antonella Roccuzzo
Parents:
Faher: Jorge Horacio Messi
Mother: Celia Maria Cuccittini

Lionel Messi is an Argentine professional football player who plays for Spanish La Liga club, FC Barcelona and the Argentina national team.
Messi has won the FIFA world's best player of the year award a record of 5 times, 4 of which he won consecutively. He is also at the moment, Argentina's all-time top scorer. Through his football career, Messi has built for himself an impressive net worth that is estimated at $400 million as of 2020.
Lionel Messi's Career Successes and Setbacks
Born on 24 June 1987 in Rosario, Santa Fe, Argentina, Lionel Andrés "Leo" Messi developed deep passion for football at a very tender age of four. At six, Messi joined his first club, Rosario-based youth club, Newell's Old Boys. There, he began setting records and making history scoring almost 500 goals in 6 seasons.
Unfortunately at the age of 10, Messi was diagnosed with growth hormone deficiency. This not only affected his growth and gave him a smaller look compared to his peers, it also posed a serious setback on his career path. However, when his parent's insurance expired and other Argentine clubs were unable to foot his medical bills, the family sought help abroad.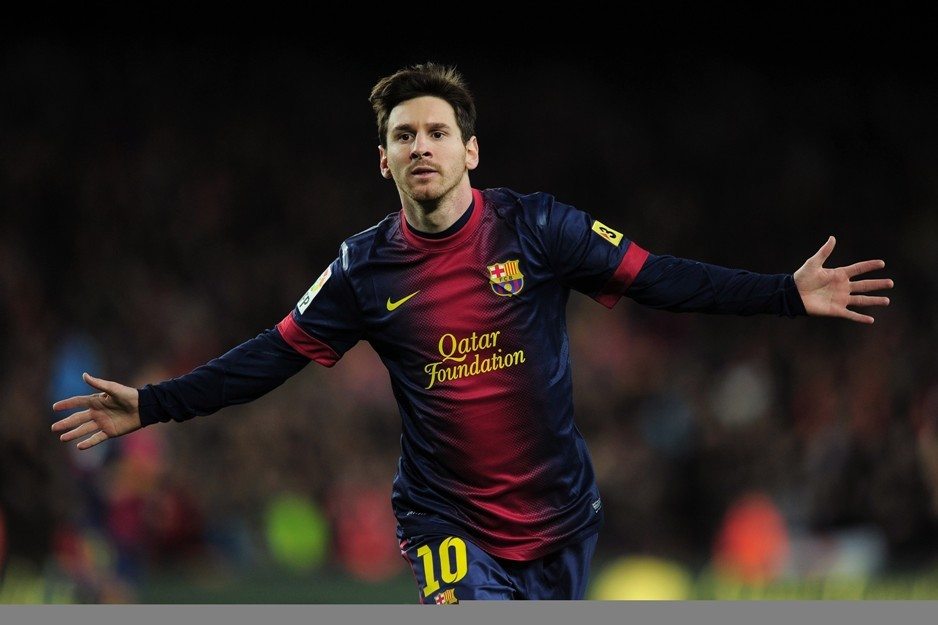 FC Barcelona and Injury Woes
First on their choice list was Barcelona as they had family in Catalonia. Fortunately, Charly Rexach, the first team director took an immediate interest in Messi. Barca subsequently signed the starlet following an ultimatum issued by his family who moved to Barcelona in 2001. They however, soon after went back to Rosario, leaving the introverted Messi with only his father which made him to be often homesick. Notwithstanding, the starlet quickly became outstanding in the youth team, the famous "Baby Dream Team" which included the likes of Cesc Fabregas and Gerard Pique.
Lionel Messi made his first-team debut for the Catalan giants at the age of 16 in November 2003 as a substitute in a friendly match against FC Porto. His impressive performance led to the inking of his first professional contract in February 2004 which had a €80 million buyout clause. He also began training weekly with the first team side. His first senior team contract signed on his 18th birthday on 24 June 2005 increased his buyout clause to €150 million. Messi's early days as a starter with Barcelona were however, more often than not truncated by injuries.
Major Career Milestones
But at the start of the 2008/2009 season, the winger looked to have established a perfect rhythm which he has not only sustained but developed by the year. That season, Messi lead Barcelona to her first ever treble victory (La Liga, Super Cup and Champions League) and also received first FIFA Ballon d'Or World Player of The Year Award at the age of 22. The Award was previously held by his perceived rival, Cristiano Ronaldo in 2008.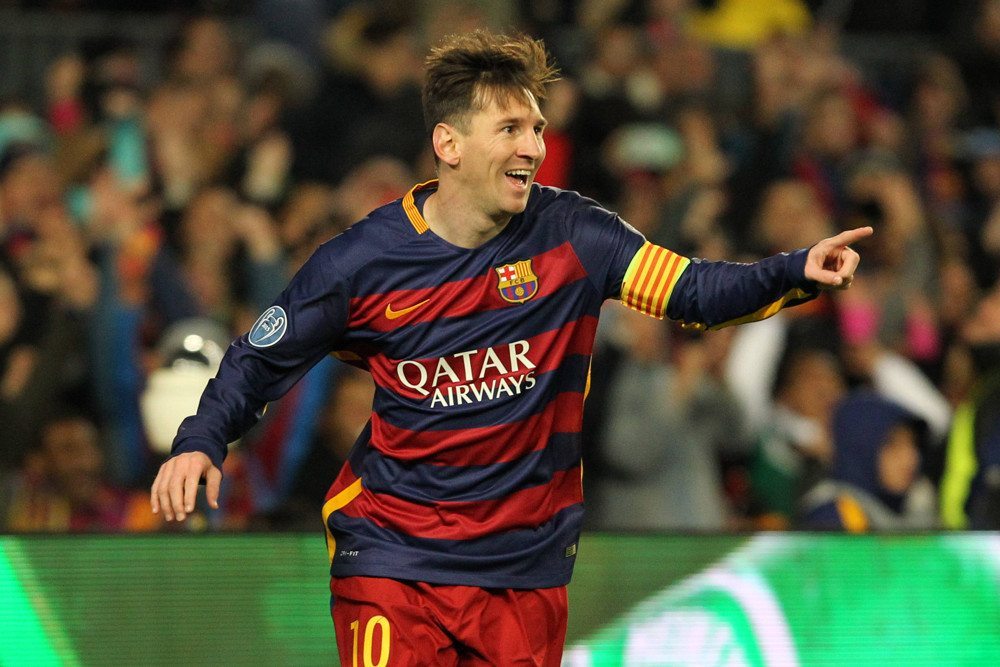 His incredible performances for the next three seasons saw him bag the coveted award for a record of four consecutive times. After injuries marred his performance for two seasons, Ronaldo regained the award in 2013 and 2014. Messi however, made a comeback in 2015, winning the award for the 5th time after leading Barcelona to a historic second treble victory. Later in 2019, Messi surpassed Ronaldo's five-time record by taking home the Ballon d'Or the sixth time. He has also received the European Golden Shoe for emerging the continent's six-time top scorer.
For the 2011/2012 season, Messi became Barcelona's all-time highest goal scorer as well as the highest goal scorer in La Liga with over 300 goals. He has also remained since 2012, the first player to score five goals in one match in the history of the Champions League. Lionel Messi has so far, spent his entire professional football career at FC Barcelona with over 700 goals to his credit, 634 of which he scored for Barca –  the highest ever in the history of the club.
The Argentine has been equally successful with his national side. He became the youngest Argentine player to score in the 2006 FIFA World Cup.
Messi's Tax Evasion Scandal
In July 2016, Messi and his father were both sentenced to 21 months in prison and ordered to pay fines of €1.7 million and €1.4 million respectively after being found guilty of tax evasion fraud. The tax evasion was related to sponsorship earnings from 2007 and 2009.
Well, for a man who earns multi-millions annually, both fees combined look like a chicken feed. Also, the duo didn't serve time behind bars, thanks to Spanish laws which pardons first offenses under two years.
A Breakdown of His Net Worth and Earnings
Lionel Messi mainly built his net worth of $400 million from football alongside brand endorsements which his career fame earns him. Here's a breakdown of his sources of income and net worth:
Player salaries and winnings
Endorsement contracts
Entrepreneurial Ventures
How Much Is Lionel Messi's Salary – Is He the World's Highest Paid Footballer?
Barcelona since signing Lionel Messi has continued to award his unmatched performance and loyalty by increasing his salary exponentially. Beginning from 2008, the talented forward has been the club's highest-paid player. Messi has also gone on to earn the world's highest-paid soccer player title.
In 2015, he became the highest-paid footballer by salary with an annual base salary of $44.7 million (excluding bonuses). Messi's salary and earnings has since continued to soar. In 2016, Forbes estimated his annual earnings from all endeavours at $81.4 million, making him the second highest-paid athlete in the world behind Cristiano Ronaldo. That same year, his total career earnings stood at $600 million.
In 2020, Messi topped the World's highest-paid soccer player list with an annual earning of $127 million and a player salary of $92 million. Ronaldo came in 2nd with $117 million. So far, Messi has earned a total of over $1 billion (pretax) in his football career, becoming the second footballer to ever achieve such career earnings milestone.
See Also: Top 20 Highest Paid Athletes In The World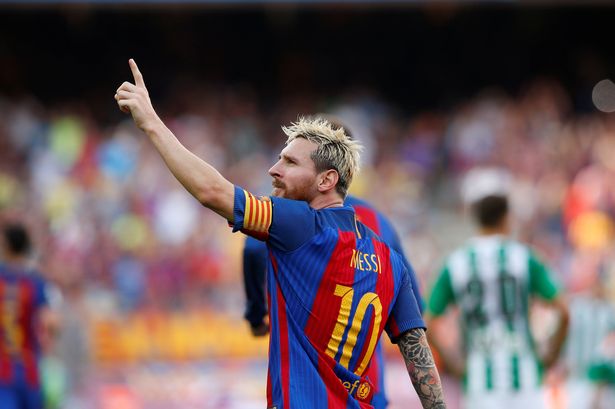 His Earnings from Endorsement Deals
Messi boosts his base salary by winning bonuses and lucrative endorsement deals which also increase in value according to his performance. In 2016, Messi earned a total of $28 million from brand endorsements according to Forbes magazine. This figure has gradually soared to reach $34 million in Forbes' 2020 report.
The major brands Messi has endorsed include Adidas, Gatorade, Pepsi, Audemars Piguet, MasterCard, Huawei, EA, Tata Motors and Gillette. Among these, the most valuable is his lifetime contract with Adidas from which he pockets an average of $12 million annually.
The Messi Store and other Entrepreneurial Ventures
Lionel Messi has a self-named fashion brand in partnership with MGO. The footballer sells the brand's merchandise which include wears and accessories for men, women and kids through The Messi Store, an outlet that he established in 2019.
The Barca player also has a number of luxury hotels from which he further boosts his financial worth. One of such is located close to Barcelena and has rooms that could go for as much as $350 per night. He reportedly has two other hotels in Marjoca and Ibiza.
Here's a quick look at Lionel Messi's annual earnings in the last five years, according to Forbes magazine:
2014-2015: $77 million
2015-2016: $81.4 million
2016-2017: $80 million
2017-2018: $111 million
2018-2019: $127 million
2019-2020: $126 million
An Inside Look at Lionel Messi's Houses
Messi has invested a significant chunk of his net worth in real estate. Of all his housing properties his two homes in Barcelona, Spain are the most prominent.
The first of Messi's Barcelona homes is a lavish three-storey mansion with large glass windows. It is located in Castelldefels, one of the priciest neighborhoods overlooking the Mediterranean sea. The house is very Eco-friendly, with green flowers and trees all around and rich grass covering every surface of its large compound. It also contains a well-equipped gym for the Barca star's fitness sessions.
Talking of the interior, the house is furnished to taste with cozy and luxury furniture, fixtures and home appliances.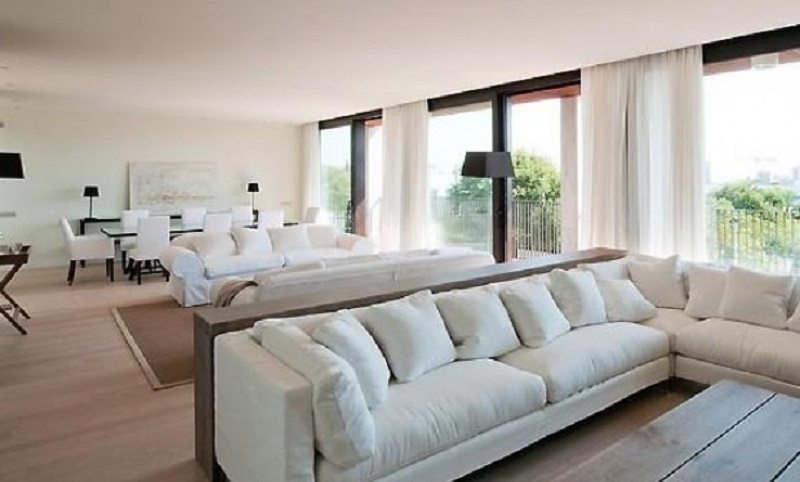 Messi's second house in Barcelona is the most talked about. The €7 million gigantic round two-story building is designed like a football and built on a space that looks like a football pitch. The 'pitch' is divided into two equal halves, with one covered with grass and the other a large marble pool.
The entrance takes the shape of the figure, '1', while the main building is used to form a '0', making up Messi's jersey number, '10'. Just like the first, it is also covered in rich greenery. It, however, appears the hungry eyes of the public are yet to pry into this magnificent creation.
Who are Lionel Messi's Parents and Siblings?
Messi's family has been very instrumental in his football career and that's why they are very worthy of mention. The Barca champion was born into a middle-class family of Italian origins.
Growing up, his dad, Jorge Messi (b. Jan. 1, 1958) worked at a steel factory while his mum, Celia Maria Cuccittini (b. 1960) worked at a magnet workshop. Jorge has however, worked as Messi's agent since after he launched his football career. Celia on the other hand, now works as one of the overseers of Lionel Messi's charity organization, the Leo Messi Foundation alongside taking care of several other matters back in Rosario. Messi enjoys a close relationship with his parents, especially his mother whose face he tattooed on his left shoulder.
Lionel is the third of his parents' four children. He has three siblings – two brothers and a sister, namely Rodrigo, Matias and Maria Sol.
Rodrigo Messi (Feb. 10, 1980) is Lionel Messi's eldest brother and sibling. He has also been very instrumental in Lionel's football career, working as his public relations and daily schedule manager. Rodriguez also works as a personal adviser to Barca's rising star, Ansu Fati. You can learn more about Rodrigo on his Instagram where he keeps updating his followers on his activities.
Matias Messi (b. June 23, 1982) is Lionel's immediate elder brother. Both Matias and Rodrigo played football with Lionel while they were growing up alongside their maternal cousins, Maxi and Emanuel Cuccittini who are now professional footballers. He currently assists their mum in overseeing the Leo Messi Foundation. Of all Messi's siblings, Matias is the least successful. Instead of a flourishing career, he is mostly popular for his several legal woes including being arrested thrice for illegal possession of arms.
Maria Sol Messi (b. Nov. 30, 1993) is Messi's only sister and younger sibling. Unlike other members of the family who contributes to Messi's football career, Maria who works as a fashion designer is the brand manager and project head of the player's Messi Store. Of all the Barca star's siblings, Sol is the most popular on social media, having over 300k IG followers.
Another member of Messi's family worth mentioning is his maternal grandmother, Celia Oliveira Cuccittini who went with him to almost every football game during his early years. Unfortunately, Celia died prior to Messi's 11th birthday. You know how the Barca star is always making the sign of the cross and looking up to the sky during his goal celebration? That is a tribute to his beloved late grandmother.
Meet His Wife and Children
After being in one or two relationships that scarcely came to media notice, Lionel Messi has since 2008, stuck to one woman whom he eventually married. It is no other than his present wife –
Antonella Roccuzzo (Wife)
Full Name: Antonella Roccuzzo
Date of Birth: February 26, 1988
Occupation: Model, entrepreneur
Spouse: Lionel Messi (m. 2017)
No. of Children: 3
Also born in Rosario, Antonella Roccuzzo has been Messi's friend from childhood. The two, however, parted ways when Messi went abroad to focus on his football career. Antonella started dating another guy who later died in a car crash in 2007. On hearing news of the sad incident, Messi traveled to their hometown to console Anto and help her get over her grief. It was during this period that the two reunited. They, however, managed to keep their renewed relationship low and away from the media until sometime in 2009 when Messi publicly confirmed he's got a girlfriend. After almost a decade of dating, Messi and Roccuzzo tied the knot on 30th June 2017. The wedding came off at the famous Hotel City Centre in Rosario, Argentina.
Lionel Messi's wife, Antonella Roccuzzo is a graduate of Latin American Education Centre, as well as Rosario National University. She currently owns a shoe line in partnership with Luis Suarez' wife, Sofia Balbi. She also signed a deal with Argentine fashion label, Ricky Sarkany. Although Roccuzzo maintains a lowkey lifestyle and avoids the media as much as possible, she is very active on Instagram and boasts a massive following of over 13 million.
With Antonella, Messi has three sons, namely:
Thiago (Son)
Full Name: Thiago Messi Roccuzzo
Date of Birth: November 12, 2012
Thiago is Lionel Messi's first child and son. He was born to him on 12th November 2012 in Barcelona, Spain by his then girlfriend and now wife, Antonella Roccuzzo. During his earlier years, Thiago called his dad by his name – Leo Messi, just like everyone else. Messi revealed in an interview that his eldest son was yet to have a clear grasp of the link between his being a famous footballer and that of being his father.
Thiago is already falling in line with his dad's football career. His parents enrolled him into FC Barcelona Escola at age three and at seven, he scored his first goal during a friendly match at the Barca academy in December 2019.
Mateo (Son)
Full Name: Mateo Messi Roccuzzo
Date of Birth: September 11, 2015
Messi's second son, Mateo Messi followed on September 11, 2015. He was born also born in Barcelona prior to Messi and Roccuzzo tying the knot. Just like his older brother Thiago, Mateo also calls his dad by his name  – Leo Messi. He is however, more rascally than Thiago, often making painful jokes such as celebrating the goals of his dad's opponents and saying he is a fan of other clubs whenever Barca loses. Messi has described Mateo with words like "complete bastard" and "troll".
Ciro (Son)
Full Name: Ciro Messi Roccuzzo
Date of Birth: March 10, 2018
Ciro is Messi's youngest child and son. He was born on the 10th of March, 2018, a little over one year after his parents tied the knot. Just like his older siblings, Ciro has keen interest in football.
Profile Summary
First Name:
Lionel Messi
Last Name:
Cuccittini
Also Known As:

Leo, Messi, La pulga, Messidona
Sex/Gender:

Male
Profession:

Professional footballer
Famous For:
Spanish club Barcelona and Argentina national team
Colleges/Universities Attended:

N/A
Educational Qualifications:

N/A
Religion:

Christianity
Birthday & Zodiac

Age/Date of Birth:

36 years old (24 June 1987)
Zodiac Sign:
Leo
Birth Place:

Rosario, Argentina
Nationality:
Argentine, Spanish
Ethnicity/Race:

Italian
Country of Residence:

Argentina
Physical Attributes

Height:

5 feet, 7 inch (1.70 m)
Weight:

65 kg (143lbs)
Eye Colour:

Dark Brown
Hair Color:

Dark Brown
Other Body Measurements:

N/A
Relationships

Marital Status:

Married
Spouse/Partner:

Antonella Roccuzzo
Family and Relatives

Father:

Jorge Horacio Messi

Mother:
Celia Maria Cuccittini

Children:

Thiago Messi Roccuzzo, (b. 2 November 2012)
Mateo Messi Roccuzzo, (born 2015),
Ciro Messi Roccuzzo (born 2018)

Siblings:
2 brothers - Matias Messi and Rodrigo Messi
1 sister - Maria Sol Messi

Other Relatives:

Antonio Cuccittini (Grandfather)
Celia Oliveira Cuccittini (Grandmother)
Rosa Maria Pérez (Paternal grandmother)
Eusebio Messi (Paternal grandfather)
Net Worth
Estimated Net Worth:

£309 million ($400m)
Salary:
£26 million GBP (Approximately $33 million)
Source of Wealth:

Football contracts, endorsement deals, investments