It is not every day that you find a professional athlete who also boasts of the magnetism and charisma usually reserved for movie stars. However, if there is one man who managed to combine both qualities and emerge as a sports and cultural pop icon of his time, it was Joe Namath.
A native of Beaver Falls, Pennsylvania, Namath excelled as a quarterback in college and was subsequently drafted No.1 overall into the American Football League in 1965. What followed was a glorious 13-year career during which he established himself as one of the best passers that the league has ever seen and also won a Super Bowl. Off the field of play, Namath also came to personify the ultimate antihero of his time with his shaggy hair, mustache, as well as brashness which saw him declare that his team would win the Super Bowl and go on to achieve same.
Such a larger-than-life personality ensured that Namath received record-setting figures as salaries. Brands also fell over themselves to give him endorsement deals and he pursued a successful acting career in Hollywood as well. Joe Namath has since retired from football but he still maintains a decent net worth of $25 million thanks to his pre and post-retirement strides.
How The Retired NFL Star Built his Huge Net Worth
Joe Namath Was Once the Highest Paid Football Player in America
A portion of Joe Namath's net worth comes from the salaries that he accumulated during his playing days. Thanks to his exploits in college, leading the Alabama Crimson Tide to a 29-4 win record and a national championship in 1964, the Pennsylvania native sparked off a bidding war between the American Football League and the National Football League. This put him in a favourable position to bargain with both sides and the famously-confident player declared that he wanted a $200,000 salary as well as a Lincoln Continental vehicle before he would append his signature to any side. The AFL's New York Jets would eventually offer Namath a then-record breaking rookie three-year contract worth $427,000 and also throw in his desired car for good measure.
The Jets would go on to reap their investment in multiple folds. Even though Namath was plagued by knee injuries during his 12-year-term with them, he led them to divisional titles as well as a sensational victory over the Baltimore Colts to win Super Bowl III in 1969. They in turn rewarded him with juicy contracts such as a 2-year-contract worth $500,000 in 1972 which made him the highest-paid player in the league at that time. There was also another 2-year-contract in 1975 worth $900,000. This equally made him the highest-paid player once more.
He Has Endorsed Several Brands and Now Serves as the Spokesman of Medicare Coverage Helpline
Off the field of play, Joe Namath was renowned for his charismatic personality. Bursting with energy and excitement, he regularly stole headlines with cocky comments such as "I like My Johnny Walker red and my women blonde". Such statements fetched him tons of admirers, both men, women, and children, and several companies subsequently flocked to him to help him endorse their brand. There was a magazine ad for a clothing brand, Hanes, where he unabashedly wore a pantyhose. The player was also paid about $10,000 to shave off his popular moustache in another commercial for Noxzema Shaving Cream. Namath is now retired but he still continues to attract brands. He presently serves as the spokesperson of a medical insurance company known as Medicare Coverage Helpline. The deal commenced in 2018 and will likely be in the seven-figure region thus helping to further boost Joe Namath's Net worth.
The Football Legend has featured in Several Movies including The Wedding Ringer
Most pro athletes wait until retiring before trying their hands at Hollywood but not Joe Namath. His acting career dates back to 1969 (his fifth year as a player) when he hosted his own eponymous talk show. The show lasted for just one season but it gave Namath an unquenchable taste for showbiz.
He would later sate it by featuring in several other movies and TV shows including Underdogs, The Wedding Ringer, The Waverly Wonders, Going Under, The Last Rebel, The Flip Wilson Show, The A-Team, The Brady Bunch, and The Sonny & Cher Comedy Hour. The specific details of Namath's paychecks for these appearances are not available but it would lurk in the six-figure region. An average Hollywood actor makes about $52k but it should be certainly more in the case of a legend like Joe Namath.
He Spent Six Years as an Analyst for NBC
Another factor that has contributed to Joe Namath's net worth is his sports analysis work for major networks. The retired football star spent a one-year stint in 1985 as an analyst for ABC's Monday Night Football. He then famously spent about six years working as a football analyst for NBC between 1988 and 1993. His position however became vulnerable in the fifth year and so, they offered him a reduced schedule. The retired player wasn't making much on that reduced schedule and when it became obvious that they would be more reductions, he decided to cut his losses and quit sportscasting.
The Beloved QB Owned One of the Most Popular Nightclubs in New York City in the late 60s.
Joe Namath's net worth has also received a boost from his business endeavours even though they were short-lived. Following his sensational Super Bowl victory in 1969, the quarterback established a nightclub in upper eastside NYC known as Bachelors III. It quickly became a well-patronized spot, attracting Hollywood celebrities as well as his fellow sports stars, and generated handsome revenue for its owner. Unfortunately, it also attracted the wrong kind of crowds, namely mob gangs, and this became a big issue as the league feared a stain on its reputation. They, therefore, prevailed on the player to shut down the establishment and he reluctantly agreed. This marked the end of his beloved club.
Sources of Joe Namath's Net worth
Playing Salaries – $1.82 Million est
Movie Appearances – N/A
Sports Analyst Earnings – N/A
Endorsement deals and Ads – N/A
Nigth Club – N/A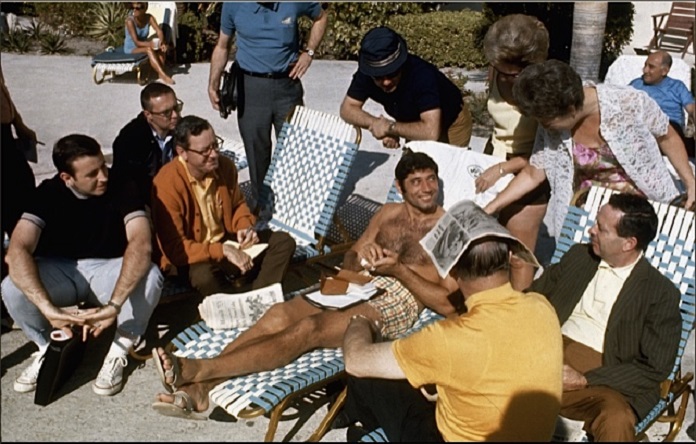 A Look at How Namath's Fortune has Grown Over the Years.
Prior to becoming a big star in the football league, Joe Namath hailed from a small steel-mining town and his parents weren't that well-to-do. He, therefore, had little or nothing and his days in the NCAA did nothing much to improve the status as the division does not financially remunerate players.
Namath's status however changed with his entrance into the league. He gained a rookie contract worth $427,000 in 1965, the highest-ever for a rookie in that era. A decade later, he would go on to emerge as the highest-paid player in the league with a $250,000 per annum payment. Two years later, it rose to as high as $450,000 per annum and saw him retain his position as the highest-paid player in the league. Namath would retire from professional football in 1977 and since then, he has continued to add to his fortune with fees from movie appearances as well as his endorsement deals.
The Closure of Namath's Night Club, as well as his Flamboyant Lifestyle, Cost him Money
Joe Namath would eventually retire from the NFL in 1977 but he threatened to retire on about three occasions, 1969, 1970, and 1971 before that. Analysts have pointed out that why he did not make good on this threat was the dire financial situation that he found himself in. The quarterback may have made loads of cash from his playing salaries and endorsements deals but he squandered same by living a flamboyant lifestyle with it.
Joe Namath's net worth also suffered from the fact that he took his investment advice from sycophants and hangers-on rather than shrewd investment managers. A good example of this was his investment in Bachelors III. A good manager would have told him that bartenders still manage to cheat the bar owners who live right above the bar talk more of an NFL star who would have little or no time to come around.
Good managers would have also pointed out the fact that Bachelors III had an unsavoury clientele. They were no such good managers and the player dived in and suffered the resultant consequences. This made him postpone his retirement as he knew that he could not live on what he had saved up.
Joe Namath Net Worth Milestones 
1965 – $142,333
1975 – $250,000
1977 – $450,000
2020 – $25,000,000
Joe Namath Owns Several Homes Including His Primary Residence in Florida.
Namath may have famously hinged his signing of a rookie contract on a car but his tastes don't run in those circles these days. He is more accustomed to splashing the cash on living abodes for himself and his loved ones. The former NFL star primarily makes his home in Tequesta on the southeast coast of Florida. His 1.5 acre home features four bedrooms, three bathrooms, as well as a dock, and a swimming pool. The exact amount that Joe shelled out for the house is not available but home prices in Tequesta go from $500,000 to as high as $1.7 million.
Also in 2016, Namath purchased a Manhattan co-op for about $1 Million. The co-op features two bedrooms, lots of storage space, an open kitchen, a dining as well as a living area. It was meant for his daughter, Jessica, and her husband, and they ended up living in it for about three years before putting it back on the market in August 2019 for about $1.1 million.
Is Joe Namath The Richest Retired NFL Star?
With his $25 million net worth, Joe Namath has certainly done well for himself but he is not by any means the richest retired NFL star. Others that rank above him in the perking order include Tim Couch – $26 million, LaVar Arrington – $45 million, Jake Long – $54 million, Tony Romo – $90 million, Peyton Manning – 200 million, and Roger Staubach – $600 million.
The honor for the richest retired NFL player goes to Jerry Richardson with a net worth of about $1.1 Billion. Richardson spent just two years in the NFL (1959-1960) playing for the Baltimore Colts. He later retired and used his savings to establish a popular fast-food chain (Hardee's) and foodservice company (Flagstar). With proceeds from these two businesses, Richardson bought into the Carolina Panthers in 1993 and further enhanced his fortune.