Kim Zolciak is famous as an American TV personality and, is best known for appearing in "The Real Housewives of Atlanta".
Though Kim is popular for being one of the main cast in Bravo's reality television series, she attracted the attention of those who were reluctant to be enthusiastic about her when she started her "Don't be Tarry" spin-off. As though that wasn't enough, she captured their hearts with her "Tardy for the Party" hit single, that was in 2009.
Eight years before that, Kim was a married woman. She was wife to Daniel Toce, who was locked up for molesting a 15-year-old girl. But the marriage only lasted for a while. Some say it's three months but we have reasons to believe the marriage lasted for two years.
Long before Kim met Toce, she had a controversial affair with a policeman who questioned her after she witnessed a crime. The sergeant was dismissed when the affair was exposed.
As fate would have it, Kim and NFL player, Kroy Biermann met, became lovers and her fame soared. Here are all the things you may want to know about the star. From her having a plastic surgery to her income, house, husband, children, and career, we've got you covered.
Kim Zolciak Biography
Kim was born on May 19, 1978, in Pensacola Florida but grew up in Windsor Lock, Connecticut. She attended high school at East Catholic high school in Manchester Connecticut and graduated in 1996 before studying nursing at University of Connecticut. In 1999, Kim at the age of 21 moved with her parents to Atlanta Georgia.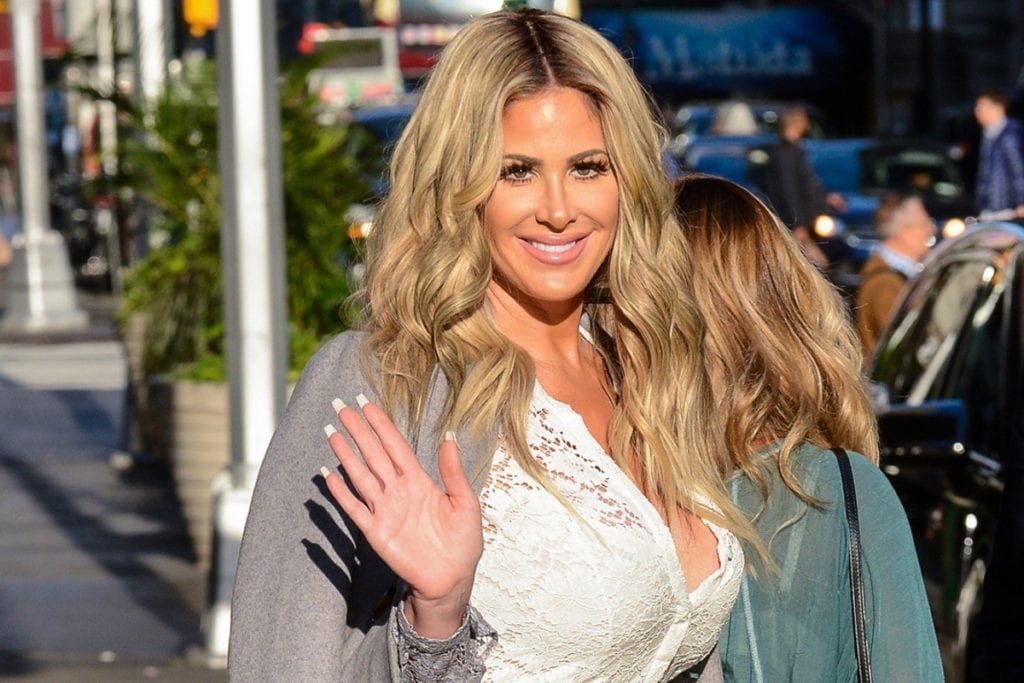 She rose to limelight in 2008 appearing as one of the original housewives in Bravo reality TV series "The Real Housewives of Atlanta". She starred for five seasons for which she received $600,000 per season. Kim left the show in 2012 to star in her own spin-off "Don't Be Tardy".
Though there were speculations she won't make it on her own show, the show has run successfully for 4 seasons. The success is attributable to the initial focus of the show on the preparations for Kim's marriage to NFL star Kroy Biermann. In 2015, she appeared on the 21st season of TV game show "Dancing With The Stars" but withdrew after three weeks into the show due to health complications. She has also been a guest star on the "Ellen Degeneres Show".
Kim is also good with the mic, in 2008 she released her debut single "Tardy for the Party" which was written and produced by fellow TV personality Kandi Burruss. The single premiered on "The Wendy Williams Show". Following a small club promotion, the song became among the top 10 dance charts in iTunes. Kim has also released other singles including "Google Me", "Ring Didn't Mean a Thing" and "Love me First".
Kim Zolciak Net Worth, House, Husband and Children
Kim met her NFL husband Kroy Biermann in 2010 at a fundraising event, they got married a year later and together they have four children, Kroy adopted her two children from her previous marriage making their total number of children six.
The couple lives together with their children in their expansive mansion in Atlanta which they purchased for $900,000. The reality TV show "Don't Be Tardy" is focused on the whole family.
From her music, TV career and other endeavors like her business exploits which saw her launch her Kashmere perfume and skin-care products, it is estimated that Kim's wealth ought not to be lesser than $500,000 or above $4 million. Her earning is somewhere between those figures. Meanwhile, it is believed that her husband, Kroy Biermann has assets worth of $5.5 million.
See Also: Lisa Vanderpump Biography, House, And Quick Facts
Kim Zolciak Plastic Surgery, Height, Body Stats
While words like "sexy" and "hot" are an everyday term used in describing Kim, there have been insinuations about her going under the knife to enhance her looks. Among other things, it is said that her nose is fake, that she had a nose job. At a point, the Don't Be Tardy star had to come clean.

She admitted that she has done several things surgically to improve the natural and physical structure of her body. She also talked about changing her "thick" legs if it's possible. Nonetheless, Kim maintained that she didn't do any facial plastic surgery, dismissing the nose job claims. Based on what she said, she has worked on her lips, remolded her boobs and received a tummy tuck.

Kim is 7 inches taller than 5 feet (1.75 m). Her weight is slightly above 153 lbs and, her body measurements are 41, 29 and 39 inches; respectively for her breasts, waist, and hips.

Fact Check: We strive for accuracy and fairness. If you see something that needs updating,