TV Talkshow has been a common thing in the current entertainment world. There are many TV talk show hosts, but Ellen DeGeneres is one of the most popular personalities who wears three hats as a stand-up comedian, actress, and entrepreneur.
The talk show queen's dream as a child was to become a veterinarian. But after her dream failed post-high school, she resorted to a number of odd jobs like painting, table waiter at a hotel, vacuum cleaner, and saleswoman.
Ellen Degeneres Bio, Brother
Ellen DeGeneres' parents, Betty DeGeneres (née Elizabeth Jane Pfeffer) and Elliott Everett DeGeneres had her on January 26, 1958, in Metairie, Louisiana, where she was also raised. Her insurance agent father and speech therapist mother earlier had Vance DeGeneres before Ellen's arrival. Both siblings are of French, English, German, and Irish descent.
Betty and Elliot divorced in 1974, leading to Vance staying with his father and Ellen moving in with her mother's second husband Roy Gruessendorf (a salesman) in Atlanta, Texas.
Ellen began studies at Atlanta High School, from where she graduated in May 1976. She had earlier completed her first years of high school at Grace King High School in Metairie, Louisiana. Done with High School, she proceeded to study communication studies at the University of New Orleans.
In a bid to cater for herself, she would do clerical work in a law firm with her cousin, Laura Gillen, serve as a waitress at T.G.I. Friday's, paint houses, and do other menial jobs. Ellen was a shy girl who avoided talking in front of people. Once when asked to give a public speech, she used some humorous statements to ease the tension. Amazingly, her natural jokes amazed the crowd, and there she realized she had a comic side. Ellen then began performing stand-up comedy at a local coffeehouse. She was in her early 20s at the time.
In her family, her brother Vance was considered the funniest in the family. From 1999 to 2001, he worked as a correspondent on The Daily Show. Vance wears many hats as an actor, comedian, musician, film producer, author, pianist, guitarist, screenwriter, and television personality.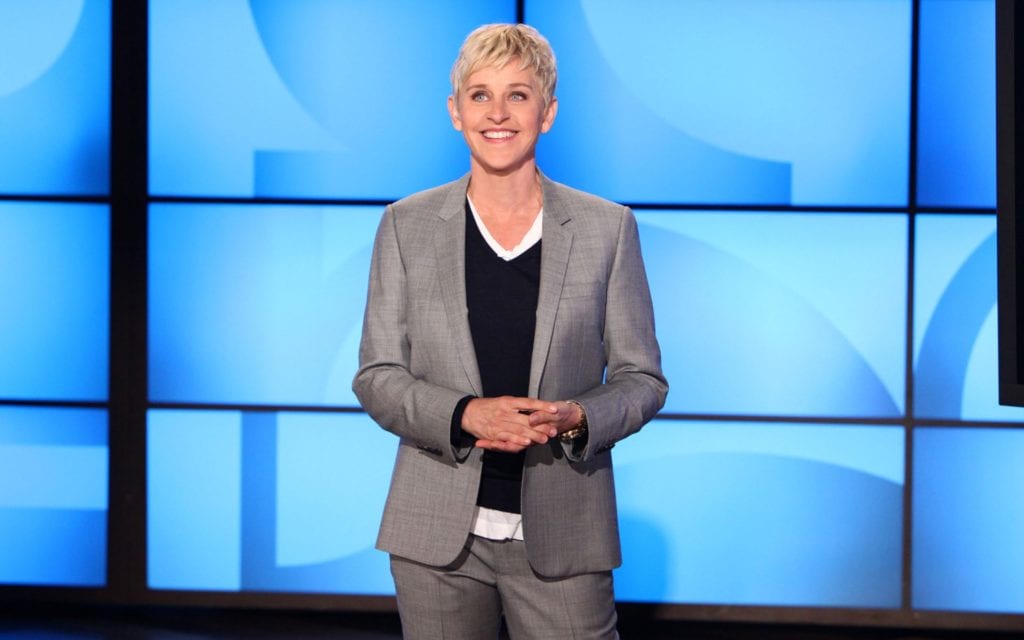 Career Success: "Ellen DeGeneres" Talk Show Earnings
Ellen made her breakthrough in the mid-80s. She was invited to the Tonight Show by Johnny Carlson. This made her the first ever female stand-up comedian to sit on the coach and interview guests on her first visit. After appearing on this show, she became a household name and many top TV shows hosts wanted to host her. She then appeared on some shows like Larry King Live, the Oprah Winfrey Show, the Tonight Show – Jay Leno, The Late Show with David Letterman, among others. These shows made her very much popular, and she was high on demand.
After going on as a guest on the top TV talk shows in America, Ellen decided to go all solo. She hosted her talk show, The Ellen DeGeneres Show in 2003. She wasn't as successful as such during her first year, but subsequently, things started taking shape. The show slowly grew into one of the most successful daytime talk show. It has millions of viewers, and as of now, it is estimated that a single episode attracts around 4 million viewers.
She has won many awards for her daytime TV talk show, including; Outstanding Talk Show Entertainment, Outstanding Talk Show, Outstanding Talk Show Host, and Outstanding Special Class Writing. By 2012, the show has been awarded about 32 Daytime Emmy Awards, which helped to boost the Ellen DeGeneres' net worth.
Ellen hosts celebrities, musical perfectionists, and discusses topics of human interests. It is a show that delivers the best to the viewers, winning their hearts in the process. She always opens with a dance, which has been her signature since the show started. It is believed that Ellen now makes about $45 million a year from her show.
Businesses
She has a production house called the Very Good Productions, which has about five shows on the air. Also, she has a show that features Green Eggs and Ham by Dr. Seuss. She also has her site that is called Ellentube, which is a video portal that uploads random videos. She's also on a deal with Vessel which lets her viewers stream her live show.
Other than the talk show and the productions, she has a ladies clothing line, ED by Ellen that is quite a success. With all the deals, clothing lines and the famous TV talk show, Ellen's wealth is only on the rise.
While Ellen receives a whopping $75 million annually as salary, her net worth as of 2017 is estimated to be $360 million.
House
Ellen DeGeneres's $18.6 beachfront house sits at Carpinteria, a sleepy little town California. The expensive home was bought with the help of a private trust and her business manager and features a guest house of considerable size, clay tennis court and plunge pool, and others.
Ellen Degeneres Wife, Daughter
Comedy genius Ellen DeGeneres shocked her family members and fans in 1997 when she first came out of her closet as a lesbian. The news of her being lesbian blew away her fans and drew wide media coverage around her.
At first, her mother, Betty was bowled over but after some time, she embraced her daughter's sexual orientation and has since become a spirited member of Parents & Friends of Lesbians and Gays (PFLAG).
Ellen's first known relationship was with actress Anne Heche from 1997 to 2000. Her second partner was Alexandra Hedison, a renowned actress, photographer, and director. They dated from 2000 to 2004.
After separating from Hedison, Ellen started spending quality time with Portia de Rossi, a famous Australian and American actress, model, and philanthropist, whom she first met at backstage at an awards event. The sweethearts immediately got engaged following the decision to overturn a ban on same-sex marriage in California.
Ellen and De Rossi finally tied the knot on August 16, 2008, at their Beverly Hills home. The ceremony held in the presence of their mothers and about 17 other guests. DeGeneres and her wife have spent over nine years as partners ever since their legendary wedding took place. Portia has also changed her name to Portia Lee James DeGeneres since September 23, 2010.
Ellen's wife, Portia de Rossi was born Amanda Lee Rogers in Horsham, Victoria, Australia. She attended Melbourne Girls Grammar School and subsequently, the University of Melbourne, where obtained a degree in law.
De Rossi lost her father – Barry Rogers – at the age of 9, leaving behind his wife Margaret Rogers, a medical receptionist. Before getting hitched to Ellen, Australian actress Portia wedded American sound engineer Mel Metcalfe in 1996. They, however, divorced three years later.
She also had a short-lived relationship with her then Italian-American director partner, Francesca Gregorini (a lesbian also). Both started dating in 2001, until late 2004, when they went their separate ways because de Rossi began seeing DeGeneres.
When Ellen and Portia first met, both couldn't resist the charms and noticeable feelings of love that emanated from their ends. They are over nine years and still counting but have no plans of having kids, although their fans are still hopeful that the A-list celebrities will have kids in the future.
It's everywhere that Ellen has a daughter. But we can confirm that the said daughter is not her biological daughter but a paid actress who played her daughter for a comedic effect. Her name is Rafter Yellow. Ellen and Yellow once appeared on a show for "Take Your Daughter to Work Day".
Divorce
Claims that Ellen and her sweetheart Portia de Rossi are heading for divorce and have separated have been in the spotlight over the years. But, it appears that these claims are nothing but fabricated reports.

Recently, it was reported that the talk show queen and her wife had a fight at their Beverley Hills home and that this led to Ellen buying a $20 million mansion in Carpinteria, California, just to avoid Portio.

The source also claimed that the fight was the fiercest in their nine years of staying together and that they could be filing a US$400 million divorce. Portia was alleged to have been sick of Ellen paying less attention to their marriage and more to her show.

But, we can confirm that the A-list couple is still together. They have also been working on their relationship and are living peacefully together with 4 dogs and 3 cats in their quiet mansion.

Fact Check: We strive for accuracy and fairness. If you see something that needs updating,