| Age/Date of Birth: | September 12, 1985 |
| --- | --- |
| Height: | 6 ft 3 in (1.91 m) |
| Ethnicity/Race: | White |
| Nationality: | American |
| Wife or Girlfriend: | Kim Zolciak |
| Parents: | Keith and Kathy Biermann |
| Net Worth: | $5.5 million |
Kroy Biermann is an American professional football player who played for NFL's Atlanta Falcons between 2008 and 2015. He is also a reality TV star appearing on Bravo's "Don't Be Tardy" alongside his wife Kim Zolciak.
The former American football defensive end and outside linebacker, Kroy Biermann has an estimated net worth of $5.5 million.
Here's How He Began
Kroy Evan Biermann was born on September 12, 1985, in Hardin, Montana. Kroy attended Hardin High School where he was extremely active in sports including football, wrestling and track. He excelled in football and wrestling at the state level. Both in his junior and senior year, Kroy was the state's number 2 and also the team captain in his senior year. He was later named the state wrestling team's Most Valuable Player.
Football was no different, Kroy played as a linebacker and was selected into the First Team All-State both in the junior and senior year. After graduation, he attended the University of Montana. At Montana, Kroy started off on a right foot beginning from his freshman year in 2004 when he played 14 out of 15 games. Throughout college, Kroy played 52 games with a total of 220 tackles and 32 sacks, making him the second-best in the school.
See Also: Inside The Incredible Mansions Of Your Favorite NFL Quarterbacks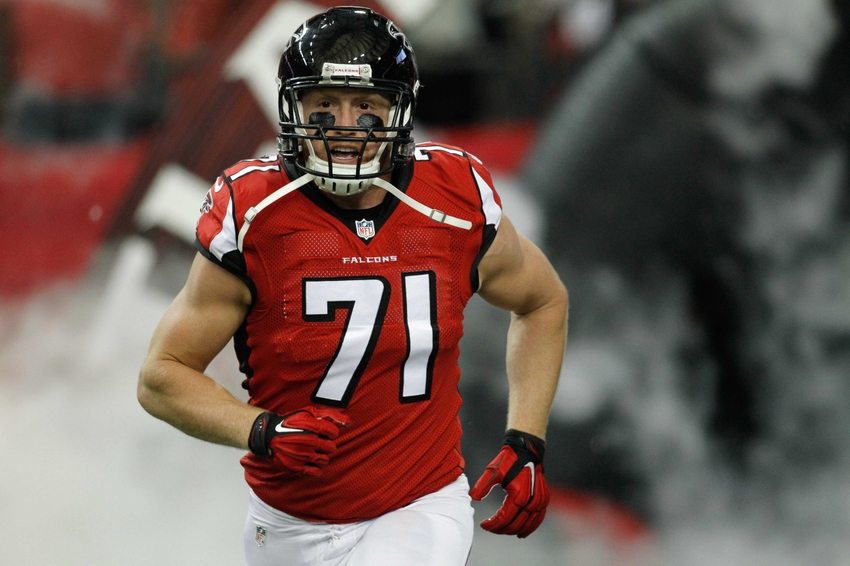 A Breakdown of His Net Worth and Career Earnings
Following a decorated college career, Kroy was selected in the 2008 NFL draft by the Atlanta Falcons in the fifth round as the 154 overall pick. In 2008, NFL combine, Kory came out as the top performer in the 3-cone drill and in the vertical jump. He played at the outside linebacker position. His first NFL touchdown came in a Monday night game on November 2, 2009, against New Orleans Saint.
Earnings From Atlanta Falcons (2008–2015)
Between 2008 and 2010, Kory earned over $862,000 in salary alone while playing for the Falcons. Subsequently, his annual earnings surged to $2.5 million. In March 2015, after being a free agent for one week and recovering from Achilles, the Atalanta Falcons picked him up for another contract.
The franchise offered him a 1-year deal worth $1,925,000 which included a $500,000 signing bonus and $500,000 guaranteed.
Buffalo Bills (2016)
At the end of his contract with the Falcons, Biermann landed a one-year deal with the Buffalo Bills on August 15, 2016. The deal is worth $885,000, including an average annual salary of $885,000.
However, his time with the Bills was short-lived. On September 2nd, barely a month after joining the side, a roster cut affected him and he went back to being a free agent.
Release From Buffalo Bills
Kroy left Atlanta for the first time in his career after signing a 1-year deal with the Buffalo Bills on August 15, 2016. However, after barely a month on the contract, Kroy was released from the roster on September 2, 2016, to become a free agent yet again.
The release was a result of his failure to impress the new side during the pre-season. The Bills who had signed up to 90 players cut their roster to 53 before the new season, releasing Kroy in the process. This was much to the dismay of Kroy and his reality star wife Kim who had already taken to social media to show much anticipation about the new move. A few days after Kroy signed the new contract, he bought Kim a $100,000 diamond ring to celebrate their fifth wedding anniversary.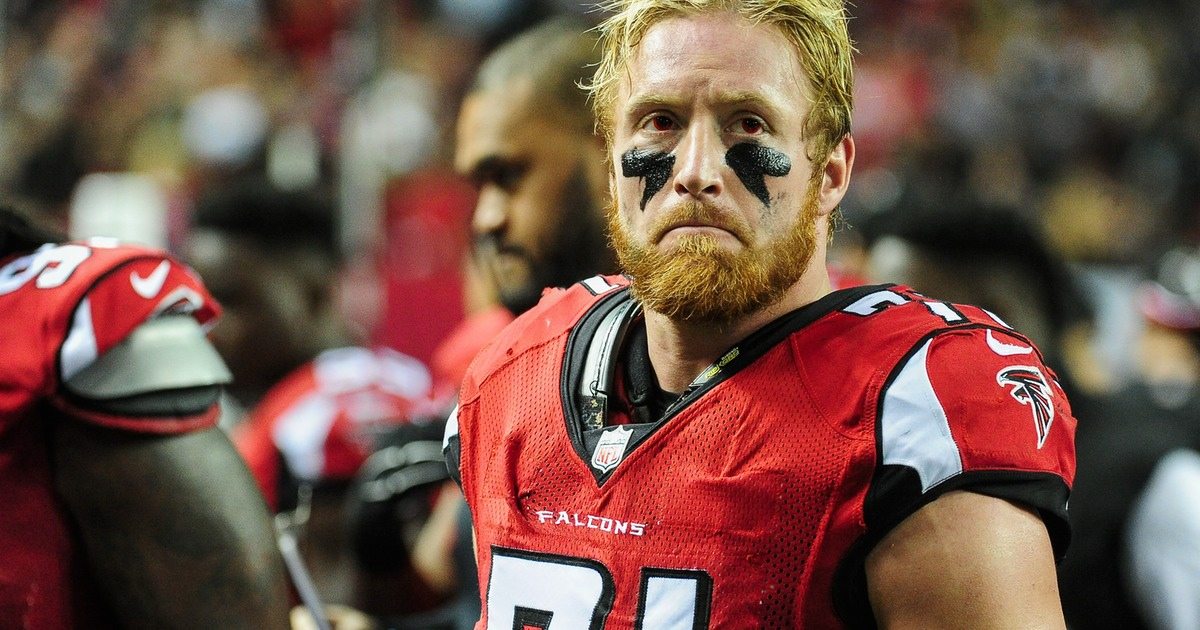 Kroy's NFL career seems to be hanging in the balance which has led to many speculations about his marriage, finances, and career some of which have been confirmed false. When news emerged that Kroy and Kim could divorce as the family's main source of income was no more, Kim took to social media to post sweet photos of her and her husband, automatically falsifying the rumors.
Others also speculated that Kroy was ready for retirement. To debunk the rumor, his agent Buddy Baker clearly stated that "retiring is not a consideration at this point" as the situation is only for a short time.
Highlights Of His Career Earnings
2008-2011 (entry-level) – $1,879,750
2012-2014 – $9,150,000
2015-2015 – $1,925,000
2016 – $885,000
Kroy Is Far From Being Broke
However, while being out of a job is certainly enough to worry anyone, Kroy whose net worth is estimated at $5.5 million is far from being bankrupt. An October episode of their reality show "Don't Be Tardy" revealed Kim blowing away $25,000 at a casino. So, there's enough to gamble with.
And if Kroy never makes it into any other NFL team again, there are many things the football star can dabble into, like becoming a sports analyst, launching a wrestling career, or TV show anchor. About the latter, there are rumors that he may join Kelly Ripa as a permanent co-host on ABC's Live!
Kroy's $5.5 Million Net Worth Compared To Other Players
Kroy got reasonable deals while his active days in the NFL lasted but his peak salary of $2.5 million shrinks when compared to some of the top earners in the league. Quarterbacks Patrick Mahomes of Kansas City Chiefs and Russell Wilson of Seatle Seahawks bag $45 million and $35.0 million as yearly salaries.
While Mahomes has a net worth of $30 million, Kroy's net worth of $5.5 million is not such a trifling amount when compared to other current NFL players – considering his short-lived career. Kroy has not been blessed with lucrative contracts and has spent a great deal of his career as a free agent.
Meanwhile, with a base salary of $14.2 million, Kroy's former teammate at the Buffalo Bills – Stefon Diggs, has a net worth estimated at $12.5 million. Other top earners at the Buffalo Bills include Tre'Davious White with a base salary of $8.2 million, Mitch Morse – $6.7 million, Jerry Hughes – $6.6 million, and Trent Murphy – $6.4 million.
Meet Kroy Biermann's Wife
Full name: Kimberleigh Marie Zolciak-Biermann
Date of birth: 19th May 1978
Place of birth: Pensacola, Florida
Occupation: Television personality, singer
Years active: since 2008
Kim is an American television personality who joined the cast of "Real Housewives of Atlanta" as one of the inaugural Housewives. She remained on the show for five seasons and left in 2012 to start her own spin-off Tv show (Don't Be Tardy for the Wedding). The show initially covered the preparations for her wedding to Kroy after which the name changed to "Don't Be Tardy".
Kroy met Kim Zolciak at an Atlanta fundraising event in 2010. At the time, Kim was a star on "Real Housewives of Atlanta". A year after dating, they married on November 11, 2011, in a $1 million wedding party at their Roswell, Georgia, home.
The couple landed their own spin-off show on Bravo titled "Don't Be Tardy" which premiered on April 26, 2012, becoming the first spin-off of RHOA. Don't Be Tardy has been running successfully for 5 seasons and counting. Kim reportedly earns $600,000 per season.
Kim and Kroy Have Four Children Together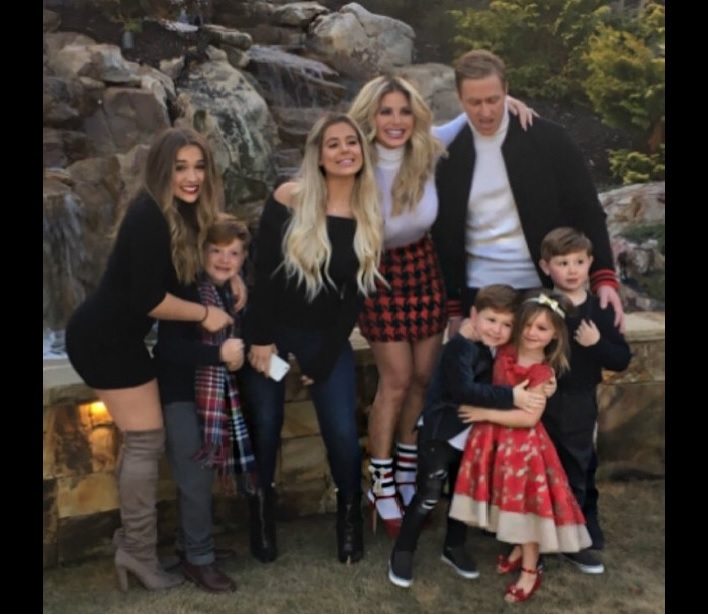 Though they have 4 between them, the couple shares 6 children together, two of whom are from Kim's previous relationship. Kim's daughters Brielle Karenna (born February 25, 1997) and Ariana Lenee (born October 17, 2001) were born during her marriage to Daniel Toce from 2001 to 2003. Kroy later adopted Brielle and Ariana in 2013.
Kroy and Kim welcomed their third child, Kroy Jr in 2011, shortly after their wedding. After a year and 2 months (2012), the couple also welcomed their second son Kash Kade.
In November 2013, Kroys wife Kim gave birth to their twins; daughter Kaia and son Kane.
An Inside Look at His House
Kroy Bierman, his, wife, and kids live in their 17,000 square-foot house, a crib which many have described as a dream house. The house cost over $800,000 dollars at the time it was purchased in 2012.
The Atlanta mansion is made up of 7 bedrooms and 8 bathrooms with a basement game room and more. Kim gave her social media fans a tour of the basement and it appears to hold a lot of fun memories, including Kroy's football memories. In the video shared in her Instagram Stories, Kim admitted that her favorite game in the room is Pac girl.
True to its name, the Biermann's basement game room has a myriad of video games to binge on, including Ms. Pac-Man, Teenage Mutant Ninja Turtles, as well as Golden Tee.
Meet His Parents
Kroy was born to Keith his father and Kathy Biermann his mother. It is said that his parents were not in support of him marrying RHOA star Kim as they always wished for him to marry someone different from him. Kroy's parents did not give their blessings to his union with his wife and the player is reportedly not on good terms with them.
Kroy is a brother to two girls Krista and Kresley his elder sisters. They all grew up with their parents.
Profile Summary
First Name:
Kroy
Last Name:
Biermann
Also Known As:

N/A
Sex/Gender:

Male
Profession:

Former American football defensive end and outside linebacker.
Famous For:
His exploits as a professional American football player
Colleges/Universities Attended:

University of Montana
Educational Qualifications:

N/A
Religion:

N/A
Birthday & Zodiac

Age/Date of Birth:

September 12, 1985
Zodiac Sign:
Virgo
Birth Place:

Hardin, Montana
Nationality:
American
Ethnicity/Race:

White
Country of Residence:

USA
Physical Attributes

Height:

6 ft 3 in (1.91 m)
Weight:

255 lb (116 kg)
Eye Colour:

Light brown
Hair Color:

Light brown
Other Body Measurements:

N/A
Relationships

Marital Status:

Married
Spouse/Partner:

Kim Zolciak
Family and Relatives

Father:

Keith Biermann
Mother:
Kathy Biermann
Children:

Brielle Biermann, Ariana Biermann, Kash Kade Biermann, Kaia Rose Biermann, Kroy Jagger Biermann, Jr., and Kane Ren Biermann.
Siblings:
Two older sisters, Krista and Kelsey
Other Relatives:

N/A
Net Worth
Estimated Net Worth:

$5.5 million
Salary:
N/A
Source of Wealth:

Football career