| Net Worth: | $120 million |
| --- | --- |
| Salary: | N/A |
| Income Sources: | Comedy,Television career, filmmaking, sales of his books |
| Age/Date of Birth: | November 28, 1962 |
| Height: | 169cm or 5 feet 6.5 inches |
| Nationality: | American |
| Last Updated: | 2020 |
Whenever the roll call of America's greatest comedians is taken, one name that will surely feature prominently is that of Jon Stewart.
A psychologist by training, Stewart initially earned his comic chops on the NYC stand-up circuit in the late 80s. He subsequently switched to writing content for several comic shows before landing the career-defining role of hosting The Daily Show in 1999. Stewart spent well over a decade in this role during which he amassed many achievements and accolades. He also used that opportunity to cement his reputation as one of America's greatest funnymen.
Stewart's Humble Beginnings in the City of New York
Jon Stewart was born as Jonathan Stuart Leibowitz on November 28, 1962, in New York City. He however, grew up in Lawrenceville, New Jersey where his parents divorced when he was 11 years old. As a result of his parents' early split, Jon did not get along with his father. On growing up, he adopted his middle name 'Stuart' as his last name thus, doing away with his father's name, 'Leibowitz'. Later on in life, precisely on the 19th of June 2001, he legally adopted Stewart in place of Stuart.
After his high school education at Lawrenceville, Jon Stewart attended the College of William & Mary in Virginia. He graduated in 1984 with a degree in psychology. During his school days, Jon had the effortless talent of cracking up his friends and classmates. He was known to be the funny guy but back then, he never considered making a career out of comedy. However, after working a series of post-college menial jobs (including as a busboy), Jon eventually moved to New York City to give comedy a try, starting with stand-up.
On getting to NYC, he performed regularly at the Comedy Cellar and three years later, he became a comedy writer for the TV show, Caroline's Comedy Hour. Stewart also began hosting several shows including Comedy Central's Short Attention Span Theater and MTV's You Wrote It, You Watch It.
Breakthrough via 'Late Night with Letterman'
According to Jon Stewart, his entertainment career kicked off in earnest after he began appearing on NBC's late night talk show – Late Night with David Letterman.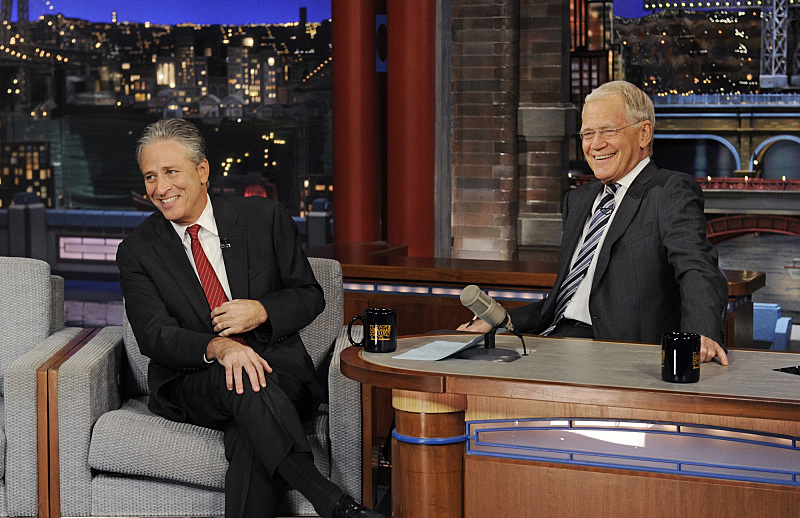 Jon through the program, gained widespread recognition which subsequently earned him The Jon Stewart Show in 1993.
The eponymous show would become MTV's first talk show as well as a hit for the network as it became their second highest-rated show, bested only by Beavis and Butt-head. Unfortunately, the show's ratings soon began to drop, eventually leading to its cancellation in 1995.
The Daily Show with Jon Stewart
After The Jon Stewart Show ended, Jon who had gained Letterman as one of his fans, continued hosting several small shows created by the latter's production company, Worldwide Pants. His hard work finally paid off after MTV tapped him to replace Craig Kilborn on The Daily Show in 1999. The show thus metamorphosed into The Daily Show with Jon Stewart.
While on The Daily Show, Stewart endeared himself to Americans with his humorous but insightful take on various issues of national importance. With the comedian's satirical political commentary and critique of traditional media, the show gained increased ratings as well as massive critical acclaim. His work on The Daily Show also fetched him 22 Emmy Awards in various categories, making him the highest Emmy award recipient ever.
After 16 glorious years, Jon Stewart announced his departure from the show on February 10, 2015. Prior to his departure on August 6, 2015, The Daily Show averaged a viewership of 1.5 million per day. Stewart later revealed his reason for leaving to be getting just the same satisfaction; he wanted something different.
After quitting The Daily Show, Jon Stewart took a break from major TV roles. He however, continued making occasional appearances on programs such as The Late Show With Stephen Colbert. In his stead, South African comedian, Trevor Noah began to host The Daily Show which continues to air as of the time of writing this article.
Details of How Jon Stewart Built His Net Worth
Given his mercurial career, one would expect Stewart to be raking in the big bucks and he does not disappoint. The New York native presently has a net worth of $120 million and he owes this to his iconic TV career alongside other lucrative ventures. A detailed look at how the sought-after TV comic amassed his cash through the years tells us more.
How Much Did Stewart Make from The Daily Show – Did He Earn Higher than Stephen Colbert?
Most prominent and financially rewarding of Jon Stewart's television jobs was his days as host of The Daily Show. Jon received an impressive salary of $1.5 million in his first year on the show and by 2008, the amount had ballooned to a mouthwatering $14 million. In 2010, the legendary comic signed a new 3-year deal on the show which saw him earn $25 million annually.
Comparing his annual salary with other popular late night hosts, Jon Stewart counts among the top highest-paid. CBS Late Night star, David Letterman in his legendary TV career received a peak paycheck of $40 million. Stewart's NBC counterpart, Jay Leno peaked at $20 million for The Tonight Show while his close acquaintance, Stephen Colbert has so far received nothing more than $15 million for his Late Show. Colbert currently has a net worth of $60 million. Other nightly icons like Conan O'Brien, Jimmy Fallon, and Jimmy Kimmel have all earned between $10 and $12 million per annum.
Meanwhile, there is yet no stopping for Jon Stewart as he is making a big return to TV just before 2020 packs up. The Emmy-studded former Comedy Central guru is set to give his already impressive worth a boost with an Apple TV+ current affairs series whereon he will work as both host and executive producer.
Acting, Film Directing/Production and Authoring
Apart from television comedy, Jon Stewart has made good bucks from film, working as an actor, director and producer. Some of the highly successful movies he has featured in include The Faculty (1998), Half Baked (1998), Big Daddy (1999). He has as well appeared in a number of high profile TV series like Evan Almighty (2007), The Simpsons (voice) and the documentary, Wordplay (2006).
Jon Stewart also has a production company, Busboy Production through which he has worked on several screen projects. These include The Donor, Important Things with Demetri Martin, and Rosewater. In 2005, the company signed a funding deal with Comedy Central to produce spin-offs of The Daily Show such as The Colbert Report and The Nightly Show with Larry Wilmore.
Off the screens, Jon Stewart has tried his hands at writing with considerable success. His three books, Naked Pictures of Famous People (1998), America (The Book): A Citizen's Guide to Democratic Inaction (2004) and Earth (The Book): A Visitor's Guide to the Human Race (2010) have all emerged NYT bestsellers. The audio version of America (The Book): A Citizen's Guide also won a Grammy in 2005 for Best Comedy Album. Stewart later wrote and directed Irresistible, a political comedy film he released in 2020.
Jon Stewart's Real Estate Investments
Jon Stewart has also invested good cash in real estate. In March 2005, he acquired a 6,000 square-foot apartment in Tribeca, NYC for $5.8 million. In 2014, he sold the property more than triple the purchase price – $17.5 million. Good investment you'd say!
In 2010, Jon bought a riverfront mansion in Red Bank, New Jersey for $3.8 million. In 2011, he added to it, the next door house which he acquired for $3.2 million. Two years later, Stewart and his wife purchased a 12-acre farm in Middletown, New Jersey which they turned into a refuge for abused animals. In 2017, they bought a much larger property – a 45-acre farm in a Colts Neck, New Jersey. This they also converted to an animal shelter or better still, a farm cv   sanctuary.
Put together, the veteran TV host has accumulated great wealth estimated at $120 million as of 2020. A quick recap of his major sources of income:
TV hosting
Acting
Film directing and production
Screenwriting and authoring
Real estate investments
A Closer Look at the Enviable Family Life of Jon Stewart
The best thing that can happen to an individual is for him/her to find a partner who shares their passion and interest. Jon Stewart is quite lucky in this regard as he is married to a selfless lady by the name, Tracey McShane.
Stewart and McShane first met each other on a blind date arranged by a mutual friend of theirs in 1997. They subsequently started dating and two years into their relationship, the comic popped the big question through a well-crated crossword puzzle. The super-smart Tracey was able to figure out the marriage proposal contained in the puzzle and said yes. The married in November 2000.
Jon and Tracey have remained together ever since then and have built an enviable relationship. Oprah Winfrey, following a 2005 interview with the couple at their home, described their marriage as the "Real Deal". According to Jon, Tracey is "the most compassionate person" he has ever met in his life.
With Tracey, Jon Stewart has two lovely children – a son and a daughter, namely:
Nathan
Full Name: Nathan Thomas Stewart
Date of Birth: July 3, 2004
Nathan is Jon Stewart's first child and only son. He was born in 2006 through in-vitro fertilization as his mum, Tracey was having difficulty conceiving. Nathan in 2016, suffered a major health crisis after which he was diagnosed with celiac disease and a blockage in his left kidney. Celiac is an autoimmune disease where eating gluten can cause blockage of the small intestine. Luckily, doctors were able to figure out what was wrong and treated him with a combination of operation as well as medication.
Maggie
Full Name: Maggie Rose Stewart
Date of Birth: February 5, 2006
Maggie is Jon's second child and only daughter. Just like his brother, she was also conceived via IVF. She was born in 2006. Just like their parents, both of Stewart's kids love taking of animals.
More Facts About Tracey McShane, Jon Stewart's Wife
Full Name: Tracey Lynn Stewart
Date of Birth: August 6, 1967
Occupation: Veterinarian, Animal Rights Advocate, Graphic Designer
Spouse: Jon Stewart (m. 2000)
No. of Children: 2
Born in the year 1967, Tracey Stewart is a native of Philadelphia and a graduate of veterinary science. Tracey is not just a veterinary technician, she naturally has a soft spot for animals. She initially worked with several related organizations before finally focusing her attention on animal rights advocacy and protection.
As a result of her belief in sparing and preserving the life of animals, Tracey is a vegetarian. She has also succeeded in turning her husband, Jon to a vegan. The feat which she achieved around the time Stewart left The Daily Show left many wondering what went wrong with the tv host. He became so visibly lean!
In 2015, Tracey penned a book titled Do Unto Animals: A Friendly Guide To How Animals Live And How We Can Make Their Lives Better, with proceeds of the children's book going to Farm Sanctuary.
Tracey Stewart has collaborated with her husband on a number of animal protection projects. Most prominent among them is their 45-acre farm in New Jersey which houses a variety of animals including dogs, pigs, rabbits, and fishes. In June 2019, they announced that the farm would officially become a Farm Sanctuary branch, meaning that animals rescued from the slaughterhouse will now live out their natural lives on the premises.
Aside from animal care, Mrs. Stewart also works as a graphic designer and serves as the vice president of the children's art initiative, Portrait Project. She is as well the founder of Moomah the Magazine, an online publication that covers topics ranging from animal care to parenting tips, vegan recipes and artistic crafts.
Profile Summary
First Name:
Jon
Last Name:
Stewart
Estimated Net Worth:

$120 million
Salary:
N/A
Source of Wealth:
Comedy,Television career, filmmaking, sales of his books
Last Updated:

2020
Also Known As:

N/A
Sex/Gender:

Male
Profession:

Comedian, director, writer, producer, activist, and television host
Famous For:
Hosting "The Daily Show" on Comedy Central, from 1999 to 2015.
Colleges/Universities Attended:

The College of William & Mary in Virginia
Educational Qualifications:

Degree in psychology
Religion:

Irreligious
Birthday & Zodiac

Age/Date of Birth:

November 28, 1962
Zodiac Sign:
Sagittarius
Birth Place:

New York City
Nationality:
American
Ethnicity/Race:

White
Country of Residence:

USA
Physical Attributes

Height:

169 cm or 5 feet 6.5 inches
Weight:

74 kgs or 163 pounds
Eye Colour:

Hazel
Hair Color:

Salt and pepper
Other Body Measurements:

N/A
Relationships

Marital Status:

Married
Spouse/Partner:

Tracey McShane (m. 2000)
Family and Relatives

Father:

Donald Leibowitz
Mother:
Marian (née Laskin)
Children:

Nathan Thomas Stewart and Maggie Rose Stewart
Siblings:
Older brother Lawrence, and younger brothers Dan and Matthew
Other Relatives:

N/A