Jon Stewart is an American comedian, political satirist, talk show host, writer, actor, producer, and director.
Stewart is best known for hosting the Comedy Central show "Daily Show With John Stewart".
Jon Stewart Biography And How He Began
Jon Stewart was born as Jonathan Stuart Leibowitz on November 28, 1962, in New York City. He was raised in Lawrenceville, New Jersey. His parents divorced when he was 11 years old. Jon who is of a Jewish descent did not get along with his father. Thus, it was just a matter of time before the Grammy award winner changed his surname to his middle name Stuart, and later to Stewart.
After his high school education at Lawrence, Stewart attended College of William & Mary in Virginia. He graduated in 1984 with a degree in psychology. While in school, Jon had the effortless talent of cracking up his friends and all around. He was known to be the funny guy, but Jon never considered pursuing a career in comedy back then. However, after working a series of post-college menial jobs, he moved to New York City to try his hands on comedy, starting with stand-up.
Stewart performed regularly at the Comedy Cellar. Three years later, Jon became a comedy writer for the TV show "Caroline's Comedy Hour." He also began hosting a number of shows including; CC's "Short Attention Span Theater" and MTV's "You Wrote It, You Watch It".
See Also: Brian Williams Daughter, Wife, Son, Family, Salary, Wiki
Breakthrough With The Jon Stewart Show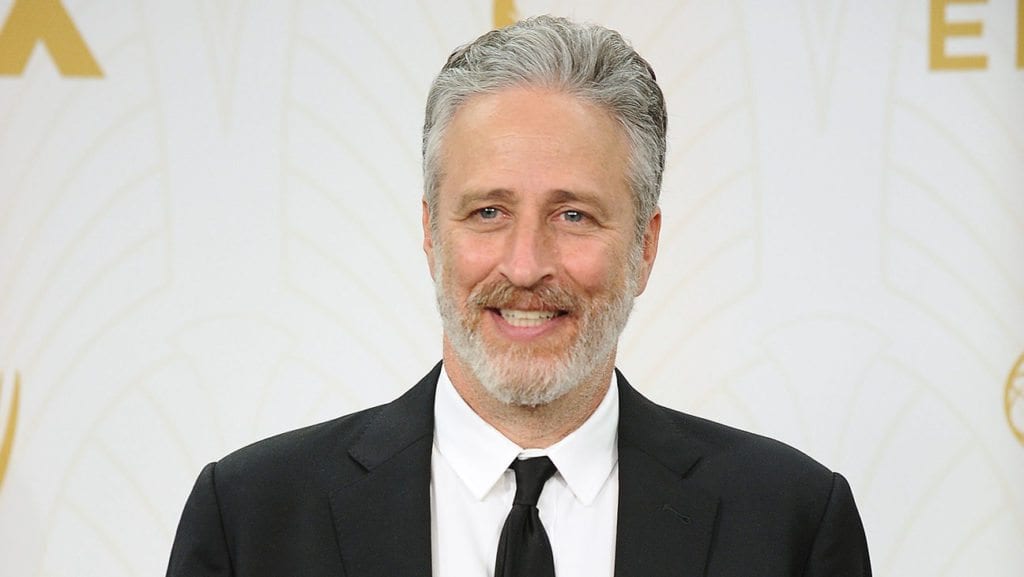 After gaining widespread exposure by appearing on NBC's  Late Night with David Letterman, Jon developed his own talk show on MTV entitled "The Jon Stewart Show". The eponymous show would become MTV's first talk show as well as a hit for the network as it became the network's highest-rated show, bested only by "Beavis and Butt-head". Unfortunately, the show took a downward turn and the ratings began to drop, which led to its cancellation in 1995.
After the show ended, Stewart who had gained Letterman as one of his fans continued earning from host duties mostly on shows created by Letterman's production company, Worldwide Pants.
Success With The Daily Show
Undoubtedly Stewart's most lucrative gig was "The Daily Show with Jon Stewart" which aired from 1999 to 2015. Stewart succeeded Craig Kilborn in hosting the Daily Show. Stewart's arrival on the show garnered much acclaim from critics and increasing ratings. The following year in 2000, Jon was paid a salary of $1.5 million.
In 2008, Jon became the 10th highest-paid talk show host while earning a sumptuous $14 million. Two years later, in 2010, Stewart signed a new 3-year deal to continue as host of the show which saw him earn between $20 and $30 million annually.
After a few successful years as the Daily Show host, Jon announced his departure on the show on February 10, 2015. His last episode was aired on August 6, 2015. It was during one of his last shows that he promoted his wife's new book on animal rights.
Jon was soon succeeded by South African comedian Trevor Noah on the Daily Show.
See Also: Bill O'Reilly Bio – Wiki, Wife, Divorce, Children, Salary
Contrary to rumors that Stewart was leaving the show to produce a direct-to-consumer version of the show in order to earn as much as 5 times higher than his Comedy Central paycheck of $100 million, the award-winning comedian instead signed a four-year deal with HBO in November 2015 to produce an animated news parody show which aired from March 2017.
For his much applauded work on The Daily Show, Jon became a multi-award winning celebrity. He received 22 Emmy Awards for various categories, making him the highest Emmy award recipient.
Jon Stewart Financial Standing
Jon Stewart has impressive assets in excess of $80 million. As at 2013, the hilarious comedian was making an annual earning of $30 million.
Side by side to his comedy shows, Jon was also doing some acting, directing and producing. In March 2013, Stewart took a hiatus from The Daily Show to direct, write and produce the political drama film Rosewater. However, the movie was a box office bomb, grossing only $3.2 million from a $5 million budget.
Stewart set up a production company, Busboy Production. In 2005, the company signed a funding deal with Comedy Central. Busboy produced spin-offs of The Daily Show such as "The Colbert Report", and "The Nightly Show with Larry Wilmore". Stewart also produced the movie like "The Donor" and TV series "Important Things with Demetri Martin".
Jon Stewart also tried his hands on writing which registered commendable successes. His audiobook "America (The Book): A Citizen's Guide to Democracy Inaction" won a Grammy in 2005 for Best Comedy Album.
Jon Stewart's Wife, Children and Family
Jon is married to Tracey McShane. Together they have 2 children- Maggie Rose Stewart and Nathan Thomas Stewart. The couple reportedly met on a blind date. After his crossword puzzle proposal, they consequently tied the knot in 2000.

Inspired by his wife who is a vegan, Jon has become a fan of vegetarian diets. The couple bought their 12-acre Bufflehead Farm in 2013. They have also been granted permission to set up an animal sanctuary. The proposed 45-acre space will be dedicated to salvaging wounded and abused animals.

Fact Check: We strive for accuracy and fairness. If you see something that needs updating,