Fans of shows like Everyday Italian, Giada in Italy and Giada at Home would be familiar with the work of Giada de Laurentiis. Through the shows, and other career ventures as a chef and media personality, she has become a reputable American personality, prompting interest in her personal life, particularly the relationship of her parents, Veronica De Laurentiis and Alex De Benedetti.
The story of Giada's parents is just as interesting as the story of her career, and in this article, we explore the untold truths about their relationship. Scroll below to learn everything you need to know.
Who Is Veronica de Laurentiis?
Giada de Laurentiis' mother is Veronica de Laurentiis who was born in Italy, sometime in 1950. She was born to Dino de Laurentiis and Silvana Mangano. Just like her parents, she has a career in the entertainment industry and it began when she was 18 years old when she appeared in the film, Waterloo.
She retired from acting two years after she made her debut appearance to raise her family. However, she returned to her career as an actress in 2001 and has appeared in more than 15 movies and TV shows ever since, including credits in titles like Entourage, How Sweet It is, Wedding Day, Red Dragon, Pandemia, and several others.
In addition to being an actress, Veronica de Laurentiis is also a best-selling author, having published the books, Rivoglio La Mia Vita and Riprenditi La Tua Vita – Le otto chiavi di Veronica, both of which mean Claim My Life and Take Back Your Life – Veronica's Eight Keys respectively. She is also the founder of a nonprofit organization, Associazione Veronica De Laurentiis. The foundation is focused on stopping domestic violence.
As for Giada de Laurentiis' father, Alex De Benedetti, not much is known about his background other than the fact he was a member of the entertainment industry as a producer. Throughout his career, he produced three films, Fighting Back, Pumpkinhead, and Evil Dead II.
The Untold Truth About Veronica de Laurentiis And Alex De Benedetti
Alex De Benedetti was the first husband of Veronica de Laurentiis. There is no information on when exactly they got married but it is believed that the couple got together sometime in the late 60s, giving birth to their first child, Giada De Laurentiis in 1970.
After they gave birth to their child, Giada, they gave birth to two more children, Dino De Laurentiis who was born in Rome, Italy in February 1972 and Eloisa De Laurentiis.
Following the birth of their third child, Veronica de Laurentiis and Alex De Benedetti relocated to the United States in 1977, living in Florida and New York before settling in Los Angeles. The couple gave birth to their fourth child, Igor De Laurentiis, in America. Four years after they gave birth to their last child, the couple got divorced.
The divorce of Alex De Benedetti and Veronica De Laurentiis was down to allegations of child abuse and domestic abuse by Alex.
Alex De Benedetti had been sexually abusing their daughter and first child, Giada De Laurentiis since the age of 12, raping her. By the time their daughter was 13 years old, Alex was raping her three times a week, and it continued well until the end of high school for young Giada.
Eventually, Giada de Laurentiis found the courage to report to the treatment center, Stuart House and thus began the end of Alex and Veronica's marriage.
Alex was charged for the rape of his daughter in 1991, and he pled guilty to two counts of raping a minor and was eventually sentenced to 14 years in prison.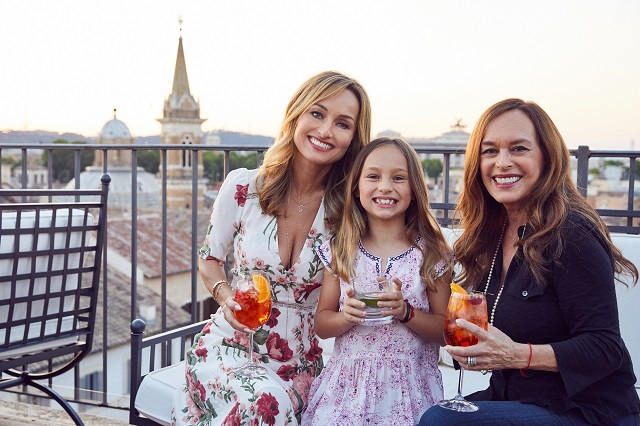 After the divorce, Veronica De Laurentiis opened a fashion design studio which she operated for twelve years, designing women's clothing. She also returned to acting and has gotten married again to Ivan Kavalsky, who is also a producer.
Read Also: What Happened To Paula Deen? The Untold Truth Of How She Lost It All
Other Facts About Veronica de Laurentiis And Alex De Benedetti
• All their children are involved in the entertainment industry. While Giada is the most popular name with her cooking shows, her sister Eloisa is a film makeup artist while her brother Igor is an actor and her other brother Dino was a producer.

• Veronica De Laurentiis lost one of her children, Dino De Laurentiis to skin cancer in 2003.

• Veronica De Laurentiis and Alex De Benedetti are grandparents to at least one child, Jade Marie De Laurentiis-Thompson, through their first child, Giada De Laurentiis' marriage to Todd Thompson.

Fact Check: We strive for accuracy and fairness. If you see something that needs updating,