Tiger Woods is an American professional golfer famed for being one of the richest sports personalities of all time with a net worth of $800 million
Net Worth:
$800 million
Age/Date of Birth:

47 years old (December 30, 1975)
Height:

In Feet: 6 ft 1 in
In Centimeters: 185 cm
Ethnicity/Race:

"Cablinasian" (a syllabic abbreviation Tiger coined from Caucasian, Black, American Indian, and Asian)
Nationality:
American
Wife or Girlfriend:
Girlfriend: Erica Herman
Ex-Wife: Elin Nordegren (2004 - 2010)
Parents:
Father: Earl Woods
Mother: Kultida Woods
Described as one of the most successful golfers of all time, Woods has successfully inscribed his name in the history books as one of the highest-paid athletes in the world.
While many of us already know a lot about Tiger Wood's life as an athlete, we may not have known so much about his background and all the interesting people that make up his family.
Meet the Parents of Tiger Woods
Born Eldrick Tont Woods on December 30, 1975, in Cypress, California, United States, Woods made his natal arrival into the home of Earl Dennison Woods and his wife, Kultida Woods (nee Punsawad). Eldrick's father is African-American while his mother is of Thai, Chinese and Dutch origins. It was his mum who named him Eldrick, a name she coined from Earl which started with an 'E' and Kultida which started with a 'K'. She also gave him his middle name, Tont which is a traditional Thai name. As for his nickname Tiger, his dad gave him the name in honor of his fallen friend, Col. Vuong Dang Phong who went by the same nickname.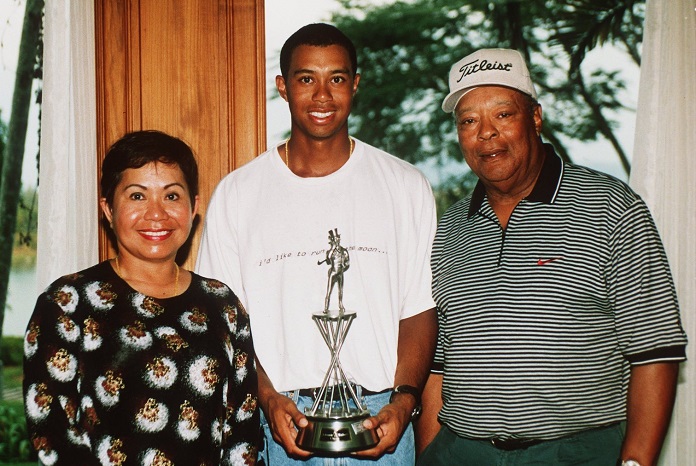 Tiger Wood's father, Earl Woods worked as an infantry officer in the US Army after graduating from Kansas State College with a B.Sc in Sociology. While in college, he played professional baseball. he, however, learned golf in his later years, becoming an amateur in the sport. Earl met Kultida in 1966 when he was stationed in Thailand. They moved to Brooklyn, New York in 1968 and subsequently married in 1969.
Wood's mother is however, Earl's second wife. His first marriage was with Barbara Woods Gray. The union which lasted for eighteen years produced two sons and a daughter, namely: Earl Dennison Woods Jr., (b. 1955), Kevin Woods (b. 1957) and Royce Renee Woods (b. 1958). Tiger's half-siblings are all doing well in their various fields of endeavour. Earl Woods Jr.'s daughter, Cheyenne Woods (b. 1990) is also a professional golfer who plays on the LPGA Tour.
Tiger Woods maintained a very close relationship with his dad who coached him in golfing in his childhood. His father also saw to it that he had the best coaches later in life until he transitioned into professional golfing. Earl Woods retired from the US Army as a Lieutenant Colonel. Unfortunately, he died from a heart attack on May 3, 2006 after an eight-year battle with prostate cancer. He was aged 74.
Wood's mum, Kultida Woods is however, still alive as of the time of writing this article and lives in Florida. She works on the Board of the Tiger Woods Foundation where she oversees several philanthropic acts both in the U.S and in her hometown of Thailand. She also has a good relationship with her son whom she raised in her family's faith of Buddhism, although he later dropped the religion. Some reports also have it that Tiger took after his mother in being tough and strong-willed. His habit of wearing red shirts during golf final rounds is also inspired by his mum's belief that red is his power colour.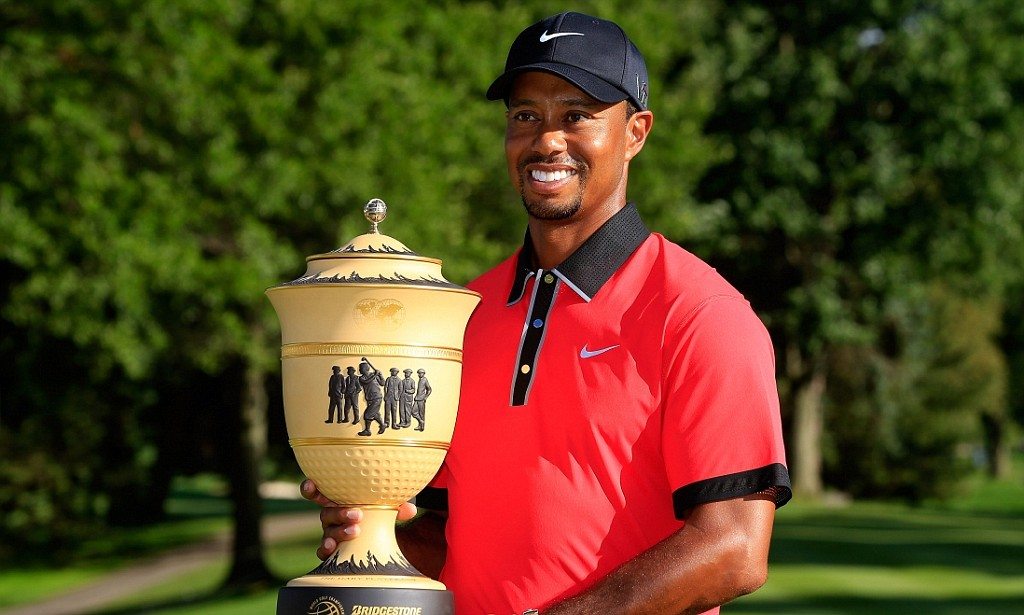 Meet Tiger Wood's Ex-Wife, Elin Nordegren and Kids
Tiger Woods married Swedish model, Elin Nordegren in October 2004. During her modelling days, Elin featured on the Summer 2000 cover of Cafe Sport.
Tiger and Elin met each other the first time in 2001 at the year's Open Championship where Swedish golfer, Jesper Parnevik introduced her to Woods. Parnevik's wife had met Elin at a clothing store where she was working and asked her to move to the U.S to work as their children's nanny. Woods subsequently proposed to her in November 2003 when they attended the President's Cup Tournament in South Africa.
Tiger Woods and Elin Nordegren's wedding was a lavish one that took place at Sandy Lane, a luxury beach resort on Barbados Island. It was a blissful union for the couple until November 2009 when the marriage began crashing. This was after it emerged that Tiger was serially cheating on his wife with over a hundred and twenty women.
Following the exposure of his outrageous extramarital affairs, Jesper Parnevik and his wife regretted hooking Nordegren up with Woods, pointing out that they thought the golfer was a better guy than he actually is. Woods, however, owned up to his crimes. But despite efforts to make amends, including rendering apologies, taking a break from golf to go for rehab, and series of marriage counselling, things never worked out. Wood's marriage with Nordegren eventually ended in a divorce on the 23rd of August, 2010, with the athlete reportedly paying his ex-wife around $100 million in settlement.
Post-divorce, Tiger and Elin initially maintained silence over quite a long period. The two, however, recently became friends once more, often saying positive things about each other. While Woods has described Nordegren as one of his best friends ever, she told People that he is a great father. The ex-couple has since continued to maintain a cordial relationship; at least for the sake of their children who they share their custody.
Aside from being civil with Woods, Elin Nordegren has since moved on following their divorce. With part of the money she realised from her divorce, Nordegren purchased a $12.2 million 1932 home in North Palm Beach, Florida. She also furthered her education at the Rollins College in Florida, graduating in May 2014 with a degree in Psychology. The same year, she tore down the Palm Beach mansion and rebuilt it to her taste.
Elin later entered a relationship with now late American coal king, Chris Cline. After their relationship came to nought, she started dating retired NFL star, Jordan Cameron. With him, she had a son in October 2019. Cameron also lived with Nordegren in her Palm Beach residence before she eventually sold it off at $28.6 million in September 2020.
Meanwhile, Elin Nordegren has two kids with Tiger Woods –  a daughter and a son namely:
Sam Alexis Woods (Daughter)
Sam Alexis is Tiger Wood's first child and daughter with his wife, Elin Nordegren. She was born on the 18th of June, 2007, a day after Woods finished second place in the year's Open Championship. She was named Sam because that was her grandfather's nickname for her dad, and also because she was born a day after father's day. As at the time of her parent's divorce, Sam was only three years old.
Sam has however, grown to love sports just like her dad, and often attends many of his games.
Charlie Axel Woods (Son)
Charlie is Tiger Wood's second child and first son with his wife, Elin Nordegren. He was born on the 8th of February, 2009.
Charlie was just nineteen months old when his parents' marriage ended. He is, however, growing into a young golfer, playing in the junior tourney. The little Woods is already making his marks in the sport, with his dad serving as his primary coach. Tiger Woods told Golf Digest in a July 2020 interview that Charlie reminds him so much of himself and his dad.
From all indications, Woods has a special love for his kids and doesn't shy away from showing them off to the world. More often than not, we see him going out with them. For instance, in 2015, Woods let Sam and Charlie to "caddie" for him in the Masters Par-3 Contest. It's common for golfers playing Par-3 Contest to use family members and Woods settled for his two lovely kids instead of other family members.
Meet Tiger Wood's Girlfriend, Erica Herman and Other Women He Has Dated
Tiger Woods just like his ex-wife, Elin Nordegren has carried on with his love life after their marriage ended. Based on recent reports, Woods is dating a lady called Erica Herman. The athlete started going out with the new birdie after he respectively wrapped things up with professional skier Lindsey Vonn in 2015, and Dallas-based personal stylist Kristin Smith in 2016.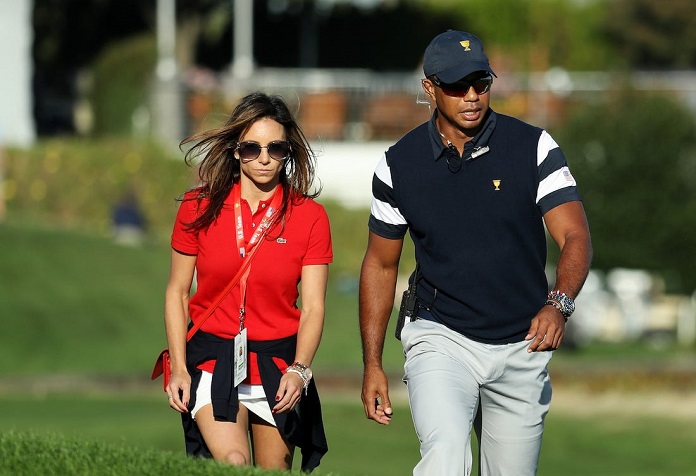 It is not certain when Woods and Herman started going out with each other, but the two made their first public appearance in October 2017 at the Presidents Cup held at Liberty National, New Jersey. Erica had appeared at the event donning a "player spouse" credential, like other players' wives and girlfriends. She also packed on the PDA with Tiger to confirm her girlfriend status.
Herman who works as the general manager at Woods' Florida restaurant, The Woods Jupiter has since made numerous other public appearances with the phenom golfer. She also maintains a good relationship with Woods' two children, Sam and Charlie and often attends his matches with them. Woods recently posted a photo of himself with his kids and Erica, calling her family.
Aside from Herman, Tiger Woods has at different times (both during and after his marriage) been romantically linked to a plethora of women including models, club hostesses and even porn stars. While we may not be able to provide an exhaustive list of his outrageously numerous flings, here are the major ones:
Rachel Uchitel – a Las Vegas nightclub marketing manager whose affair with Tiger Woods was the first to come to the limelight before others followed.
Jamie Jungers – a model and former stripper who had a wild fling with Woods around 2005 ad 2006. She reportedly consoled the golfer following his father's death and slept with him that night.
Cori Rist – a single mother of one who hooked up with Tiger Woods after the duo met at an NYC nightclub in 2006. Their relationship reportedly lasted up to two and half years with the sexual aspect of it lasting for just six months. Woods dropped Rist in September 2009 after she severally declined from continuing to cohabit with him.
Mindy Lawton – a cocktail waitress who met Tiger Woods at her workplace in the summer of 2006. Their romantic affair which was reportedly characterised by regular sex at various locations except the bedroom lasted for about a year.
Joslyn James – a porn star who had a very nasty affair with Woods while he was still married to Elin Nordegren. She reportedly had two failed pregnancies with the rich golfer.
Holly Sampson – an A-list pornstar who met and had sex with Woods at his birthday party in December 2009.
Emma Rotherham – a British mother of two who met Woods at a club in Orlando. The duo cohabited for about 18 months while Woods was still married and he reportedly paid Rotherman about £300k to keep silent about their affair
Theresa Rogers a.k.a "the cougar" is Tiger Woods's girlfriend who reportedly spoiled him. She was in her late forties when she hanged out with the golfer and boasts of comprehensively schooling him in sex.
Raychel Coudriet – the 21-year-old daughter of Woods' neighbour whom he slept with once, about three months after his wife gave birth to their son, Charlie. Reports have it that Woods knew the girl from the time she was 14. Of all his numerous philandering, it was his affair with the young woman that caused Elin Nordegren (who also knows Raychel) to settle for a divorce.
Tiger also exchanged steamy text messages, emails and photos with a host of other women, some of whom include: Jaimee Grubbs, Loredana Jolie, Julie Postle, Devon James, and Kalika Moquin.
Wood's nasty romantic life has, however, not stopped him from excelling in his sporting career. The famous golfer has gone on to hit remarkable milestones in golf while bagging numerous prestigious awards and titles.
Tiger Wood's Major Awards, Wins and Achievements
Tiger Woods started making significant marks in golf while he was still a high schooler. This earned him a spot straight out of high school in 1994 to play for Stanford University. Since then and after turning pro in 1996, Tiger has pocketed numerous awards, broken several records, and hit remarkable milestones in his golfing career which include the following:
Awards
4-time Rolex Junior All-American first team – 1990-1994
4-time Southern California Player of the Year – 1990-1994
2-time American Junior Golf Association Player of the Year – 1991,1992
Stanford University's Male Freshman of the Year – 1995
PGA Tour Rookie of the Year – 1996
Stanford University Collegiate Player of the Year – 1996
Fred Haskins Awardee – 1996
2-time Sports Illustrated Sportsman of the Year – 1996,2000
11-time PGA Player of the Year – 1997,1999-2003,2005-2007,2009,2013
11-time PGA Tour Player of the Year – 1997,1999-2003,2005-2007,2009,2013
10-time PGA Tour Money Leader – 1997,1999-2002,2005-2007,2009,2013
14-time Mark H. McCormack Awardee – 1998-2010,2013
9-time Vardon Trophy winner – 1999-2003,2005,2007,2009,2013
9-time Byron Nelson Awardee – 1999-2003,2005-2007,2009
10-time Golf Writers Association of America Player of the Year – 1997,1999-2003,2005-2007,2009
4-time ESPY Award for Best Male Athlete – 1997,2000-2002
BBC Sports Overseas Personality of the Year – 2000
2-time FedEx Cup Champion – 2007,2009
Wins and Achievements
Tiger Woods holds an impressive career record of 110 professional wins comprising 82 PGA Tours, 41 European Tours, 3 Japan Golf Tours, 3 PGA Tours of Australasia, 2 Asian Tours, and 17 other championships.
Woods holds a record of winning 15 major golf championships comprising 5 Masters Tournaments, 4 PGA Championships, 3 U.S. Open Championships, and 3 The Open Championships.
Based on the above statistics, he is the highest PGA Tour winner of all time and the 3rd highest European Tour winner of all time.
Tiger Woods is the youngest athlete to win by 12 strokes and earn $486,000. He achieved this feat at the 1997 PGA Masters championship.
He is the first athlete in sport's history to win the PGA Player of the Year just after one season of turning pro.
Tiger Woods is the most consecutive #1 in the history of golf for holding the PGA Player title for 264 weeks (June 1997-Sept. 2004), and 281 weeks (June 2005- Oct. 2010).
With a total of 683 weeks, Woods is the player with the highest number of weeks as PGA Player of the Year.
He is one of the only two athletes in the world to win Sports Illustrated Best Sportsman twice.
Other Honors
On 20th August 2007, California Governor, Arnold Schwarzenegger inducted Tiger Woods into the Hall of Fame.
On 6th May 2019, President Donald Trump honoured the golfer with the Presidential Medal of Freedom.
Woods is also scheduled to be inducted into the World Golf Hall of Fame in 2021
Read Also: Top 20 Highest Paid Athletes In The World
Analysis of Tiger Woods' Net Worth and Career Earnings
Apart from his player salaries, Tiger Woods has reportedly earned over $120 million in prize money since he entered pro golf. Known for pulling large crowds, this professional golfer earns as much as $3 million just to appear in a tournament.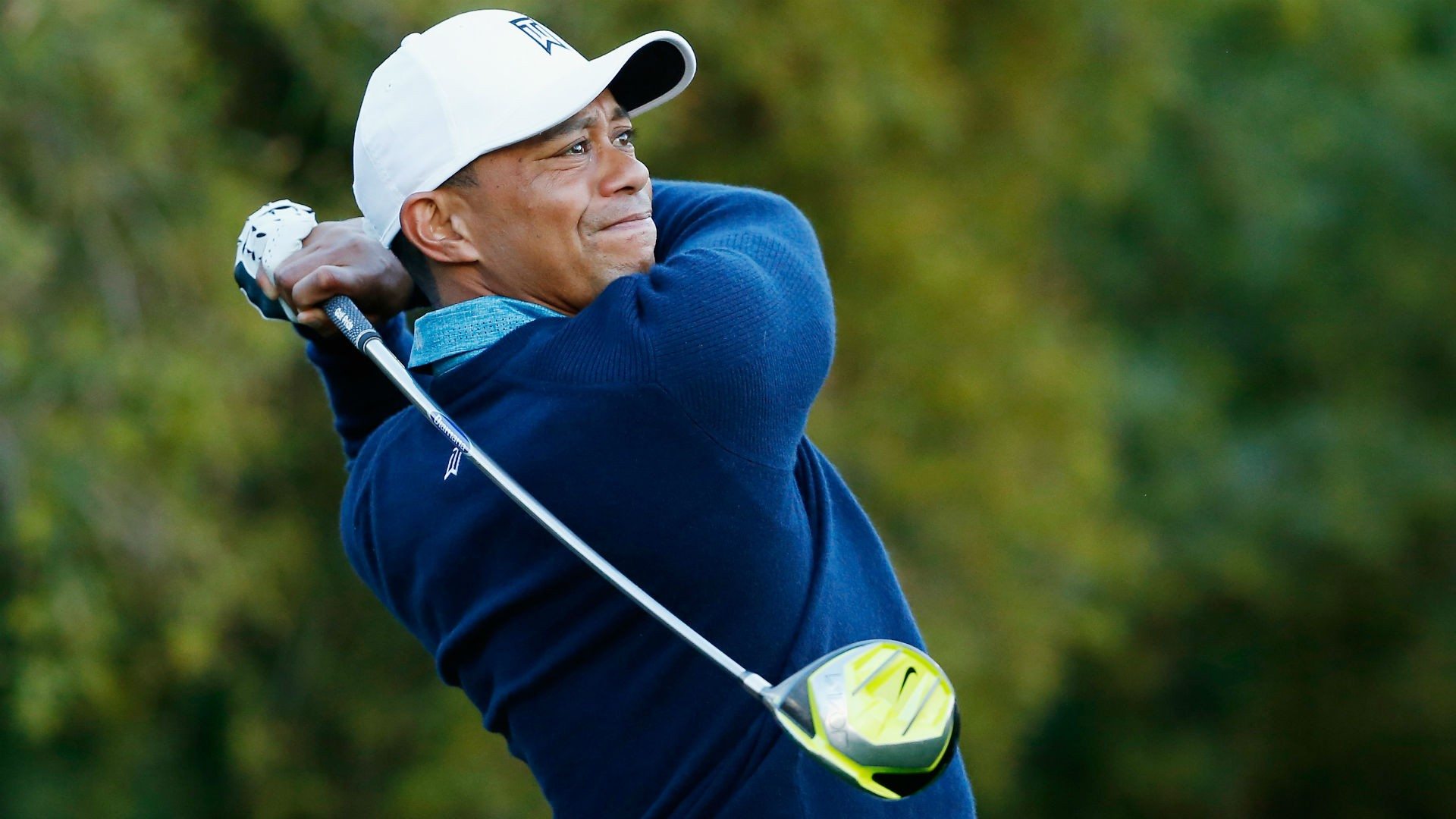 In addition to his earnings from golf tournaments, Woods also makes top dollar from sponsorship/endorsements deals. His endorsement partners include General Mills, Titleist, EA Sports, American Express, General Motors, Accenture, Rolex, AT&T, and Nike among many others. However, Nike's endorsement stands out as the most lucrative. In 1996, he earned $105 million from his five-year deal with the famous brand. By 2015, Woods' total earnings from sponsorship and endorsements was about $1.4 billion.
The millionaire athlete also makes millions of dollars from golf course designs and reportedly banks up to $10 million for each golf course he designs. Between 2013 and 2014, the golfer reportedly made over $61 million from deals and golf course designs. In addition, Woods sometime received a whopping $1.6 million compensation after suing a yacht building company for using his name to promote their yachts without his consent.
According to authoritative sources, Tiger Woods' net worth stood at $800 million as of 2018, making him one of the richest sports personalities of all time. As of June 2020, his annual earnings stood at $62.3 million.
Tiger Woods Net Worth Milestones:
1995: $10,000 (before he turned Pro)
1997: $7 million (after he signed first deals with Nike and Titleist)
1999: $40 million
2001: $50 million
2003: $100 million
2005: $250 million
2009: $500 million (surpasses $1 billion in career earnings)
2010 $400 million (after divorce settlement was finalized)
2016: $700 million
2019: $800 million
2020: $800 million

Tiger Woods's Career Earnings (2003 – 2019)
2003: $83,700,288
2004: $89,370,407
2005: $86,992,739
2006: $98,941,827
2007: $122,702,706
2008: $117,337,626
2009: $121,915,196
2010: $74,294,116
2011: $64,067,059
2012: $86,124,386
2013: $83,091,508
2014: $55,110,775
2015: $48,551,098
2016: $34.607 million total ($35.5 million from endorsements)
2017: $43.3 million total ($42 million from endorsements)
2018: $36.1 million total ($35.5 million from endorsements)
2019: $65 million (so far – includes $2.07 million from 2019 Masters win)
His total career earnings as of November 2020 is about $1.6 billion out of which $1.5 billion in endorsements, appearance fees and course design fees. The Golfer has made over $120 million on the course
Wood's Lavish Lifestyle, Luxury Houses and Cars
A successful professional golfer, Tiger has a reputation for being a big spender. His mansion is among the most expensive in the entire world. Woods purchased his luxury estate on Jupiter Island, Florida at $40 million in 2006, the highest at the time. He reportedly took out a $50 million-plus mortgage in 2010 for the house, making it one of the most expensive homes on the barrier island.
The massive residence stretches from the Intracoastal Waterway to the Atlantic Ocean. It also boasts a putting green, 100-foot lap pool, a 60-foot diving pool, a spa and a tennis/basketball court. About ten years before he bought the Jupiter Island estate, precisely in 1996, Woods purchased his first house in the exclusive Isleworth community in Windermere, Fla. According to the Orlando Sentinel, the Isleworth house had a value of $2.4 million in 2009.
In 2014, Woods bought a Mercedes-Benz S65 that is valued at $210,000. His other cars include super-class Porsche Carrera GT, Lexus LS 460 Sedan, Cadillac Escalade and more. He also owns two yachts, namely: his Solitude yacht which cost him $2 million and his mega yacht christened "Privacy" which is valued at over $20 million.
Woods as well owns a Gulfstream G550 jet aircraft which can travel 12,000 kilometres nonstop. The craft has the capacity to carry as many as 16 passengers.
Highlights of Real Estate and Other Personal Assets:
Tiger Woods' PGA tour Pension plan is worth at least $20 million
Tiger Woods owns a Gulfstream G550, the $54 million jet is the longest range business jet ever made.
Tiger also owns a $25 million yacht that he named "Privacy". He purchased Privacy when it was already 70 per cent done and sometimes sleeps on the yacht during tournaments that are near water. It is still one of the best celebrity yachts in the world
He owns a 12-acre ocean-front property in Jupiter, Florida that is worth at least $55 million
He owns a luxurious villa in Hawaii. This super luxurious villa has a beautiful exterior  and artistic interiors.
The Golfer has also designed courses around the world with plenty of work on his plate.
Profile Summary
First Name:
Eldrick
Last Name:
Woods
Also Known As:

Tiger Woods
Sex/Gender:

Male
Profession:

Professional golfer
Famous For:
Counted among the greatest golfers and most popular athletes in history, Tiger Woods is popular for many reasons, including tying for first in PGA Tour wins, occupying the second spot in men's major championships, and holding a good many golf records.
Colleges/Universities Attended:

Western High School, Stanford University
Educational Qualifications:

Not Available
Religion:

Buddaism
Birthday & Zodiac

Age/Date of Birth:

47 years old (December 30, 1975)
Zodiac Sign:
Capricorn
Birth Place:

Cypress, California
Nationality:
American
Ethnicity/Race:

"Cablinasian" (a syllabic abbreviation Tiger coined from Caucasian, Black, American Indian, and Asian)
Country of Residence:

The United States of America
Physical Attributes

Height:

In Feet: 6 ft 1 in
In Centimeters: 185 cm
Weight:

In pounds: 185 lb
In Kilograms: 84 kg
Eye Colour:

Dark brown
Hair Color:

Black
Other Body Measurements:

Chest size: 42 inches, Waist size: 33 inches, -Arms/Biceps Size: 14 inches
Relationships

Marital Status:

Dating
Spouse/Partner:

Erica Herman
Family and Relatives

Father:

Earl Woods
Mother:
Kultida Woods
Children:

Sam Alexis Woods (born on June 18, 2007) and Charlier Axel Woods (born on February 8, 2009).
Siblings:
Earl Jr. (Half-brother), Kevin (Half-brother), Royce (Half-sister)
Other Relatives:

Cheyenne Woods (Niece)
Net Worth
Estimated Net Worth:

$800 million
Salary:
Not Availble
Source of Wealth:

His gulf career, endorsement deals, business ventures, including The Woods restraunt and TGR
Designs.
Trivia Questions and Answers