Have you ever wondered what the finest and most expensive houses could look like? Then here, with combined information from Forbes, we bring you images of the world's most expensive homes, designed by professional and talented architects and groomed with the finest luxury you can ever imagine. And NO! they don't belong to your favorite movie stars and musicians. Apparently, there are people who make more money, we are talking about top business magnates, and mega-investors that have built and invested in some of the best and most successful businesses, you know, the COO's and the CEO's, the top tech and media billionaires. Though some of these mansions have been in existence for years, continuous revolutionizing by the billionaire owners transform them into what you would call the modern-day castle.
26. Duke Semans Mansion – Fifth Avenue, Manhattan, New York
Value: $44 million
Owner: Carlos Helu Slim, Net worth: $73 billion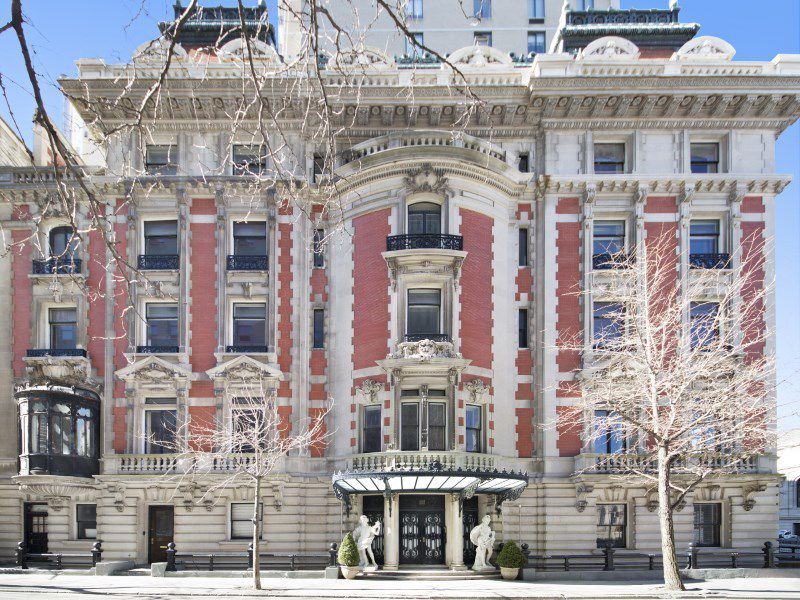 The Mexican business magnate purchased the mansion for $44 million in 2010 but the rather frugal business magnate prefers to live in his modest house in Mexico. He recently put the house up for sale with a $88 million price tag on it, if that goes through, it will make it the most expensive townhouse ever sold in NYC. According to the listing, the house is an 8-story building with a French Renaissance interior. It features high ceilings, gold-leaf trimmed fixtures, and a sweeping staircase.
25. Kensington Palace Gardens – London, UK
Value: $72 million
Owner: Tamara Ecclestone (eldest daughter of Formula One Magnate, Bernie Ecclestone)
Net Worth: $500 million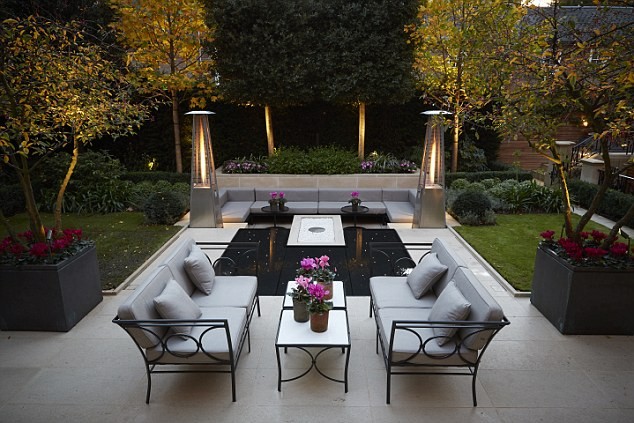 When your dad is a billionaire and you are the heiress to his fortune, you can pretty much afford anything, including a home on the exclusive billionaire row street, where Dukes, Duchess, and ambassadors are your neighbors. Tamara's 57-room house contains a beauty salon, bowling alley, pool, car lift, dog spa, and a basement cinema.
24. The Manor – Holmby Hill, LA California
Value: $85 million
Owner: Petra Stunt (Daughter of Formula One racing magnate Bernie Ecclestone, worth $3.8 billion)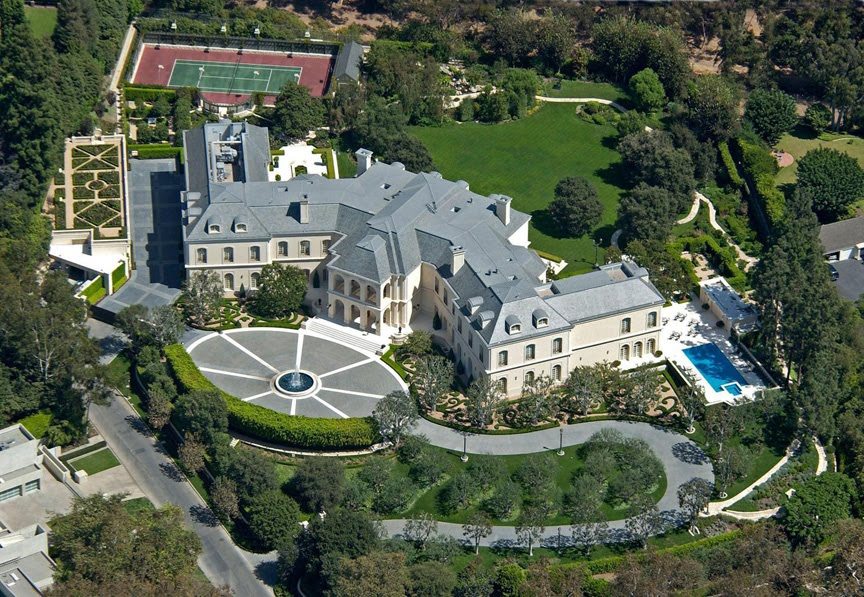 Alias the Spelling manor, it was originally listed on the market for $150,000 but Petra bought it for $85 million after it failed to find a buyer for two years. The 56,000 sq ft mansion has 123 rooms making it one of the largest homes in LA county. Its features include a bowling alley, gym, tennis court, gift-wrapping room, screening room, pool, and a car garage that can take 100 vehicles.
23. 15 Central Park West Penthouse – New York
Value: $88 million
Owner: Ekaterina Rybolovleva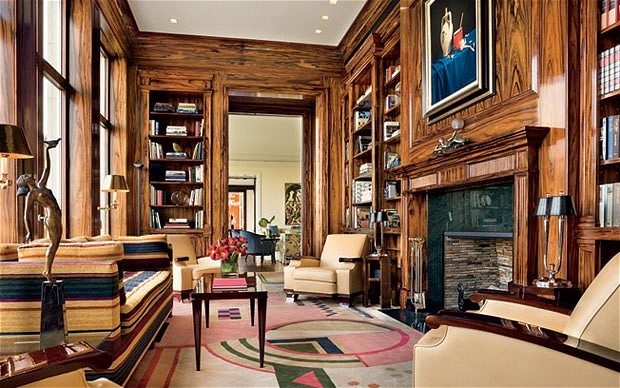 Ekaterina Rybolovleva (22) is a rich kid, daughter of the Russian fertilizer tycoon Dmitriy Rybolovleva. She is currently a student at a university in New York and attends school from the million-dollar apartment she bought with her father's money. The house consists of 10 rooms, a wrap-around terrace, 7 walk-in closets, and a library. Education couldn't be more comfortable.
22. One57 – Manhattan, New York
Value: $90 million (estimated)
Owner: Bill Ackman, Net worth: $2.6 billion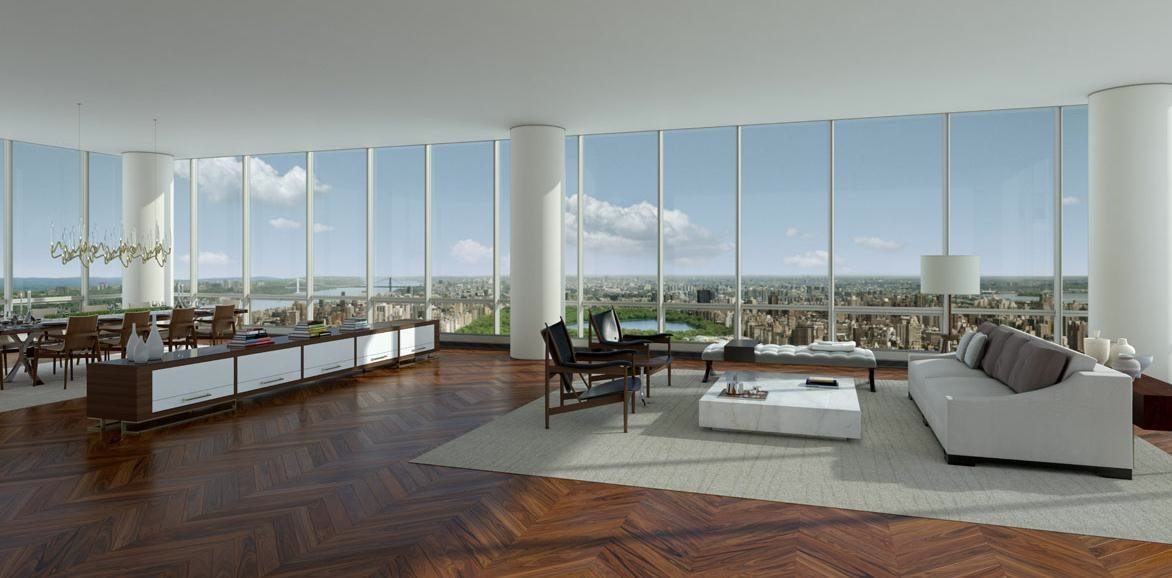 The hedge fund firm billionaire, CEO of Pershing Square Capital Management purchased a duplex penthouse in the One57 skyscraper for over $90 million. The apartment which spans across the 75th and 76th floors of the 90-story building boast 6 bedrooms, 6 bathrooms, a winter garden enclosed in a 51-foot wide glass. The billionaire, however, doesn't reside in the condo, according to Curbed, the billionaire said he purchased the condo for 'fun'. The oligarch must have made the purchase as a strategy for business investment.
21. Promised Land – Montecito, California
Value: $90 million
Owner: Oprah Winfrey, Net worth: $3 billion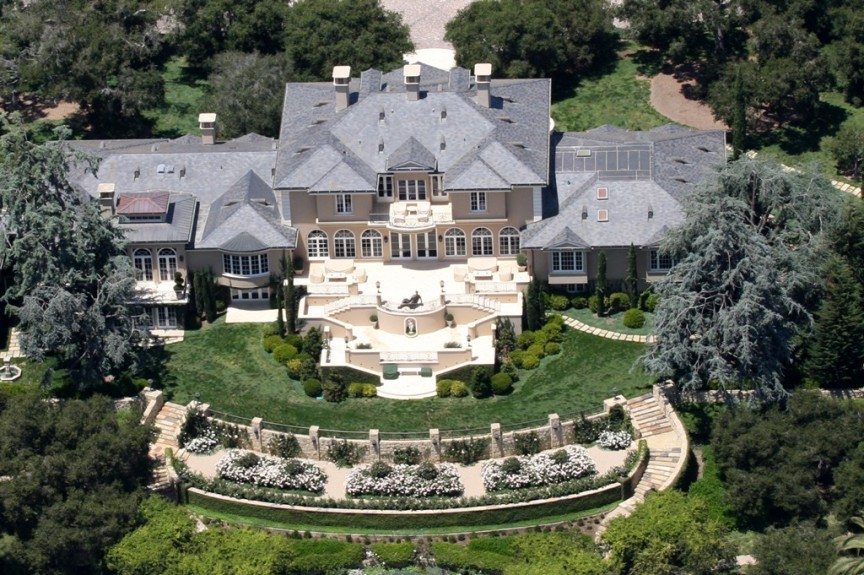 The CEO of the Oprah Winfrey Network aka the Queen of Media, has houses scattered all around America – Hawaii, Chicago, Colorado, New Jersey…but the 23,000-square-foot Georgian-style estate seems to be the most outstanding. The building which sits on a 40-acre land space encompasses 6 bedrooms, 14 bathrooms, 10 fireplaces, over 600 rose bushes, a tennis court, tea house, theatre, artificial pond, and everything else befitting for a mansion.
20. Kesington Palace Gardens – London, UK
Value: $90 million
Owner: Lakshi Mittal, Net worth: $12.3 billion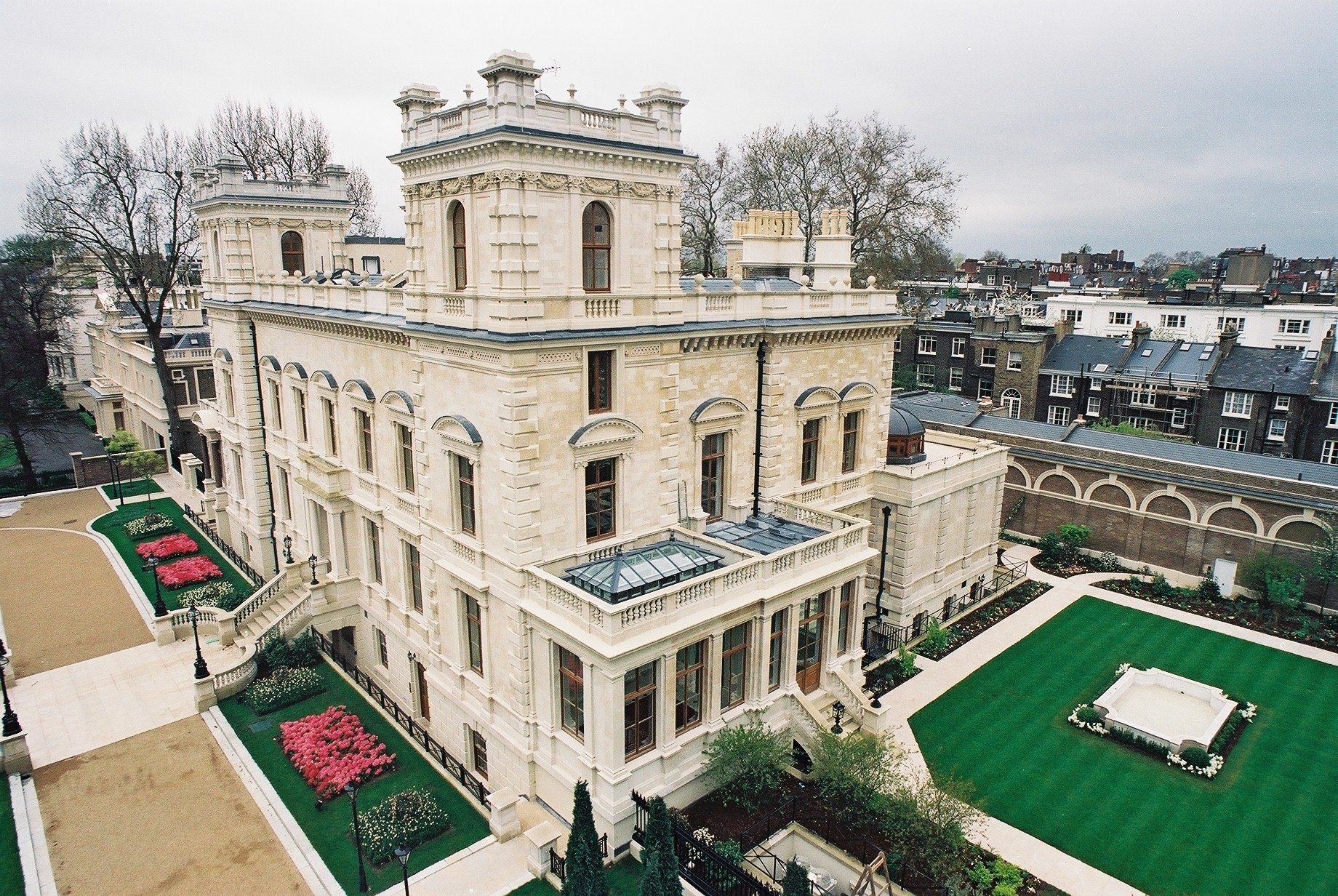 Billionaires row street, home to top business tycoons is absolutely a befitting abode for the steel mogul. He purchased the 55,000 sq ft mansion from Bernie Ecclestone. The home boasts 12 bedrooms, an indoor pool, a Turkish bath, a ballroom, and more. After the billionaire spent millions revamping his new house, he dubbed it "Taj Mittal".
19. Broken O Ranch – Augusta, Montana
Value: $90 – $135 million (estimated)
Owner: Stanley Kroenke, Net worth: $6.3 billion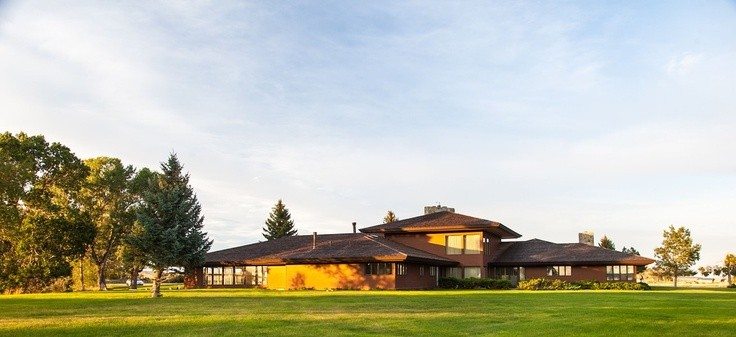 The Broken O ranch serves an all-round agricultural purpose. The 124,000-acre ranch inhabits a 10-square foot main house, indoor pool, horse stables, 3,500 cows, 800 heifers, 175 range bulls. The ranch has 13,000 of its acre well irrigated and produces tons of alfalfa hay, 700,000 bushels of small-grain crops per year. Stanley Kroenke, who is an ardent real estate collector is apparently also a lover of agriculture, having three other ranches to his name.
18. Maison de L'Amitie – Palm Beach, Florida
Value: $95 million
Owner: Dmitry Rybolovlev, Net worth: $8.5 billion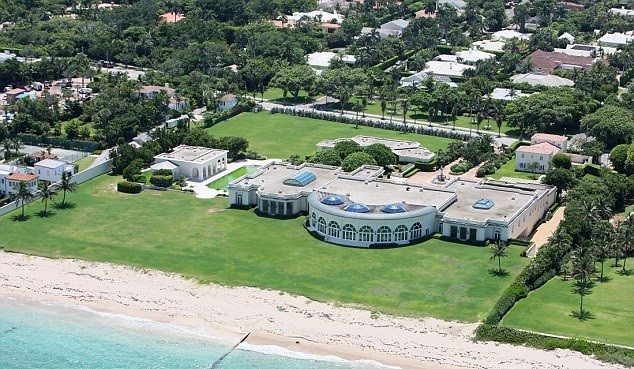 The Russian Billionaire in 2008 purchased the beach house from American property mogul, Donald Trump for $95 million. The extensive mansion includes 18 bedrooms, gold and diamond accessories, a 475-foot-long beach, and a parking space capacity of 50-cars. According to Business Insider, in 2013, the Russian mogul planned to demolish the building because of mold problems.
17. Silicon Valley Mansion – Los Altos Hills, California
Value: $100 million
Owner: Yuri Milner, Net worth: $3.1 billion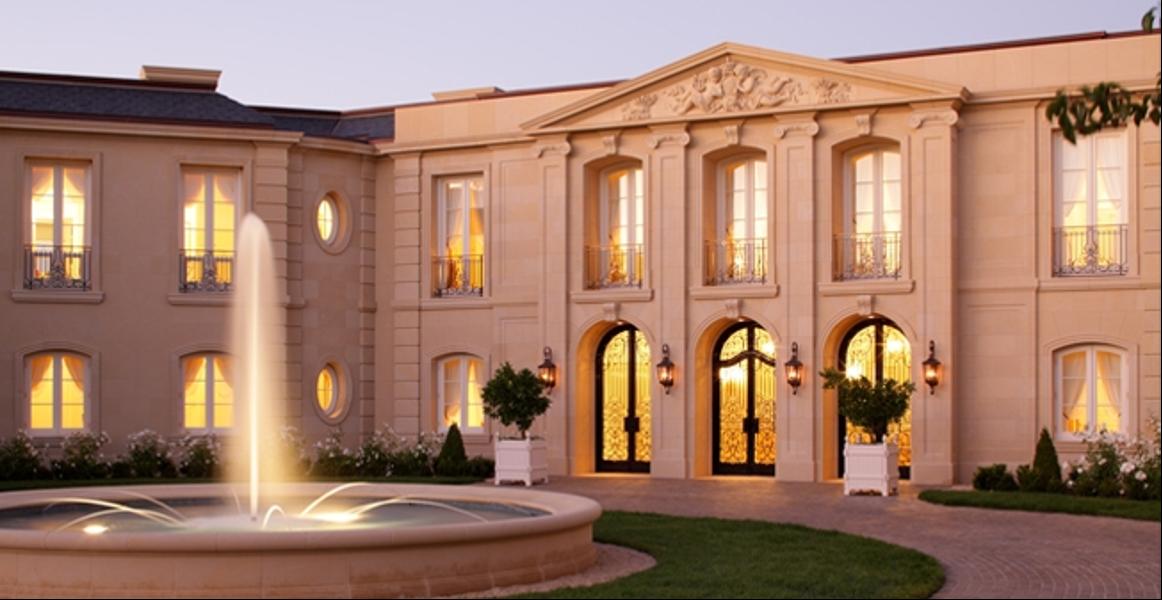 Russian billionaire and Facebook shareholder, Yuri Milner owns the French chateau-style mansion. The extensive mansion has 14 bathrooms, two dining rooms, a game room, an outdoor and indoor pool, a ballroom, theatre, and 25,000 square-foot free space.
16. Fleur de Lys Mansion – Holmby Hills, California
Value: $102 million
Owner: Unknown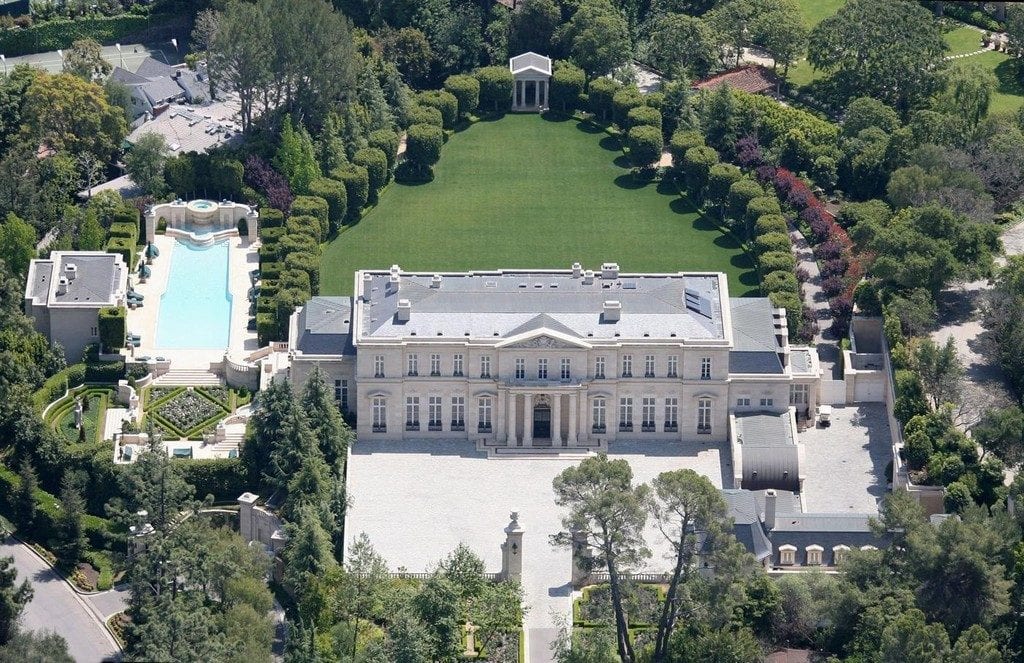 The Fleur de Lys estate was constructed from the architectural design of Richard Robertson to original owners, David and Suzanne Saperstine between 1996 and 2000. After the couple separated and the wife gained ownership of the mansion, it was sold in a concealed deal to an anonymous French billionaire at a whopping amount of $102 million. That sale made history as it became the only property to ever been sold at that price in LA. The private abode consists of 15 bathrooms, 12 bedrooms, 2 kitchens, a massive movie theater, a ballroom, a tennis court, a gym, a pool, and a nine vehicle garage. The property sits on a 4.6-acre plot.
15. Further Lane de Menil – East Hampton, New York
Value: $103 million
Owner: Ron Baron, Net worth: $2 billion
The Hampton's beachside landed property was acquired by a mega investor at $103 million in 2007. The billionaire plans to raise his mansion on the 50-acre space.
14. Mountain Home Road – Woodside, California
Value: $117.5 million
Owner: Masayoshi Son, Net worth: $14 billion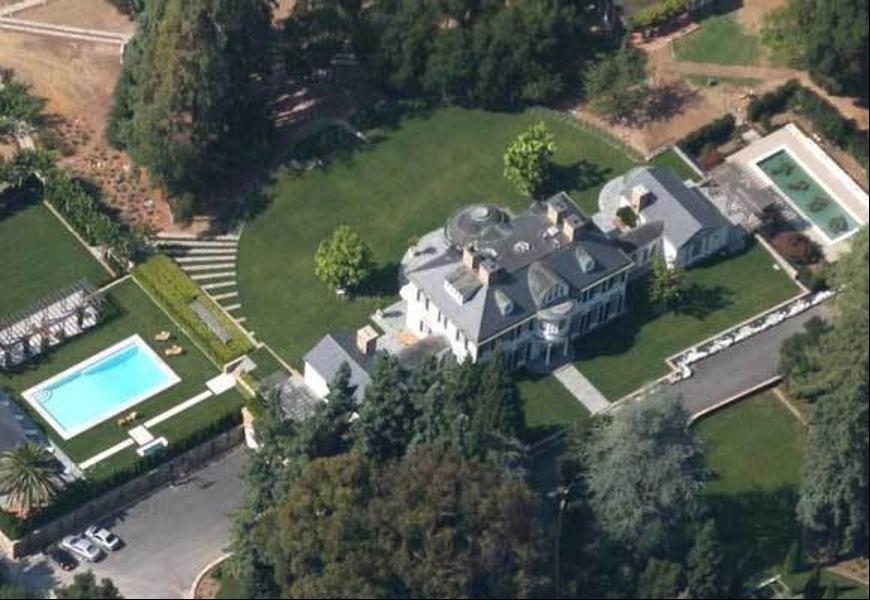 The Japanese Softbank billionaire's 900,000 square-foot manor is simply a masterpiece. The building features a pool with an 1170 square-foot portico, a tennis court, an isolated library, a separate leisure building, and well-groomed ceremonial gardens.
13. Copper Beech Farm – Greenwich, Connecticut
Value: $120 million, Owner: Unknown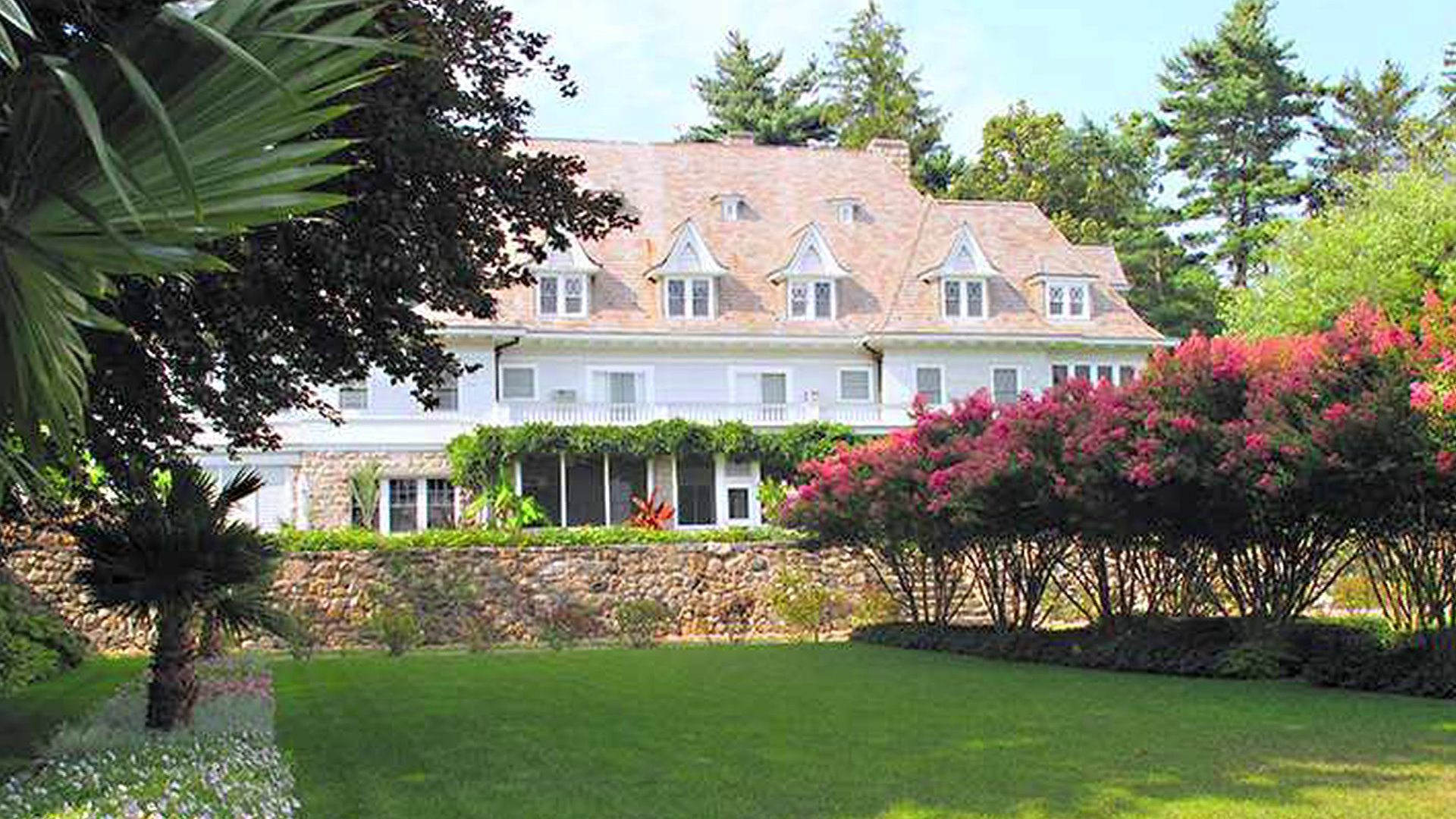 Previously the property of timber magnate, John Rudey, the waterfront mansion which has been in existence since the 1890s was sold in April 2014 at $120 million to an anonymous buyer. The 13,517 square foot mansion with two islands consists of 12 bedrooms, 8 bathrooms, a grass tennis court, a 75-foot pool, and a wood-paneled library.
12. Xanadu 2.0 – Seattle, Washington
Value: $121 million
Owner: Bill Gates, Net worth: $80 billion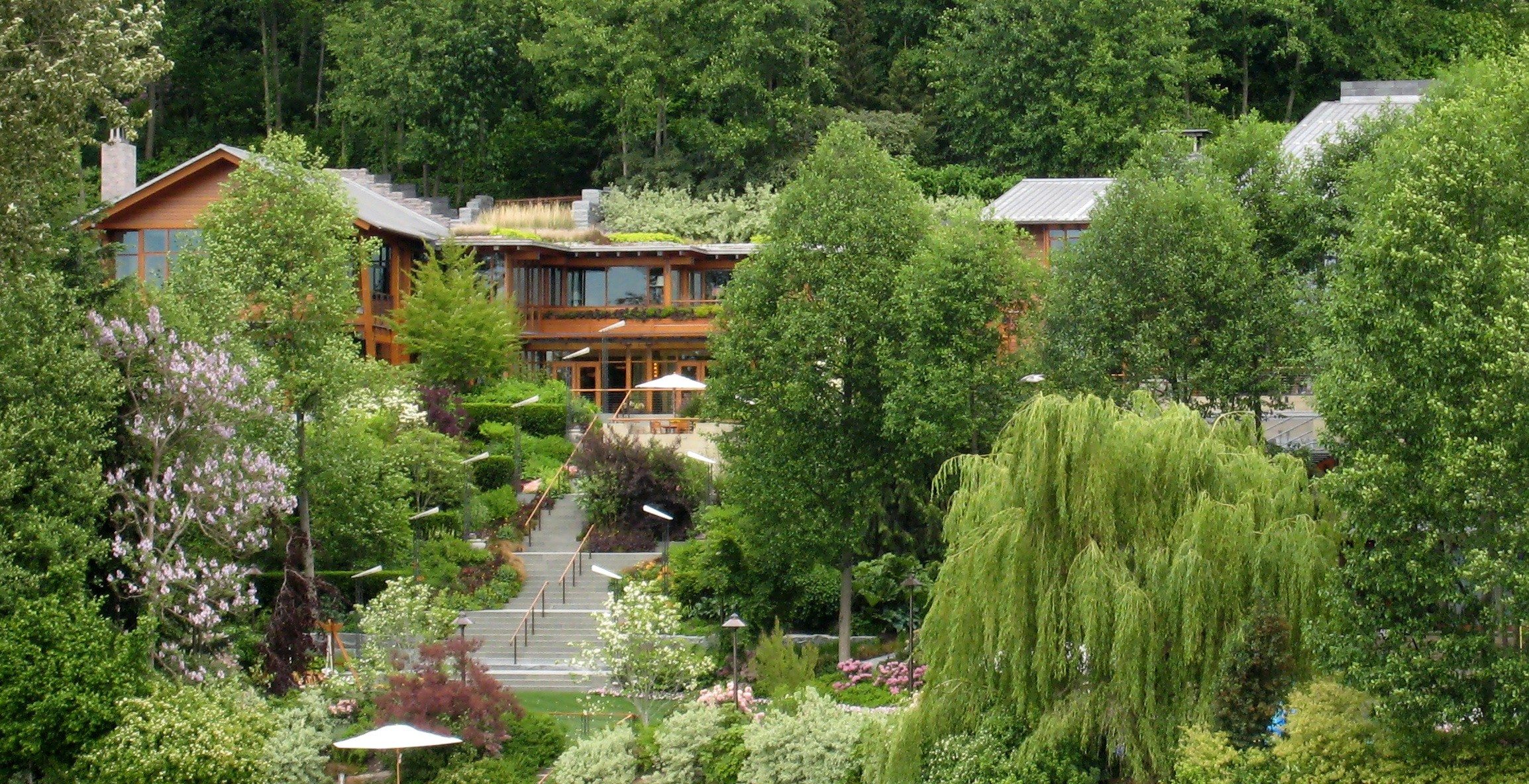 Perhaps the most fascinating feature of the Microsoft owners' high-tech customized abode is the underwater sound system in its pool. The lake Washington estate also features a 2300-square-foot reception hall, 2500-square-foot gym, a 2100-square-foot dome-shaped library, a 6,300-square-foot underground garage, and many other classic facilities.
11. Upper Phillimore Gardens – Kensington South-West London
Value: $126 million
Owner: Victor and Elena Pinchuk, Net worth: $1.5 billion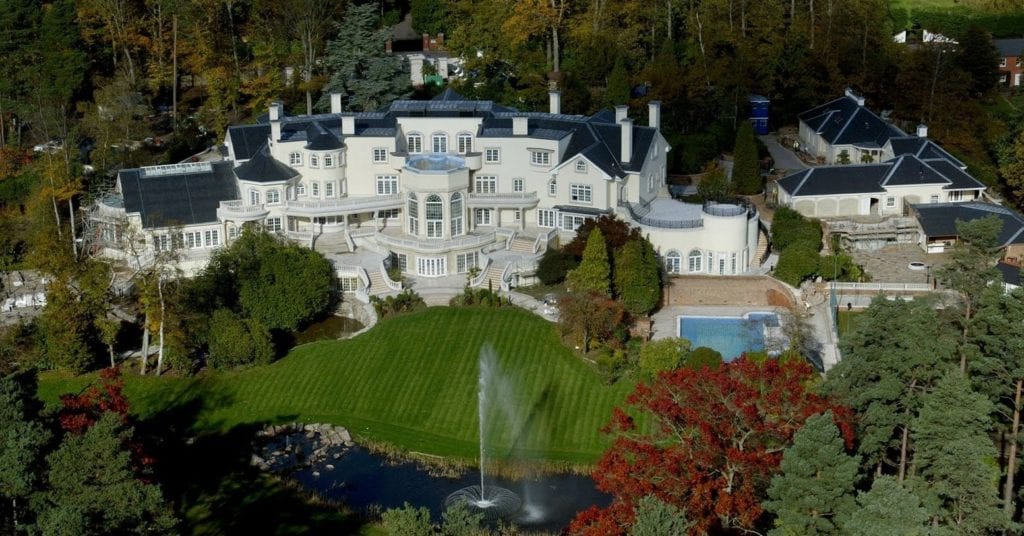 The Victorian villa, once the most expensive house in the world is now a property of business magnate, philanthropist Victor Pinchuk who is married to the former Ukrainian president's daughter, Olena Pinchuk, ownership valid from 2008. It is revealed the new owners spent about $15 million modifying their villa to their taste. Though the exteriors look quite regular, the interior of the 5-story building is the exact opposite, having the most sophisticated luxuries including an underground pool, hi-tech panic room, a spa, a gym, and a cinema. The villa has ten bedrooms.
10. Blossom Estate – Palm Beach, Florida
Value: $130 million
Owner: Ken Griffin, Net worth: $7 billion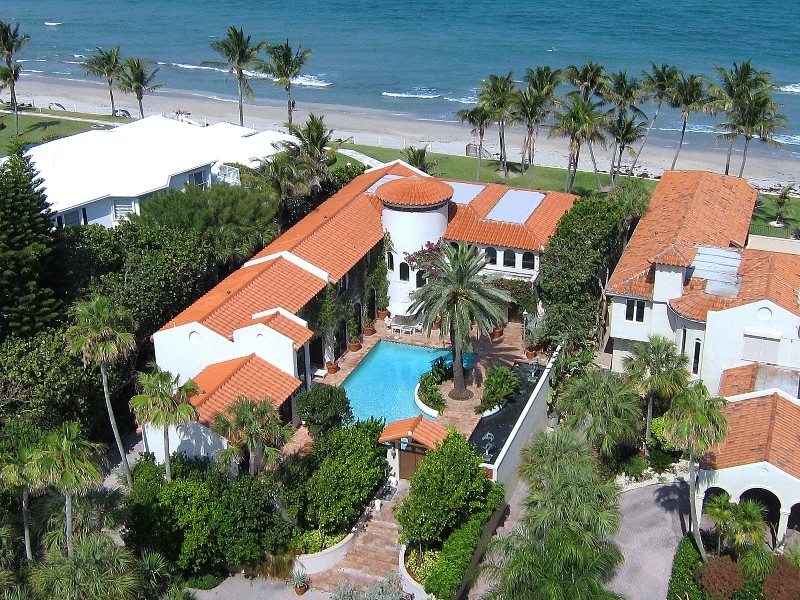 This is actually a four-in-one property, the 8-acre oceanfront estate is made up of four buildings, situated beside each other. The owner, Ken Griffin founder of Citadel demolished the fourth building. It is reported that all four buildings were once used as a single estate.
9. Kensington Palace Gardens – London, UK
Value: $140 million
Owner: Roman Abramovich, Net worth: $13 billion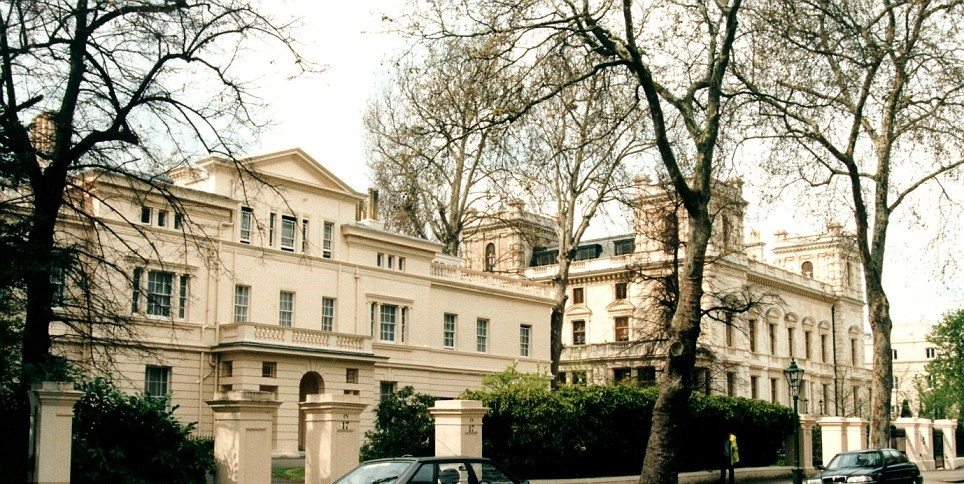 Russian billionaire and owner of an English football club also own a number of mansions in London. The famous Billionaires' Row Street mansion seems to be the most outstanding. The autocrat's refurbish plan for his abode includes an underground tennis court, a museum, and a health center.
8. The Pinnacle – Montana, US
Value: $155 million
Owner: Tim Blixseth, Net Worth: $1.2 billion
The ski lovers will absolutely get dreamy about this one, as this building has a skiing ground for its immediate surroundings. The ski-property is situated within the billionaire Yellowstone club resort and belongs to billionaire couple Time & Edra Blixseth. Despite the snow, the building feels as warm as you would like as every nook and cranny is fitted with heating systems. Making up the house are ten bedrooms and bathrooms each with a fire-place, an outdoor and indoor pool, a wine cellar, and a gym.
7. Ellison Estate – Woodside, California
Value: $200 million
Owner: Larry Ellison, Net worth: $49.3 billion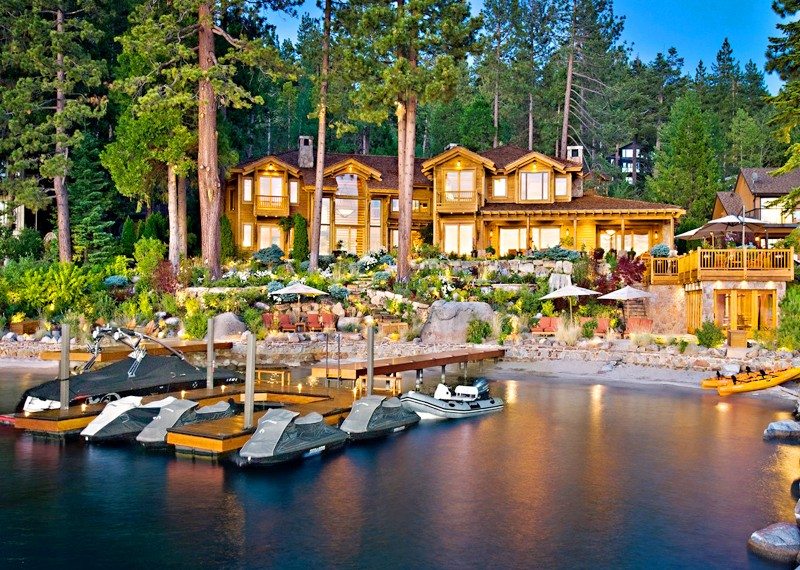 The Oracle founder built a Japanese style manse in 2004, Larry Ellison is a real estate fanatic and owns numerous properties. The world's 5th richest man's estate touts 10 buildings, an artificial pond, a tea house, a koi pond, and a bathhouse.
6. One Hyde Park Penthouse – Knightsbridge, Central London
Value: $221 million
Owner: Rinat Akhmetov, Net worth: $6.9 billion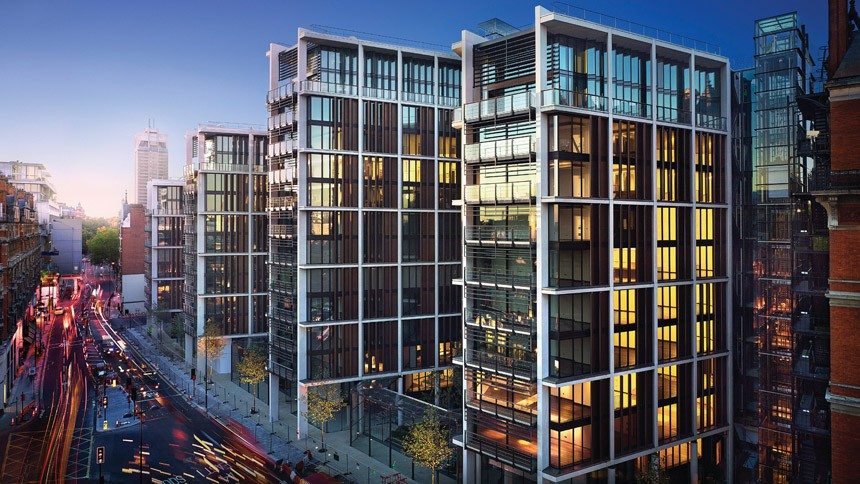 The One Hyde Park is considered to be the world's most expensive apartment building, since its debut in 2011, the 86 residence capacity has sold up to $3.37 billion. Little wonder why its unfinished penthouse without the interior wall, bathrooms, or flooring costs a total of $221 million. The penthouse sizes up to 16,000 square feet. It has been speculated that bringing the penthouse to the desired finish will cost nothing less than  $266 million. Exciting amenities in One Hyde park includes top security facilities like bulletproof glass doors and windows, standby, armed and professionally trained security guards,  basement car park, exquisite spa, golf course, car cleaning services, pool, to mention but a few.
5. Kensington Palace Gardens – London, UK
Value: $222 million
Owner: Lakshi Mittal, Net worth: $12.3 billion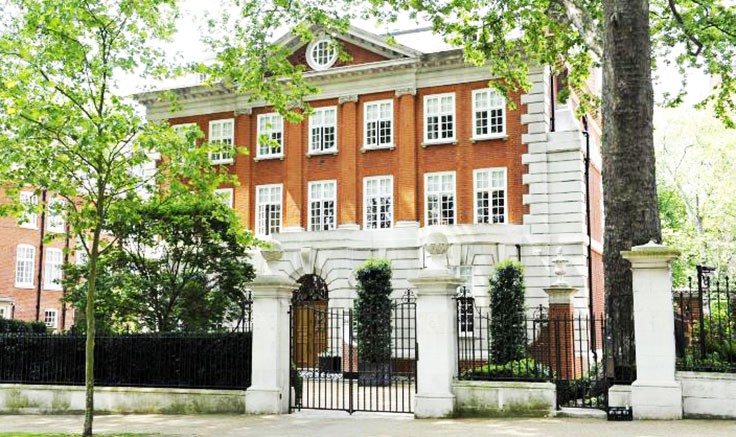 The Indian billionaire owns not one but three houses on the highly secured billionaires row street This one sold by hedge fund billionaire Noam Gottesman was purchased for his son Aditya Mittal.
4. Fair Field – Sagaponack, New York
Value: $249 million
Owner: Ira Rennert, Net worth: $6.1 billion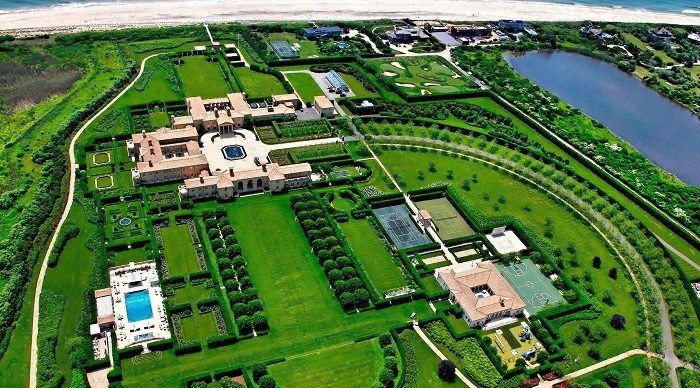 The Hampton residence of billionaire Industrial investor, Ira Rennert, was completed within the space of 5 years, from 1998-2003. According to thepinnaclelist.com, the home is said to be the largest and most expensive home in America. The home constitutes 29 bedrooms, 39 bathrooms, 3 swimming pools, 164-seat screening theatre, 2 tennis and squash courts, and its very own remarkable on-site power plant.
3. Villa La Leopolda – Cote D'Azure, France
Value: $750 million
Owner: Lily Safra, Net worth: $1.3 billion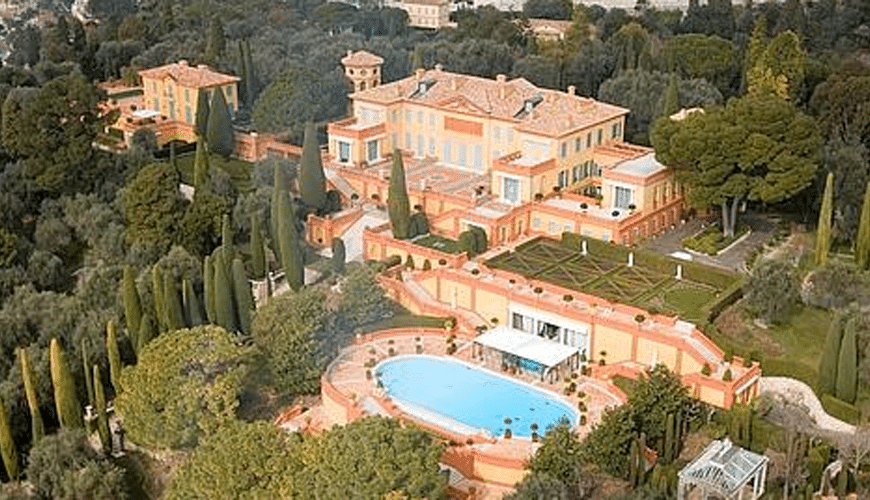 The amazing structure derives its name from the original owner, Late King Leopold II of Belgium. The Architectural credit of this masterpiece goes to the American, Ogden Codman, Jr. The design and building process was concluded within the space of two years from 1929 to 1931. The king gave the estate to his mistress Miss Blanche Zélia Joséphine Delacroix, which was later inherited by the King's nephew King Albert I after his death and the eventual eviction of his mistress. Ownership of the great building has evolved over the years. As of 2008, the property was purchased by Lily Safra at a price of $736 million. Sitting on 50 acres of land, it features 11 bedrooms, an outdoor kitchen, a pool, and everything else.
2. Antilla – Mumbai, India
Value: $1 billion
Owner: Mukesh Ambani, Net worth: $20.8 billion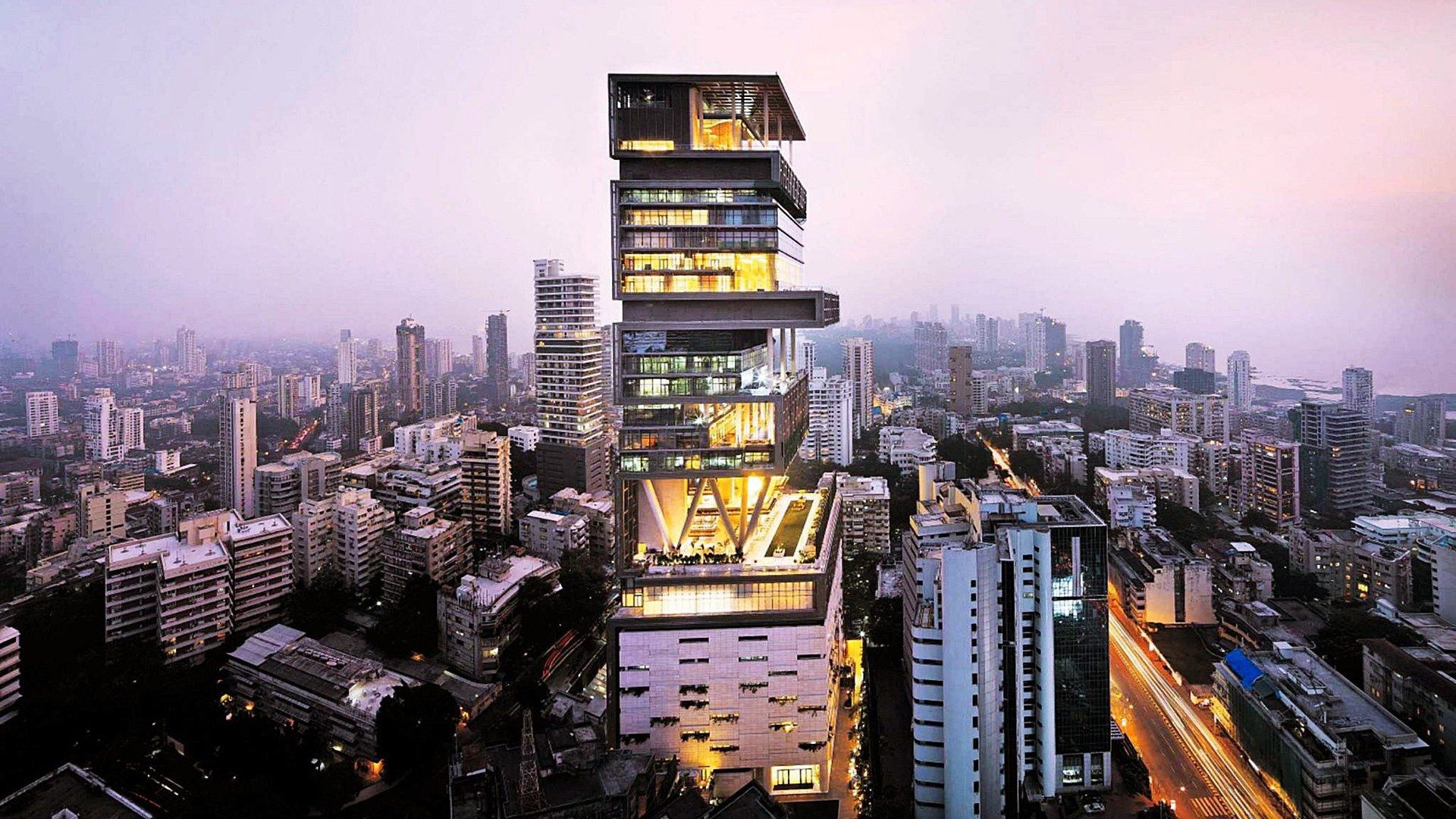 This 27-story, 56,000 ft skyscraper is actually a residential building, belonging to one of the richest men in the world, and richest man in India, Mukesh Ambani. This extraordinary structure was designed by Americans Lawrence Perkins and Phillip Will and constructed by Leighton holdings. There's a lot to be said about this building but to satisfy curiosity I'll just go straight to its incredible features; 9 elevators to move you through its floors, 3 helipads, 6 parking lots, with a total of 168 car capacity, pools, a well-cultivated balcony garden with its plants serving as energy-savers occupying 3 floors, a temple for family prayers, a health spa, snow room, ice cream room, a saloon, a 50-seater cinema, a ballroom, a gym, indoor and outdoor bar. The building is tended to by 600 staff with their own relaxation room. It is constructed to withstand an 8 Richter scale earthquake. This you would agree with me is a 21st-century wonder.
1. Buckingham Palace, London
Value: $1.5 billion, Owner: British Sovereigns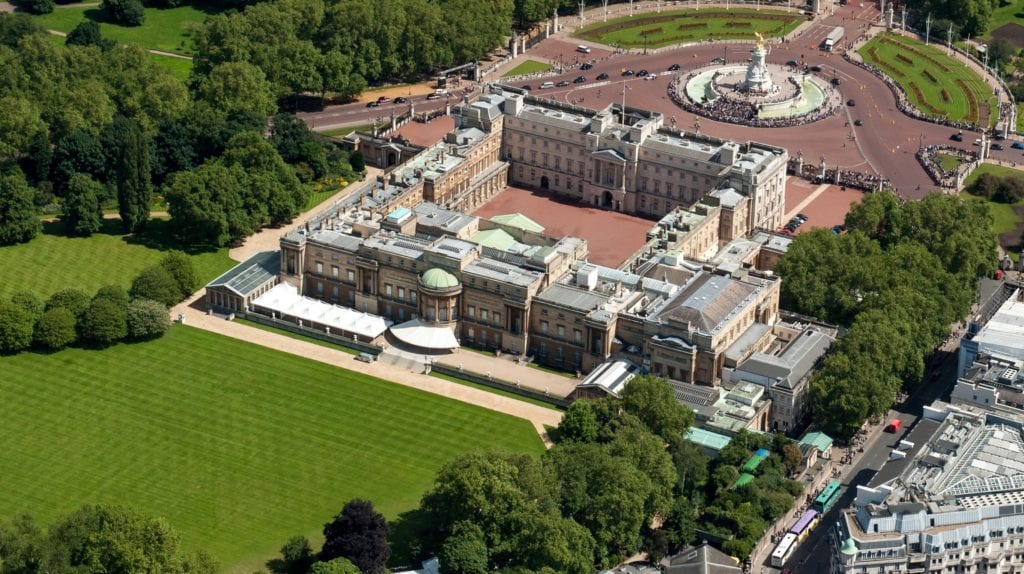 Yes! It is indeed a palace, official home to the one and only Queen of England, and other British sovereigns. Located in Westminster, London, It was built in 1703 for the Duke of Buckingham and stands on about 40 acres of land.
Since its existence, the palace has undergone several modifications and additions to make it a befitting abode for the royals. You shouldn't expect anything less from this palace, from the magnificent and stunning artworks to gorgeous heavenly chandeliers, to gold-plated wares and furniture, the Buckingham palace is absolutely glorious almost indescribable.
The palace encompasses  775 rooms including  188 staff bedrooms 52 Royal and guest bedrooms 92 offices 78 bathrooms and 19 Staterooms. Other facilities include; a pool, lake, tennis court, cinema, staff eatery, chapel, hospital, and many more, and of course, you know royalties go nowhere without their security and servants, they really do enjoy having everything at their beck and call.
Summary
Here's a recap of the top 26 most expensive houses in the world, their value, and owners:
1. Buckingham Palace, London: British Sovereigns ($1.5 Billion)
2. Antilla – Mumbai, India: Mukesh Ambani ($1 Billion)
3. Villa La Leopolda – Cote D'Azure, France: Lily Safra ($750 Million)
4. Fair Field – Sagaponack, New York: Ira Rennert ($249 Million)
5. Kensington Palace Gardens, London: Lakshi Mittal ($222 Million)
6. One Hyde Park Penthouse, London: Rinat Akhmetov ($221 Million)
7. Ellison Estate – Woodside, California: Larry Ellison ($200 Million)
8. The Pinnacle – Montana, US: Tim Blixseth ($155 Million)
9. Kensington Palace Gardens, London: Roman Abramovich ($140 Million)
10. Blossom Estate – Palm Beach, Florida: Ken Griffin ($130 Million)
11. Upper Phillimore Gardens, London: Victor and Elena Pinchuk ($126 Million)
12. Xanadu 2.0 – Seattle, Washington: Bill Gates ($121 Million)
13. Copper Beech Farm – Greenwich, Connecticut: Unknown Owner ($120 Million)
14. Mountain Home Road – Woodside, California: Masayoshi Son ($117.5 Million)
15. Further Lane de Menil – East Hampton, New York: Ron Baron ($103 Million)
16. Fleur de Lys Mansion – Holmby Hills, California: Unknown Owner ($102 Million)
17. Silicon Valley Mansion – Los Altos Hills, California: Yuri Milner ($100 Million)
18. Maison de L'Amitie – Palm Beach, Florida: Dmitry Rybolovlev ($95 Million)
19. Broken O Ranch – Augusta, Montana: Stanley Kroenke (est. $90 – 135 Million)
20. Kensington Palace Gardens, London: Lakshi Mittal ($90 Million)
21. Promised Land – Montecito, California: Oprah Winfrey ($90 Million)
22. One57 – Manhattan, New York: Bill Ackman (est. $90 Million)
23. 15 Central Park West Penthouse, New York: Ekaterina Rybolovleva ($88 Million)
24. The Manor – Holmby Hill, LA California: Petra Stunt ($85 Million)
25. Kensington Palace Gardens, London: Tamara Ecclestone ($72 Million)
26. Duke Semans Mansion – Manhattan, New York: Carlos Helu Slim ($44 Million)