For nearly two decades, Robin Wright and Sean Penn thrilled and stunned the public with their on-and-off relationship. Outwardly, their marriage seemed to be going great, which was why their less than happy ending came as a bit of a surprise.
The pair crossed paths when they were shooting the movie State of Grace, which they both co-starred in. They began spending more time together and before long an on-set romance had blossomed between them. At the time, they were both recently divorced. Penn had just ended his marriage with the pop star Madonna and the pain was still fresh in his mind, but that didn't stop him from jumping aboard the love train when it came around. The Princess Bride actress was also fresh from her divorce with Dane Witherspoon, whom she also met on set while shooting the series Santa Barbara. She had married him when she was 20 years old and their union hit the rocks two years later.
When Did Robin Wright and Sean Penn Get Married?
Both Robin and Penn decided it was not wise to leap back into marriage, but their relationship progressed very swiftly. A short while after they began dating, they officially began living together. Their relationship was a bit unbalanced because Penn was a bigger star than Robin. He was already a critically acclaimed actor while she was still struggling to make an impact in the film industry although she was a well-known face in the soap opera scene. This professional disparity meant that Robin had a lot more to lose in the relationship but she didn't let this derail her love for the actor.
The blonde-haired damsel became pregnant a few months into the relationship so she placed her career on the backseat in order to focus on her child and the changing family dynamic. Robin rejected film roles that would have helped boost her fame. In 1991, she gave birth to their first child, a daughter they named Dylan Frances Penn. Two years later, they welcomed their son Hopper Jack Penn into the family.
With two young kids on their hands, the couple had to decide the best course of action when it comes to taking care of them. They agreed that they didn't want a nanny spending more time with their children than they were, so they had tough decisions to make. Since Sean Penn was making a lot more money from acting than Robin was at the time, they decided the smartest thing to do was for him to keep working while she stayed home with their son and daughter.
Although her career slowed to a crawl during this period, Robin did not abandon it completely. She still worked on a few movies here and there, including Crossing Guards and She's So Lovely, starring alongside Penn. Around this time, the couple decided to take a break from their relationship. They separated only to get back together a year later with an even bigger resolve to make their relationship work.
In 1996, a few months after their reunion, Robin Wright and Sean Penn exchanged vows and she added his last name to hers. As the years progressed, he continued to maintain the upper hand in the relationship because of his higher earning power, while Robin only appeared in a handful of movies. It seemed that her career just couldn't compete with her love for her children, so she rejected most of the roles that were offered to her and eventually the movie scripts stopped coming in.
When the pressures of living in Los Angeles became too much, the couple relocated to San Francisco so they could be away from the buzz and bubble of life in Hollywood. This might have been a good move for the kids but it didn't do much to help their increasingly volatile relationship.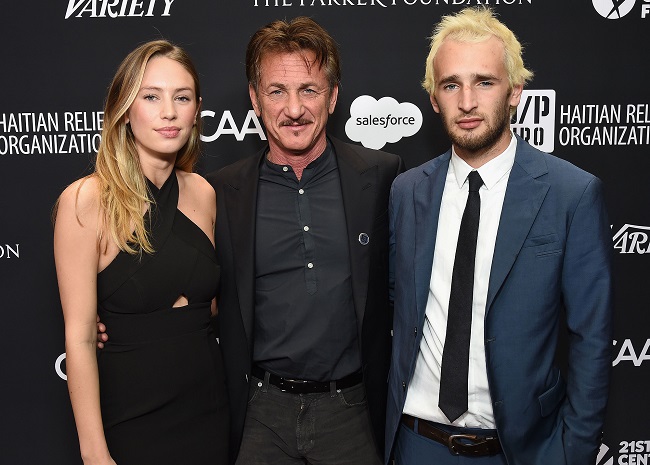 In 2007, after 11 years of trying to make it work, Robin filed for divorce from her Academy Award-winning husband. However, she withdrew her suit four months later, deciding to give her marriage another shot. In 2009, history repeated itself once more with Penn filing for divorce this time around but he also opted for reconciliation a few months later. The couple managed to hold it together for another couple of months before Robin filed for divorce again. This time around, there was no going back as their marriage was officially dissolved in 2010 and their 20-year relationship came to an end.
Who Makes More Money Between Robin Wright and Sean Penn?
One of the things that made Wright and Penn's relationship beautiful and long-lasting was the fact that they were in the same line of business. They were both creative people who loved to perform and display their artistic abilities in myriad ways so they were better able to understand each other. Seeing as they were both actors and famous ones at that, they knew how demanding their careers could be and how best to navigate the rocky terrains that come with it. It was easier for them to bond because they already had so much in common between them.
Being actors, they made a lot of money from their respective careers back in the day. However, Sean Penn was the richer of the two and also the higher earner because his career was more advanced than Robin's when they were married. Also, the Girl With the Dragon Tattoo star had to give up her career in order to raise her children, which really impacted her earning potential. Since their marriage came to an end, Robin Wright and Sean Penn have thrown themselves back into their work, taking on roles wherever they see fit and expanding their popularity in the industry. So which one of them makes more money today from their careers?
Robin Wright is a singer, model, actress, and producer and she is incredibly skilled at all these jobs, allowing her to earn substantial amounts of money for her work. Acting is the career that has brought her the most fame and income over the years. She became a household name after she began playing Kelly Capwell in the acclaimed television show Santa Barbara. Her other notable film appearances include roles in Forrest Gump, The Girl with the Dragon Tattoo, The Conspirator, Unbreakable, Message in a Bottle, The Princess Bride, The Yellow Rose, and Moneyball.
She has received various awards and nominations for her astounding performances on film and television. The characters she embodies in projects like Moll Flanders, Nine Lives, Breaking and Entering, She's So Lovely, Empire Falls, Haters, Loved, and House of Cards have earned her numerous honors and recognition from awarding bodies. Recently, she has been playing a lead role in the series House of Cards, for which she earns a whopping $9 million every year. For each episode that she appears in, Robin Wright takes home $500,000 in wages. Her current net worth is estimated to be around $65 million.
Moving on to the other ex, Sean Penn is an actor, activist, and director. He comes from an artistic family so it was only a matter of time before he found his way into show business as well. He began his acting career when he was a teenager, earning praises for his role in the comedy series Fast Times at Ridgemont High. As his career advanced, he got even more complex and audacious roles in movies that helped elevate his profile as an actor. Sean Penn has earned some of the highest honors in his line of work for his dazzling performances including five Academy Award nominations for Best Actor, two of which he won for his roles in Mystic River and Milk. His directorial efforts have been met with acclaim and several award nominations.
In recent times, Sean Penn has expressed his lack of interest in show business, so he is no longer actively taking up roles on film or television. Instead, he will be directing his attention towards his other interests such as writing, activism, and charity. As a result, he no longer heavily features in the Hollywood scene, although he is not fully retired. Perhaps, if he finds a wonderful and refreshing script, he will be tempted to jump back on the performance train and astound viewers with the breadth of his talent once again.
See Also: Ryan Phillippe vs Reese Witherspoon: Which Celebrity Ex Makes More Money
Looking at Robin's recent leap in income and Penn's decline, it's easy to see that the actress is winning this battle of the exes. Her career is on the rise, she is winning awards, and getting all sorts of lucrative offers for movies. In the coming years, she is expected to rake in even more money from her professional endeavors, surpassing her former husband even more. Although Sean Penn still has more than double her net worth ($150 million), if she continues making more money than him going forward, she is very likely to catch up with him in value. At the moment, Robin Wright is the celebrity ex who makes more money, which is fair considering the sacrifices she had to make in the past for the good of her family.