When it comes to famous actresses in Hollywood, there are very few names who can claim to be higher on the list than Reese Witherspoon. She has had a long career in the industry which has featured a number of milestones, including a marriage to Ryan Phillippe. Sadly, her marriage to Ryan did not last and since then, their careers have gone in different directions. Ryan Phillippe vs Reese Witherspoon is an exploration of the difference in their respective careers.
While Reese has had a long career in the spotlight, the same cannot be said for her ex-husband, Ryan Phillippe who hasn't been able to maintain the popularity he garnered in the 90s. As a result, there has been a massive gap financially between the former couple. Let's take a look at just how wide that gap is. Read below to learn more about who makes more money between the two.
Which Celebrity Ex Makes More Money?
Ryan Phillippe
Net Worth- $32 million
Ryan Phillippe may no longer be the heartthrob that graced the 90s screens with appearances in movies like Cruel Intentions and Crimson Tide but he has maintained a significant level of appearance on screen, particularly in TV shows to maintain a personal net worth of $32 million.
Born in September 1974, Ryan Phillippe began his career in 1992 when he was cast as Billy Douglas in the soap opera, One Life to Live. He had a short-lived time on the soap opera, appearing in only thirteen episodes between 1992 and 1993. In 1993, he made his subsequent appearance in another TV show, The Secrets of Lake Success.
Ryan Phillippe was a good-looking man who attracted a lot of women and combined with his decent acting skills, he continued to find a lot of roles where he deployed his astonishingly great looks. He went on to appear in movies like Little Boy Blue, I Know What You Did Last Summer, 54, Company Man and one of his most popular movies yet, Cruel Intentions, which he starred in along with his future wife, Reese Witherspoon.
For a considerable period, Ryan Phillippe's charming looks was enough to get him on the big screen, and his movie appearances, which total over 29 since he made his first big-screen appearance in Crimson Tide, have made over $700 million in the global box office. However, his best global box office impact came from playing a supporting role. He hasn't proven to be much of a box office draw in the lead role. His movies as a lead star have earned a meager $185 million in the global box office.
As a result, Ryan Phillippe hasn't been able to command a high salary for his movie appearances and has also not appeared in a lot of them due to the counter-effect of his age and his charming looks. Regardless, Ryan Phillippe has been able to maintain a more than comfortable life as an actor through appearances on TV shows, including a leading role in the show, Shooter between 2016 and 2018. He played the lead character, Bob Lee Swagger on the show.
So far, Ryan's net worth of $32 million has come through a filmography with over 60 movies and TV shows.
While his net worth is nothing to smirk at, in the context of Ryan Phillippe vs Reese Witherspoon, it doesn't bode well for the Cruel Intentions actor.
Reese Witherspoon
Net Worth – $240 million
Compared to her ex-husband, Reese Witherspoon is an extremely rich woman and it has all been down to a successful career as an actress and a producer. Witherspoon began her career in 1991, debuting in the movie, The Man in the Moon, playing the character, Dani Trant. In the same year, she also made an appearance in the TV movie, Wildflower.
Her performance in her dual appearances in her debut year proved successful enough among critics and viewers and she went on to star in more projects, including movies like Freeway, Jack the Bear, Twilight and Cruel Intentions, where she played the character, Annette Hargrove, which is one of her breakout roles. At the turn of the new millennium, Reese Witherspoon appeared in popular movies like Legally Blonde and American Psycho, continuing and improving on her growing reputation as a talented actress.
Unlike her husband, a majority of her roles in a filmography that has over 60 movies and TV shows has her playing lead roles. Her long career has been a result of the success of her movies where she played the leading role. Such movies have earned over $2 billion in the global box office.
When she has been a part of a leading ensemble, her movies have also made considerable success in the global box office, recording over $780 million in box office earnings. Being a very bankable actress, Reese Witherspoon has been able to command a high amount of salary for her movie or TV roles, which has been estimated to be between $15 to $20 million per movie. She is also estimated to be earning as much as $1 million per episode for her role in HBO's hit drama, Big Little Lies.
While her earnings as an actress place her well and beyond her husband in earnings, the gap is further widened by her financial activities behind the camera. In the movie industry itself, Reese Witherspoon has her own production company, Pacific Standard which was launched in 2012. It has since transformed into Hello Sunshine following a partnership with Otter Media, a division of AT&T's WarnerMedia in 2016. The production company has been a part of the production of popular works like Wild and Gone Girl. It also has a book club, audio programming with Audible, two podcasts and a video-on-demand channel with DirecTV.
Reese's production company has also partnered with Apple to produce a couple of shows for the tech giant's streaming platform. Her exact earnings from the company are yet to be known, but considering the number of deals she has signed with major companies like Starz and Apple, it is bound to be a considerable sum. Outside of movie and TV production, Reese Witherspoon's $240 million net worth also comes from her clothing brand, Draper James and her lifestyle brand, MOOD. With the income of both celebrity exes analyzed, it is pretty obvious that in battle of Ryan Phillippe vs Reese Witherspoon, the latter makes more money than her ex-husband.
Reese Witherspoon and Ryan Phillippe – Relationship Facts
Having established who is richer and makes more money between the two Hollywood exes, let's take a look at some facts regarding their relationship before they became exes.
They Met In a Party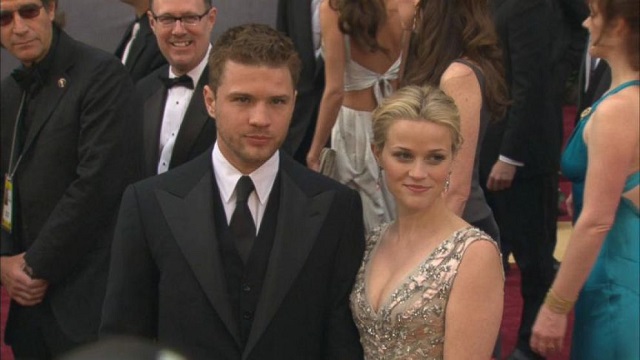 Reese Witherspoon and Ryan Phillippe met for the first time during her 21st birthday party. According to an interview the actress granted Jane Magazine, she approached the actor and told him 'I think you're my birthday present' and although it was a cheesy line, Ryan found it flattering and the couple began a relationship shortly after.
Not long after they began their relationship, they moved in with each other in a home in Beverly Hills.
Reese and Ryan were Pregnant Before They Got Married
About a year after they met for the first time, Reese Witherspoon and Ryan Phillippe got engaged and soon afterward, got married, on the 5th of June, 1999. At the time of their wedding, Witherspoon was six months pregnant.
The wedding was held in Charleston, South Carolina and it was a small and intimate affair that was described by those in attendance as an emotional affair.
They Share Two Children
Just three months after they became husband and wife, Reese Witherspoon and Ryan Phillippe welcomed their first child, a daughter they named Ava Elizabeth Phillippe who was born on the 9th of September, 1999. Their second child, a son, Deacon Rese Phillippe was born in October 2003.
They Got Divorced in 2006
After the birth of their second child, things began to fizzle out between Reese Witherspoon and Ryan Phillippe and it all eventually came to a head in October 2006 when their representatives both put out a joint statement announcing their separation.
Unlike other major celebrity relationships where infidelity tends to be a major cause for separation, Reese and Ryan's marriage ended as a result of age. This is according to the couple. Both Reese and Ryan attributed the end of their marriage to the age at which they got married, which was in their early twenties; they say it robbed them of a chance to learn who they were outside of their marriage.
They are Co-Parents
Since getting divorced, Reese and Ryan have maintained a cordial relationship. They have remained co-parents to their two children, having agreed to joint custody. As for their life post-divorce, they have moved on with their respective lives. Reese Witherspoon has remarried to Jim Toth whom she reportedly began dating in February 2010. Jim is a talent agent and one of the heads of the major talent agency, Creative Artists Agency.
The two of them got married on the 26th of March, 2011 in Ojai, California, three months after they got engaged in December 2010. They have both welcomed a child, a son, Tennessee who was born on the 26th of September, 2012.
See Also: Drew Barrymore vs Will Kopelman: Which Celebrity Ex Makes More Money
Ryan Phillippe, however, hasn't made another trip to the altar but has been in a couple of relationships, including dating Australian actress, Abbie Cornish, Alexis Knapp, and Paulina Slagter, who is a law student.
It is safe to say when it comes to the personal life category in the debate about Ryan Phillippe vs Reese Witherspoon, Reese comes out on top again.