For reasons that are quite obvious, Post Malone's net worth is one subject that grabs the attention of his many followers. This fella practically popped out of nowhere in 2015 and took over the music landscape with his debut album, Stoney. Since he rose to stardom, the musician has made it clear that he came to stay. Post has already gathered a number of awards under his belt including two American Music Awards, MTV Video Music Award, and a Billboard Music Award. With an additional four Grammy Award nominations in only a few years of starting out, it is safe to assume there is no stopping him. Let's look at how much he makes from his music and how he spends his money.
How Post Malone Became Famous
Everyone's favorite musician, Post Malone was born Austin Richard Post and his date of birth falls on the most celebrated national holiday in the USA which is July 4, 1995. He was born in Syracuse, New York where he also spent much of his childhood. However, he later moved to Grapevine, Texas with his father (Rich Post) and stepmom (Jodie Post) when his dad was hired by the Dallas Cowboys.
The musician was born into music being the son of a DJ. For that reason, he got exposed to different genres of music including hip-hop, rock, country songs, etc. Having developed a strong passion for music, he took up guitar and embarked on a self-taught lesson using a video game, Guitar Hero and DIY videos on YouTube. Despite having no formal training, Post Malone blazed through it and figured he could do more than playing the instrument. At age 15, he tried to join a band named Crown The Empire but didn't go beyond the audition as he was doomed by his guitar strings that broke during the audition.
Fortunately, he was able to join a metal rock band when he enrolled in Grape High school and later changed to softer rock and hip-hop. In 2011, he self-produced his first EP and ear-wormed his way into the hearts of music lovers. Given the little local fame he gained due to his remarkable EP, he was voted "the most likely to become famous" in his school.
After he left the school, he joined Tarrant County College but was discontented with his school programs. He later dropped out and moved to Los Angeles for good, launching his musical career professionally in 2013. Although Post did surpass several hurdles that tried to stop him, he didn't spend a long time dropping songs before getting his breakthrough. It came quite effortlessly for him after he dropped his first single, White Iverson, which reached the number 20 spot on the US Billboard Hot 100, quickly catapulting him to stardom. In August of that year, his unique talent of combining different genres of music gained him a contract with Republic Records.
Since becoming part of the record label owned by Universal Music Group, Post has earned a reputation as a versatile talent for writing, composing, singing, and rapping. In the course of his career thus far, he has worked with big names in the music scene including 50 Cent, Young Thug, Justin Bieber, and Kanye West whom he met in 2015 during Kylie Jenner's 18th birthday. In 2018, the multi-talented star broke Michael Jackson's over three decades record for most weeks spent on Billboard's Top R&B and Hip-Hop Albums charts. His debut album, Stoney, dominated the chart for 77 weeks against the 76 weeks that Michael's Thriller spent on the chart. The album which he dropped in 2016 was also certified triple platinum.
Post has also exhibited his versatility by debuting his acting career in 2016, despite the massive success he had already achieved as a musician. His first TV work was on Jimmy Kimmel Live and subsequently, he appeared on Late Night with Seth Meyers and XXX: The Return of Xander Cage.
Details of Post Malone's Net Worth
Celebrities earn more money when they are buzzing and that's the case with Post Malone. So far, if there is one thing that has significantly changed in the star's life since he became famous, it's his net worth. He reportedly generates at least $1 million from each tour he embarks on. In 2018, his earnings from music tours and sales amounted to $7 million. With that in mind, his net worth is estimated at $14 million.
Read Also: Is Jay Z The Richest Rapper in The World, Is He a Billionaire?
How He Makes and Spends His Money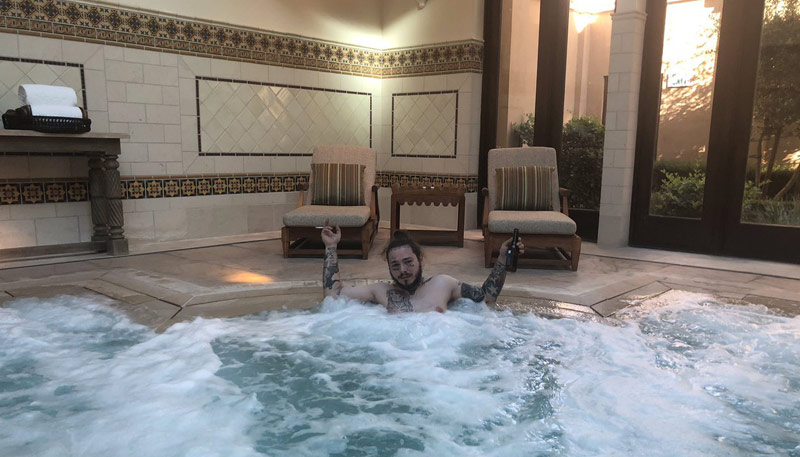 The American star basically makes millions from sellout tours and chart-topping albums. As of 2019, he reportedly sold more than 60 million of his records in the United States. The musician also obtained a Diamond certification for his song Congratulations.
Nonetheless, music is not the only money-making venture that Post depends. Over the years, he has been able to land profiting endorsement deals including collaborating with Bud Light to promote the beer company's brand. He also has plans of pursuing business endeavors ranging from launching his own entertainment label to opening a tattoo shop in LA. So, you can expect Post Malone's net worth to triple in years to come.
As for his expenditure, Post's Instagram shows that he loves living. He has several expensive cars and also owns a mansion in LA. In addition to that, he has made traveling a hobby. All of these reflect how he spends his money.