Justin Bieber is a Canadian singer, songwriter, dancer, and multi-instrumentalist who has a net worth of $285 million
What is Justin Bieber's net worth?
| Net Worth: | $285 Million |
| --- | --- |
| Salary: | $80 Million |
| Income Sources: | Album sales, lucrative endorsement deals |
| Age/Date of Birth: | 29 years old (March 1, 1994) |
| Height: | 70 kg in pounds or 154 lbs |
| Nationality: | Canadian |
| Last Updated: | 2021 |
Justin Bieber Started To Build His Fortune Quite Early
Born on March 1, 1994, in London, Ontario, Canada and raised by a single mother, Justin Drew Bieber showed an early interest in music and trained himself to sing, play drums, piano, guitar and trumpet.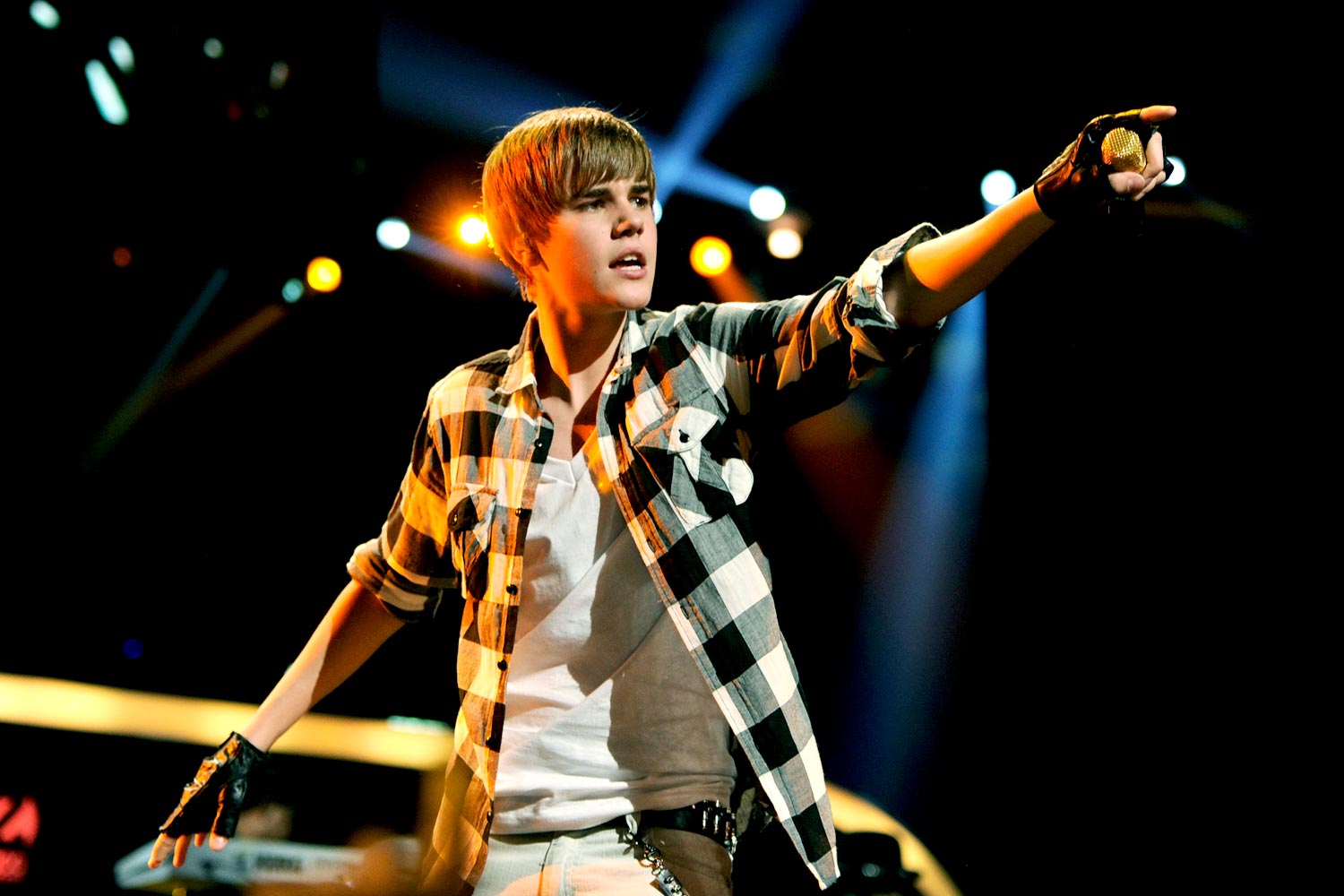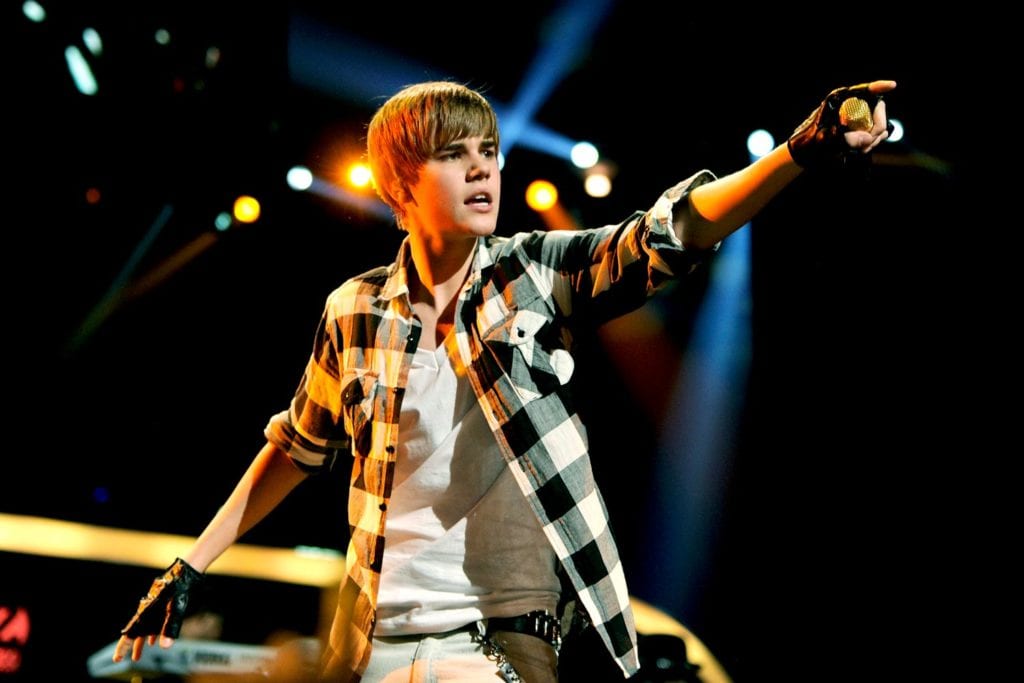 Despite being a self-taught musician, Justin possessed amazing talents that shot him to the helm of the music industry. Still in his early teens, he would upload his cover of popular artists songs of Justin Timberlake, Stevie Wonder, and Usher Raymond.
It wasn't long before marketing executive, Scooter Braun came across some of his on YouTube and at 13, Braun had already moved him to Atlanta and signed him to his partnership label with Usher – the Raymond Braun Media Group. This was the genesis of the rise of a new pop artist and it set the ball rolling for a successful music career.
His Earnings from Record Sales
Bieber's first single "One Time" released in 2009 enjoyed more than average success, peaking at #17 on the Billboard Hot 100. In November of the same year, he released his Extended Play (EP) titled My World. The album was certified platinum in Canada.
Bieber released his first studio album, My World 2.0 in 2010. It produced the lead single "Baby" which became an instant hit, selling over 15 million copies worldwide and receiving over 1 billion views on YouTube. Not only did the song secure him a place in the music industry, it also changed his net worth.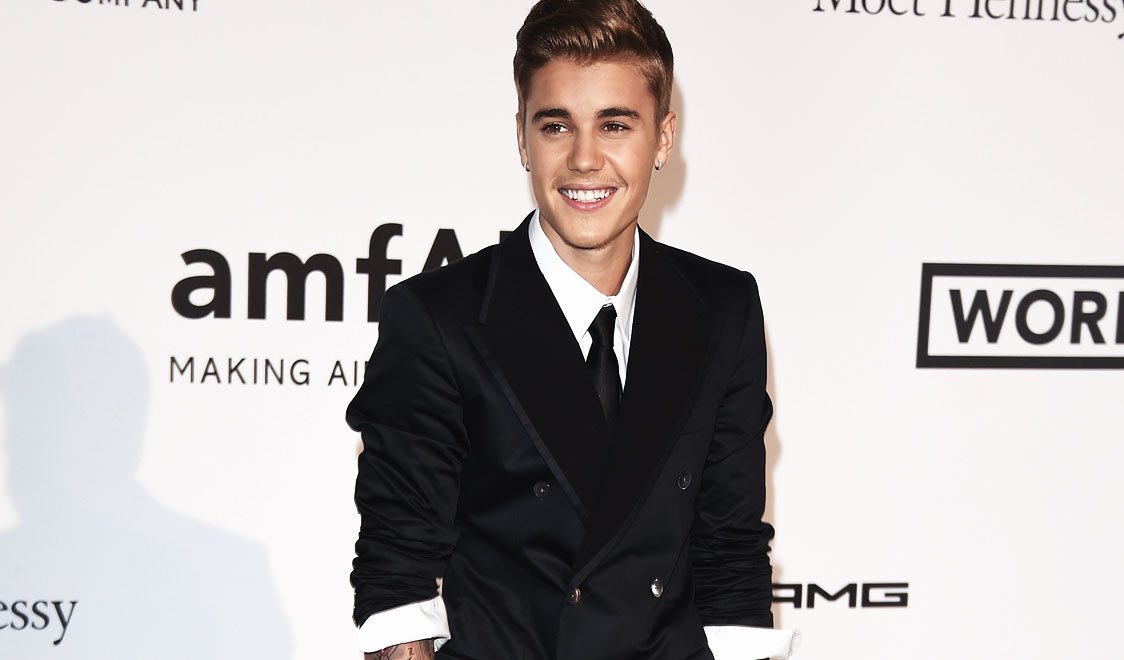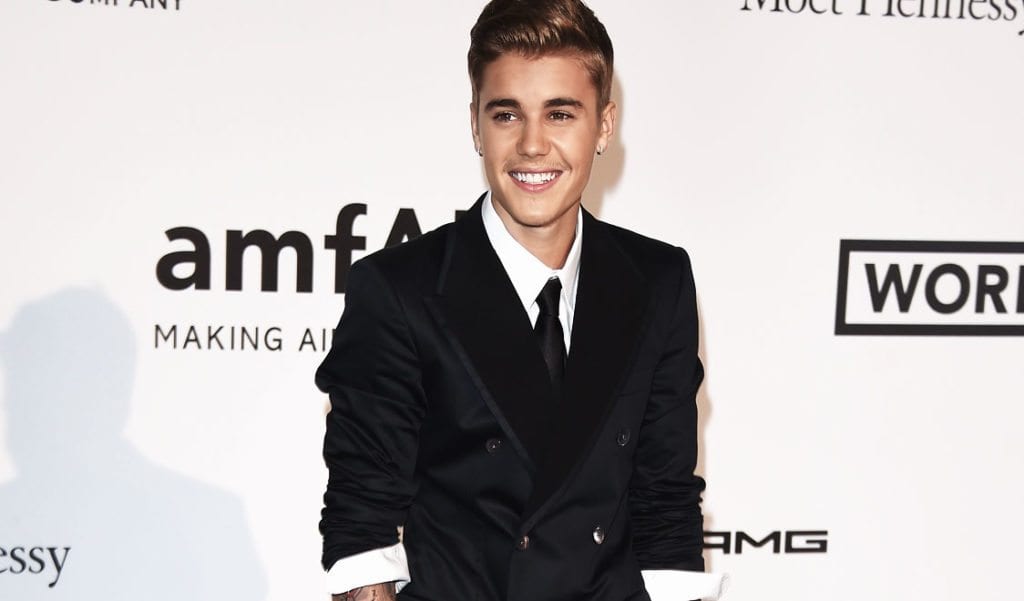 Per estimates, Bieber's net worth rose to $5 million at the end of 2010; and by the end of January 2012, Justin Bieber net worth skyrocketed to $40 million!
Some of Bieber's other successful albums include Under the Mistletoe (2011) a Christmas song album that sold more than 2 million copies, Believe (2012) which has sold over 3 million globally and Purpose (2015) which sold over 500,000 copies in its first week. All these albums debuted atop the Billboard charts.
Tours and Collaborations
In addition to record sales, Bieber's tours have been hugely successful. His "My World Tour" grossed over $50 million while "Believe Tour" brought in an impressive $209 million.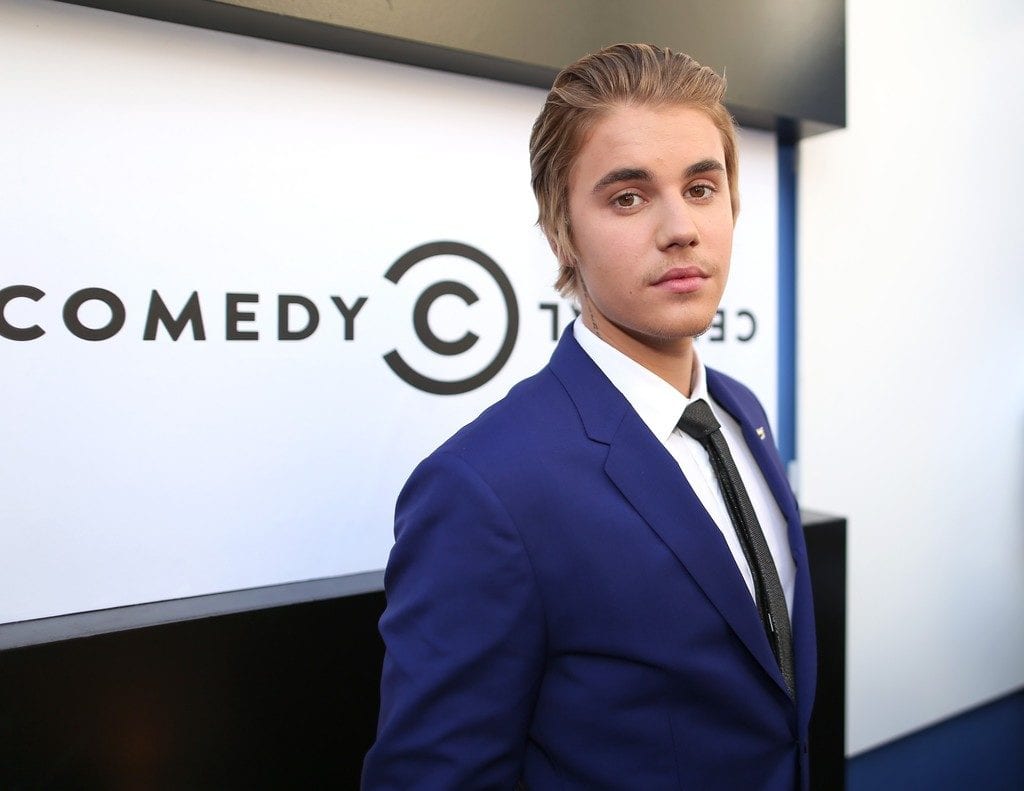 Bieber has also collaborated with notable names like Nicky Minaj, Snoop Dogg, Chris Brown, Selena Gomez Mariah Carey, and Drake, among others.
Endorsement Deals and Other Investments
Justin Bieber's huge fan base has landed him quite a number of lucrative endorsement deals including Adidas, Proactiv and Calvin Klein.
Justin made his first start-up investment in 2009 and some of the companies he has invested in include social network Shots, Spotify, SoJo Studios, Stamped and shopping app StarShop. The singer's first fragrance called Someday launched in 2011 and sold over $3 million after two weeks of release. Justin has since released several other fragrances including Girlfriend, The Key and Justin Bieber Collector's Edition.
Justin Bieber's Net Worth Has Steadily Increased From a Few Thousands To Several Millions Over The Years
2010 – $500 thousand
2011 – $5 million
2012 – $40 million
2013 – $100 million
2014 – $200 million
2015 – $210 million
2016 – $240 million
2017 – $250 million
2018 – $265 million
2019 – $285 million
Here are some of Justin Bieber's best-selling albums?
My World 2.0: 5,200,000
Believe: 3,250,000
Purpose: 3,100,000
Under the Mistletoe: 2,250,000
Filmography
Justin Bieber has starred in up to 10 movies  and TV Shows that include:
Justin Bieber: Never Say Never (2011)
Men in Black 3 (2012)
Katy Perry: Part of Me (2012)
Zendaya: Behind the Scenes (2012)
Justin Bieber's Believe (2013)
Behaving Badly (2014)
Lip Sync Battle (2015)
Zoolander 2 (2016)
Killing Hasselhoff (2017)
Justin Bieber: Seasons (2020)
An Inside Look at Justin Bieber's House
Most celebrities often invest in real estate either to enjoy the comfort that comes with house ownership or to boost their business portfolios. However, the same can't be said for Justin who still lives on rent.
Not like the musician hasn't owned a house in the past; he used to have one located at the Calabasas estate. However, he auctioned it off in 2014 due to the authority's push to restore peace between him and his neighbour whom he pelted their home with eggs. Following the incident and subsequent plea of no contest to vandalism charge, he was made to enroll in anger management classes.
In 2015, Bieber rented a home in Beverly Hills but made a mess of the place during a Post-Grammy party he had in the house. Those in attendance included Meek Mills, Nick Minaj, French Montana and Chris Brown.
Since he earned notoriety for his tendency of messing up his rented houses, not being a peaceful neighbour as well as being strong-headed when it comes to paying for repairs, Justin had a hard time getting another home in Beverly Hills base. This is because homeowners in Beverly Hills neighbourhood teamed up to stop him from getting a place. The struggle led to him living in a hotel for a while.
Fortunately, he has now moved into a new home – a mansion in LA's much-loved neighbourhood – Trousdale where he allegedly churns out $55,000 every month. Despite the cost, the home is really worth the wait and befits Bieber's status as a Hollywood star.
His Height and Body Stats: Just How Tall is Justin Bieber?
Justin Bieber is a young vibrant singer who has made a name for himself not just for his talent but also for his attractiveness. Bieber stands at an average height of 5 feet 9 inches (175 cm) and weighs about 66 kg.
Meanwhile, Bieber's real height has been a subject of controversy over the years. Slender and handsome, the Canadian singer's build makes him appear taller than he actually is on many occasions. While most sites, as well as his driver's licence, hold that the singer is up to 5'9″ in height, many insist that his actual height is 170 cm on the speculation that Bieber uses elevator shoes (height insoles) to achieve anything higher.
Photographs of Bieber standing side-by-side other celebrities have always fueled this controversy over the years. Some of them include his photos with Selena Gomez (5'5″), Usher (5'8″), Carly Rae Jepsen (5'2″), and Ariana Grande (5′), with the differences in height bellying Justin's listed height of 5'9″.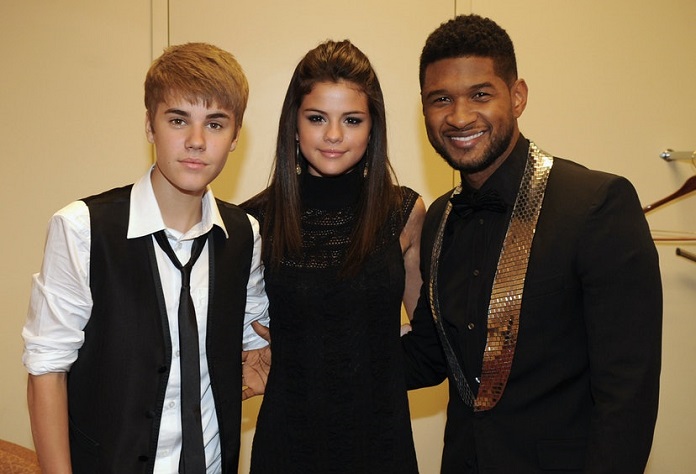 Moreover, the fact that the singer entered the limelight as a teen further complicates the matter as many believe he has added some inches to his height over the years. A more recent photo with Hailey Baldwin (5'7″) shows that Bieber could be 5'9″ tall after all.
What We Know About His Past Relationships
Similar to many other successful artists, Justin Bieber seems to always be embroiled in controversy. This notwithstanding, Justin has proven that he can mingle with whoever he likes. Through the years, the famous singer has been romantically linked to several big names in both the showbiz industry including the following:
Caitlin Beadles (2008 – 2009)
Caitlin Beadles was the girl beside Justin Bieber the time he hit the limelight for the first time. Bieber started dating Beadles right before his breakthrough in the entertainment industry. However, the duo who met each other at an Atlanta church in 2008 could not carry on with their love when the fame became too loud just about a year later. Caitlin couldn't match up and so they split. The ex-lovers, however, maintain an amiable relationship thereafter. To prove this, Beadles was there with her brother Christian at Bieber's wedding in 2019.
Jasmine Villegas (Jan – Sept. 2010)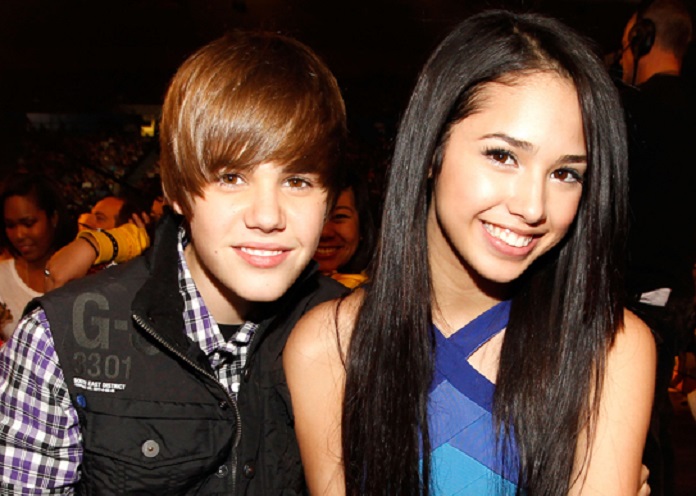 Not long after wrapping things up with Caitlin Beadles, Bieber kicked off an affair with his World Tour colleague, singer Jasmine Villegas. In the course of their relationship, Jasmine featured in Justin's music video for "Baby". Their love however, wasn't meant to stay.
Justin Bieber and Selena Gomez (Dec. 2010-March 2018)
After splitting with Jasmine Villegas, Justin Bieber hooked up with American actress/singer Selena Gomez in what would become a long-time and highly publicised on-off relationship. The duo apparently hit it off late in 2010 after having their first media-noticed date in December at a pancake restaurant. They subsequently made their red carpet debut at the February 2011 Vanity Fair's Oscars Party.
After maintaining their cool for about two years, Justin and Selena had their initial publicised breakup in November 2012. Following the much-talked-about split and a number of short-lived reconciliations, things got serious again between Bieber and Gomez late in 2015.
By January 2016 however, Justin has hopped off again, pursuing after Hailey Baldwin and later Sofia Riche! This led to a series of nasty cheating accusations between each other on Instagram after which they remained apart until around October 2017 when they got back together. Thenceforth, they had several dates and were apparently head-over-heels in love.
Justin and Selena however, called it a day for the last time in March 2018 after it probably dawned on them that things would not work out between them, at least in the way of love.
While their relationship lasted, both Justin and Bieber did several songs with lyrics that fans believed were for each other. Some of them include Bieber's "Heartbreaker", "All that Matters", "Sorry", "Love Yourself" and Gomez's "Lose You to Love Me", "We Don't Talk Anymore", among others.
On the other hand, Justin actually seized his off times from Selena to have fleeting tastes of several other ladies. Notable among them are the following:
Miranda Kerr (Nov. 2012)
During his first break from Gomez, Bieber flirted with Victoria's Secret model, Miranda Kerr who was married to English actor Orlando Bloom at the time. Rumors of the duo being a thing broke off after a photograph of Bieber cheek-kissing Kerr at the backstage of a Victoria's Secret show hit the media. Although the alleged affair was never confirmed, it reportedly contributed to ending Kerr's marriage to Bloom in 2013.
Yovanna Ventura (2014)
While still maintaining a romantic distance from Gomez, Bieber hung out with American model, Yovanna Ventura. The duo had several media-noticed dates but never struck off something serious. During this time, Bieber shared photos from most of their moments on Instagram. He, however, deleted all after the affair vanished into thin air.
Kendell Jenner (2015)
Being a friend of the Kardashian-Jenner clan, Justin Bieber has always been close to Kendall on a mere friendship base. However, tongues began wagging and eyes popping after the duo started striking some rather too intimate poses sometime in 2015. While Bieber admitted in a May 2015 Billboard interview that something actually went down between him and Jenner, he pointed out it never turned out serious.
Nicola Peltz (June 2016)
For some weeks mid-2016, Justin Bieber briefly clung unto American actress Nicola Peltz. The two reportedly met at an album release party in Toronto and subsequently started having sleepovers at Bieber's Beverly Hills estate. But just like numerous others, the affair ended up a fleeting fling.
Sofia Richie (Aug.-Sept. 2016)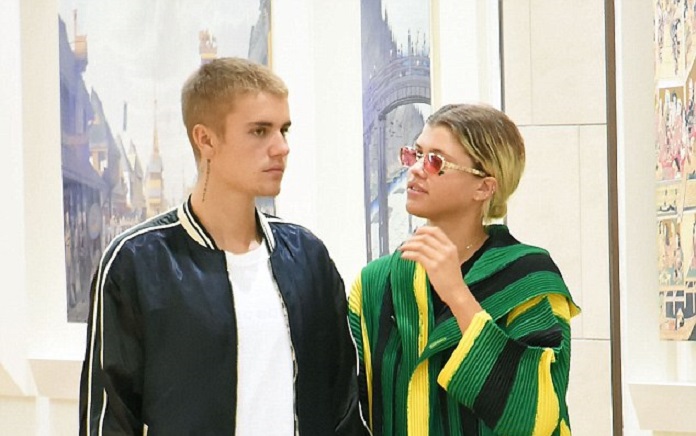 In between his numerous reunions with Selena Gomez, Justin Bieber had a fleeting but well-publicized fling with American model Sofia Richie. While it lasted, Bieber posted multiple intimate photos of himself and Richie. But owing to his link to Gomez, his fans heatedly criticized the affair and it eventually came to nought.
Paola Paulin (Sept.-Oct. 2017)
Just before Justin Bieber and Selena Gomez reunited for the last time, the former had a brief affair with Mexican actress and model, Paola Paulin. For the short while it lasted, the duo made a number of media-noticed outings as a pair. But just like his other relationships, this also came to a quick end.
Baskin Champion (March-May 2018)
after calling time on his relationship with Selena Gomez and before sealing things up with the love of his life, Justin Bieber sparked off rumors of dating American model, Baskin Champion. Paparazzi spotted the duo for the first time on March 20, 2018 while they were attending a Craig David concert in West Hollywood. Following this, they made a few other intimate outings which got tongues wagging, including visiting SoulCycle together. The fling, however, never metamorphosed into a serious relationship and they wrapped things up after about two months.
Meet Justin Bieber's Wife, Hailey Baldwin
There's finally a Mr and Mrs Bieber! Justin Bieber and Hailey Baldwin initially met each other in 2009 during a fan meet-and-greet where the latter's father introduced them to each other. It was however, only late in 2014 during one of his major splits from Selena that rumours of their dating thrived. Despite frequently hanging out with Baldwin at the time, Bieber debunked the dating rumours, subsequently reuniting with Gomez later in 2015.
However, in January 2016, rumours broke out that Justin and Hailey were once again a thing. Things however, remained on and off between them as Bieber still maintained similar ties with Selena Gomez. But after the two finally wrapped things up, Bieber and Baldwin got back together – this time, very seriously! Fast-forwarding their relationship to the next level, Justin quickly popped the question July 7, 2018 at a Bahamas resort.
…and while fans were still wondering if this could be true, Justin Bieber and Hailey Baldwin quietly sealed things up forever at an NYC courthouse in September. Yes, they had a secret court wedding! But the couple later made things public in a lavish wedding ceremony held at Montage Palmetto Bluff, South Carolina on September 30, 2019. From thence, it became very clear that the "Believe" singer is taken!
Profile Summary
First Name:
Justin
Last Name:
Bieber
Estimated Net Worth:

$285 Million
Salary:
$80 Million
Source of Wealth:
Album sales. lucrative endorsement deals
Last Updated:

2021
Also Known As:

JB, JBeebs, the Biebe, JBiebe
Sex/Gender:

Male
Profession:

Singer-songwriter, composer, actor
Famous For:
Justin Bieber is famous
for selling more than 150 million records, making him one of the world's best-selling music artists.
Colleges/Universities Attended:

Not Available
Educational Qualifications:

Not Available
Religion:

Christianity
Birthday & Zodiac

Age/Date of Birth:

29 years old (March 1, 1994)
Zodiac Sign:
Pisces
Birth Place:

London, Ontario,
Nationality:
Canadian
Ethnicity/Race:

French-Canadian, Irish, English, Scottish, and German.
Country of Residence:

The United States of America (USA)
Physical Attributes

Height:

5 feet, 9 inches (1.75 meters)
Weight:

70 kg in pounds or 154 lbs
Eye Colour:

Blond
Hair Color:

Light Brown
Other Body Measurements:

Chest: 40 inches
Biceps: 14 inches
Waist: 32 inches
Relationships

Marital Status:

Married
Spouse/Partner:

Hailey Baldwin
Family and Relatives

Father:

Jeremy Bieber,
Mother:
Pattie Mallette,
Children:

Siblings:
Jazmyn Bieber ( Half Sister)
Jaxon Bieber (Half-brother)
Other Relatives:

Chris Mallette (Uncle)
Bonnie Bieber (Aunt)
Brad Bieber (Uncle)
Rob Bieber (Uncle)
Kathy Bieber (Grandmother)
George Bieber (Grandfather)
Trivia Questions and Answers