Even if you are not particularly interested in Middle East politics, you would still have come across the name of Mohammed bin Salman due to his mouth-watering net worth of $5 billion. The crown prince of Saudi Arabia has made a name for himself as a result of his reformist policies such as cracking down on corruption and introducing cinemas and music concerts in the country. He has also been hailed far and wide for emancipating the long-subjugated Saudi women. That reputation is however now in tatters following several missteps.
The prince has drawn ire for promoting a costly proxy war in Yemen. Even more devastating for his image is the accusation that he masterminded the assassination of a vocal critic, Jamal Khashoggi, in 2018. All this has thrown an unwanted spotlight on one of the richest royals in the world who superintends over a family that controls the largest oil company in the world.
Mohammed bin Salman Gained Control Over Saudi Aramco Following His Appointment as Deputy Crown Prince
The Saud family is regarded as the richest family in the world, with a net worth of $1.4 trillion, and their wealth largely hails from oil. It is also the same thing with their crown prince, Mohammed bin Salman. MBS, as he is also known, first entered the corridors of power as a personal advisor to his father, King Salman, in the year 2009. He held this post for several years and also got some promotions.
The most significant promotion came in 2015 when he was named Deputy Crown Prince. This appointment resulted in him being given control of the state oil company known as Saudi Aramco. Salman retains that control to date and it has largely accounted for his net worth given how profitable Saudi Aramco is. The company holds the world's second-largest proven crude oil reserves and consequently accounts for the largest daily crude production in the world. It generates a revenue of about $329.8 billion each year with its profits closer to $88.2 billion.
Saudi Aramco, which was founded in 1930, has been run as a private entity for decades. Salman however announced a plan to take some part of it public in 2016. That plan eventually materialized in 2019 and the company gained a market capitalization of $1.88 trillion. It is now the fifth-largest public company in the world but Salman and his country still retain the majority of the stakes, about 95%.
He is Also The Chairman of the Public Investment Fund of Saudi Arabia
Having acknowledged that crude is exhaustive, Mohammed bin Salman is taking bold steps to diversify his country's economy. One of them is the vision 2030 program that is aimed at increasing investment as well as developing critical sectors such as health, education, recreation, infrastructure, and tourism. A key vehicle for achieving this vision is the public investment fund of the country of which Salman is the chairman.
The fund is now one of the largest sovereign wealth funds in the world and is worth about $400 billion. It has stakes in several lucrative companies including Jio Platforms, Boeing, Facebook, Citigroup, Bank of America, Disney, Live Nation, Tesla, and Posco Engineering and Construction Company. The PIF also has a 5% stake in ridesharing app, Uber, which is worth about $2.7 billion.
In the sporting world, Mohammed bin Salman has also used the PIF to try and gain ownership of premier league football clubs such as Newcastle United. Negotiations were conducted for the bid for several months but the deal later broke down due to several reasons, including controversial perceptions about Salman and his country.
MBS's $5 Billion Net Worth Makes Him One of the Richest Sheikhs in the World
Mohammed Bin Salman's $5 billion net worth makes him the fourth richest sheikh in the world. Those richer than him are Salman's father, Salman bin Abdulaziz Al Saud, with $18 billion, Khalifa bin Zayed Al Nahyan of Abu Dhabi with $18 billion, and Sheikh Mohammed bin Rashid Al Maktoum of Dubai with $14 billion. Others that make the top ten are:
Abdulla Al Futtaim of the U.A.E – $2.1 billion
Hussain Sajwani of the U.A.E – $2.3 billion
Suhail Salim Bahwan of Oman – $2.3 billion
Tamim bin Hamad Al Thani of Qatar – $2.4 million
Majid Al Futtaim of the U.A.E. – $3.6 billion
Abdulla bin Ahmad Al Ghurair of the U.A.E. – $3.7 billion
Gold-Studded Superyachts, Multi-Million Dollar Paintings, and Houses: A Look at the Lifestyle of the Crown Prince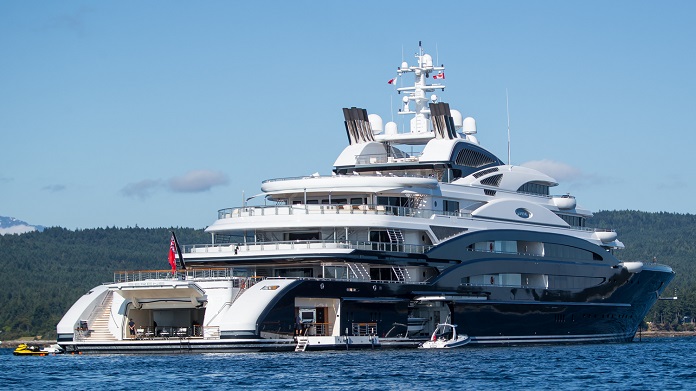 With his massive net worth, Mohammed bin Salman can afford to live like royalty and he is doing exactly so especially given that he is a real-life royal. The crown prince and his family members reside in a lavish palace that is heavily studded with gold. Even basic things such as their furniture and tissue dispensers are made of gold.
On a personal note, Salman spent about $500 million euros to purchase a Superyacht, known as Serene, in 2015. The yacht measures 400 feet and is said to be as long as a football field. Its amenities include two helipads, a fully-equipped spa, and three swimming pools. Also rumored to be on the yacht is a painting of Jesus Christ by Leonardo da Vinci. Known as the Salvator Mundi, Salman reportedly purchased the painting for $450 million in 2017. Reports, however, denied his ownership and the painting seemingly disappeared for the next two years to resurface on the Serene in 2019.
Another thing that MBS has splashed out significant cash on is real estate. The Saudi crown prince is the owner of a $300 million French chateau which he purchased in 2015. The chateau measures 50,000 sq. ft. and boasts of ten bedrooms. It also an aquarium, indoor and outdoor pool, library, wine cellar, private cinema, squash, two ballrooms, and a nightclub.
Such a lifestyle has fetched Salman some criticism but he has deflected this by maintaining that he is no Gandhi nor Mandela but is rather a rich person that hails from a family that existed prior to the founding of Saudi Arabia. The crown prince is also doing his bit to give back to society. He instituted the MiSK foundation in 2011 to empower the Saudi youths. The organization does this through education, creative and digital media, technology, and culture & arts.
Key Takeaways
Mohammed bin Salman is the crown prince of Saudi Arabia as well as its de facto ruler.
He controls the country's state-owned oil corporation.
He is also the chairman of Saudi Arabia's Public Investment Fund which is one of the largest sovereign wealth funds in the world.
All these have helped him acquire a net worth of $5 billion with which he lives an enviable life of luxury.
The crown prince was hailed as a reformist for his policies aimed at women emancipation.