| Net Worth: | $80 Million |
| --- | --- |
| Age/Date of Birth: | (38 years old) June 30, 1985 |
| Height: | 6 feet 4 inches (1.93 m) |
| Ethnicity/Race: | White |
| Nationality: | American |
| Wife or Girlfriend: | Nicole Johnson (2009-2012; 2014-Present) |
| Parents: | Michael Fred Phelps and Deborah Sue "Debbie" (née Davisson) |
Michael Phelps is an American retired professional swimmer who has a net worth of $80 million dollars.
With 28 Olympic medals (23 gold), Michael Phelps is the most decorated Olympian of all time. He won 8 gold medals at the 2008 Beijing Olympics to become the highest Olympic Gold medal winner in a single event. He holds 39 world swimming records.
How Michael Phelps Amassed His $80 Million Net Worth
Olympic Medals and Prize Money from Winning Other Competitions
From his 16-year Olympic career that started from the 2000 Summer Olympics in Sydney to the 2016 Summer Olympics in Rio de Janeiro, Michael Phelps won a total of 28 medals; 23 of those were Gold, 3 Silvers, and 2 Bronzes. The United States Olympic Committee pays a bonus of $25,000 for each gold medal, $15,000 for silver, and $10,000 for bronze.
Calculating with these parameters, the swimmer has earned $575,000 for his 23 gold medals, $45,000 for his 3 Silver medals, and $20,000 for his 2 Bronze medals. In total, Phelps earned $640,000 for his 28 Olympic medals. Also, his gold medals have a monetary value. Each Olympic gold medal is composed of a lot of sterling silver, traces of copper and a small amount of 24-karat gold and is valued at $400. That brings the total worth of Phelps 23 gold medals to $9,200.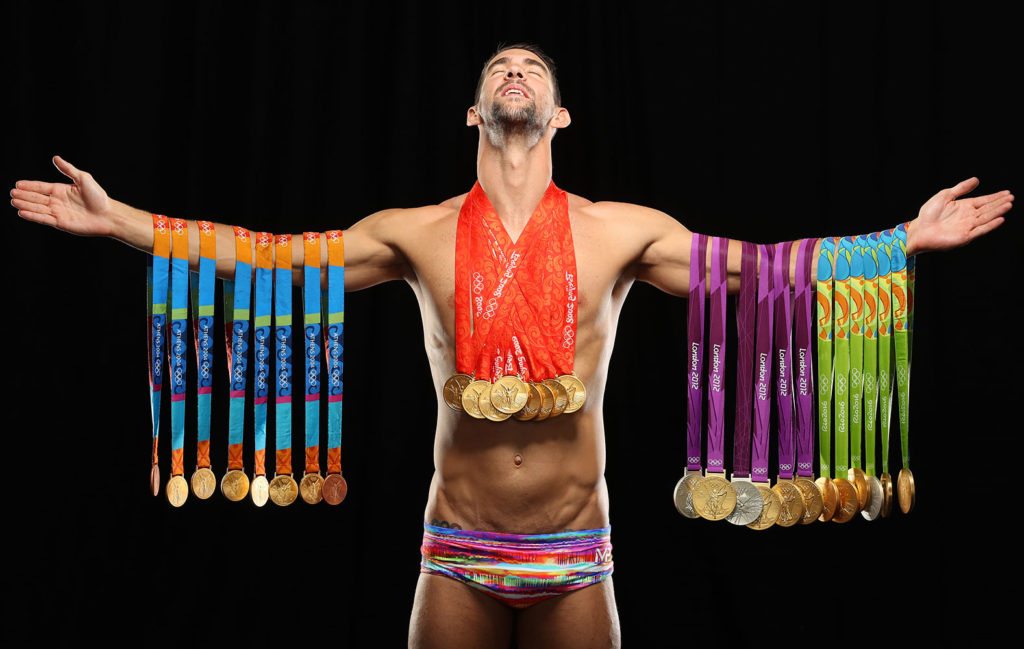 In addition to the Olympics, Phelps also competed in other professional swimming events and competitions, including the World Aquatics Championships and the Pan Pacific championships. From these other competitions, he has won 43 gold medals, 11 Silver Medals, and 1 Bronze.
The prize money paid by these other bodies are unknown. However, by applying the Olympic Committee paycheck which we assume should be a worthy comparison, Phelps earned an additional $1.075 million for the 43 gold medals, $165,000 for the 11 Silvers and $10,000 for the Bronze. Therefore, in total, Phelps earned $1.25 million from World Championships and Pan Pacific Championships medals.
In all, Michael Phelps earned an estimated $1.9 million from 83 medals (66 gold, 14 silver, and 3 Bronze) across the Olympics, the World, and the Pan Pacific Championships.
Endorsement Earnings
Michael Phelps' incredible achievements; like being the youngest male to make the US Olympic team in almost 7 decades, the most decorated Olympian of all time, and setting 39 world records, makes him a highly sought-after endorsement candidate for some of the world's biggest brands. His celebrity status and star power commands huge paychecks and as a result, about 96% of his fortune stems from his numerous lucrative endorsement deals.
Some of the companies he has worked with over the years include Speedo, Master Spas, Sol Republic headphones, 800razors.com, Aqua Sphere, Visa, Omega watches, Subway, Kellog, Louis Vuitton, Procter & Gamble, Hilton Hotels, HP, Powerbar, Head and Shoulders, and more.
Phelps' endorsement earnings rose from $1 million annually to $3 million after the 2004 Athens Summer Olympics where he picked up 8 medals (6 gold and 2 bronze). The 2008 Summer Olympics in Beijing took him to an unprecedented level in his career after he won a whopping 8 gold medals, breaking the 7 gold medal record set by fellow American swimmer Mark Spitz in 1972.
This feat opened the floodgates for endorsement deals and his annual endorsement payout reached $7 million. Australian swimwear maker Speedo paid him a $1 million bonus at the time. He used the money to establish The Michael Phelps Foundation. Also in 2008, he was paid $100,000 to swim several laps at a party.
After the 2012 Olympics, Phelps earned over $12 million from endorsements. He opted to retire afterwards but returned in 2014, making the USA swimming team for the Rio Olympics where he set more records before officially retiring again from competitive swimming.
Michael Phelps has assured the world that his goggles would forever remain hung. As a retiree, he would continue as a corporate pitchman. One of his biggest brands, Under Armour, are hoping he stays with them for life. In addition to pitching for other brands, the retired swimmer has revealed that he wants to build a brand of his own. He started his own swimwear brand MP in 2014 in collaboration with Aqua Sphere.
In an interview with Forbes contributor Monte Burke, Phelps said: "I'd like to someday have the biggest and best brand in swimming". Phelps-branded suits sell from $40 to $475.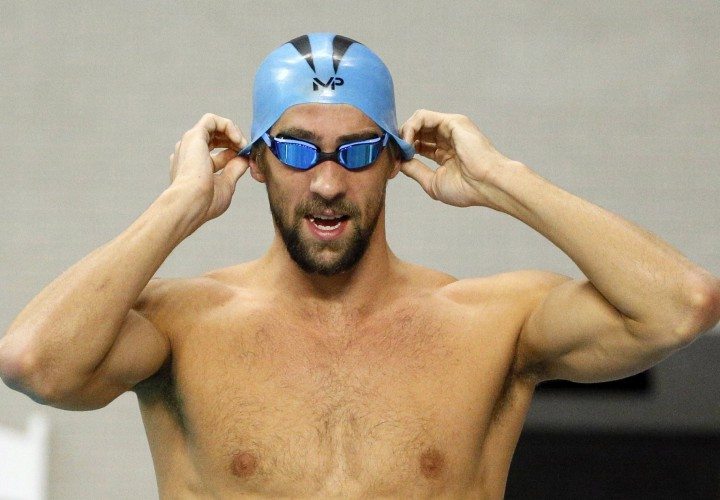 Phelps' Legal Issues Has Threatened His Earnings
Michael Phelps' first run-in with the law was in November 2004, after the Olympics in Athens, when he was arrested for driving under the influence of alcohol in Salisbury, Maryland. In addition to receiving a fine of $250 and being ordered to speak to high school students about drinking and driving after he pleaded guilty to a judge, the athlete was sentenced to serve 18 months of probation.
That incident did not have much of an effect on Phelps' earnings as compared to 2009 when a photo of him using a bong at a party at the University of South Carolina went viral. After admitting that the photo was authentic and apologizing for his inappropriate behavior, Kellogg Company fired him as a sponsor. An executive at Kellogg said the photo was inconsistent with the cereal brand's image, which is why they decided to let him go. Other companies like Subway, however, announced they would stick with him, although they spoke about how his behavior was inappropriate.
Michael Phelps maintained a low profile until 2014 when he got arrested again for driving under the influence of alcohol and speeding. USA Swimming suspended him from all competitions for six months as some of his endorsement partners threatened to cut ties with him. While Phelps did not suffer from the incident as much as it was anticipated (he retained his biggest endorser Under Armour), new companies considering a fresh partnership with him were reported to be applying more scrutiny to do so.
Highlights of His Earnings
Prize money from various swimming competitions
Bonus payments from the United States Olympic Committee
Endorsement deals with brands like Speedo and Under Armour
How Michael Phelps Spends His Money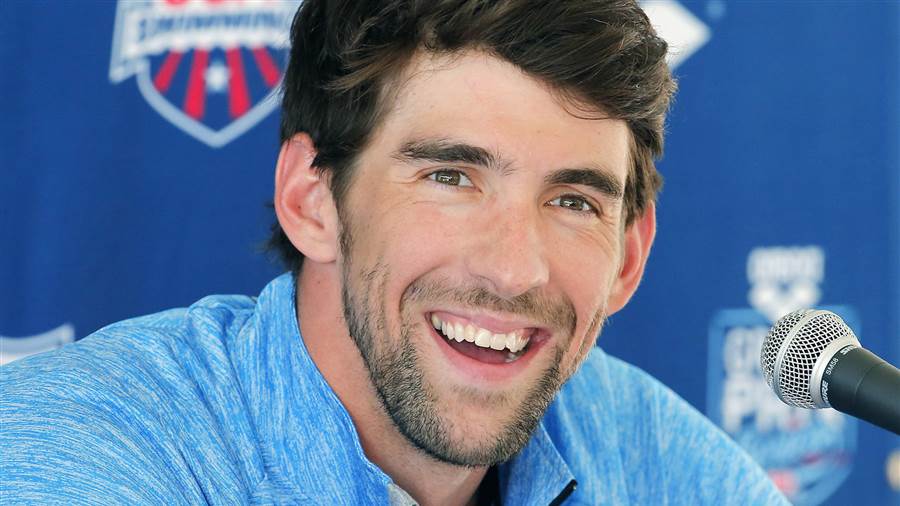 Michael Phelps does not hold back when it comes to him making sure that his family is very comfortable. Together with them, the athlete lived in a 6,010-square-foot mansion in Paradise Valley, Arizona. He bought the house in December 2015 for $2.53 million but has since sold it for an estimated $3.5 million in 2018. The family bought another home in the Paradise Valley area, a new 10,000-square-foot home, for an undisclosed amount in 2018.
In the garage of his home, Phelps has a few luxury vehicles he uses to get around town. They include a Cadillac Escalade, a Mercedes-Benz SL63, a BMW 760Li, and a classic Range Rover among others.
The Michael Phelps Foundation
While Phelps goes over and aboard to take care of those close to him, the kind-hearted swimmer also looks out for other people, specifically kids. Many close to him have said that his primary focus after retiring is his Michael Phelps Foundation which focuses on growing the sport of swimming and promoting healthier lifestyles.
The foundation's biggest initiative is its IM Program (individual medley) for the members of the Boys & Girls Club. The program's primary aim is to make children water-safe. It now has 104 teams in the 50 US states and another 176 teams in 33 other countries. Through the program, about 16,000 kids have learned how to swim safely. Phelps looks to raise that number to 100,000.
The Body Measurements of One of the Greatest Olympians of All Time
As far as most people are concerned, Michael Phelps was specifically built for the waters. This is most especially true when you consider his body proportion. Details of his body measurements are as follows:
Height: 6 feet 4 inches (1.93 m)
Weight: 194 pounds (88 kg)
Wingspan: 03 meters (6.66 ft.)
Chest: 47,5″ (121 cm)
Biceps: 16″ (41 cm)
Waist: 35″ (89 cm)
What We Know About Michael Phelps' Wife
Birth Name: Nicole Michele Johnson
Date of Birth: July 12, 1985
Nationality: American
Relationship to Phelps: Wife (married in 2016)
Children: 3
Occupation: Former Beauty Queen and Model, Philanthropist
Michael Phelps is not the only famous member of his household. His wife, Nicole Michele Johnson Phelps, is a model and former beauty queen who was crowned Miss California USA 2010. Nicole started competing at beauty pageants as a teenager. At the age of 17, she finished first runner up at the Miss California Teenager competition. In 2004, aged 19, she won the Miss California National Teenager competition before going on to the national competition where she was placed second runner-up.
The Colorado Springs native moved up to compete for the Miss California USA crown in 2006 but only managed to finish first runner-up. She competed in the following year and placed in the top 15. After deciding not to try again, Nicole opted to give it another go and won the 2010 crown. The University of Southern California alumni, who studied Communications with a concentration on sports and entertainment and graduated with an honors Bachelor of Arts degree, went on to compete in the Miss USA 2010 pageant where she placed ninth after having been considered a favorite to win the title.
But long before she became a nationally known beauty queen, Nicole Johnson had met her future husband at the 2007 ESPY Awards. That year, Michael Phelps had won seven gold medals at the 2007 World Aquatics Championships. The pair would eventually start dating in 2009 before temporarily breaking up prior to the 2012 Summer Olympics. They reunited in 2014 before getting engaged on February 21, 2015.
On June 13, 2016, Michael and Nicole secretly married in Paradise Valley, Arizona. The public did not get to know about the event until October 2016 when TMZ broke the news and reported that the pair were going to have another wedding ceremony for 50 of their closest friends and family in Cabo San Lucas, Mexico.
The Couple Have Three Children
Boomer Phelps
Birth Name: Boomer Robert Phelps
Date of Birth: May 5, 2016
About a month before Michael Phelps and Nicole Johnson got married privately in June 2016, they had welcomed their first child, a son named Boomer Robert Phelps born on May 5, 2016. Boomer was given the middle name Robert by his father as a way of honoring his coach long-time coach, Bob Bowman, as well as his grandmother, Roberta.
Boomer, who is somewhat of an Instagram sensation and appears to be following in the footsteps of his father, notably served as his parent's ring bearer when they got married in October 2016. He was carried down the aisle by one of the guests, a gold-medal swimmer and friend of the family, Allison Schmitt.
Beckett Phelps
Birth Name: Beckett Richard Phelps
Date of Birth: February 12, 2018
Beckett was born about two years after his parents got married on February 12, 2018. In August of the previous year, the couple had announced they were expecting another child in matching social media posts that read "Number 2 on the way!!!! So excited!!"
Following the child's birth, the 28-time Olympic medalist celebrated on social media, putting out a post with the caption that said: "Magical moments yesterday… Nicole and I would like to introduce Beckett Richard Phelps to the world! We had a healthy baby boy and a healthy mama. I truly do feel like the happiest man in the world. Being able to build our family to now 4 (6 with doggies) is so incredible! #familyof4now."
Maverick Phelps
Birth Name: Maverick Nicolas Phelps
Date of Birth: September 9, 2019
Maverick Phelps is the newest member of the Phelps family. He was born on September 9, 2019. Like his siblings, Maverick also has an account on Instagram where photos of him are shared with his over 27 thousand followers.
| Net Worth: | $80 Million |
| --- | --- |
| Age/Date of Birth: | (38 years old) June 30, 1985 |
| Height: | 6 feet 4 inches (1.93 m) |
| Ethnicity/Race: | White |
| Nationality: | American |
| Wife or Girlfriend: | Nicole Johnson (2009-2012; 2014-Present) |
| Parents: | Michael Fred Phelps and Deborah Sue "Debbie" (née Davisson) |