How do you celebrate your retirement after winning a record number of 28 Olympic medals (23 golds)? Well if you're Michael Phelps, then that would be buying yourself a 6,010-square-foot mansion. Yes! The Michael Phelps house is that ample.
Hanging his swimming goggles at the close of the 2016 Rio Summer Olympics, the most decorated Olympian of all time decided to treat himself to a befitting retirement gift. Michael Phelps in December 2015 paid a whopping $2.53 million for the house which turns out to be his post-retirement abode.
Until now, Flying Fish lived in his birthplace of Baltimore. However, in order to practice with his lifelong coach Bob Bowman (who is also Arizona State University and U.S.A 2016 Olympic Team coach) ahead of the just concluded Rio Olympics, Phelps moved to Arizona and purchased the house. But now that the Olympics are over and he's retired, one would think the Baltimore Bullet would be returning home but on the contrary, he has other plans, like assisting Bob Bowman in his tutelage of aspiring Olympians.
Hello, Arizonians! you'd be seeing a lot more of your favorite swimming legend. To further solidify his decision, Phelps sold his Baltimore mansion in July 2015 for $1 million. OK! back the Michael Phelps house that has got everyone talking….
The house is as grandiose as you can imagine, featuring European stone walls and imported hardwood floors. Located in the premium Phoenix enclave, and sitting on almost an acre, the "Santa Barbara-style" house boasts 5 bedrooms, 6.5 bathrooms, and certainly a giant-sized pool (probably where the junior Phelps would begin practising with dreams of beating his father's records).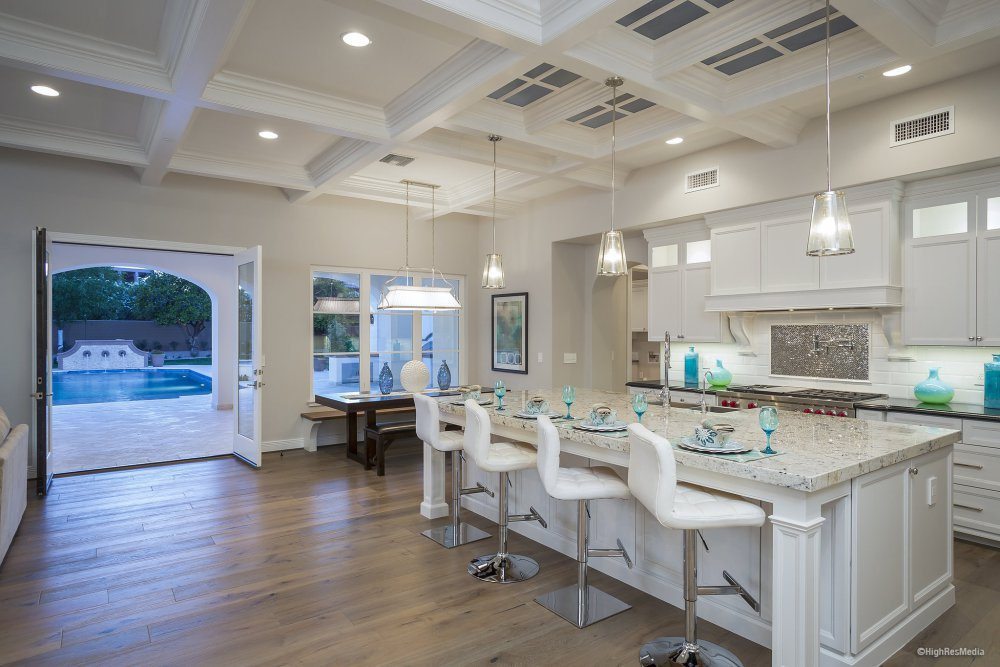 The house also includes a kitchen the size of your entire house complete with an eat-in marble centre. There are 4 fireplaces; one in the master suite, where Phelps would be laying his legendary head and another at the backyard patio.
The adjoining sitting room and formal dining room leads to the outdoor with lots of entertainment perks.
In addition to the pool, there is also a hot tub, an outdoor shower as well as a barbeque, perfect for some family-bonding time. There is also an outdoor sitting area with a fireplace. Views of the picturesque Camelback Mountain can be spotted from Phelps' pool.
Built in 2015, the house comes with pre-wiring that enables the house to be automated via a smartphone.
Speaking with USA Today on the house early this year, the retired swimmer said; "Our backyard looks right at Camelback Mountain, you go outside in our backyard, and we have orange and tangerine and lemon and lime and peach and apple — all these different fruit trees growing in our backyard."
Just to refresh our minds, Michael Phelps began swimming at the age of 7 and at 10, just three years into the sport, he was already setting records among his peers. Setting records at a pace faster than anyone could imagine, Phelps at the age of 15 got himself a spot on the U.S. 2000 Olympic Swimming Team in Sydney becoming the youngest male to make the list in almost 7 decades. And though he didn't scoop any medal, his fifth position in the men's  200-metre butterfly final proved he was one to look out for.
The next Olympics was the 2004 Athens Olympics and my! did he impress, scooping a whopping 8 medals. Since then Phelps went on to solidify his position as the world's fastest man on water scooping more and more medals- 8 in Beijing 2008, 6 in London 2012 and 6 in Rio 2016.
Phelps in 2015 engaged his longtime flame and former Miss California 2010 USA, Nicole Johnson. The pair with their son Boomer Robert Phelps born on May 5, 2016, are living together in the new Paradise Valley mansion.
See Also: Inside Floyd Mayweather's $7.7 Million Miami Mansion
More Pictures….