In a world where reality TV contestants and bikini models make so much money than brain surgeons, one would be forgiven for thinking that it doesn't really pay to be book smart again. The truth however remains that it pays to be smart and one living proof of this is Norwegian chess grandmaster, Magnus Carlsen. As of 2020, Magnus Carlsen's net worth is $8 million
Often hailed as the Mozart of chess, Carlsen started playing the game as a child but did not take it seriously until he developed a desire to beat his elder sister at it. Beat his elder sister, Carlsen eventually did but by that time, he had gotten so hooked on chess that he continued playing and honing his skills. All this training and hard work will eventually pay off as the young man is now one of the best chess players that humanity has ever seen.
Carlsen has won several titles including The World Chess Championship, World Blitz Championship, and World Rapid Championship. He has also broken many records including that for the longest unbeaten run in the game of chess. All these titles and records do not come empty-handed and the Norwegian grandmaster has been able to build up a fortune worth $8 million.
Sources of Magnus Carlsen's $8 Million Net Worth
The Chess Grandmaster Has Won Millions of Dollars In Prize Monies
A significant portion of Magnus Carlsen's net worth comes from the prize checks that he has pocketed from the various tournaments that he has won. Before we unveil this, it is worth recounting Magnus' journey to becoming a chess grandmaster master. As a young boy growing up in Norway, he had unusual mathematical aptitude as well as a prodigious memory. He deployed same in completing difficult jigsaw puzzle as well as elaborate Lego models. This also helped him memorize the names and population of most of the 430 municipalities in his motherland by the age of four.
Carlsen's father first introduced him to the game of chess at the age of five but he took only a cursory interest and dumped it soon after. When his father whipped out the chessboard once more three years later, the young boy deployed his mathematical abilities and prodigious memory to quickly master the game and soon started taking part in local tournaments. From local tournaments, he progressed to the regional and national stage and by the age of 12, won the world championship for his age grade.
Since that time, Magnus Carlsen has not looked back but has gone on to win several tournaments. These tournaments do not come empty-handed and it is now estimated that the Norwegian player has won more than $2 million in price checks. For instance, for his victory at the 2013, 2014, and 2019 editions of the World Chess Championships, Magnus pocketed $1.5 million, $750k, and $110k respectively. When it comes to the Blitz and Rapid Championships which he won in 2014 and 2019, he pocketed $40k and $40k respectively (for 2014) and $60k and $60k respectively (for 2019).
Additionally, following the covid-19 induced lockdown of 2020, most chess tournaments moved online. This proved not to be a problem for Carlsen though as he went on to win several online tournaments and bag at least $349,500 in the process.
Magnus Carlsen makes about $1 million per annum from endorsement deals with the likes of Dutch fashion brand – G-Star
It always pays to be good looking and Magnus Carlsen, and consequently his net worth, can attest to this fact. The chess grandmaster boasts of clean-cut good looks comparable to a model or a Hollywood star. This has set several brands scrambling after him as they want him to serve as their spokesman.
Carlsen has served as the brand ambassador of several companies including Skilling (FX and CD trading platform), Unibet (Malta-based gambling giant), Meglerhuset Artic (a leading Norwegian investment bank), Isklar (Norwegian bottled water), and Simonsen Vogt Wiig (Norwegian law firm).
Carlsen also has a long association with G-Star Raw, an edgy premium denim company based in Holland. His association with the brand started in 2010 and has seen him feature in several ads for the company. He has also modeled some of their collections as well. The exact worth of this deal is not known but it is believed that Magnus Carlsen makes as much as $1 million each year from endorsements.
Luck is no coincidence♟

Really excited about this partnership????✍️@unibet @UnibetNorgepic.twitter.com/iUbzvJCHZg

— Magnus Carlsen (@MagnusCarlsen) January 30, 2020
His Tech Company, Play Magnus, is valued at $100 Million
Magnus Carlsen's net worth has also benefitted from his entrepreneurial strides. The Norwegian whiz kid is not just content to apply his intelligence to the chess boards but is also using it to navigate the business world.
Carlsen is the co-founder of a bourgeoning tech company known as Play Magnus. Founded alongside the likes of Espen Agdestein and Anders Brandt, Play Magnus serves as the umbrella of several ventures including Chess24 (a chess playing app), Chessable (an online chess training class), and CoChess (chess coaching and learning platform), etc. They have about three million registered users across their platforms with 35,000 paying monthly subscribers.
Play Magnus came into existence in 2013 and is now worth about $100 million. Carlsen meanwhile has a shareholding worth $12 million and this will certainly increase in the future given the company's strides. Play Magnus went public in 2020 and raised about $30 million in its IPO.
Sources of Magnus Carlsen's Net Worth
Prize winnings: $3.8 million+
endorsement deals: $1 million per annum
Play Magnus Company: $12 million
Magnus Carlsen's Net Worth Grew by More than $7 Million over the Past Two Decades
Carlsen won his first world championship as a 12-year-old in the year 2002. He then spent the next several years building up a reputation as a chess whiz and won hundreds of thousands of dollars in the process. He also scored endorsement deals and joined the millionaires club in his 20s.
Carlsen subsequently consolidated his new status in the year 2013 when he won millions in prize monies, including $1.5 million from a single tournament. Since then, the Norwegian has firmly remained in the millionaire's club and is now a multi-millionaire to boot. This is thanks to his winning streak (he recorded 125 straight victories from July 2018 to October 2020) on tour, endorsement deals, and business ventures.
Magnus Carlsen's Net Worth Milestones
2000s: 1 Million+
Early 2010s: $3 million+
Late 2010s to 2020: $8 million+
What is Magnus Carlsen's IQ?
Given the uncommon skill and dexterity that he presents whenever faced with the chessboard, many people have been naturally intrigued by how high Magnus Carlsen's IQ is. The Debate goes far and wide but the man at the eye of the storm is not particularly interested in finding out that fact. He has therefore refused to take an IQ test over the years.
Despite this refusal, many sources have placed Carlsen's IQ at 190, which makes him one of the most intelligent individuals walking the face of the earth. Others that belong to this distinguished class include the late British astrophysicist, Stephen Hawking, scientist and philosopher, Noah Chomsky and Yemeni scientist and economist, Manahel Thabet.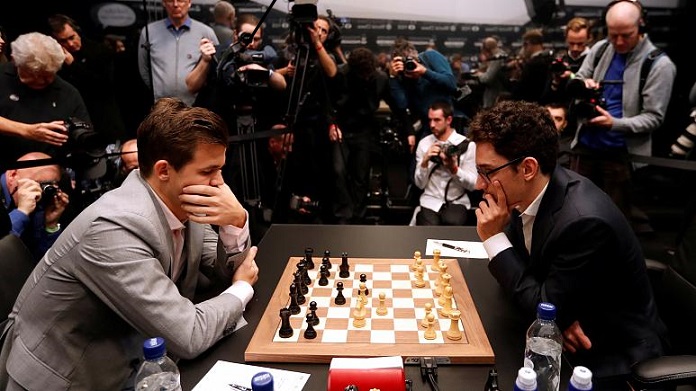 How Much Does Magnus Carlsen Earn?
It is estimated that the chess grandmaster makes from $2 million to $4 million per year and about $50/$60k per day. A huge chunk of this amount comes from prize monies. Carlsen wins several tournaments each year and by the time the prize monies from these tournaments are put together, they easily surpass $1 million.
Next up is sponsorships deals, the world champion has endorsement deals with several Norwegian as well as foreign companies. This fetches him an additional $1 million each year which is then complemented by his Play Magnus business group earnings as well as the $50-$60k that he makes in one day from exhibition matches.
Is Magnus Carlsen The Richest Chess Player in the World?
With a net worth of $8 million, Magnus Carlsen easily qualifies for the title of the richest chess player in the world right now. Others that have come close to matching him are his perennial rival and Indian chess grandmaster, Viswanathan Anand, with a net worth of about $3 million. Another strong contender is Russian chess grandmaster, Garry Kasparov, who has a net worth of $5 million.
It has been suggested in some quarters that Carlsen may not be the richest chess player there is when compared with retired players such as American grandmaster, Patrick Wolff, and German grandmaster, Eric Lobron. Both men went on to become a hedge fund manager and stock trader respectively, and are quite successful at it. It is, therefore, possible that when their net worth is revealed, it may surpass that of Carlsen's.