We may know Kevin O'Leary as being quite ruthless on "Shark Tank", but his net worth is quite impressive. He is Donald Trump's equivalent in Canada. He is an investor, writer, TV personality, journalist, financial commentator and an astute businessman. His net worth is estimated at over $400 million.
Kevin O'Leary Net Worth: Humble Beginnings
O'Leary was born in Montreal Quebec on 9 July 1954. His mother was a seamstress who later became a seasoned businesswoman and investor while his dad was a salesman. During his high school days, Kevin was part of a photo club and began developing his own photos. After graduation, he worked at an ice cream shop and washed trucks to bolster his income. His rather embarrassing experience with his boss at an ice cream parlor, changed his life. Kevin made a personal conviction to be self-employed throughout his life. A decision that has guided him all through his decade long business career.
Though O'Leary had initially aspired to become a photographer, he changed his mind after his step-father advised him against it, citing that it wasn't a financially viable career (sadly the reverse is the case in this century). O'Leary began to develop interest for business from watching his mother invest her weekly paycheck in stocks and bonds.
He attended the University of Waterloo where he received an honors bachelor's degree in environmental studies and anthropology and later Ivey School of Business in University of West Ontario where he got an MBA in entrepreneurship.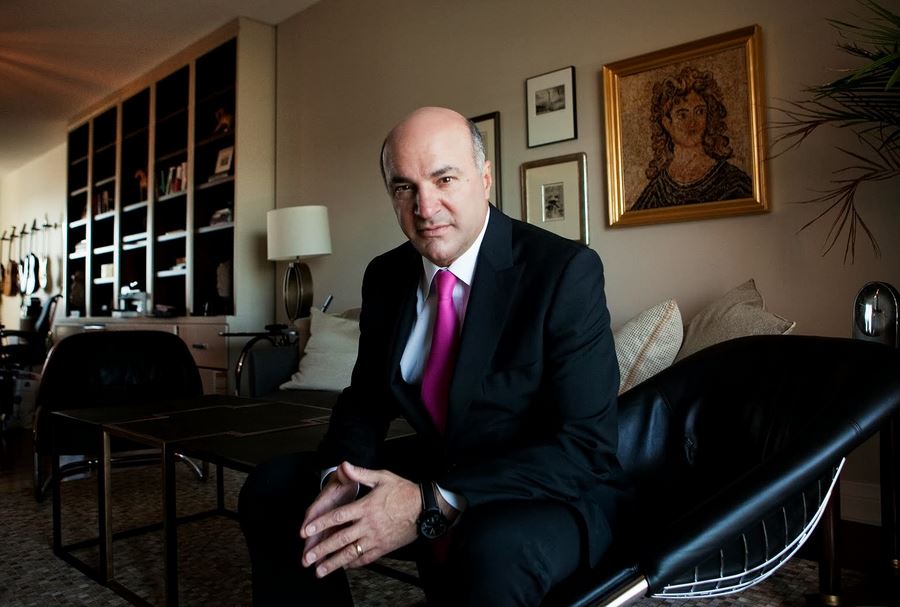 While working towards his MBA, O'Leary did something smart and bold that set him apart from all other students and most importantly formed the basis for the development of his first company. He had requested his professors to allow him to produce a documentary for his thesis to illustrate what he had learned while at the Business school. The documentary was employed by the school as a recruitment tool.
For his summer internship, Kevin had a four-month stint at Toronto food conglomerate Nabisco where he served as the assistant brand manager for their cat food brand. He helped the company to improve its market shares.
Together with two of his Business school alumnus and class mates, Kevin co-founded his first company, Special Event Television, a TV production company which achieved moderate success. He later sold his interest to the remaining partners for $25,000.
Kevin O'Leary Net Worth: The Big Break With Softkey Software Productions
After being hugely disappointed by a potential financial backer. Kevin turned to his mom for help. With the $10,000 investment she gave him and his proceeds from the sales of SET, Kevin founded his second business venture "Softkey Productions" in 1986. The company's first office was in the basement of his Toronto apartment. The company dealt with software based on family education and entertainment which they sold in CD-ROms called "jewel cases".
Fast-forward to 1994, 8 years later, the company became the world leader in reference, home productivity software and educational software. It went on to acquire competitors and later changed its name to The Learning Company and moved from Toronto to Boston. In 1999, he sold TLC to Mattel, a toy manufacturing company for $4.2 billion while agreeing to stay with the company for more than 3 years. Unfortunately, market crisis hit and Mattel sales began to drop causing them to lose as much as $3 billion of shareholder value in a single day. Series of legal problems followed after this.
See Also: Mark Cuban's Net Worth

Kevin O'Leary Net Worth: The Redemption With Storage Now
After the dust settled, O'Leary had it rough for a while, as all of his business endeavors failed until 2003, when he became a co-investor and director in Storage Now, a Canadian company that developed climate controlled storage facilities for tech and pharmaceutical companies including Pfizer. He invested half a million dollars for a 13% equity in the business. After multiple acquisitions, real estate developments, and storage projects, the company is now Canada's third-largest operator and owner of storage services boasting facilities in 11 cities. When the company was acquired by Storage REIT for over $100 million O'Leary sold his stocks which he initially bought for half a million for almost $5 million.
Kevin O'Leary now owns a number of diversified investments in numerous countries around the world including Asia. Some of his businesses include O'Leary Funds, a mutual and investment fund management firm that handles over $1.5 billion, O'Leary Fine wines, a wine making company, O'Leary Ventures which invests and partners with burgeoning companies, and O'Leary Books- he has penned a number of books based on his experiences and lessons about business, entrepreneurship, marriage, family and life as a whole. He also has his own Exchange-traded Fund.
Kevin L'Oreal has also had a series of appearance in the entertainment industry. Some of them include; co-host of Discovery Project Earth a Discovery Channel show that centers on climate change, CBC TV's The Exchange, which gives a summary on the day's major business stories, ABC's Shark Tank from which he earned the nick Mr. Wonderful and his own reality TV game show Redemption Inc which aims at redeeming ex-convicts.
Kevin married his wife Lisa in 1990 and have since stayed together. They have two children. His property includes houses in Toronto, Geneva and Boston, cottage in Muskoka, Ontario, Canada. Some of his hobbies include photography, playing the guitar, wine making, and cooking.