What is Kevin O'Leary's net worth?
Net Worth:

$400 million
Salary:
NA
Income Sources:
Businesses, Investments and books
Age/Date of Birth:

69 years old (9 July 1954)
Height:

5 feet 8 inches
1.77 m
Nationality:
Canadian, Irish
Last Updated:

2021
We may know Kevin O'Leary as being quite ruthless on "Shark Tank", but his wealth is quite impressive. He is Donald Trump's equivalent in Canada.
Kevin Kevin O'Leary is an investor, writer, TV personality, journalist, financial commentator and an astute businessman. His net worth is estimated at $400 million as of 2021.
Kevin O'Leary's Early Life and Career Beginnings
O'Leary was born in Montreal, Quebec on July 9, 1954. His mother was a seamstress who later became a seasoned businesswoman and investor while his dad was a salesman. During his high school days, Kevin was part of a photo club and began developing his own photos. After graduation, he worked at an ice cream shop and washed trucks to bolster his income. His rather embarrassing experience with his boss at an ice cream parlor changed his life. Kevin made a personal decision to be self-employed throughout his life. A decision that has guided him all through his decade-long business career.
Though O'Leary had initially aspired to become a photographer, he changed his mind after his step-father advised him against it, citing that it wasn't a financially viable career (sadly the reverse is the case in this century). As such, O'Leary began to develop an interest in doing business from watching his mother invest her weekly paycheck in stocks and bonds.
He attended the University of Waterloo where he received a bachelor's degree in Environmental Studies and Anthropology and later, Ivey School of Business at the University of West Ontario where he got an MBA in entrepreneurship.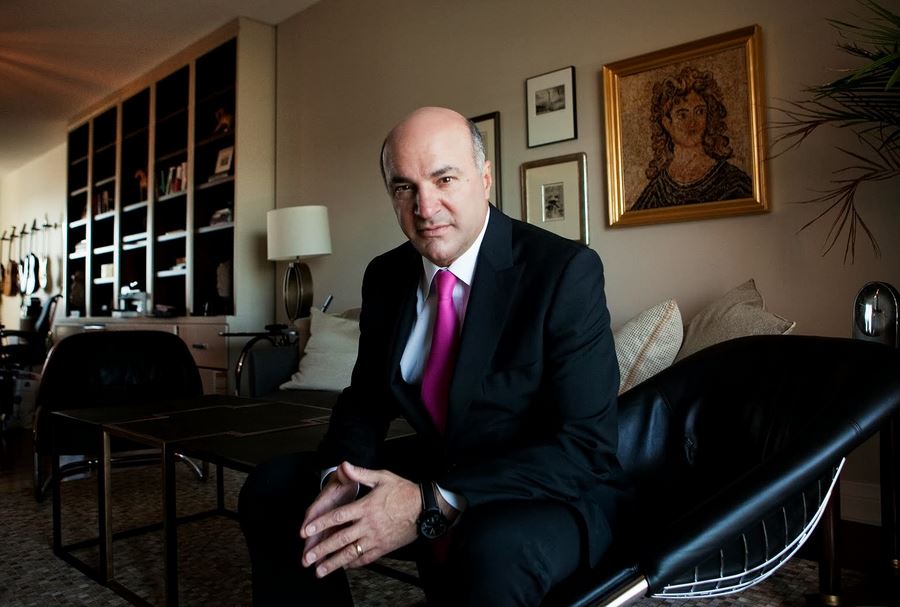 While working towards his MBA, O'Leary did something smart and bold that set him apart from all other students and most importantly, formed the basis for the development of his first company. He had requested his professors to allow him to produce a documentary for his thesis to illustrate what he had learned while at the Business school. The documentary was employed by the school as a recruitment tool.
For his summer internship, Kevin had a four-month stint at Toronto food conglomerate, Nabisco where he served as the assistant brand manager for their cat food brand. He helped the company to improve its market shares.
Together with two of his Business school alumnus and classmates, Kevin co-founded his first company, Special Event Television, a TV production company which achieved moderate success. He later sold his interest to the remaining partners for $25,000.
The Big Break With Softkey Software Productions
After being hugely disappointed by a potential financial backer, Kevin turned to his mom for help. With the $10,000 investment she gave him and his proceeds from the sales of his interests in SET, Kevin founded his second business venture "Softkey Productions" in 1986. The company's first office was in the basement of his Toronto apartment. The company dealt with software based on family education and entertainment which they sold in CD-ROMs called "jewel cases".
Fast-forward to 1994, 8 years later, the company became the world leader in reference, home productivity software, and educational software. It went on to acquire competitors and later changed its name to "The Learning Company" and moved from Toronto to Boston. In 1999, he sold TLC to Mattel, a toy manufacturing company for $4.2 billion while agreeing to stay with the company for more than 3 years. Unfortunately, the market crisis hit, and Mattel sales began to drop causing them to lose as much as $3 billion of shareholder value in a single day.
His Net Worth and Redemption With Storage Now
After the dust settled, O'Leary had it rough for a while, as all of his business endeavors failed until 2003, when he became a co-investor and director in Storage Now, a Canadian company that developed climate-controlled storage facilities for tech and pharmaceutical companies including Pfizer.
He invested half a million dollars for a 13% equity in the business. After multiple acquisitions, real estate developments, and storage projects, the company is now Canada's third-largest operator and owner of storage services boasting facilities in 11 cities. When the company was acquired by Storage REIT for over $100 million, O'Leary sold his stocks which he initially bought for half a million for almost $5 million.

Kevin O'Leary now owns a number of diversified investments in numerous countries around the world including Asia. Some of his businesses include O'Leary Funds, a mutual and investment fund management firm that handles over $1.5 billion; O'Leary Fine Wines, a winemaking company; O'Leary Ventures, which invests and partners with burgeoning companies, and O'Leary Books. Meanwhile, he has penned a number of books based on his experiences and lessons about business, entrepreneurship, marriage, family and life as a whole. He also has his own Exchange-traded Fund.
Kevin O'Leary has also had a series of appearances in the entertainment industry. Some of them include; co-host of Discovery Project Earth – a Discovery Channel show that centers on climate change, CBC TV's The Exchange, which gives a summary on the day's major business stories, ABC's Shark Tank from which he earned the nickname 'Mr Wonderful' and his own reality TV game show, Redemption Inc, which aims at redeeming ex-convicts.
His property includes houses in Toronto, Geneva, and Boston, a cottage in Muskoka, Ontario, Canada, among others. As stated earlier, the man has an estimated net worth of $400 million. If he's not looking for ways to increase the value of his riches, he'd be engaged in some photography activities. His other hobbies include playing the guitar, winemaking, and cooking.
Highlights of His Career Achievements:
O'Leary Funds (Co-founded, 2008)
SoftKey Software Products (Co-founded, 1980)
SqueezePlay (TV-Show)
The Lang and O'Leary Exchange (TV-Show, 2009)
Dragon's Den (Tv-Show, 2006)
Project Earth (TV-Show, 2008)
Shark Tank (TV-Show, 2009)
Conservative Party of Canada (2017)
Cold Hard Truth: On Business, Money & Life. Doubleday Canada. 2011.
Cold Hard Truth on Men, Women & Money. Doubleday Canada. 2012.
Cold Hard Truth on Family, Kids and Money. Doubleday Canada. 2013
His Wife, Linda O'Leary, Has Proven To Be a Pillar Of Support
Linda O'Leary is Kevin O'Leary's wife and she is the VP of Marketing for O'Leary Fine Wines. The couple got married in 1990, after a "good friendship". Linda is best known for her marriage to the Canadian entrepreneur and is very visible on social media platforms – Instagram and Twitter – where she inundates her followers with updates on her lifestyle (even though her Instagram page is restricted these days). Despite being known as the wife of Kevin O'Leary, she has distinguished herself in her role as Vice President (Marketing) of O'Leary Wines and most especially as a support system for her husband.
One way she displayed her total commitment to Kevin's business vision is when she opted against a lavish wedding party so that the money will be plowed back into her husband's business. Little wonder Kevin O'Leary alludes to her being very crucial to the successes he has enjoyed in business.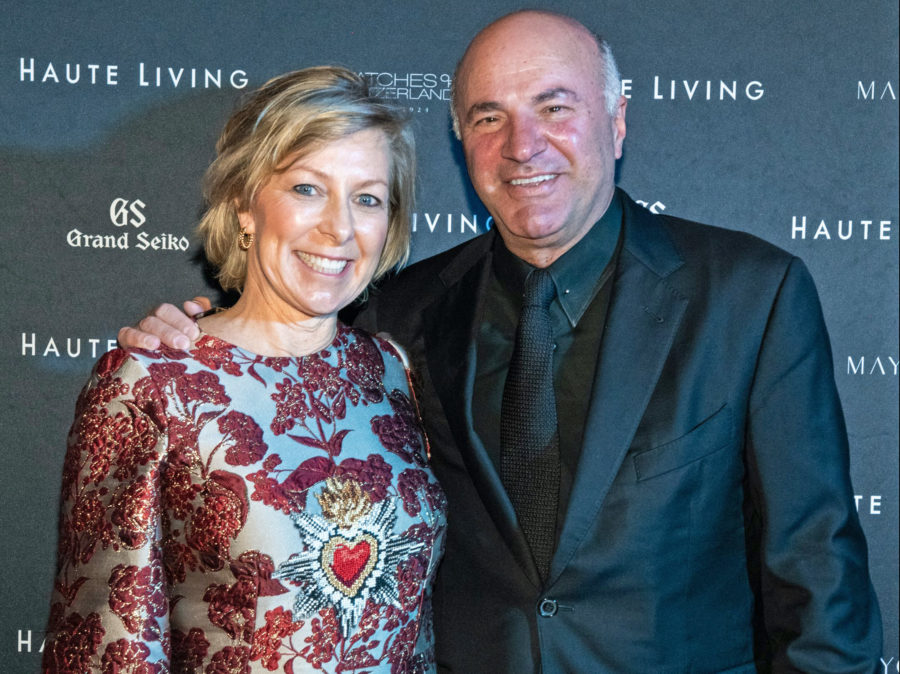 That's not all about Mr. Wonderful's wife. The vibrant lady who currently resides with her family at their Rosedale residence in Canada is also a member of the board of directors at the National Ballet of Canada.
They Broke Up and Were Separated For Two Years
The love story between Kevin and Linda is not one without its downtimes. As business began to grow and other opportunities (in the way of TV hosting) began to open up for him, the successes he recorded – and the fame that came with it – affected the homefront so much that it led to the couple opting for a divorce and separating for two years – between 2011 and 2013.
However, at the point of sharing their assets, they decided against it and opted to give the marriage a second shot. And while he is thankful for another chance with his family together, Kevin would later reveal in 2014 that the tension in his home was a direct result of him being occupied with his successes on TV and its attendant demands.
The O'Leary Family Have Been Embroiled in an Unfortunate Scandal in Recent Times
On August 24, 2019, the couple headed up to a friend's (Bruce Smith) dinner party in his cottage home, in the company of a friend. While returning at about 11 pm, Linda, who was adjudged to have had alcohol at the party was behind the wheel. And in a matter of seconds, a smooth ride home turned deadly as the boat rammed unto another boat – a pontoon – and flew past it, killing two occupants (in the pontoon) while Linda and her friend sustained ankle and head injuries respectively.
Although Kevin O'Leary escaped in accident unhurt, he was dragged into a legal battle as Linda sought to absolve herself from charges of wrongful death. The two casualties of the boat mishap were Gary Poltash, a former accountant from California, who died at the spot, and Suzana Brito, a mother of two from Ontario who died three days later at the hospital. While Linda O'Leary argued that the boats' navigation lights were switched, making it impossible for her to see the immobile boat, the driver of the pontoon, at the time of impact, Dr. Richard Ruh, claimed the navigation lights were switched on.
Both drivers are currently facing charges – while Linda faces charges for careless operation of a vessel (which translates to a figure around $10,000 as fine and no jail time), Dr. Ruh faces charges of failing to display navigation lights. Both charges are yet to be proven in court with court proceedings still ongoing at the time of this writing. The family (parents and sister) of the late Susan Brito has also sued the O'Leary's for up to $2 million in compensation.
How Many Kids Does The O'Leary's Have and Where Are They?
Savannah O'Leary – Daughter
Kevin O'Leary and Linda O'Leary have two children together; Savannah O'Leary and Trevor O'Leary. His daughter, Savannah, is an alum of New York University Tisch School of Arts with a BFA in Film Production and she seems to have picked up from where her father – who did a bit of film editing in the 1980's – left off as a film editor. Having been known previously as a Multimedia Producer at HuffPost, she currently works with Purpose, a social impact company where he serves officially as Head of Video and Associate Creative Director. To her credit as a director is a documentary titled The Making of Panthera.
Trevor O'Leary – Son
Trevor O'Leary is the second child of the O'Leary family. He is an Electrical Engineering student at McGill University in Canada and also a Disc Jockey and music producer. Still an undergraduate, the talented kid has been involved in building electric F1 cars together with other top engineering talents at the university.
Profile Summary
First Name:
Terence
Last Name:
O'Leary
Also Known As:

Kevin O'Leary
Terence Thomas Kevin O'Leary
‎Mr. Wonderful
Sex/Gender:

Female
Profession:

TV personality, businessman, and author
Famous For:
being a panelist on the reality series Dragons' Den and Shark Tank.
Colleges/Universities Attended:

Stanstead College, University of Waterloo, St. George's School of Montreal
Nepean High School
Ivey Business School
Educational Qualifications:

Bachelor's degree in environmental studies and psychology
MBA in entrepreneurship
Religion:

Judaism
Birthday & Zodiac

Age/Date of Birth:

69 years old (9 July 1954)
Zodiac Sign:
Cancer
Birth Place:

Montreal, Canada
Nationality:
Canadian, Irish
Ethnicity/Race:

Of Lebanese and Irish descent
Country of Residence:

Canada
Physical Attributes

Height:

5 feet 8 inches
1.77 m
Weight:

81 kg
178 lbs
Eye Colour:

Dark brown
Hair Color:

Black
Other Body Measurements:

NA
Relationships

Marital Status:

Married
Spouse/Partner:

Linda O'Leary (m. 1990)
Family and Relatives

Father:

Terry O'Leary
Mother:
Georgette O'Leary
Children:

Trevor O'Leary
Savannah O'Leary
Siblings:
Shane O'Leary (brother)
Other Relatives:

George Kanawaty- Stepfather
Net Worth
Estimated Net Worth:

$400 million
Salary:
NA
Source of Wealth:

Business and books