Hard work, determination, and persistence are the three keywords that represent the New England Patriots wide receiver and punt returner Julian Edelman. This American football player joined the National Football League (NFL) in 2009 after he was picked by the New England Patriots in the seventh round of the draft. Close to a decade in his profession, Edelman has remained key to his team's success thanks to his rigorous training which later earned him the Super Bowl LI  and Bowl XLIX with the Patriots.
Also playing as a cornerback in some occasions, Julian Edelman is one of the few people who is not easily conquered by fear because when he keeps his mind on a goal he goes ahead to achieve it no matter the noise on the road. "Just worry about what you can control. Be as consistent as possible and don't let someone tell you that you can't; prove them wrong" are part of his watchwords that has kept him on the success line in his decade-long activities in the NFL
Julian Edelman Biography
Julian Francis Edelman was born on May 22, 1986, in Redwood City, California. He is the son of a Jewish father Frank Edelman and his wife Angela (née Gole). He is of mixed ethnicity including Greek, English, Scottish, Irish, Ashkenazi Jewish, and German, but he holds American nationality.
Edelman began to show interest in football from his early years but he formally joined the sports in his high school years which is at Woodside High School in Woodside, California. During this period, he was identified as the school's quarterback. His active role in the school's team earned him a place in the hearts of most of his schoolmates and football fans. He ended his high school career throwing for 2,237 yards and 29 touchdowns passing, plus 964 yards and 13 touchdowns rushing.
Eldeman's college career did not begin immediately after high school. Instead, he spent one year with the College of San Mateo (CSM) where he got all the training he needed ahead of his college years. During this one year period, Edelman rushed for a school-record 1,253 yards and 17 touchdowns, threw for 1,312 yards and 14 touchdowns. When he transferred to Kent State University where he studied business management, he joined the school's team as a three-year quarterback starter. However, as a senior, he became Golden Flashes' top passer finishing 56% of his passes for 1,820 yards, throwing 13 touchdowns and 11 interceptions. He also rushed for 1,370 yards on 215 attempts with 13 touchdowns, making him the top rusher in his school.
Edelman joined the NFL in 2009 despite not being invited to the League's combine. The New Egland Patriots, however, discovered him during its private workout and then picked him in the 7th round. He then signed a four-year contract with the professional team on July 16, 2009.
Edelman's first professional points were scored on August 13, 2009, in a pre-season match against the Philadelphia Eagles. The following year he only played 15 games with 4 receptions for 14 yards. His major break, however, could be traced to his 2016 games where he finished the season with a career-high 1,106 receiving yards on 98 catches, thus becoming the Patriot's first wide receiver to win the AFC Offensive Player of the Week award after Randy Moss in 2007. His efforts also earned him the NFL ranking as the 71st Top 100 Players for 2017.
In addition to his successes in the 2016 games, Julian Edelman brought the Patriots back to the limelight after his "unusually difficult catch" during the year's Super Bowl LI against the Atlanta Falcons. The catch was rated "the greatest catch in Super Bowl history".
Net Worth and Salary
Julian Edelman is no doubt one of the highly-paid receivers of his time. After his four-year deal worth $17 million which he signed with the Patriots on March 15, 2014, his skillful performances on the field has earned him additional monies. The Redwood City, California native signed yet another deal for two years with his professional team. The contract extension which was worth $11 million gives him a base salary of $3,000,000 with $5,000,000 as his signing bonus. He is, therefore, believed to have a net worth of about $8 million.
Injury and Career Stats
Julian Edelman's career stats for the 2018 regular season shows he has a total reception of 47 with a total receiving yard of 535 and 3 receiving touchdowns. He also has 7 rushing attempts for 83 rushing yards.
See Also: Michael Crabtree Biography, Injury and Career Stats, Age, Height, Weight
Edelman had in 2017, in the 10th week of the Patriot's game against the Tennessee Titans, left the game with an ankle injury. The Patriot's wide receiver suffered a torn ACL which kept him away for the entire season. As at the time he left the game, Edelman had 9 receptions for 104 yards. So far, he has been actively involved in the team's routine workouts but he is still not physically back to where he was before he sustained injury.
Julian Edelman's Wife or Girlfriend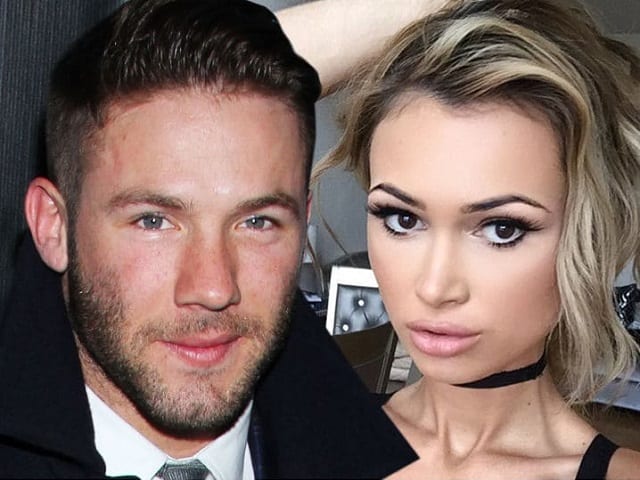 Nicknamed "Minitron", "The Energizer Bunny,"  or "The Squirrel", Julian is one of Patriots' fine players who is still very much single. The 5 feet, 10 inches tall sportsman has never lacked women in his life. Among the long list of his girlfriends is the Swedish model, Ella Rose with whom he had a daughter named Lily. In the past, he dated the likes of AnnaLynne McCord and Brazilian Model, Adriana Lima.