What is Judge Judy's net worth?
| Net Worth: | $445 million |
| --- | --- |
| Salary: | $47 million |
| Income Sources: | Court show series, Judge Judy, "Hot Bench," |
| Age/Date of Birth: | October 21, 1942 |
| Height: | 5 feet, 1inch (1.55 m) |
| Nationality: | American |
| Last Updated: | 2021 |
Judith Sheindlin aka Judge Judy is an American prosecution lawyer, a former Manhattan family court judge, author, TV personality and producer. She is currently worth $445 million as at 2021
How She Began
Judge Judy was born on October 21st, 1942 in Brooklyn, New York. She studied Government at the American University before attending the Washington College of Law, where she was the only girl among all 126 students. She later completed her law degree and received a Juris Doctor in 1965 from the New York School of Law. She passed her bar examination the same year in 1965.
Her first legal job was working as a corporate lawyer for a cosmetic firm. Two years later Judy quit but soon became a family court prosecutor. During her 17 years as a family court prosecutor, she handled cases involving child abuse, juvenile crime as well as domestic violence.
Her rational character in her years as a family court prosecutor attracted the attention of Ed Koch who was then the mayor of New York. He immediately made her a criminal court judge and fast forward four years, Judy was promoted to supervising judge in the Manhattan's division of the family court system.
Post-retirement and TV career
Her rapid success brought her increasing popularity, she was featured in the LA Times and then on CBS's 60 Minutes which gained her national recognition. In 1996, Judy retired after hearing 20,000 cases and publishing her first book, "Don't Pee on My Leg and Tell Me It's Raining".
With increasing popularity even after retirement, the idea of starting a reality TV courtroom series was brought to Judy and she welcomed it. The eponymous show debuted in September 1996, the same year she retired. The Judge Judy show which is still running is according to her, aimed at motivating good actions among the masses and to ensure individuals take responsibility for their own actions.
Since its debut, the show has remained as the highest-rated TV court show garnering an average of 10 million viewers a day and have never been cancelled throughout its 20 seasons. Its consistency has attracted huge advertising from major companies which brings Judy a lot of money. According to Q score ratings, the show is on par with the Oprah Winfrey Show.
The show has brought Judith many awards including a star in Hollywood's walk of fame, Gracie Allen Tribute Award, and a Daytime Emmy Award after 15 nominations.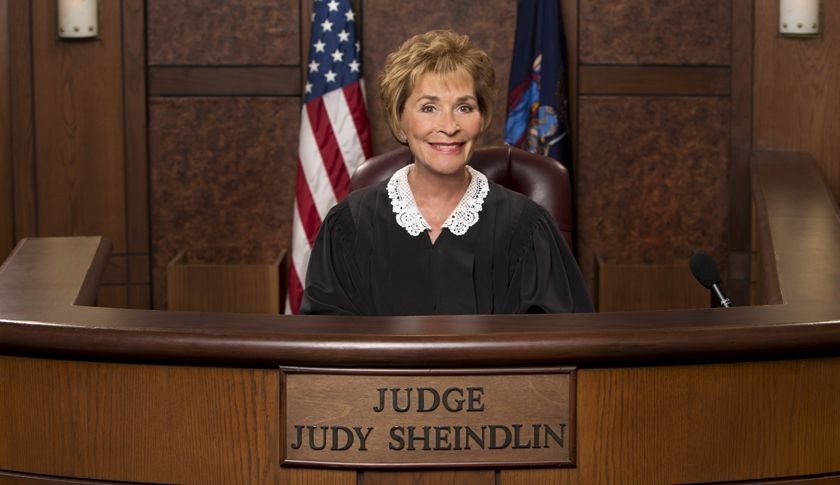 Most of Judge Judy's $445 Million Net Worth Came from Her Iconic TV Show
Judge Judy is currently worth $445 million but what is more surprising is how she makes the money. She earned $47 million annually which left her as the highest-paid daytime TV personality. Interestingly, she only worked 52 days a year. This means that she was making $900,000 every day she goes to work.
She hosted the Judge Judy show for 25 years and it reigned as the most-watched daytime show for several years after it dethroned Oprah in 2009, pulling as much as 9 million viewers every day. Because of that, she received juicy contract extensions, like the 3-year extension of her contract with CBS which kept the show running till 2020.
Her Salary Jumped from $25 to $47 Million Over the Years
Sheindlin started hosting the show in 1996 and it wasted no time in gaining a massive fanbase. While what she was paid during the early years is best known to her, reports have it that she was earning as much as $25 million yearly for serving as the TV judge of the courtroom show around 2005.
In 2010, the figure had climbed to $45 million and then to $47 million in 2012. Even though the show has wrapped up, Judge Judy has continued to profit from it. For instance, Amazon streaming service has acquired rights to the show which would air as Judy Justice. While what she would earn from this largely depends on the number of digital downloads and streams the show will pull, there are no doubts it would add a significant amount to her income in years to come.
Sheindlin Sold Her Judge Judy Library for a Massive $95 Million
It was in 2017 that the Judge made a pact to sell the library of her famous show to CBS. Based on what was reported, the deal involves the total library rights of the show which amounted to 5,200 hours.
At the end of the day, Judy was $95 million richer as it was what CBS paid for it. Of course, the amount saw her net worth touch the skies; as such, she was listed on various quarters as one of the richest, and the highest-paid TV stars.
She Owns a Production Company and Has Published Several Books
The production company is another major contributor to Judge Judy's wealth. Among other projects, Queen Bee Productions created the panel-based court show titled "Hot Bench". The highly-rated show which pulls over 2 million daily viewers casts three judges who decide cases in their courtroom.
From what we gather, Judge Judy was inspired to create the show after she visited Ireland and noticed how their judicial system operates. She pitched her idea to CBS executives believing that a panel-based format for her popular show would be refreshing and interesting. This was exactly what happened when the show began airing in 2014. As the creator of the series, it is said that she earns $2 million every year.
In addition to what she earns from Queen Bee Productions and Hot Bench, the judge has made a great deal of money from publishing books. Since she published her first in 1996, she has penned six other books.
The Sources of Judge Judy's Net Worth
Earnings from her popular courtroom show
The paycheck from selling her Judge Judy library to CBS
Income from her Queen Bee Productions company
Salary as the creator of Hot Bench
Proceeds from the sale of her books
She Was Worth Only $95 Million In 2007
Sheindlin's rise to massive fame and wealth began with her popular show. Since its debut, Judge Judy has been the most rated court show, pulling as much as 10 million viewers daily. Given that, it is easy to see how the show became an avenue for Judy to establish herself as a multi-millionaire. Also, the show served as the foundation for the Judge to build her wealth which has continued to grow over the years.
As of 2007, Judy had become one of the richest women in entertainment. At that time, Forbes estimated her wealth at $95 million. A few years later, precisely in July 2010, her contract for the show was renewed and she began earning $45 million yearly. This added to the total value of her wealth, and even more when her pay package was upgraded yet again in 2013 to $47 million. At this point, Judge Judy's net worth was approaching the $300 million mark.
An Overview of Her Net Worth Over the Years
2007 – $95 Million
2008 – $98 Million
2009 – $107 Million
2010 – $180 Million
2011 – $210 Million
2012 – $215 Million
2013 – $255 Million
2014 – $268 Million
2015 – $290 Million
2016 – $310 Million
2017 – $350 Million
2018 – $380 Million
2019 – $400 Million
2020 – $445 Million
She's Had Her Fair Share Of Husbands And Divorces
Judge Judy has been married twice. First, to Ronald Levy, a juvenile court prosecutor in 1964. The couple had two children, Jamie and Adam. They divorced after 12 years of marriage in 1976.
"My first husband is a lovely, lovely man but he always viewed my job as a hobby and there came a time where I resented that,"
Judge Judy
she previously said on OBJECTified.
Judy's second attempt at marriage was about a year later when she agreed to marry Jerry Sheindlin, a fellow law practitioner. While together, the couple rose up the ranks in the legal system, with Jerry taking a post on the New York Supreme Court and Sheindlin being appointed as a family court judge.
The couple divorced in 1990 but remarried a year later. It was said that the pair had earlier called it quits because of the stress and struggles Judy encountered when her father died, that same year.
Jerry (born November 19, 1933) is an American jurist and attorney, author, and TV personality. You may remember him as a television arbitrator and presiding judge on The People's Court, which ran from 1999 until 2000.
She Owns a Number of Houses in Various Locations
Judy owns a number of homes in various states, from New York to Florida, Wyoming, and Connecticut. In 2013, she bought a house in Beverly Hills to enable comfortable filming of her show without the many commutes. The house set her back a whopping $10.7 million.
She and her husband also love to spend time in Greenwich, Connecticut where they have a 12.5-acre mansion with 9 bedrooms and 8.5 baths. The grand estate came with meadows, woodlands, vintage stone walls, picturesque pond, pool and pool house.
They have a high rise condo in Florida which has a perfect view of the ocean and are said to have recently purchased a mansion in the city which features eight bedrooms, an enclosed lagoon with three waterfalls and living areas spanning over 10,000 square feet.
Fact Check: Is Judge Judy Still Alive?
Judge Judy is very much still alive. She was falsely reported dead in 2011 after she was admitted to hospital for exhaustion. She was again reported dead in 2016 in a wave of celebrity death hoaxes that was going on on social media.
Profile Summary
First Name:
Judy
Last Name:
Sheindlin
Estimated Net Worth:

$445 million
Salary:
$47 million
Source of Wealth:
Court show series, Judge Judy, "Hot Bench,"
Last Updated:

2021
Also Known As:

Judy
Sex/Gender:

Female
Profession:

Prosecution lawyer, former Manhattan family court judge, television personality, television producer, and author
Famous For:
Judge Judy Show
Colleges/Universities Attended:

American University in Washington, D.C., New York Law School
Educational Qualifications:

BA Degree in Government, Juris Doctor degree
Religion:

Jewish
Birthday & Zodiac

Age/Date of Birth:

October 21, 1942
Zodiac Sign:
Libra
Birth Place:

New York City, New York, U.S.
Nationality:
American
Ethnicity/Race:

German-Jewish
Country of Residence:

The United States of America
Physical Attributes

Height:

5feet, 1inch (1.55 m)
Weight:

46 kg / 101 lb
Eye Colour:

Dark Brown
Hair Color:

Light Brown
Other Body Measurements:

Breat Size: 33inches
Waist size: 25inches
Hip Size: 35inches
Relationships

Marital Status:

Married
Spouse/Partner:

Jerry Sheindlin (1991)
Previously married from 1977-1990.
Ronald Levy (m. 1964–1976)
Family and Relatives

Father:

Murray Blum
Mother:
Ethel Blum
Children:

Five Children: Nicole Sheindlin(1968),
Jamie Hartwright( 1966),
Gregory Sheindlin(1964)
Jonathan Sheindlin(1967),
Adam Levy( 1968)
Siblings:
David Blum (Brother)
Other Relatives:

None
Related Questions: