Many people have argued that Joseline Hernandez was one of the reasons why VH1's Love & Hip Hop: Atlanta reality series became a huge hit. The Puerto Rican rapper and former stripper gained prominence on the show where the word "controversial" would best describe everything about her. She would later go on to become a television personality and actress now famous as the self-proclaimed "Puerto Rican Princess".
As of 2020, the Puerto Rican reality television personality, rapper, and actress Joseline Hernandez was reported to have an estimated net worth of $300 thousand.
Here are the things we know about her personal life and career.
Age/Date of Birth:

November 3, 1986
Height:

5 feet, 5 inches (1.65 m)
Ethnicity/Race:

Black
Nationality:
Puerto Rican
Husband or Boyfriend:
Robin Ingouma
reviously dated Stevie J (2011–2016)
Parents:
Carmen Hernandez
Net Worth:
$300,000
Joseline Hernandez was Born in Puerto Rico
There are conflicting reports as regards to the true identity of Joseline Hernandez. According to court documents and police reports, the former stripper was born on March 21, 1977, and was given the name Shenellica Juneann Bettencourt. She sometimes performs under the stage name Shenellica Bettencourt, lending credence to it being her birth name. Other reports available on the internet say that she was born on the 3rd of November, 1986.
She Moved to the United States with Her Family at the Age of 6
Joseline Hernandez grew up in a poor home that comprised of six children and her parents; stepfather Luis and mother Carmen Hernandez. Her biological father died as a result of a heroin overdose and her mother Carmen was an alcoholic and drug addict. Joseline herself also admitted to using drugs at some point during her rough teenage days.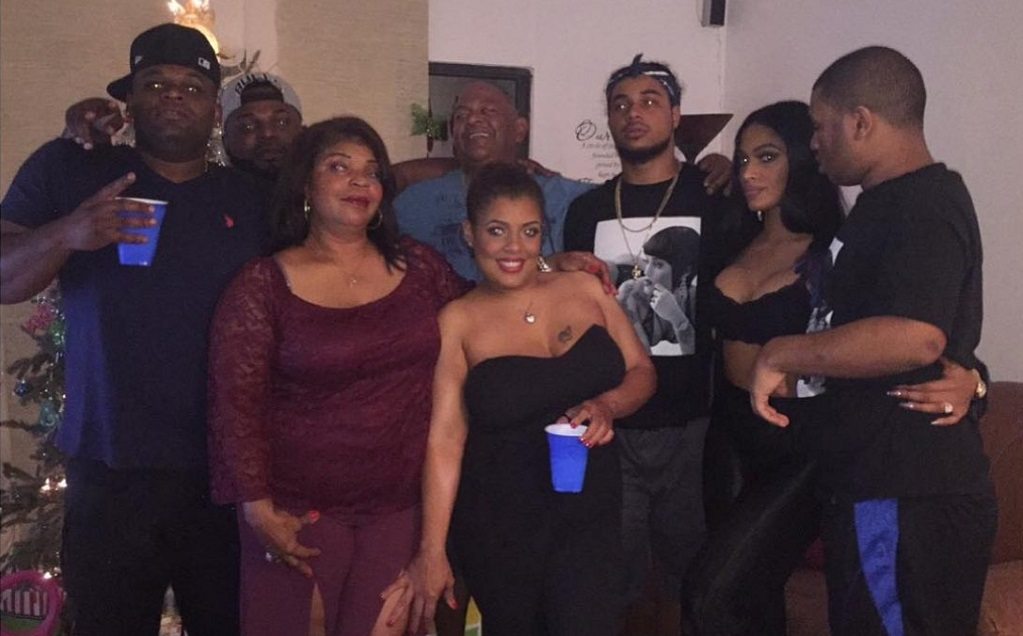 The Hernandez family is said to have lived in the Puerto Rico public housing system before they moved to the US state of Florida. Joseline has one older sister named Yanira, and four younger brothers named Hisael, Jorge, Kermit, and Luis Jr. While the reality TV star appears to have a good relationship with all the members of her family now, things were not quite good between her and her mother in her early days.
The former stripper had a sour relationship with her mum whom she said abandoned her and her siblings to a hard life. As a result of this, Joseline was not able to complete high school due to her family's financial constraints. But even after hitting fortunes later in life, she has not made any strides towards continuing her education.
In 2017, Joseline Hernandez's family members and close friends made appearances on her TV special titled Love & Hip Hop Atlanta: Joseline's Special Delivery where she documented the birth of her baby.
Among all of her family members that got to appear on TV, her brother Kermit Silva became the most popular and most loved. With a height of 5 feet 11 inches, long curly black hair, and a little lovely son of his own, Kermit easily caught the admiration of viewers and fans. As his popularity grew online, it was revealed that he was enrolled at Stillman College, Alabama where he was a regular player on the college's football team. He graduated in 2019.
How Joseline Hernandez Achieved Her Net Worth
As of the time of this writing, Joseline Hernandez was reported to have an estimated net worth of $300 thousand. She has evidently come a long way from her childhood days when she had to work to make sure her siblings had food to eat. Having worked several menial jobs, Hernandez began stripping when she turned of age before later launching her entertainment career.
She First Began Making Money as a Stripper
Joseline Hernandez began stripping at the age of 16 under the name Shenellica Juneann Bettencourt to support her family who had the burden of paying the medical bills of her autistic brother. Her youngest brother has autism and was unable to talk as a fourteen-year-old. He requires special care.
According to Joseline, she received a little over $1,000 per month for her stripping which went a long way to help her family. With the money helping her solve so much of her problems, she continued stripping in not just Atlanta but across other states in the US like Miami and Dallas.
In the line of her work, Joseline had run-ins with the law a couple of times. In 2003 and 2007, she was arrested and charged with lewd and lascivious behaviour. It is said that she exhibited this behaviour during a stage performance. Despite her troubles, Joseline was offered a chance to feature in a reality TV show about strippers. She was quite famous for her work and was supposed to be one of the main stars of the show which unfortunately never got to see the light of day.
Her Appearance on Different TV Shows, Including Love & Hip Hop Atlanta
While going about her work as a stripper at the infamous Atlanta strip club ONYX, Joseline Hernandez was discovered by rapper and record producer Stevie J. Stevie saw potential in her music and so took it upon himself to begin managing her music career. He later introduced her to the producers of the second instalment of the Love & Hip Hop reality television franchise set in Atlanta titled Love & Hip Hop: Atlanta. Joseline made her TV debut in the first season of the show which began airing on June 18, 2012, on VH1.
Love & Hip Hop Atlanta premiered to ratings high enough to make it the highest-rated instalment of the Love & Hip Hop franchise. The success of the show simultaneously brought fame to its stars. For her appearance in the first season of the show, Hernandez received $50,000 per episode. By the second season which began in 2013, the rapper's paycheck from the show increased to $150,000 per episode. It has since been reported that she receives as much as $400,000 per episode of the later seasons of the show while other female cast members earned much lower than she did.
Since the show debuted, the ex-stripper made herself the centre of controversy. She soon entered into a romantic relationship with Stevie J which was chronicled on the show. But prior to their relationship, Stevie was in a romantic relationship with another co-star, Mimi Faust, with whom he fathered a daughter named Eva. This caused somewhat of a love triangle as Stevie continued to see both women.
Joseline and Stevie J's relationship, however, later proved to be stronger as the pair lasted longer than he could manage with Mimi. Their love for each other was so strong that in 2013, they were rumoured to have secretly married. It was, however, later proven to be just a hoax. Regardless, the pair were able to land their own spin-off reality TV show titled Stevie J & Joseline: Go Hollywood. The show, which chronicled their new life in Los Angeles, California, premiered on VH1 on January 25, 2016.
Things appeared to be carrying on smoothly on the financial side for Joseline Hernandez but it all came down crumbling after she broke up with Stevie. As a result of the split, their show which was already ordered for a second season was cancelled. The pair subsequently went at each other on social media, making outrageous claims and threats to themselves. Stevie called her out saying Joseline isn't her real name and that she is 10 years older than she claims. He even said that she was legally married to another man. It is not clear what Joseline said but one of her threats to Stevie prompted him to request for a restraining order but his application was denied.
After the whole drama had simmered down, the two appeared in the 5th season reunion of Love & Hip Hop: Atlanta. On the show, Joseline revealed to everyone's surprise, including Stevie, that she was pregnant with his child. Stevie J, who already has four kids with different women, denied that the baby was his. A paternity test, however, soon proved him wrong. While Stevie appears to have moved on and even began dating another lady, Joseline began filming another reality TV special titled Love & Hip Hop Atlanta: Joseline's Special Delivery where she chronicled her journey towards becoming a single mother.
On December 28, 2016, Joseline gave birth to her child with Stevie J, a baby girl whom they christened Bonnie Bella Jordan.
With her and Stevie J having gone through a nasty break up, Joseline's subsequent stay on Love & Hip Hop became all about feuds. On the 1st of June 2017, during the 6th season of the show, she announced that she was quitting without having given prior notice to both the producers and viewers. Many felt that Hernandez was convinced to quit because she was able to land her first scripted role in the Fox musical drama series Star where she played the role of Michelle, appearing in four episodes.
Here are some key takeaways from her career earnings:
She earned $50,000 per episode of the first season of Love & Hip Hop: Atlanta in 2012.
She earned $150,000 per episode of the second season in 2013.
She was reportedly being paid $400,000 per episode of later seasons until she quit.
Joseline Hernandez's Earning From Music and Other Businesses
As a singer and rapper, Joseline Hernandez has 10 singles to her credit. Some of her most notable songs include "Bailar", "Baby Daddy", "Church", and "Run Me My Money" which was a diss song directed at Love & Hip Hop creator, Mona Scott-Young. She has further gotten to feature on the songs of other artists like Rocko's "Gurls Gon Wow" and Zaytoven's "All Eyes on Me!"
At the height of her fame in 2016, the reality TV star was able to establish "Eternity by Joseline Hernandez", a clothing line that made T-Shirts. She also set up a charity organization called The Puerto Rican Princess Foundation which empowers young women of minority ethnicity.
Joseline Hernandez's lifestyle, career, and controversies have further contributed to her massive Instagram followership which she leverages for ads. The Instagram account of the self-titled Puerto Rican Princess, where she frequently shares sultry images, has almost 4 million followers.
Recap of All Her Sources of Income:
Her work as a stripper.
Her appearance on TV shows like Love & Hip Hop: Atlanta and Stevie J & Joseline: Go Hollywood among others.
Sales of her music and performance at clubs/concerts.
Her clothing/apparel company
Adverts on her social media accounts
Profile Summary
First Name:
Joseline
Last Name:
Hernandez
Also Known As:

"The Puerto Rican Princess"
Sex/Gender:

Female
Profession:

Television personality, rapper, and actress
Famous For:
Love & Hip Hop: Atlanta
Colleges/Universities Attended:

N/A
Educational Qualifications:

N/A
Religion:

Chirstianity
Birthday & Zodiac

Age/Date of Birth:

November 3, 1986
Zodiac Sign:
Scorpio
Birth Place:

Ponce, Puerto Rico
Nationality:
Puerto Rican
Ethnicity/Race:

Black
Country of Residence:

United States of America (USA)
Physical Attributes

Height:

5 feet, 5 inches (1.65 m)
Weight:

56 Kg
Eye Colour:

Black
Hair Color:

Brown
Other Body Measurements:

Breast: 34
Waist: 25
Hips: 32
Relationships

Marital Status:

Engaged
Spouse/Partner:

Robin Ingouma
Previously dated Stevie J (2011–2016)
Family and Relatives

Father:

Unknown
Mother:
Carmen Hernandez
Children:

Bonnie Bella Jordan
Siblings:
Yanira Hernandez (Older Sister),
Kermit Hernandez (Younger Brother),
Jorge Hernandez (Older Brother),
Hisael Hernandez aka Izzy (Younger Brother), Luis Jr. (Younger Brother)
Other Relatives:

Luis (Stepfather)
Net Worth
Estimated Net Worth:

$300,000
Salary:
$20,000 per show
Source of Wealth:

TV shows, acting