Stevie J, whose birth name is Steven Aaron Jordan, is an American record producer, musician, songwriter, and TV personality. He is best known for working with Puff Daddy's Bad Boy label in the 1990s, producing chart-topping singles for the group and even winning a Grammy Award for his efforts. Stevie J has a net worth of $5 million.
Stevie J Biography
Stevie J was born in New York's second largest city, Buffalo, on the 2nd of November, 1971. He, however, grew up in its third largest, Rochester, where he was raised by his single father, Moses Jordan, after his mother abandoned the family.
A young Stevie J fell in love with music and by the late 1980s, he began to perform alongside American R&B quartet Jodeci which included popular R&B stars K-Ci and Jojo. He played the bass guitar for the group during their live performances and also made appearances in their album "The Show, The After Party, The Hotel" (1995). In the early 90's he joined Rochester-based record label Swing Mob founded by Jodeci member DeVante Swing. Swing Mob consisted of other popular artists like Timbaland and Missy Elliot. Swing Mob aka Da Basement crew folded out in 1995.
Rise To Fame
Stevie's journey to fame began when Sean "P Diddy" Combs signed him to his Bad Boy Records after being impressed by his incredible musical skills. Stevie became a prolific and successful songwriter/record producer under Bad Boys imprint. He produced numerous songs on R&B quartet 112's eponymous debut album including their hit single "Only You".
Stevie's popularity surged when he produced a number of songs for Notorious B.I.G.'s album "Life After Death" (1997). They included the chart-topping hits; "Mo Money Mo Problems" and "Notorious Thugs".
After that, he produced songs on Diddy's debut album "No Way Out" (1997), which he won a Grammy Award for. One of the Stevie J produced songs "I'll Be Missing You" was the second single from the album and a tribute to Notorious B.I.G who died in 1997, 16 days before his album was released. The song featured B.I.G.'s widow Faith Evans and the group 112. It sold over 8 million copies worldwide to become one of the best-selling singles of all time.
See Also: DMX Net Worth
Stevie J also produced for non-Bad Boy artists like Mariah Carey. His work on her 1997 album "Butterfly" earned him a Grammy nomination specifically for the album's Billboard-topping single "Honey". He also worked on Mariah's #1 (1998) album. In total Stevie J has won three Grammys for his producing works.
Other artists, Stevie has produced include Jay Z, Beyonce, Tamia, Eve, Lil Kim, Brain McKnight, Tamia and many more.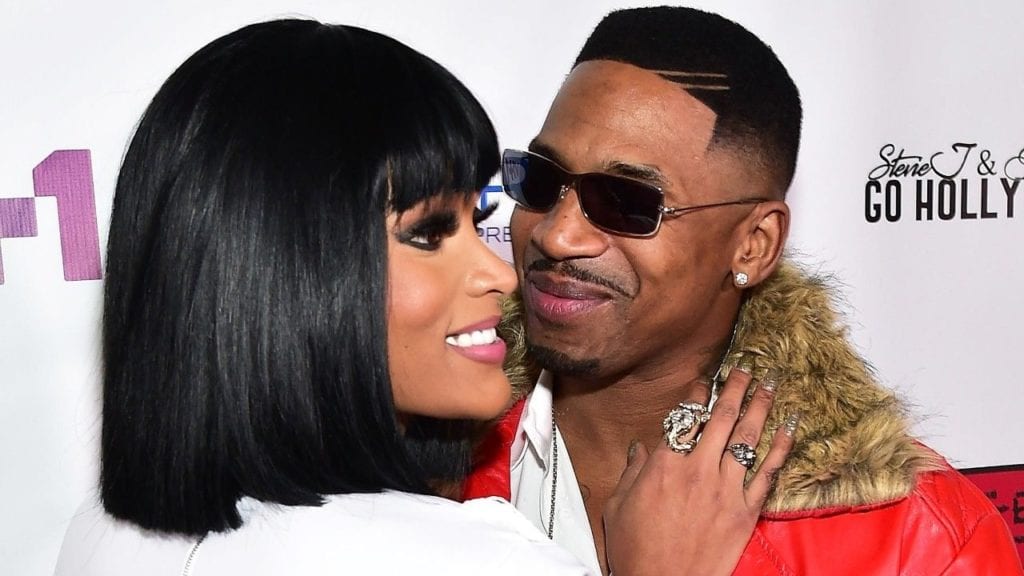 How Much Is Stevie J Worth?
Stevie was further thrust into the limelight in 2012 when he began appearing on VH1's reality TV show "Love & Hip Hop: Atlanta" alongside his girlfriend Mimi Faust with whom he fathers a child. In the show, Stevie was caught up in a love triangle and later left Mimi to "marry" ex-stripper and Puerto Rican rapper Joseline Hernandez. Though the "marriage" is said to be only a rumor, the duo is however considered a couple.
With the attention the new couple had received on the "Love & Hip Hop: Atlanta" show, Stevie and Joseline in January 2016 were given their own spin-off show called "Stevie J & Joseline: Go Hollywood". It chronicles the couple's lives in LA. However, following their break up, Stevie will star on a solo TV show titled The Stevie J Show. Joseline has a net worth of $2 million and together the couple have a net worth of $7 million.
See Also: K Michelle Net Worth
Lately, the record producer has been linked with artists like Kanye West, Kelly Price, and Snoop Dogg. He is also trying his hands as a movie producer, his movie "That Time of the Month" is scheduled to be released in late 2016.
Is Stevie J Married or Not and Who Are His Kids?
Stevie J is not married. This was revealed in court documents filed by Joseline Hernandez in a petition for paternity after she had a baby, Bonnie Bella Jordan, born on December 28, 2016, for him. The duo had previously claimed to be married on their show.
The famed music producer has a total of seven children. His first is a son, Dorian Jordan, who was born in 1995 with Rhonda Henderson. The second is a daughter, Sade Jordan, also born in 1995 with Felicia Stover. His third and fourth children were with Carol Antoinette Bennett, a son, Steven Jordan Jnr., born 1997 and daughter, Savannah Jordan, born a year later in 1998.
His fifth child, Eva Giselle Jordan, was born in December 2009 with fellow "Love & Hip Hop: Atlanta" cast member, Mimi Faust. Stevie also has an adopted son, Angel Antonio Fernandez.
Read Also:
Wiki
Birth Name: Steven Aaron Jordan

Birth Date: 2nd November 1971

Birth Place: Buffalo, New York, U.S.

Zodiac Sign: Scorpio

Occupation: Music Producer, Artist

Height: 5ft 8inches

Net Worth: $5 Million

Fact Check: We strive for accuracy and fairness. If you see something that needs updating,