John Cena is one of the most popular WWE personalities. He is known for his incredible performances in the ring and the many achievements he has accomplished. The popular wrestler is not only full of muscles but has acquired a lot of money in the course of his career. He is named as one of the world's richest wrestling personalities, alongside the likes of Stone Cold and The Rock.
Asides his reputation in the wrestling ring and other ventures, Cena is also known for his love life, especially his much-publicized relationship with Nikki Bella. Here is a look at the details of John Cena's relationships thus far and his current net worth.
How John Cena's Journey To Fame Began
John Felix Anthony Cena was born on the 23rd of April, 1977. The wrestler continues to impress fans with his diet and work out routine which has him looking younger than his actual age.
John Cena Jr. was named after his father, John Cena. Before joining the pro wrestling organization, Cena started out as a rapper. He chose to use his hit song, You Can't See Me, as his entrance song in the ring. His music career didn't pick up so well though it has some impressive records on the chart. The album You Can't See Me was first released in 2005, but only went platinum in 2010. Obviously, he had increased his fan base through his impressive performances in the ring.
Cena made his first pro wrestling appearance in the Ultimate Pro Wrestling in 2000. He won the UPW Heavyweight Championship. His incredible performance was recognized by World Wrestling Federation (WWF) after which he was called in for an audition. Not long afterward, he was offered a contract following an impressive performance he put up.
During his Smackdown debut in 2002, he lost to Kurt Angle, but that was not a stopper for him. He kept going and has risen to become one of the best wrestling personalities of all time with numerous awards to show for it.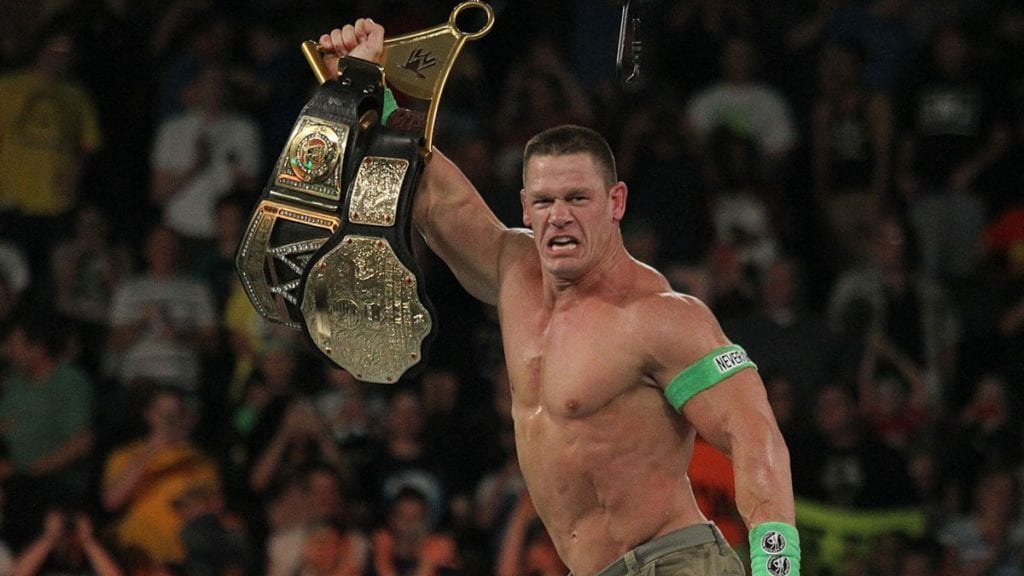 His WWE Recognitions And Achievements
For more than 12 years, Cena has been active in the World Wrestling Entertainment (WWE) and won a total of 24 championships. Among them include 13 WWE Championships, 4 WWE US Championships and 3 World Heavyweight Championships. He also has 2 World Tag Team and 2 WWE Tag Team Championships. He equally managed to break the record to become the 7th Longest WWE Champion holder. He held the belt for a total of 380 days. However, a pectoral muscle injury saw Cena lose the belt and end his reign.
Cena's earnings have been among the highest since he got famous in the WWE. According to the latest analysis by Forbes, Cena is ahead of other WWE stars with his earnings that have risen to the tune of $9.5 million. Cena also banks from a couple of endorsements with Gold's Gym, Subway, Gillette, among others which boost his annual income.
He is a lover of cars and no doubt has a spot on our list of athletes with the biggest car collections. Cena has been spotted with some exotic cars like the 1969 COPO Camaro, 1971 Plymouth Road Runner, 1969 Dodge Daytone, among others.
Besides the cars, he has plenty of properties around the US, which adds more money to his already fat account. Currently, he lives in a waterfront home in Florida. The home was valued at $750,000 when it was bought a few years ago.
What Is John Cena's Current Net Worth?
Other than wrestling, Cena has featured in some TV shows like Punk'd, MADtv and Saturday Night Live. He is currently anchoring Nickelodeon's Are You Smarter Than a Fifth Grader? He has also been featured in some top-rated Hollywood movies like Legendary, The Marine, 12 Rounds and Bumblebee.
While wrestling is his major claim to fame, Hollywood may have contributed more to his staggering net worth of $75 million. John Cena's net worth is yet to see more growth as he still has many productive years in front of him. He also has many potential blockbusters in the pipelines with the action film aiming for release in 2021.
His Striking Body Statistics
With such a robust career in wrestling, nothing short of awe-inspiring is expected from John Cena's body statistics. He has visibly met every requirement needed to stay on top of his game and this has contributed a lot to his success. His recorded body weight is 114 kg which is accentuated by an impressive height of 6 feet 1 inch. For his general body stats, the pro-wrestling star has – chest: 50 inches, waist: 36 inches and biceps: 19 inches. To round up his catchy looks, Cena sports blue eyes and brown hair.
See Also: Triple H Net Worth, Real Name, Salary, Wife, House, Age, Height
All The Women John Cena Has Dated
John Cena may be an eye candy and a rich one at that but he is not much of a ladies man. He has been with a few women and the most publicized of his relationships was with fellow wrestler Nikki Bella. However, before Bella there were others.
Elizabeth Huberdeau
John Cena was actually married before. He married Elizabeth Huberdeau on the 11th of July 2009 after announcing their engagement earlier in the same year. They remained together for three years before he filed for divorce on the 1st of May, 2012.
Huberdeau was not a popular person prior to her marriage to Cena. She is a businesswoman and real estate expert whose claim to fame came through her marriage to the Hollywood star.
Nikki Bella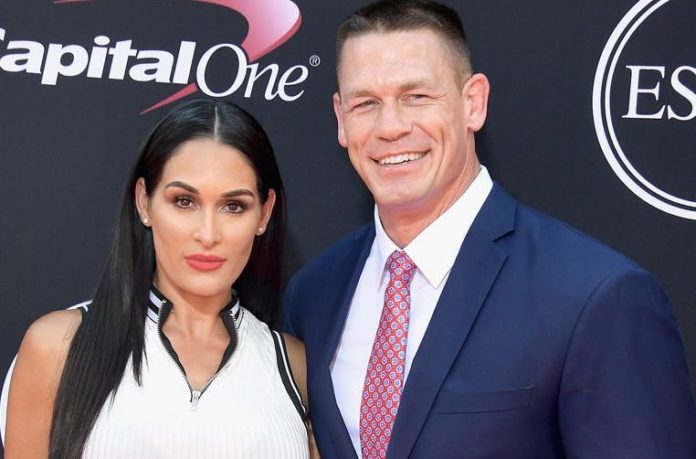 Cena was publicly engaged to Stephanie Nicole Garcia-Colace, better known as Nikki Bella. Nikki is a professional, wrestler, model and actress whom he started dating in 2012, shortly after his divorce was finalized on July 18th.
John Cena went down on one knee at WrestleMania 33, in front of audiences who gathered or tuned in to watch the match on April 2, 2017, and asked Nikki to marry him. Though she said yes, the relationship didn't survive long enough to see them walk down the aisle. They were supposed to hold their wedding on May 5th in 2018 but the plug was pulled on the union in April the same year.
Shay Shariatzadeh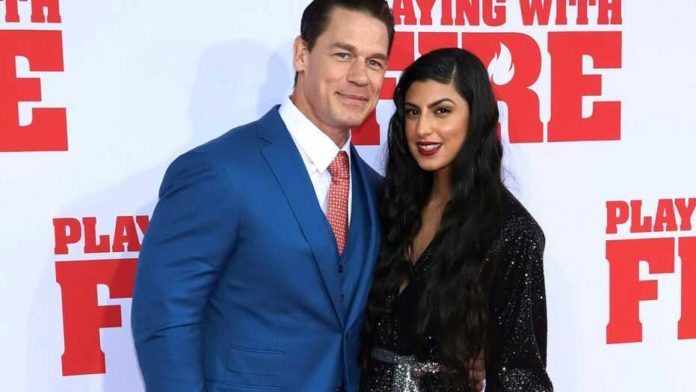 John Cena and Nikki Bella broke our hearts with their break up but the two have since moved on with their love lives. The wrestler is now dating Shay Shariatzadeh.
Shay is not a popular wrestler or actress but is well-educated. She has a degree in Electrical and Electronics Engineering from the University of British Columbia and in her capacity as an engineer, she works as a product manager at Avigilon, a Motorola Solutions Company. One notable thing about her relationship with Cena is that they have more than ten years between them in age.
Other women who have been romantically linked to Cena include Barbie Blank who he supposedly dated sometime in 2012 and Lisa Marie Varon who was also his girlfriend in 2002. There is also Kendra Lust, an American pornographic actress.
John Cena's Family Life, Does He Have Kids?
Though he has been married, John Cena is yet to have his own children and may never have them if the vasectomy he went through is anything to go by. He made it clear that he doesn't want to bring children into the world and end up being an absentee father to them.
His birth family is made up of his parents and four brothers. His mother Carol (née Lupien) has English and French-Canadian heritage while his dad John Felix Anthony Cena is of Italian descent. John Cena grew up with four brothers, including the older one named Stephen. The other three are his younger brothers – Dan, Matt and Sean. Asides Matt who is into bodybuilding, what his brothers do for a living have not been made public.
Quick Facts About John Cena
Full Name: John Felix Anthony Cena

Profession: Wrestler, Actor, Rapper

Height: 6 ft 1 in or 185 cm

Weight: 114 kg or 251 pounds

Race: Caucasian

Nationality: American

Date of Birth:  April 23, 1977

Place of Birth: West Newbury, Massachusetts, United States

Astrological sign: Taurus

John Cena Net Worth: $75 million

Fact Check: We strive for accuracy and fairness. If you see something that needs updating,