Net Worth:
$100 million
Age/Date of Birth:

(56 years old) August 11, 1967
Height:

5 feet, 7 inches (1.71 m)
Ethnicity/Race:

Mix of Italian and Irish descent
Nationality:
American
Wife or Girlfriend:
Jessica Ditzel (m. 2009)
Parents:
Father: Joseph Rogan
Mother: N/A
Joe Rogan is popular in the United States of America for several reasons. He is famous as a stand-up comedian, an Ultimate Fighting Championship (UFC) color commentator, a martial arts expert, actor, television and podcast host.
Joe Rogan's net worth is $100 million, making him one of the richest comedians in the world, thanks to his podcast licensing deal with Spotify
Who Exactly is Joe Rogan?
Joe Rogan was born on August 11, 1967, in Newark, New Jersey as Joseph James Rogan. He is of Irish and Italian descent. Joe was only five years old when his parents divorced. Two years later, his family relocated to San Francisco, California. When he was 11, his family again relocated. This time, to Gainesville, Florida. Rogan, however, spent much of his early years in Newton Upper Falls, Massachusetts.
He attended Newton South High School and the University of Massachusetts Boston. Nonetheless, he dropped out before graduation to pursue other interests. It was in high school that Joe developed an interest in martial arts. He participated in several taekwondo, karate, and kickboxing competitions. Even, he won a US Open Championship tournament in the lightweight category when he was 19. Sadly, his desire to go pro in martial arts was dashed after he sustained a severe head injury.
Net Worth Analysis and Career Earnings: How He Accumulated His $100 Million Fortune
It is easy for one to desires being as wealthy as Rogan but many may not be able to live through the struggles the standup comedian faced in his journey to stardom and financial freedom. If there is any secret to how he made his money, it's his involvement in various endeavors. Rogan never restricted himself, he explored every opportunity that presented itself to him. Below is a breakdown of how he acquired his wealth.
A Career In Comedy Laid the Foundation for Rogan to Build His Wealth  
With his hope for a martial arts future dashed, Rogan became devastated. After much encouragement from his friends, he decided to pursue a career in stand-up comedy. That was in 1988, at the age of 21.
Rogan once said about his career that he didn't have a clear direction and was pretty nervous about his future until he became a stand-up comedian. As an up-and-coming stand-up comedian with peanut as take-home pay, Rogan bolstered his earnings by working a series of other menial jobs from newspaper delivery to construction work and even as a chauffeur.
At some point, he put his knowledge of martial arts to good use by teaching the subject to students at a private University in Boston. A few years after his stand-up debut, Rogan relocated to New York as a full-time comedian; that was in 1990. In 1994, he took another leap step in his career by relocating to Los Angeles – the hub of all things entertainment.
Rogan's career enjoyed an exponential increase in LA. He first began performing on MTV's Half-Hour Comedy Hour before landing his first major acting role on an episode of Fox's Hardball. In the years that followed, he released several comedy specials which set him on the part to financial freedom.
TV Career and Earnings from Feature Films/Documentaries
His major breakthrough gig came in 1995 when he was featured as one of the regular cast on NBC sitcom, NewsRadio. While finding his foot in comedy, Rogan couldn't completely ignore his love for martial arts so he took a job with the UFC as a backstage post-fight interviewer in 1997. He, however, abandoned the job after two years due to insufficient pay. That same year, he signed a three-album deal with Warner Bros Records and released his debut comedy album, "I'm Gonna Be Dead Someday…" in 2000.
His next big break came when he was signed to host NBC's reality game show, "Fear Factor." The show became another major hit for him as it increased his popularity and fan base. Rogan hosted the show from 2001 until 2006. He even returned for the revived 7th and 8th season respectively in 2011 and 2012. It is speculated that Rogan still earns from Fear Factor which is no longer broadcasted on NBC. Even though we cannot verify this claim, Rogan still has his Fear Factor gig to thank for his huge popularity and fan base.
His Fear Factor fame brought him to a higher level of national exposure. The turnouts at his stand-up comedy gigs increased tremendously as other lucrative TV gigs followed; of course, it meant more money for Joe who also got to feature in several films and documentaries.
His Exploits as a Color Commentator Has Also Added to His Wealth
2001 was one of the best years in Rogan's career, in addition to his Fear Factor gig, he was called back to his UFC job with a promotion from a post-fight interviewer to a color commentator. This probably happened because of his relationship with UFC's new president Dana White. Rogan reportedly declined the job at first before working without pay and finally agreeing to receive payment for the job.
His salary as a commentator in UFC isn't known as UFC is a private company. But, President Dana White did admit once that Rogan's earnings peaked in 2003 after the UFC signed the highly lucrative TV rights deal with FOX TV.
Joe Rogan's Podcast Has Been a Huge Cash Cow for Him
Rogan proved to be a savvy show businessman. Apart from his earnings from UFC, he utilized his fame from the mixed martial arts organization and dived into other projects like comedy gigs and his widely popular podcast, The Joe Rogan Experience, which he launched in 2009.
By 2010, it became one of the top 100 podcasts on iTunes with over 16 million monthly listeners. In 2011, SiriusXM Satellite Radio picked up the podcast which covers everything from politics to showbusiness and other fascinating topics. 2015 came, and it was reported that the podcast had received over 16 million downloads.
The Comedian Made a $100 Million Pact with Spotify in May 2020
The Joe Rogan Experience is likely the most financially rewarding endeavor of the comedian. Given its popularity on various platforms and its status as one of the most popular free podcasts, it is easy to see why any streaming and media services provider would want to have it exclusively on its platform.
Sometime in May 2020, it was reported that Spotify and Joe made a licensing deal worth over $100 million for the podcast to be available only on Spotify. From what we gathered, Joe had refused to have his content on Spotify, insisting that the platform pays little compared to other streaming services.
Now that he has made a pact with the Swedish media company, his complete library would be available on the platform and exclusively so. This also applies to his video podcasts which will no longer be available on YouTube.
Major Sources of Joe Rogan's Wealth
Earnings from his career as a comedian
Paychecks from TV and movie roles
Salaries from UFC as a color commentator
Income from The Joe Rogan Experience podcast
$100 million deal with Spotify
The UFC Commentator Spends His Money on Real Estate and Fancy Cars
Way back in 2003, Joe Rogan bought a mansion in California for $2.2 million. The mansion which was built in 1978 sits on an acre and includes five bedrooms, a swimming pool, and two fireplaces. He listed the property for sale in October 2020 asking for $3.2 million. A month earlier (September 2020), it was reported that he parted with $14.4 million to acquire a mansion in Austin, Texas.
The Texas mansion isn't the only property he owns. Sometime in October 2019, he doled out $5 million to purchase a home in Bell Canyon, California.
Among other things, Joe Rogan has spent a good deal of his wealth on fancy cars. The man owns a $75,000 1970 Barracuda car but that's only one of the exotic rides. His car collection includes a Porsche 911 GT3 RS, MK IV Toyota Supra, Ford Bronco, Ford Mustang, BMW M3, Chevrolet Nova, Tesla Model S, 1965 Corvette Stingray, and a Plymouth Barracuda.
Meet Joe Rogan's Wife and Kids
Jessica Ditzel
Date of Birth: July 18, 1975
Occupation: TV Producer and Model
Duration of Marriage 2009 – Present
No of Children with Rogan: 2 Daughters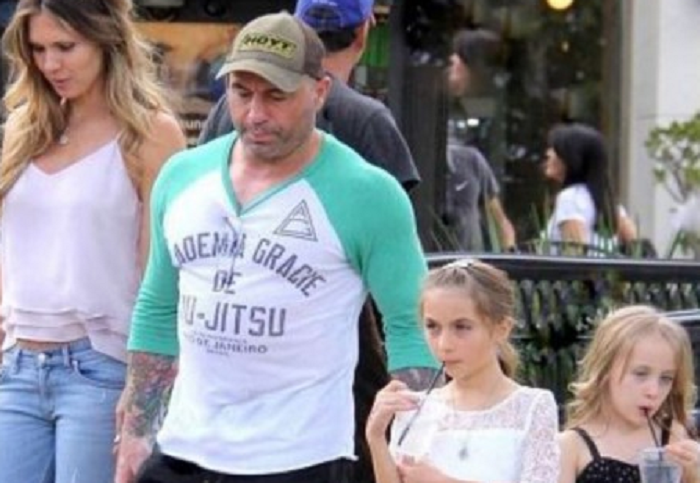 Rogan is very secretive when it comes to talking about his personal life and family. We, however, do know that he is married to Jessica Rogan, a former waitress often described as the daughter of the late comedian, Robert Schimmel.
Born in Sugar Land, Texas, Jessica Rogan is college-educated, she reportedly earned a degree in Arts and Technical Theater from California State University. It is also said that she obtained a second degree in Psychology and Molecular and Cellular Biology.
After Jessica was done schooling, she began working as a model. In this capacity, she worked with several modeling agencies, featuring in various ad campaigns and what have you. Subsequently, she started venturing into the film industry and has attained the status of a television producer thereof. Reports have it that she has worked behind the scene in most of her husband's projects.
Rogan Didn't Think Much of Marriage Until He Met Jessica
The comedian's marriage to Jessica Ditzel was quite a surprise to many as he was very vocal about not getting married. For him, marriage is dumb and not worth the stress. But then, he met Jessica and decided to give it a try after they had a child together.
Speaking about his relationship with Ditzel, Joe related that they get along because she lets him do whatever he wants to do. Based on what Joe said, they signed a prenup before getting married. And, being married to Ditzel has changed his life in many ways. Among other things, he offered that having kids have made him less enthusiastic about porn and strip clubs.
Jessica and Joe are Parents to Three Kids
In 2008, it was in the news that Joe welcomed a daughter with his girlfriend who was identified as just Jessica. After the couple tied the knots in 2009, they welcomed a second daughter in 2010. Meanwhile, it is said that Jessica had a daughter from a previous relationship.
Joe, in one of his podcasts in 2017, talked about having a 20-year-old daughter. He left everyone wondering if the child is from Jessica's previous relationship or his. Because of Jessica's love for privacy and Joe's resolve to keep things the way she wants them, it is difficult to tell anything about their kids. All that is known is that they have three daughters and Rogan sired two of them.
Profile Summary
First Name:
Joseph
Last Name:
Rogan
Also Known As:

Joe
Sex/Gender:

Male
Profession:

Comedian, podcast host, and mixed martial arts color commentator
Famous For:
Brazilian jiu-jitsu
Colleges/Universities Attended:

N/A
Educational Qualifications:

N/A
Religion:

Christianity
Birthday & Zodiac

Age/Date of Birth:

(56 years old) August 11, 1967
Zodiac Sign:
Leo
Birth Place:

Newark, New Jersey, U.S.
Nationality:
American
Ethnicity/Race:

Mix of Italian and Irish descent
Country of Residence:

United States of America (USA)
Physical Attributes

Height:

5 feet, 7 inches (1.71 m)
Weight:

91.1 kg
Eye Colour:

Brown
Hair Color:

Bald
Other Body Measurements:

N/A
Relationships

Marital Status:

Married
Spouse/Partner:

Jessica Ditzel (m. 2009)
Family and Relatives

Father:

Joseph Rogan
Mother:
N/A
Children:

3 Daughters (Names not Available)
Siblings:
N/A
Other Relatives:

Gerard Way (second cousin) Mikey Way (second cousin)
Net Worth
Estimated Net Worth:

$100 million
Salary:
$30 million annually
Source of Wealth:

Ad revenue, live shows and YouTube broadcasts