The Asian continent as whole might pale in comparison to the Western world when it comes to global popularity in film and movie stars, but it has a couple of megastars of its own, one of whom is Jackie Chan. He has been in the industry for over four decades, and in that time, not only has he become a global name, but Jackie Chan has also built a significant net worth, which has made him one of the richest film stars on the planet.
In this article, we answer the question a our Jackie Chan's exact net worth, as well as how he achieved it. We also looked at some of the movies that fetched him the most money. Scroll below to learn more.
What is Jackie Chan's Net Worth?
Jackie Chan has a net worth of $400 million, according to Celebrity Net Worth. The Chinese actor, whose real name is Chan Kong-sang, is one of the most recognizable personalities in the world, with a cinematic presence that cuts across the western and eastern entertainment industry.
Jackie Chan's career in entertainment spans across acting and singing, along with a career in technical roles like directing and producing, all of which has contributed to his $400 million net worth.
Acting
As an actor, Jackie Chan has built his amazing net worth from appearing in over 150 films in both Hollywood and China, several of them of which were box office hits in their respective primary markets.
Jackie Chan, who mostly plays a leading actor, has seen his movies earn over $5 billion at the global box office, making him one of the highest-grossing actors of all time. As a leading actor, his films have made over $2.6 billion while he has fetched over $1.9 billion in revenue when he has played a supporting role.
Due to the successful nature of his films, Jackie Chan's net worth has been achieved through high salaries for his acting roles, which has consistently made him one of the highest-paid actors in the world. In 2018, he earned a total of $80 million from his films, while he earned a further $58 million in the 2019 fiscal year.
In other technical roles as a director, producer, and stunt coordinator, his work has fetched over $1.5 billion at the global box office. As a producer, Jackie Chan has built his remarkable net worth through his production companies, JCE Movies Limited, JC Group China, Jackie & JJ Productions and Jackie & Willie Productions.
Aside from his movies and earnings as a producer, Jackie Chan, being a popular and influential personality also earns significantly through brand endorsements and partnerships. Also an entrepreneur, he has a chain of cinema in China, all of which contribute to the net worth of the actor.
Singing
As one might have seen from some of his movies, Jackie Chan, apart from movies, has also made a considerable amount of money through another career as a singer. The actor is a classically trained Opera singer who began his career in the 1980s.
He has recorded and released over 20 albums since his debut in 1984, several of which were commercially successful in Hong Kong and Asia as a whole.
Aside from singing, another contributor to the iconic actor and action star's net worth is his career as a teacher. He is a faculty member at the Hong Kong Polytechnic University where he teaches tourism management. He has also earned money as the Dean of the Jackie Chan Film and Television Academy.
See Also: A Look at How Sylvester Stallone Achieved a Net Worth of $400 Million 
Which Movies Made Him the Most Money?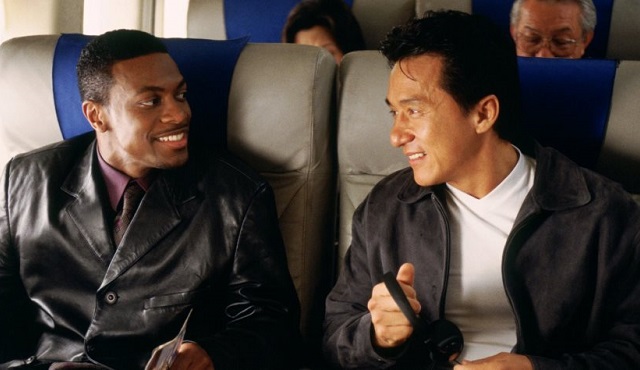 We mentioned earlier that Jackie Chan is an extremely successful actor at the box office, with over $5 billion in global revenue and several movies have contributed to his massive box office returns, as well as his net worth.
One of his biggest earners is the Rush Hour film franchise, which earned over $840 million at the global box office. For the films, Jackie Chan earned an estimated $40 million. He is also believed to have earned over $50 million for his roles in the Kung Fu Panda film series, which grossed over $1.5 billion at the box office.
Other major movie earnings for Jackie Chan are Around the World in 80 days, which fetched him $20 million in salary, Shanghai Noon which earned him $5 million.
Considering Jackie Chan produces a significant portion of his films, it is believed that he earns primarily in backend revenues, with several of his movies, particularly those released in Asian, fetching him money in seven to eight figures in earnings.