Garth Brooks is an American songwriter, guitarist and singer. The country music legend has a net worth estimated at $280 million.
Garth Brooks Net Worth: Career Beginnings/Album Successes
Brooks was born in Tulsa Oklahoma on February 7, 1962. As a child, he sang in casual family settings. Garth was an active athlete while in high school, playing football, baseball and racing the tracks. He received a scholarship to study in Oklahoma State University, where he graduated with a degree in advertising.
His music career began in 1985 when he started out singing in clubs and bars especially the Wild Willie's Saloon. He signed with Capitol Records in 1989 and released his debut eponymous album the same year. The album produced a hit single "If Tomorrow Never Comes" and debuted at #2 on the Billboard Top Country Albums.
His second album 'No Fences' was even more successful, peaking at #1 on the same chart and maintaining the position for 23 weeks it also reached #3 on the Billboard 200. The album sold 17 million copies outside the US making it Garth's most sold album till date. The album produced the hit single 'The Dance' which became his signature song.
Garth's third album Ropin' the Wind released in 1991 made history as the first country music to peak at #1 on the Billboard 200. It is also his second best-selling album. The fourth album released in 1993 accomplished the same feat debuting at top spot on the Billboard 200. The same year he embarked on his first world tour which was a massive success selling out venues upon venues. The second world tour was even more successful grossing over $105 million.
Sevens (1997), Scarecrow (2001) and Double Live (1998) albums also peaked at #1 on the Billboard 200, the later became the best-selling live album of all time.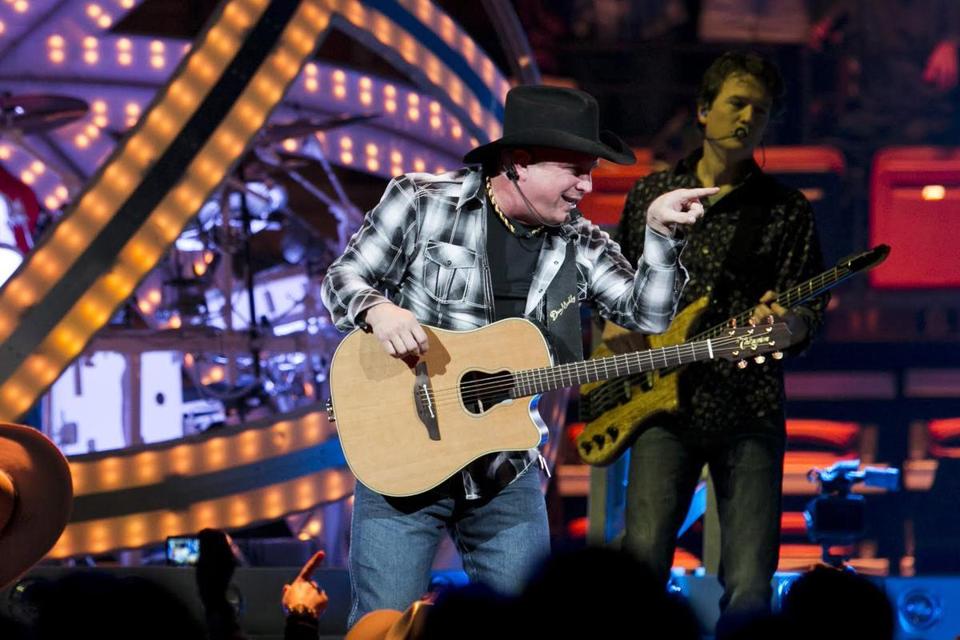 Here is a list of Garth Brooks' most successful albums sales per the RIAA
-Garth Brooks, certified platinum 10 times
-No Fences certified platinum 17 times
-Ropin' the Wind, certified platinum 14 times
-Sevens, certified platinum 10 times
-The Hits, certified platinum 10 times
– Double Live, certified platinum 21 times
Garth Brooks Net Worth: Retirement And Comeback
Following a series of family issues with wife Sandy Mahl which led to their divorce in 2000 and $125 million settlement, Garth retired as a recording and performing artist a year later. However, four years later in 2005, the same year he married fellow country singer Trisha Yearwood, he returned to live performances and signed a distributing deal with Walmart who sold his various compilation box sets. In 2009 he suspended his retirement and signed a 5 year concert deal with Encore Hotel and Casino Las Vegas.
In 2014, under his own label Pearl Records, Garth released "Man Against Machine" his 10th studio album since the release of Scarecrow in 2001 prior to his retirement. "Man Against Machine" in 2014 made almost $700,000 in album sales and was certified gold in the US. It debuted at #4 on the Billboard 200.
Thanks to his eponymous world tour with wife Trisha Yearwood which began in 2014 and will last three years, Garth Brooks made $90 million between 2014 and 2015 making him 6th on the list of highest-paid celebrities in 2015. The concert tour has been raking in an average of $1 million per stop and has sold almost 3 million tickets. In 2016, he made $70 million which made him the highest earning country musician of the year.
Garth Brooks Net Worth: Accomplishments And Summary
Garth Brooks is a country music legend by many standards. The RIAA named him the best-selling artist in the U.S. in the 20th Century, and the second of all time after The Beatles. He has topped the records set by other popular artists like The Beatles and Elvis Presley. Brooks has sold over 135 million albums worldwide. In 2012, Brooks was inducted into the Country Music Hall of Fame
Brooks has released 10 studio albums, 3 compilation albums, 3 box sets, 1 live album, 3 Christmas albums, and 77 singles. 6 of his studio albums have reached diamond status in the U.S. He has won 2 Grammy Awards, 11 CMA awards, and 17 American Music Awards. He is currently working on a Christmas duet album with wife set to be released in the holiday season of 2016. After his break, Garth Brook seems to have taken the world by storm. His latter days could even be more successful.