Country music might not be as universally popular as hip hop, K-pop or other genres of music, but it has proven to be as equally lucrative, and one man that has enjoyed significant financial success through his career is the country singer is Garth Brooks, who has a net worth of $330 million.
Garth Brooks is one of the most popular names to ever grace the genre, setting impressive records not just in country genre but music as a whole.
In this article, we took a look at how his success as a musician helped him to a net worth well over a quarter of a billion dollars. Check it out.
How Garth Brooks Achieved His Net Worth
Despite the fact Garth Brooks was born and raised by a mother who was a professional musician, he grew up with an interest in athletics, focused more on football, baseball and track, and field. As a matter of fact, he got his university education, at the Oklahoma State University on a track and field scholarship, competing at the college level in javelin. As a student, he graduated with a degree in advertising.
However, despite his predilection for a sporting career and the academic qualification for a career in the advertising industry, his roots in country music never left him and a year after graduation in 1984, he began his professional music career, singing in bars and clubs.
Through his music, along with other entrepreneurial endeavors, Garth Brooks has been able to achieve his impressive net worth. Here is a closer look at each source of his wealth.
Music
After Garth Brooks began his professional career in 1985, and despite a difficult beginning finding a recording contract in the early days of his career, he eventually signed with Capitol Nashville, releasing his first album, Garth Brooks, in April 1989 to critical and commercial success.
The album peaked at number two on the Billboard Top Country Albums and reached number 13 on the Billboard 200. In all, the album sold a total of 10 million copies in the US and an extra 13 million copies worldwide, giving Garth Brooks an estimated $13 million in income.
The success of his debut album proved to be the sign of the extraordinary commercial success that would define Garth Brooks' music career and his ginormous net worth.
He released his sophomore album, No Fences in 1990, and it performed significantly better than his debut album, reaching number one of the Billboard Top Country Albums and number 3 on the Billboard 200. The album sold over 17 million copies in the United States and several million more globally, fetching him an estimated $23 million.
The album transformed Garth Brooks into an international star, growing his net worth exponentially.
So far, the country singer has sold over 170 million records, from over 15 albums, to become one of the bestselling solo artists in the United States, and second behind The Beatles globally.
While the artist has made a substantial amount of money through his music sales, he has also made a significant amount of money through his music tours.
Garth Brooks has built his mega net worth through his music tours, which have fetched over $500 million in total since he began his career. He holds the record for the most tickets sold in one year, selling 6 million tickets in 2017 for his North American Tour.
Several of his tours have featured in the highest-grossing tours in their respective years, with his World Tour between 2014-2017 grossing over $364.3 million.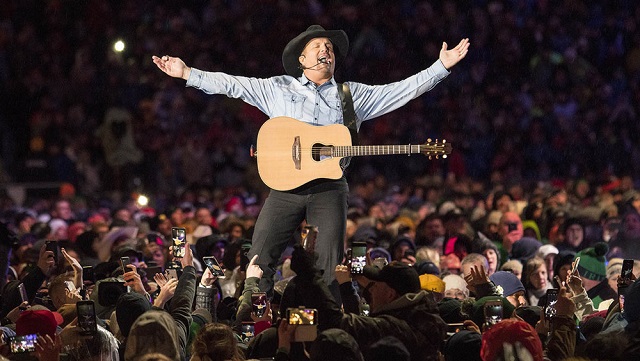 Aside from his tours and music sales, Garth Brooks has also achieved his net worth through his Las Vegas residency program. He had a residency program at Encore Las Vegas between 2009 and 2014.
Entrepreneurship
Other than being a musician, Garth Brooks has built his net worth by dabbling in other aspects of the music business. He has his own record label, Pearl Records, which he founded in 2005.
Through the label, he has released four compilation albums and two studio albums.
He also established an online music store, GhostTunes. The digital music platform featured his music as well as over 10 million songs from other artists and it was eventually sold off to Amazon Music in March 2017.
With a total net worth of $330 million from career earnings well over half a billion dollars, Garth Brooks has donated several millions of dollars to charity, including a $1 million donation to Habitat in 2013 to help victims of the Asian tsunami.