Net Worth:
$120 million
Age/Date of Birth:

39 years old (May 29, 1984)
Height:

6 feet, 8 inches (2.03 m)
Ethnicity/Race:

African-American
Nationality:
American
Wife or Girlfriend:
La La Vasquez (m.July 10, 2010)
Parents:
Father: Carmelo Iriarte
Mother: Mary Anthony
Carmelo Anthony is an American professional basketball player who was born on May 29, 1984, in Brooklyn, New York. Carmelo developed a passion for athletics at a very early age. Growing up in a violent neighbourhood in Baltimore, Carmelo and his friends used basketball as an escape from trouble. The Brooklyn native eventually made a career out of the sport, entering the NBA in 2003 after the Denver Nuggets picked him up. Anthony from thence, shined in his pro basketball career, growing to become a 10-time NBA All-Star and one of the highest-paid NBA stars of All-Time. The player has, however, witnessed a career downtime in recent times, a development that has earned him a rock bottom spot on the list of the best-paid.
With his NBA career earnings combined with endorsements with brands like Jordan Brand, Panini, Foot Locker, Powercoco, Isotonix, and Haute Time. Carmelo Anthony's net worth is estimated at $120 million
Carmelo Anthony's Salary From His Previous Teams Through the Years
Denver Nuggets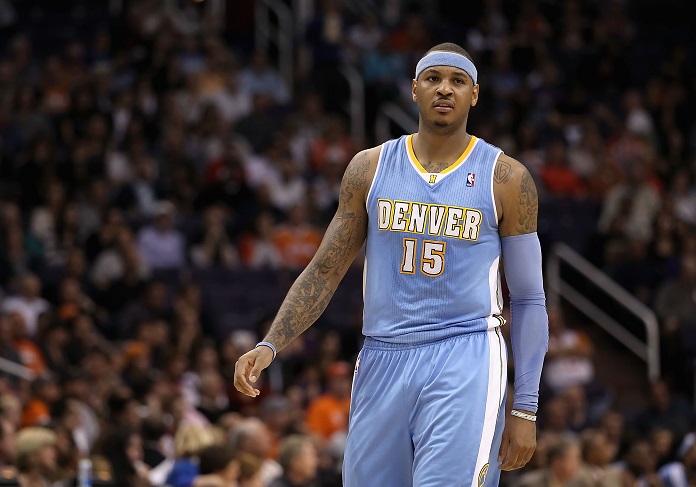 Carmelo Anthony was Denver Nuggets's 3rd overall pick in the first round of the 2003 NBA draft. His initial 3-year deal with the Nuggets was worth $10.4 million, with his salary peaking at $3.7 million in his final year on the contract.
In 2006, Carmelo renewed his contract with the Nuggets for another 5 years, at $80 million. The new deal saw his salary rise to a little over $17 million in 2011. During the 8 years he spent with the Nuggets, the small forward earned almost $90 million in salary.
New York Knicks
Carmelo Anthony got traded to the New York Knicks in February 2011 on a 3-year deal worth $80 million. In July 2014, he renewed his contract with the Knicks, signing a 5-year no-trade clause deal worth $124 million.
Initially starting with the Knicks on a salary of almost $15 million annually, Anthony's paycheck peaked at $24.5 million in 2017. With one year left on his contract, Carmelo Anthony was traded to the Oklahoma City Thunder in September 2017.
Oklahoma City Thunder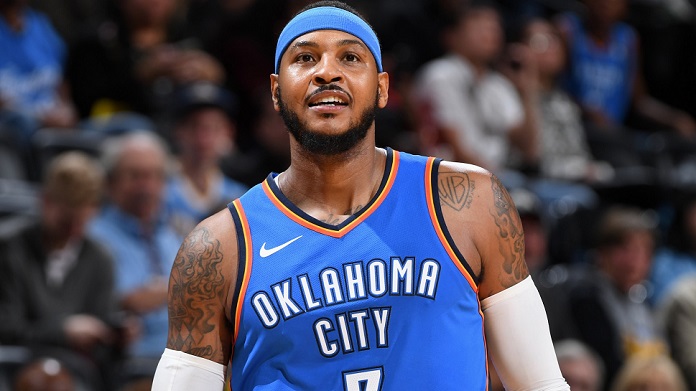 Carmelo had a short stint with the Oklahoma City Thunder. He played for only one season (2017/2018) on a 1-year contract worth $26 million. Being too costly for the club, the Oklahoma City Thunder traded Anthony to the Atlanta Hawks in July 2018, saving themselves tens of millions of dollars.
Houston Rockets
On receiving Anthony, the Hawks placed him on waivers, enabling him to sign with the Houston Rockets in August 2018. The deal was a 1-year veteran's minimum contract worth just $2.4 million. But after playing just ten games for the Rockets, and being absent from several other games due to ill health, the club eventually traded Carmelo Anthony to the Chicago Bulls in January 2019. The Bulls, however, waived Carmelo, giving him the freedom to sign to any team of his choice.
For his time with the Rockets, Anthony received only a total salary of $1.3 million.
Portland Trail Blazers
Anthony remained a free agent until November 19, 2019 when the Portland Trail Blazers signed him to a one-year, non-guaranteed deal. The contract was worth a little less than $2.2 million, with the player entitled to receive only $1.3 million from the contract.
U.S. National Team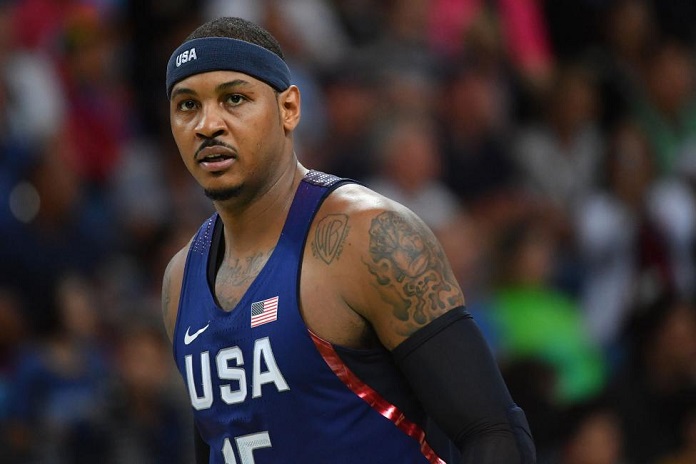 Carmelo Anthony has been a very active part of the U.S. national team. He has represented the country in several tournaments that saw them come home with medals. Among the games he has played for the U.S. are the 2002 fourth Junior World Championship, as well as the 2004, 2008, 2012 and 2016 Summer Olympics. He also played for the 2006 and 2007 FIBA World Championships.
So far, he has emerged as the U.S. Basketball Male Athlete of the Year thrice. All these feats meant a lot to Carmelo's bank account and overall net worth.
Exploring His Endorsement Deals And Entrepreneurial Ventures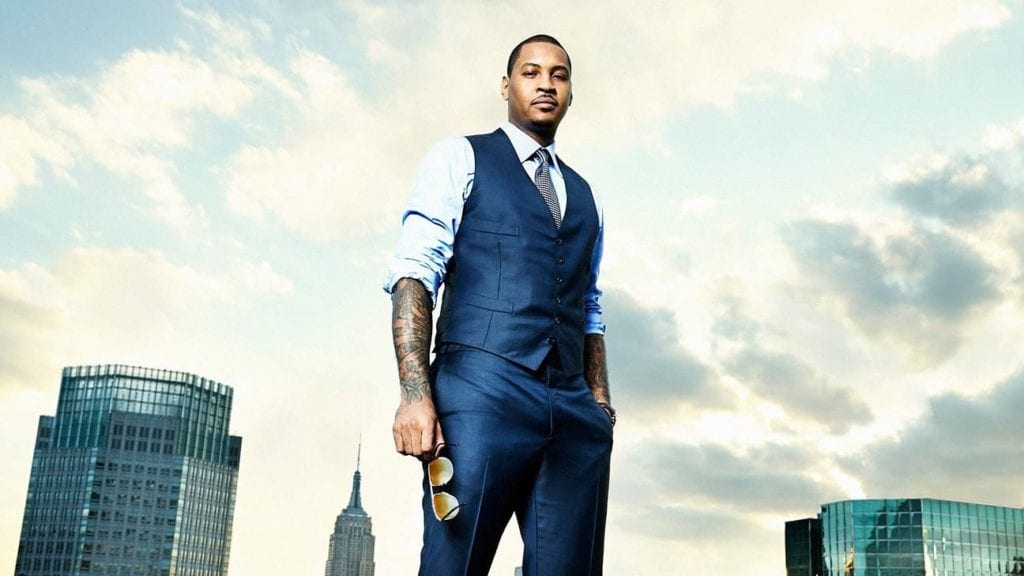 Although Carmelo Anthony's endorsement earnings may be less than those of LeBron James, Kevin Durant, and Steph Curry, the figures are enough to make him one of the NBA's most marketable players.
Carmelo's first endorsement deal came in his rookie season in 2003 when he signed a $9 million contract with Nike to endorse the Jordan shoes. His other endorsement partners include SMS Audio, Steiner Sports, Draft Kings, Foot Locker, Missions, and Las Vegas Sands. These partners collectively net Carmelo Anthony between $8 million and $10 million annually.
In addition to marketing other brands, Carmelo has ventured into a couple of entrepreneurial enterprises. He established his own capital firm, M7 Tech Partners, in 2014. The next year, 2015, he became the owner of Puerto Rico FC, a North American Soccer League expansion club.
So far in his career, Carmelo Anthony has earned a total of almost $250 million from basketball salaries and more than $100 million from brand endorsements. These impressive earnings landed him a regular spot on the annual list of the highest-paid NBA players. Per Forbes, the basketballer earned $30.9 million in 2016 and $32.6 million in 2017. Forbes' 2019 report also placed the NBA star's income for the year at $34 million, with $28 million coming from basketball, and $6 million from endorsements.
But with his deal with Jordan shoes having ended in 2017, alongside his dwindling basketball earnings, Carmelo Anthony's earning power has witnessed a significant plunge. Sadly enough, as his career and finance suffered, so did his marriage.
Hidden Truths About Carmelo And La La's Marital Life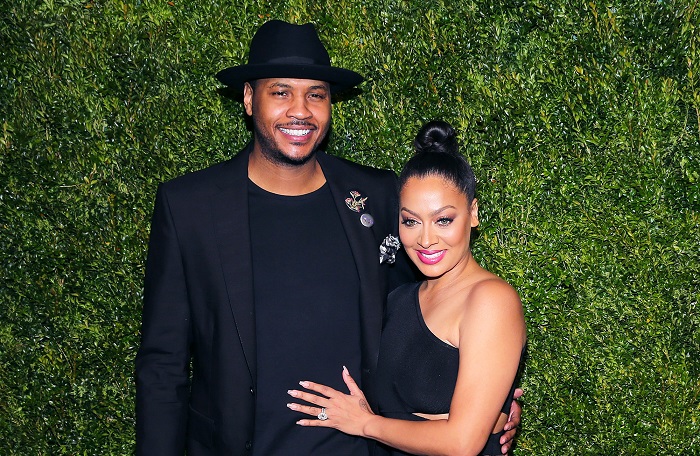 Carmelo Anthony met American television personality and actress, Alani Vazquez, popularly known as La La, in 2003. La La gained media attention for hosting MTV's Total Request Live. She is also popular for her other hosting roles on the VH1 network.
About a year after their first meeting, the duo got engaged on Christmas Day 2004. Three years after, Carmelo and La La welcomed a son. The baby boy, Kiyan Carmelo Anthony, arrived on the 7th of March, 2007.
The couple later tied the knot on the 10th of July, 2010. The wedding was a 320-guest ceremony that took place at a Cipriani complex in New York City. VH1 covered the lavish event, airing it as a reality series titled, "La La's Full Court Wedding". The series later spawned a spin-off, "La La's Full Court Life" which lasted for 5 seasons, ending in July 2014.
Despite the blissful front they often portrayed, Carmelo and La La's union was far from smooth. For instance, rumors of infidelity often arose from time to time. Unfortunately, the couple separated in 2017. According to a TMZ report, it was La La who packed out of their family apartment in Upper West NYC; this was after she filed for separation in April. After this, there were public allegations lodged against Carmelo of impregnating a club dancer.
Did Carmelo Anthony Get Remarried?
Following their separation, Carmelo and Anthony for unspecified reasons have since not obtained a divorce. Aside from a short-lived reconciliation that occurred towards the end of 2018, the couple has been living apart from each other.
The more intriguing part is that the couple has kept things amicable and amiable post-separation. The pair appear very happy in each other's company. They also never make ugly remarks about each other on the media. Instead, they continue to post the nicest things about each other on social media. On La La's 2019 birthday, Carmelo sent her gifts and celebrated her on Instagram.
Moreover, the estranged couple still co-parents their son, going out with him together on dates and never failing to celebrate his birthday together. All these gestures have continued to spark speculation that Carmelo and La La are back together. This speculation, however, seems not to be the reality, especially while considering La La's tone in a 2020 interview. In the interview, the TV host revealed that she had no idea where Carmelo was during the 2020 COVID-19 lockdown. La La, on the other hand, was quarantining with some family members in Los Angeles, including her son, Kiyan.
Based on this, it could be safe to say that the married but separated couple are doing all they are doing just for the happiness and well-being of their son. But has any of the duo moved on with a different partner?
Well, rumors have emerged on a number of occasions that Carmelo and La La both dating different people. On each occasion, however, they have both denied such. So far, none of the two have revealed any romantic partners.
Profile Summary
First Name:
Carmelo
Last Name:
Anthony
Also Known As:

Melo, Melo man
Sex/Gender:

Male
Profession:

Basketball player
Famous For:
Playing college basketball for the Syracuse Orange
Colleges/Universities Attended:

Syracuse University, New York, United States
Educational Qualifications:

N/A
Religion:

N/A
Birthday & Zodiac

Age/Date of Birth:

39 years old (May 29, 1984)
Zodiac Sign:
Gemini
Birth Place:

Brooklyn, New York City
Nationality:
American
Ethnicity/Race:

African-American
Country of Residence:

United States of American
Physical Attributes

Height:

6 feet, 8 inches (2.03 m)
Weight:

109 kg ( 240 lbs)
Eye Colour:

Dark Brown
Hair Color:

Dark Brown
Other Body Measurements:

Chest: 48 Inches
Waist: 35 Inches
Biceps: 15.5 Inches
Relationships

Marital Status:

Married

Spouse/Partner:

La La Vasquez (m.July 10, 2010)
Family and Relatives

Father:

Carmelo Iriarte
Mother:
Mary Anthony
Children:

Kiyan Carmelo Anthony (Son, b. March 7, 2007)
Siblings:
2 brothers- Wilford Anthony, Robert Anthony
2 sisters- Michelle Anthony, Daphne Anthony
Other Relatives:

N/A
Net Worth
Estimated Net Worth:

$ 120 million
Salary:
$2.159 million
Source of Wealth:

Professional Basketball career