LeBron James is one of the most successful basketball players of our time who will forever be remembered in the NBA even when his career has long ended. As an elite basketball player, LeBron James' earnings over the years has gone a long way in cementing his position as the highest-paid NBA player. He earns an annual salary of almost $90 million and with that, his net worth is estimated at $480 million.
The NBA star's road to success actually began at the age of 9 when he was introduced to the game by a local youth coach. While at St. Vincent-St. Mary High School in Akron, Ohio, he was selected with the first pick during the 2003 NBA Draft by the Cleveland Cavaliers. Since then, his professional career has been making headlines across the globe.
James Began Earning 8-figure Annual Salary While Playing For The Cavs
Since joining the NBA in 2003, LeBron James has played for three teams – Cleveland Cavaliers, Miami Heat and Los Angeles Lakers. His long-spanning career has so far been embellished with groundbreaking achievements, including three NBA Championships, four of the league's Most Valuable Player Awards and three Finals MVP Awards. He is additionally a two-time Olympic gold medalist.
So far in his basketball career, King James has earned over $230 million in salaries alone. In his first ten seasons in the National Basketball Association, LeBron James' earnings were estimated at $452 million. This, he accumulated from salaries and endorsement deals. As of 2020, he is reported to have cashed in more than $600 million from his professional career that has lasted over a decade and a half.
In 2003, he penned his first contract with the Cleveland Cavaliers, a four-year deal valued at $18.8 million. Before the beginning of the 2007/08 season, he signed three years contract extension with the Cavs worth $60 million. As such, LeBron James' annual salary earnings skyrocketed from $5.8 million to $13 million. He subsequently earned annual salaries of $14.8 million and $15.8 million before the extension deal elapsed in the 2010 season.
He Signed His Best Career Contract With The Lakers
Joining the Miami Heats for the 2010/11 season, James penned a six-year contract worth $110 million. After his team won the NBA Championship back to back in 2012 and 2013, he returned to the Cleveland Cavaliers in 2014. He got a one year deal with the franchise and was then offered a three-year deal worth $100 million by the Cavs after he led his team to NBA Championship victory in the 2015/16 season.
As a result, he got entitled to a $23 million annual salary in the first year, and eventually earned $30.9 million and $33.2 million in the second year and third year respectively. The latter two salary earnings made him the highest-paid NBA player consecutively. LeBron James continued to make the list of the league's highest-paid players after signing a lucrative four years contract with the Los Angeles Lakers valued at $153 million, which has emerged as the best he has ever signed in his career thus far. Following his move to the Lakers in 2018, he now earns an annual salary of $38 million.
He Makes A Fortune From Remunerative Endorsement Deals
James currently makes almost $60 million each year from endorsement deals. He is associated with giant companies like Samsung, Blaze Pizza, Upper Deck, Audemars Piguet, Coca-Cola, Beats Electronics, Walmart, KIA Motors, Sprite, 2K Sports and more. While serving as a spokesman for Beats by Dre, the NBA star owned a minority stake of 1℅ of the company and after the company was bought over by Apple for $3 billion, he was offered a cut of $30 million.
Having signed his first Nike endorsement deal valued at $90 million for seven years when he was 18 years old, the 16-time NBA All-Star was offered a lifetime deal with Nike in 2015 worth over $1 billion. Thus, he earns $20 million salary and royalty payments annually from Nike for his signature shoe line. The deal crowned him as the first-ever player in the company's history to sign a lifetime deal. With all that, he is considered as the NBA player with the highest endorsement deals.
The NBA Ace Player Is An Accomplished Businessman
Apart from basketball contracts and his truckload of lucrative endorsements, James bolsters his millions with other ventures. He became a founding investor of Blaze Pizza in 2012 and thus, has an equity stake at the pizza company. He now owns more than 15 Blaze Pizza franchises, with his stake at the company valued at $40 million. Alongside Arnold Schwarzenegger, Cindy Crawford and Lindsey Vonn, the prolific athlete launched a health and wellness company called Ladder in the year 2018.
LeBron James' earnings have further been augmented through his role as the co-founder of a production company called SpringHill Entertainment which has produced many TV series and films such as The Wall, Survivor's Remorse, More Than a Game, The LeBrons and The Carter Effect. He also co-founded UNKNWN, a sneaker and designer clothing retail emporium situated in Miami, in the year 2011. His media company "Uninterrupted" is also making waves, it received $16 million investment from Warner Bros in 2015.
Additionally, the 6 feet 9 inches power forward owns a 2% stake in Liverpool FC, the English football side with the best record in European footballing history. Having made Fenway Sports Group (Liverpool FC majority owners) the sole global marketer of his rights, James purchased his minority stake at the club for $6.5 million. With Liverpool FC winning the UEFA Champions league in 2019, the club's worth increased to $1 billion and LeBron's stake is reportedly worth at least $40 million.
The skilled athlete also partnered with Swiss' Audemars Piguet to design a $51,500 luxury watch called the Royal Oak Offshore chronograph. His shrewdness in business matters has attracted comments from famous billionaire investor Warren Buffet. Speaking about LeBron, he said "He's savvy, he's smart about financial matters. It's amazing to me the maturity he exhibits."
LeBron James' Earnings Has Ensured That He Lives Like A King
According to Forbes, he is worth about $480 million but contrary to what you might think, James isn't one with an overwhelming lavish lifestyle, or a moderate one either, let's just say he knows how to live like a king. Reports say he even prefers to drive his KIA to work and at one time when he played for the Miami Heat, he rode his bike to a game, leaving behind his luxury cars. Let's take you through some of the things the millionaire player does with his millions.
Real Estate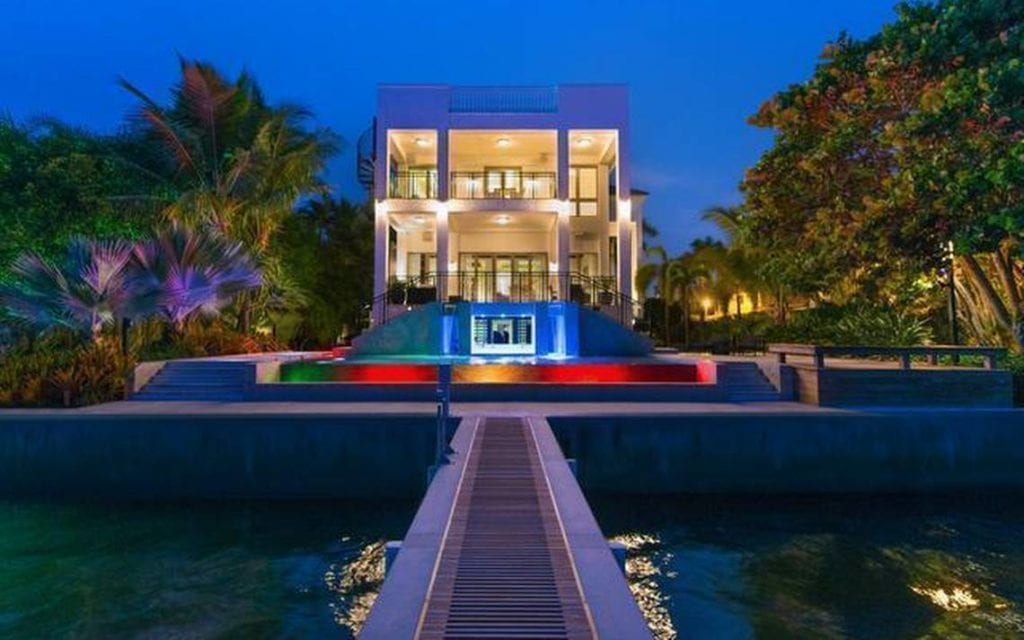 Back in 2010 when he played for the Miami Heat, LeBron lived in a $9 million hot pad in Coconut Grove. The 5-bedroom home has an infinity pool with two fountains which overlooks the Biscayne Bay. There are a rooftop deck, 3-car garage, movie room, office and a 4,500 sq ft space for entertainment. When he moved back to the Cavs, he sold the house for $13.4 million, making over $4 million profit.
In Ohio, LeBron James owns a Montrose mansion which he built from scratch on the land he bought for $2.1 million back in 2003. The 36,000 sq ft home has 6 bedrooms, 8 bathrooms, a bowling alley, aquarium, movie theatre and of course a basketball court. It cost him over $9 million to construct the mansion.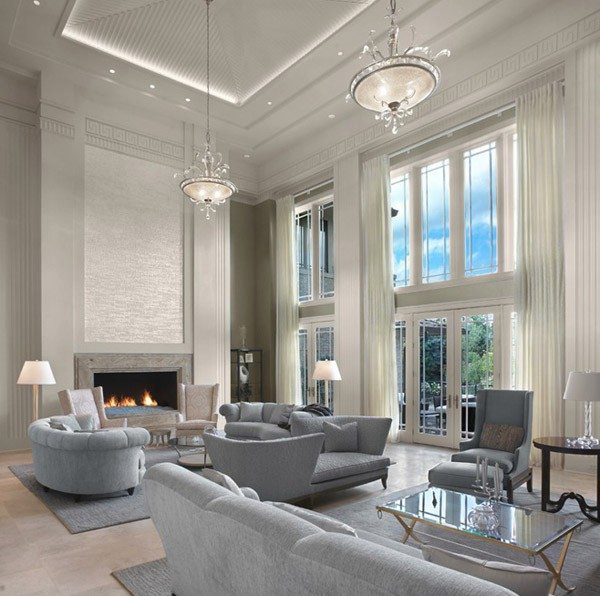 He additionally purchased a 9,350 square foot luxury home for $21 million in Los Angeles' Brentwood neighbourhood in November 2015, which was reported to be the most expensive home in the neighbourhood at the time of its purchase. Later in 2017, James added to his real estate acquisitions by purchasing another mansion in the same Brentwood neighbourhood for $23 million, which has 10 bedrooms, onyx bar, basketball court and indoor wine tap.
Luxury Cars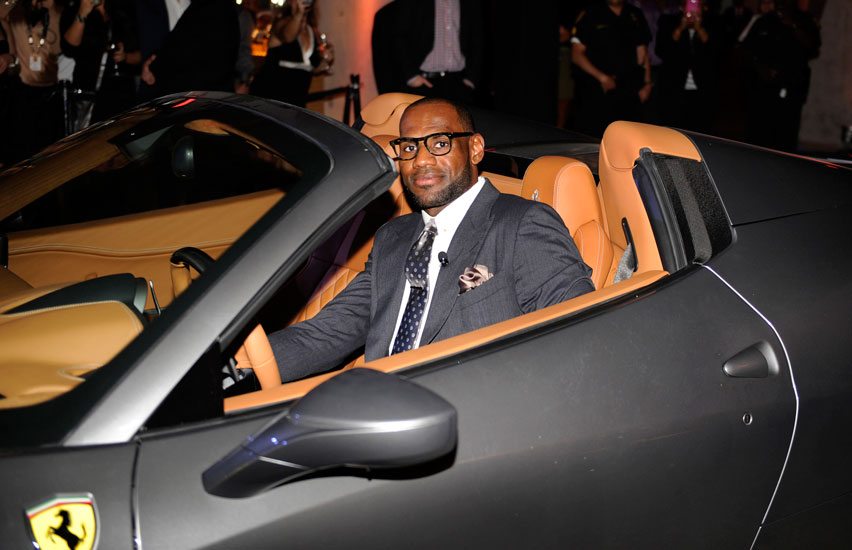 Having such a stupendous wealth to spend, King James has an exquisite taste for super rides as his car collection is quite massive and cost a huge fortune. They include custom Kia K900 luxury sedan, Maybach 575, Dodge Challenger SRT, 1975 Chevrolet Impala Convertible, Hummer H2 SUV, Chevrolet Camaro SS, Ferrari F430 Spider, Ferrari 599, Lamborghini Aventador Roadster, Porsche 911 Turbo S, Ferrari 458 Spider, Bentley Continental GT, Maybach S650 and Rolls-Royce Phantom which comes complete with TV sets on the seats.
He also purchased a Porsche for his mother as a birthday gift and equally gifted his wife a Ferrari Testarossa.
Body Maintenance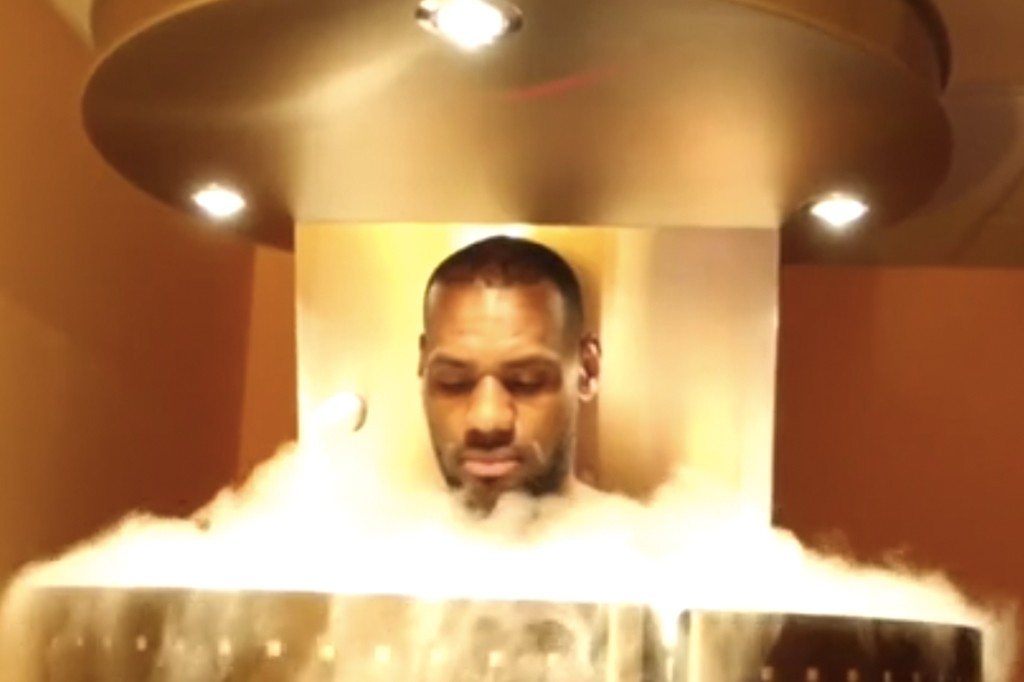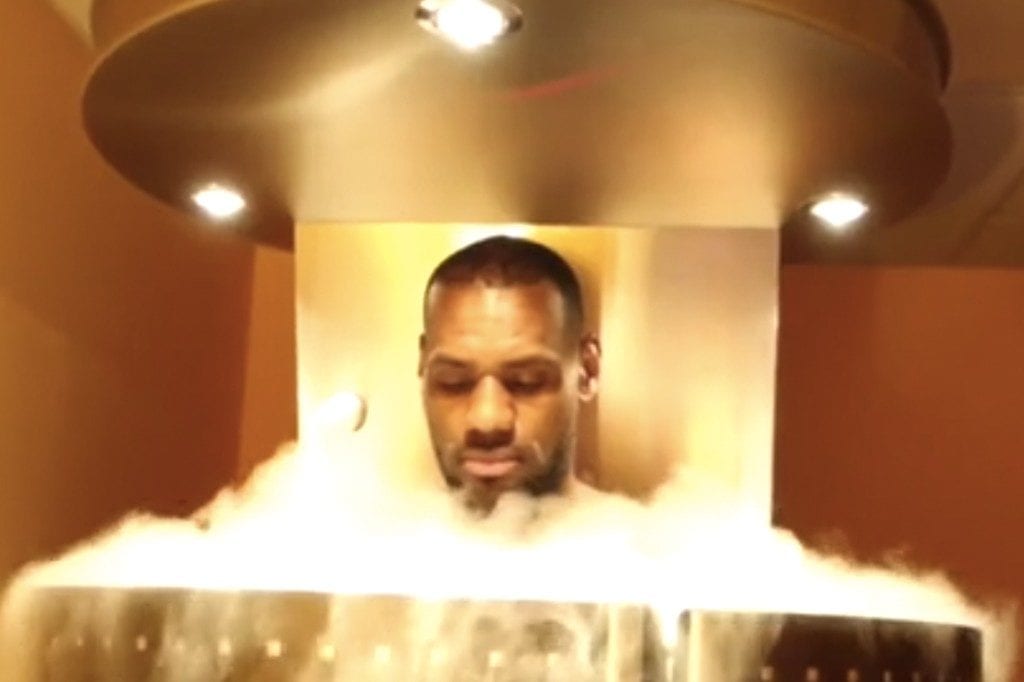 James is reportedly spending over $1.5 million annually for keeping fit and taking care of his body. Like most athletes, he is a frequent user of the cryotherapy chamber. What exactly is that? It is practically a substitute for the ice pack therapy, but in this case, the whole body is targeted at once. The body is immersed in a chamber with cold temperatures between -150° to -290° F.
The aim of this is to treat tissue damage, promote blood vessel constriction and relieve pain by decreasing cell metabolism. This is a treat that doesn't come cheap. More so, the basketballer hired a retired navy seal who works as his recovery coach, personal chef, and biomechanist.
See Also: Kobe Bryant's Bio
Tattoos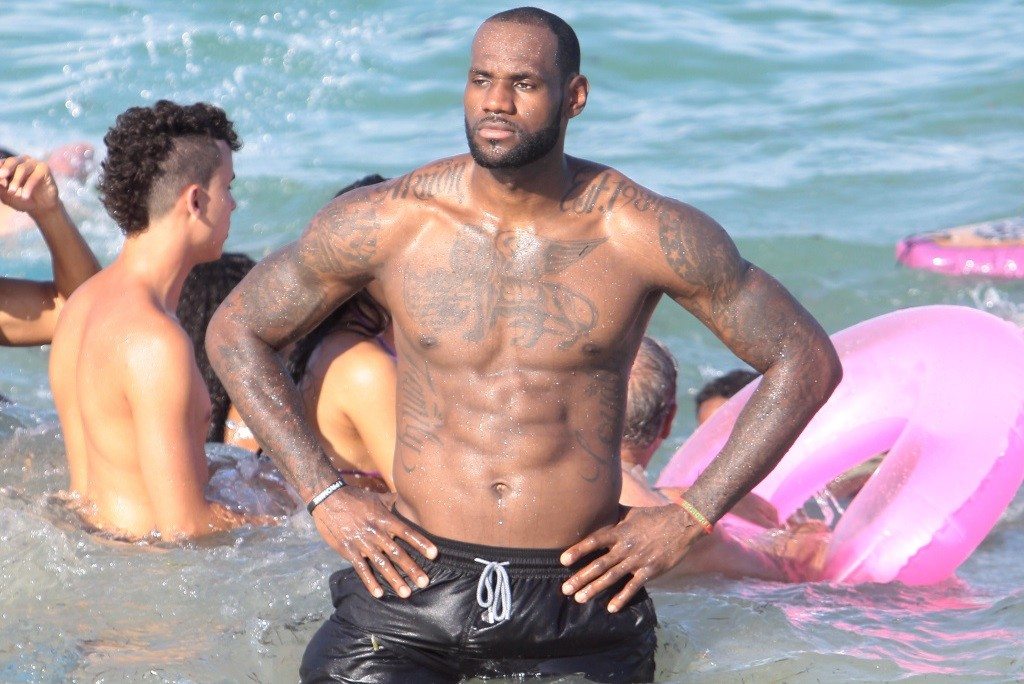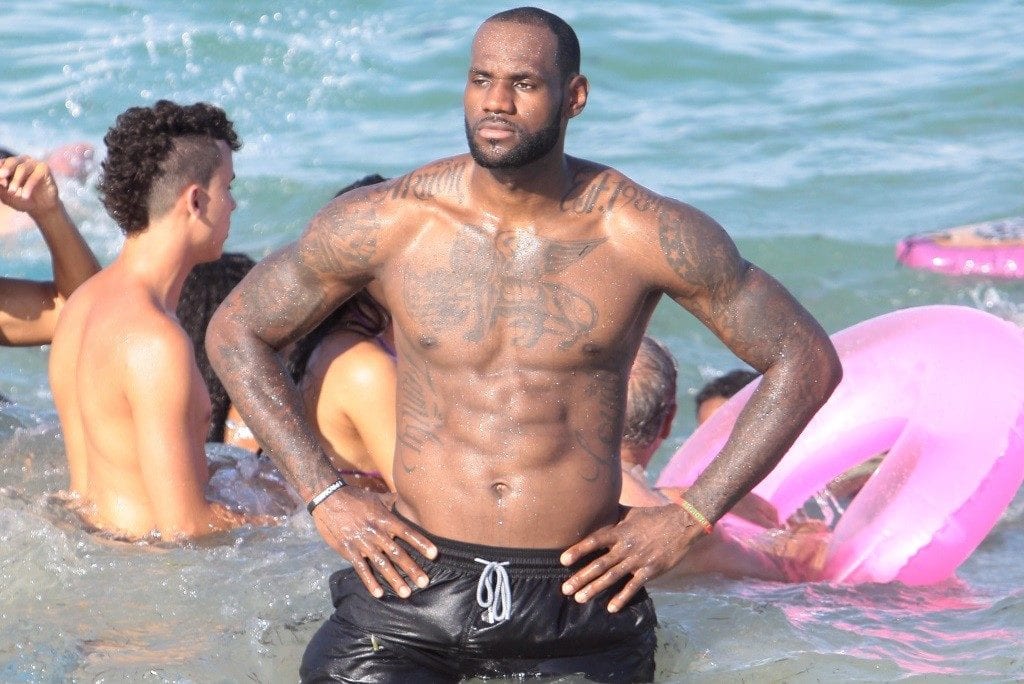 A shirtless LeBron reveals many tattoos. Those tattoos are done by Bang Bang Tattoos, one of the most exclusive in the country and they charge at least $350 per hour. Based in New York, Keith Scott McCurdy professionally known as Bang Bang is a tattoo artist who has also been associated with other celebrities in the entertainment industry, including Selena Gomez, Rihanna, Katy Perry, Miley Cyrus, Cara Delevingne, and Adele.
Top-notch Wristwatches
Aside from helping design Audemar Piguet's $51,500 Limited Edition wristwatch which he owns, LeBron James has an expensive wristwatch collection mostly of the Rolex brand. He has 18-karat Yellow Gold version of Rolex Yachtmaster II worth over $15,000, Rolex President Day-Date Everose Gold, Rolex Sky-Dweller 18-karat Yellow Gold, and Rolex President Day-Date II 18-karat Yellow Gold valued at over $17,000.
Savannah's Engagement Ring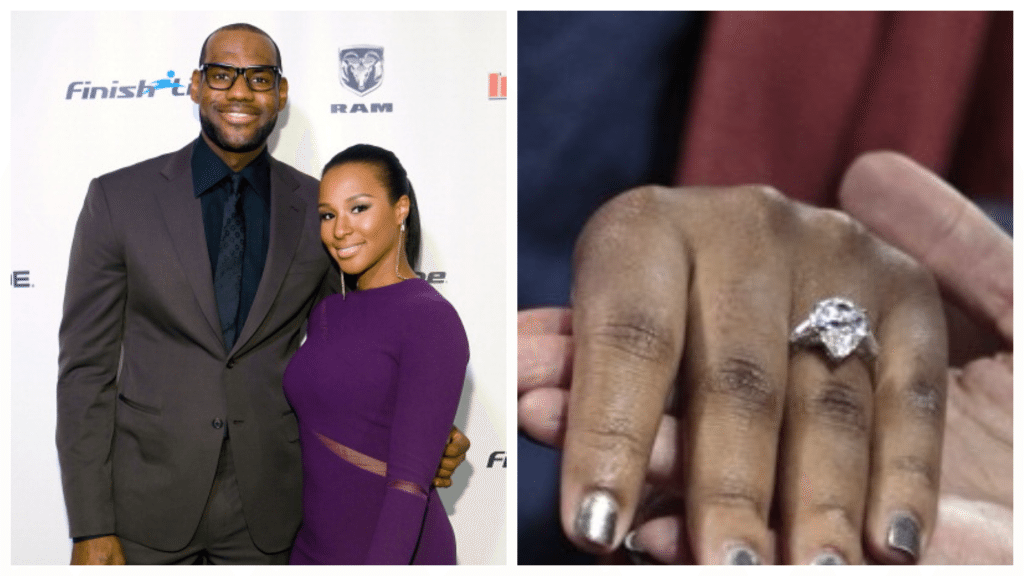 LeBron popped the big question to his high-school sweetheart Savannah Brinson like a king with a $300,000 engagement ring. The couple tied the knot in a 3-day wedding ceremony in San Diego and later splurged on a trip to Italy for their honeymoon. They now have three kids and one of them, Lebron James Jr. is already making waves as a basketball player.
If Lebron James continues at this pace, he could soon be joining the likes of retired Mike Jordan at the billionaires club.