Autism is prevalent and can affect people of all ethnic, racial and socioeconomic groups. The disorder, which limits a person's ability to relate and communicate with other people remains hugely misunderstood. Therefore, it is not in the place of non-professionals to diagnose this disorder. But this hasn't stopped people including those without much experience to speculate that Barron Trump, the last son of Donald Trump, falls on the Autism spectrum. On this note, Barron Trump's protective parents have kept him out of the spotlight despite the fact that since his dad became president, the first family has always been in the public eye.
Also, there's the White House rule that limits media coverage on the president's children until they become legal adults and except the child is publicly spotted with his parents. As a result, pictures are also usually off-limits, allowing the President and his wife to succeed in tucking the young man away from the public eye.
However, even in the face of these rules and the stigma surrounding autism, there have been public queries as to whether Barron Trump is autistic or not. These facts about the US first son should help clarify any further speculations.
Everything To Know About Barron Trump 
Barron Trump is the only child born to Melania and Donald Trump. The US first son was welcomed into the world on March 20, 2006, making him Donald Trump's fifth child. Being the only child of Melania Trump, the First Lady, she doesn't hesitate to share the joy of having him with the public. The former model describes motherhood as the most important role she's ever had.
The youngest son of Donald Trump grew up in New York City where he lived with his mother for years, before finally moving to Washington, D.C, in June 2017, halfway through the president's first year in office.
It is safe to say that Barron Trump is a unique presidential child in many ways. First off, he is the first boy to live in the US White House since John Fitzgerald Kennedy Jr. The most recent presidents, including Bill Clinton, George Bush, and Barack Obama, have been fathers to only girls. Other past presidents have had boys, but they were all grown-ups living independently away from the white house.
Secondly, for more than three decades, it's been a tradition for every president's child to attend Sidwell Friends which has campuses in both Columbia and Maryland. However, Barron Trump, who is a keen soccer player, has made history as the first presidential child to attend St. Andrew's in Potomac, Maryland.
It is unclear why the first family chose that particular private school for their son. But Barron's mom, Melania, seems to be very comfortable with the decision and has hailed the school for its commitment to academic excellence and diverse community.
The school, which was founded in 1978 boasts of 580 students from preschool till twelfth grade. Barron who was in fifth grade at Columbia Grammer and preparatory School in New York allegedly joined the school in sixth grade.
Does He Fall On The Autism Spectrum?
As a first son, Barron's every move and behavior are covered and scrutinized by experts and the media. As such, some conspiracy theorists and some in media circles have speculated him to be a special needs child.
The speculation was further fueled by a 2017 article written for the Santa Monica Observer in which media personality, Samuel Alioto described him as socially awkward, and fidgety.
He also pointed out how Trump's youngest son, who has a lanky tall frame, declines to talk or shake hands, which according to him were alarm bells of an autistic person and possible pointer that the FLOTUS son could be on the spectrum. There are other 'unusual' habits that have allegedly been observed over the years such as wobbly walks, not speaking or shaking hands, and engaging in repetitive behaviors.
More so, considering the fact that there is a correlation between autism and paternal age, the autism claim continues to mount for Barron who was born when his father was 60 years old. Interestingly, President Trump was once known as a vaccine skeptic and also raised eyebrows when a link between vaccines and autism was allegedly established. Moreover, Melania Trump's decision to avoid putting her son in the limelight, including the delay in moving with Barron from the Trump Tower to the White House, may just be another pointer that she has a special needs child.
The one time he made a rare public appearance at the 2018 annual White House Egg Roll, he was seen hanging back with his parents as a spectator while his younger nephews and nieces made the most of the event. It came as no surprise that some folks also linked the first son's action at the Egg Roll to the autism speculations.
The rumors were further heightened when an autistic man named James Hunter made a YouTube video which speculated that Barron is on the autism spectrum. Hunter said he wanted to explain to people that Barron Trump's weird behavior might actually be due to a condition, and urged people to stop bullying him. Although Hunter claimed the viral video was made from a place of empathy, his 'good intentions' quickly spun out of control on social media.
Hunter later publicly apologized and took down the video after Melania Trump threatened legal action against him for bullying. Interestingly, it is believed that Barron might be bullied for his autism by other boys which made the First Lady choose to focus on social media bullying as her cause.
While some think Barron is a normal boy whose behavior is being overanalyzed, others think differently with the majority suggesting he could be the regular lad whose father's action constantly embarrasses.
Regardless of what anyone thinks, it is very unsettling for people to speculate whether a person, more so a child is autistic. If Barron Trump is truly a special needs child, it should be his or the Trumps' prerogative to decide when that information should be made public.
See Also: What Is Tiffany Trump's, Financial Standing? Does She Have A Boyfriend?
Here's What Barron Trump Is Up To Now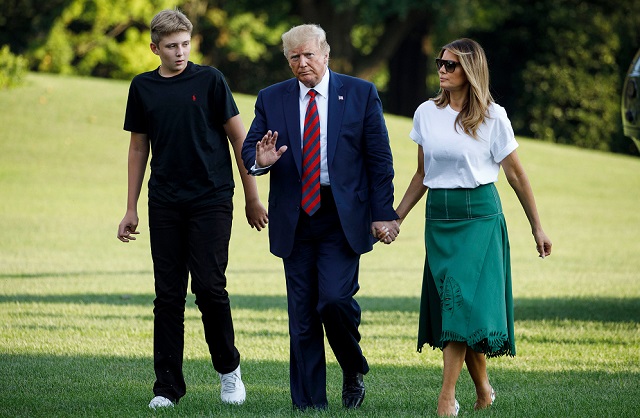 Young Barron Trump is mostly out of the political spotlight and is more commonly seen traveling, boarding, or alighting Air Force One with the President and First Lady. From what we learned, he is also very much interested in sports.
In November 2018, while speaking at a forum at Liberty University, the First Lady revealed that Barron isn't on social media and that he entirely focused on sports. Donald Trump later hinted on the particular sport Barron might be interested in when he said he would have a hard time allowing his son to play football given that the equipment was not as good as he had anticipated.
How He Has Grown Over The Years
Barron Trump was only eleven-year-old when his father became the president of the United State. Over the last years of being in the public eye, he has changed in all aspects most especially in his physical appearance.
While the first son's official height hasn't been publicly disclosed, recent photos show he's towering above his 5'11" former model mother and his 6'3″ tall father. Though still focused on his academics, Barron seems to have developed his own style and a keen interest in fashion, just like his mom, Melania.