Net Worth:
$12 million
Age/Date of Birth:

31 years old (October 22, 1992)
Height:

6 feet (1.83m)
Ethnicity/Race:

Black
Nationality:
British
Wife or Girlfriend:
Amber Rose (Forer Girlfriend)
Parents:
Father: Kevin Cornelius Emmons
Mother: Heather Carmillia Joseph
21 Savage is an American rapper from Atlanta Georgia who has a net worth of $12 million.
He entered the music scene in late 2014 and got his big break in 2016 featuring on XXL's Freshman List, a top 10 list showcasing underground rappers on the rise. Within just a year in the hip-hop game, 21 Savage had at least 4 songs featured on the coveted Billboard Hot 100 list including two songs featuring Drake and Meek Mill. Savage revealed in an interview that he makes as much as $25,000 per show. He has been described by producer Metro Boomin as one of the last real street fellows making music.
21 Savage's Real Name and Background Details
Before he became rich and famous, 21 Savage, like his moniker implies, savaged his neighborhood and beyond. He was named Shayaa Bin Abraham-Joseph and was born on October 22, 1992, in Plaistow, London, England. The rapper was largely raised by his mother, Heather, alongside four brothers and six sisters. With much of his childhood spent on the streets of DeKalb County, Georgia, Savage began living rough from middle school. In one of his interviews, he confessed to bringing a gun to school to threaten a kid who trash-talked him.
Savage spent most of his school time in detention and got expelled from each of the DeKalb County schools he attended. In the 7th grade, he was caught with a gun. Outside school, Savage ran his gang and robbed people. However, a 2013 operation that went wrong changed his life for good. Savage was shot 6 times while his best friend was killed.
To turn a new leaf, Savage turned to rap music, putting his wild experiences and emotions into words. Fortunately, Savage's lyrics resonated with a lot of people, including Key, an underground veteran who offered him priceless career advice while introducing him to a host of local producers.
How He Adopted His Stage Name
Shayaa Bin Abraham-Joseph used to live in block 21 at DeKalb County, Georgia. From what is obvious, it just occurred to him to add the block number to his moniker when he was scouting for a befitting stage name.
As for the name Savage, the rapper said he randomly came up with it while signing up for Instagram, and it occurred to him to join his house number. His gang was called the Slaughter Gang.
Analysis of His Net Worth, Achievements and Other Financial Rewards 
A few years ago, 21 Savage's net worth was estimated at $4 million but as of 2021, it is believed that he is worth as much as $12 million. Needless to say, a bulk of his wealth is the financial reward of his musical career. His debut single "Picky" released on November 12, 2014, immediately appealed to Atalanta natives. The song was included in his debut/flagship mixtape titled The Slaughter Tape which was released in June 2015. He further announced his presence with the release of a follow-up mixtape titled Slaughter King in December 2015. Savage also released Free Guwop (2015), an EP dedicated to his influence and fellow Atlanta rapper, Gucci Mane.
Savage's 2015 projects did enough to prepare him for an inevitable breakthrough in 2016. His second extended play, Savage Mode (with Metro Boomi), shot him to worldwide recognition. The EP peaked at #23 on the Billboard 200 and produced two Billboard Hot 100 charting singles; "X" ft. Future and "No Heart". Savage Mode sold over 500,000 copies, receiving the gold RIAA certification. X became his first platinum-certified song as it attained over 50 million plays on Spotify. Also in 2016, Savage was featured in songs by Drake (Sneakin') and Meek Mill (Offended), both of which made their way to the Billboard Hot 100 list.
After years of recording as an independent artist, 21 Savage inked a recording contract with Epic Records in January 2017. Thanks to his huge fanbase, Savage earns substantially from touring. During a post-show backstage interview in New York, the rapper revealed that he makes $25,000 per performance. He reportedly received $1 million to perform at a Bar Mitzvah in February 2017.
See Also: Lil Yachty Quick Facts
How The Rapper Spends His Money
21 Savage has flaunted his wealth on countless occasions. During a late 2016 visit to New York City, TMZ caught him walking the streets with a stack of cash said to be around $250,000. The rapper had just finished shopping at Avianne & Co Jewelers where he bought a $200,000 Rolex watch.
21 Savage boasts of having up to 12 cars, including a Ferrari given to him as a birthday gift from Drake. However, in an instant, only 6 cars were spotted in his garage. His fleet includes the 2017 Mercedes Maybach, a Chevrolet, Ford, and many more. His Atlanta Georgia home is furnished with over $500,000 worth of amenities.
Members of The Family He Hails From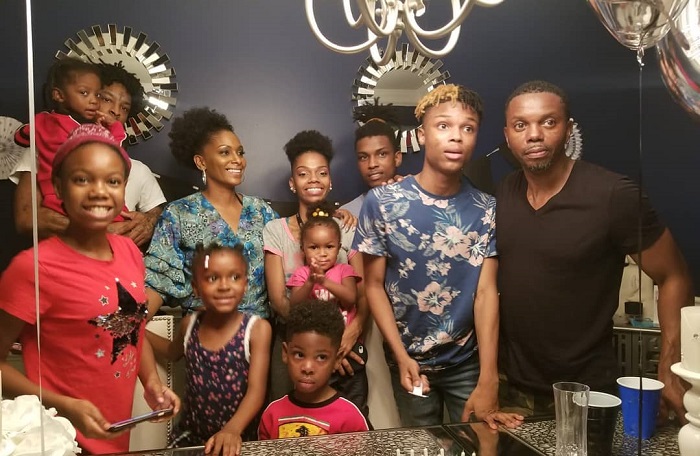 21 Savage's dad has been identified as Kevin Cornelius Emmons and his mum, Heather Carmillia Joseph; respectively, they are of Haitian and Dominica descent. Emmons is a London resident working with Westminster City Council. The rapper grew up in a large family of 11 children single-handedly raised by his mum who divorced her husband when the entertainer was still very young.
Notable among 21 Savage's six sisters and four brothers are his twin sisters Kyra and Jayda Davis who are choreographers and his deceased younger brother, Quantivayus ("Tay-Man"); he was a rapper but lost his life in a shootout after a drug deal went wrong. Tay-Man was one of the reasons 21 Savage decided to go into rapping. The rap artist got the dagger tattoo on his forehead in respect to Tay Man. The dagger represents the crew his brother belonged to.
After she left her husband, the rap artist's mum moved on with a British expatriate and an endocrinologist named Dr. Amsu Anpu who fathered more children with her. One important fact about 21 Savage's life is that he has always had the support of his mum in his career. The rapper often expresses his gratitude to the woman for always supporting him and their family, especially after his brother was gunned down.
21 Savage's Kids and Insight Into His Love Life
It seems the rapper is presently single and taking a hiatus from the turbulent waters of romantic relationships. His most publicized dalliance was with Amber Rose, who procured a promise ring worth $50,000, following her declaration that she was expecting a marriage proposal from the rapper. She is nine years older than him and the duo got together in 2017, but by March the next year, their relationship had already hit the rocks after Savage accused Rose of infidelity; though it was later established that she never cheated. Rose was the wife of Wiz Khalifa and had a son with him.
Before Amber Rose, Savage dated Tommy Lee, she was on Love & Hip Hop: Atlanta, and they were an item for a brief period in 2016. Besides, we witnessed model Rubi Rose on VladTV where she admitted to dating the rapper when she was younger.
At 19, the rapper had already fathered kids with undisclosed women. In all, he has two sons and a daughter. Savage hasn't disclosed much about the mother of his kids but it is obvious that he's a good father. He once expressed that he wants his children to see him as a superhero and, that he will do whatever he can to make sure they don't have a childhood like his. The names of his kids are Kamari, Ashaad, and Rhian.
Profile Summary
First Name:
Shéyaa
Last Name:
Abraham-Joseph
Also Known As:

21 Savage, The Slaughter King
Sex/Gender:

Male
Profession:

Rapper, songwriter and record producer
Famous For:
EP collaboration "Savage Mode"
Colleges/Universities Attended:

N/A
Educational Qualifications:

N/A
Religion:

traditional African religion Ifá
Birthday & Zodiac

Age/Date of Birth:

31 years old (October 22, 1992)
Zodiac Sign:
Libra
Birth Place:

Plaistow, London, England
Nationality:
British
Ethnicity/Race:

Black
Country of Residence:

United States of America (USA)
Physical Attributes

Height:

6 feet (1.83m)
Weight:

72 kg (159 lb)
Eye Colour:

Brown
Hair Color:

Black
Other Body Measurements:

N/A
Relationships

Marital Status:

Dating
Spouse/Partner:

Amber Rose (Former Girlfriend)
Family and Relatives

Father:

Kevin Cornelius Emmons
Mother:
Heather Carmillia Joseph
Children:

3 Children (Names unknown)
Siblings:
Quantivayus Joseph
Jayda Davis
Kyra Davis
Other Relatives:

N/A
Net Worth
Estimated Net Worth:

$12 million
Salary:
N/A
Source of Wealth:

Album sales