Nayvadius DeMun Wilburn better known as Future is an American rapper with a net worth of $8 million. Here's a breakdown of the rapper's musical career and his prestigious chart-toppings.
His Early Life and How He Started
Future was born on November 20, 1983, in Kirkwood Atlanta, Georgia and raised by his mum who worked as a 911 operator. Though he grew up in the streets, Future was also attracted to school as an adolescent and wrote poems inspired by reading William Shakespeare novels. He later quit school for street hustles after attending Columbia High School. Future was once shot in his right arm during his teenage days but years later gave up the streets to face his musical career.
His musical journey began with a musical group called The Dungeon Family from where he first began to use his current nick. Among the group was Rico Wade who is a record producer and Future's first cousin. Rico Wade encouraged Future to actively pursue a career as a rapper. Describing Wade, Future has once said; "He is the mastermind behind my sound". Future initially ventured into the music business by working behind the scenes through songwriting. He wrote songs for both unknown and popular artists such as Ludacris as well as helping his cousin Rico Wade who had talented artists from all over the world in the Dungeon on various projects.
Like most rappers, Future began with mixtapes. He released a series of mixtapes between 2010 and 2011 including Dirty Sprite, 1000, True Story and also collaborated with other rappers like Gucci Mane.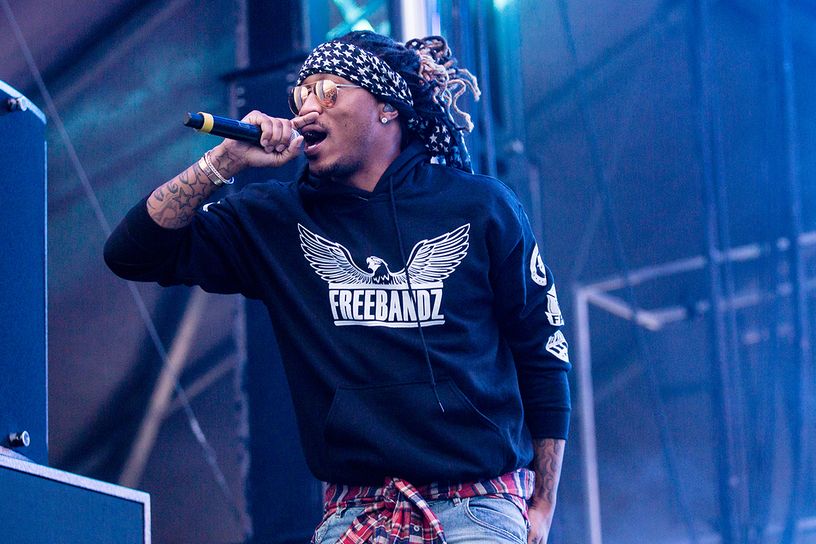 A Close Look at Future's Net Worth, Stardom and Musical Breakthroughs
In September 2011, Future signed his first major recording deal with Epic Records. He continued to release successful mixtapes that enjoyed many positive reviews. Via his Freebandz Record Label, Future released his debut album "Pluto" on April 17, 2012. It featured the remix to his previous songs like Tony Montana ft. Drake and Magic ft. T.I. He also collaborated with other stars including R. Kelly and Snoop Dogg. Magic was Future's first song to appear on the Billboard charts.
Future's compilation mixtape "F.B.G.: The Movie" released in January 2013, was certified platinum. After much procrastination, his sophomore album "Honest" was released in 2014. The album produced hit tracks with features from artists like Kanye West, Ciara, Rihanna and more.
His third studio album DS2 was released in 2015. Later the same year, Future collaborated with Drake to release a mixtape "What a Time to Be Alive". The mixtape debuted atop the Billboard 200, Billboard R&B Charts, and Billboard Hot Rap Songs. The success of the album made the Future the first rapper in 11 years (since Jay Z in 2004) to release two chart-topping albums in a single year. Future's fourth studio album "Evol" was released in February 2016. His 2017 albums, "FUTURE" and "HNDRXX" stood him out as the first artist in history to have back-to-back number one debuts after release.
The huge success of his music has undoubtedly earned him the millionaire status. A report by TMZ in late 2015 revealed that Future makes $150,000 per 45-minute performance. He has a net worth of $8 million. Future who says he makes 'astronaut music' (music on the highest level, straight from the soul and with no boundaries) has also been a recipient of various awards. He has won the BET Hip Hop Awards twice; his 'Move That Dope' won him the best Club Banger in 2014 while his '56 Nights' earned him the Best Mixtape award in 2015. He is also the winner of the Best Hip Hop Video award by Much Music Video Awards for 'DnF' featuring P Reign and Drake.
Meet His Kids And Baby Mamas
The rapper has four children (three sons and a daughter) with four different women: Jessica Smith, Brittni Mealy, India J, and singer Ciara.
In 2013, Jessica Smith, one of Future's baby mamas slammed him with a lawsuit for neglecting his son. The case was eventually closed after Future and Smith reached a settlement, but a few years later, she demanded an increase in child support from the rapper due to his failures as a dad, his extravagant lifestyle in the media, as well as his skyrocketing career and substantially increased income.
Future and Ciara were engaged between October 2013 and August 2014 and share a son named Future Zahir. There were allegations that Ciara called off the engagement due to Future's infidelity. Following their breakup in 2014, the singer whose relationship with the rapper began while working in the studio promptly removed her tattoo of his initials that same year. In his HNDRXX album, Future addressed Ciara, their breakup, and the pain that it caused him. The songstress who is currently married to Seahawks QB Russell Wilson and has a baby girl for him sued Future in 2016 for defamation, slander, and libel in relation to their son's custody rights.