At the center of many of the greatest songs ever composed in the history of the world is the guitar. The musical instrument that could take the crown as the most important instrument ever invented in the history of music. The guitar's inspirational and transcending effect on music has made it one of the most coveted music instruments in the world. When you tag on the name of a music icon as a previous owner of a guitar, then you start seeing some of the most expensive prices ever shelled out for the string instrument.
For instruments such as this, they are sold at an auction, for everyone who can afford it to battle over. The reward? Owning a piece of music history. We took a look at the most expensive guitars ever sold. Check out where your favorite music icon's guitar places on the list.
Most Expensive Guitars Ever Sold at Auction
1. Fender 'Reach Out to Asia' Stratocaster
Price – $2.7 million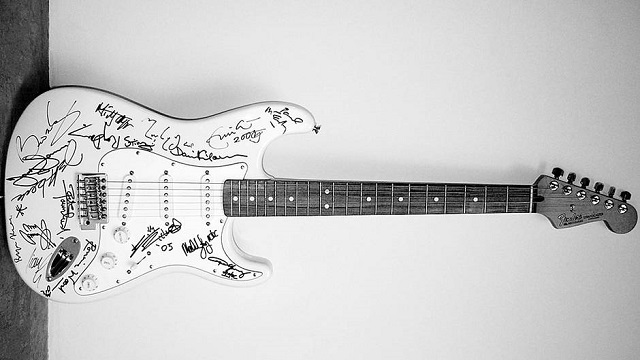 First off is this Fender 'Reach Out to Asia' Stratocaster. It reportedly cost Fender between $15 – $20,000 to produce this special guitar. The guitar was created to support the Reach Out to Asia campaign, which was benefitted Asians who had suffered the devastating effects of the 2004 tsunami.
The idea was conceived by Bryan Adams, proving once again that Canadians genuinely are a blessing to the world. But the Stratocaster did not achieve its crown as the most expensive guitar a person ever paid for by the special design. No, it did because after the guitar was produced, 19 iconic rock and roll musicians signed it.
Names like Eric Clapton, Sting, Paul McCartney, and several others signed it, giving it its astronomical value. Then again, it is fair that the most expensive guitar ever sold at an auction is a combination of all the heavyweights in music history.
2. John Lennon's Gibson J-160E
Price – $2.41 million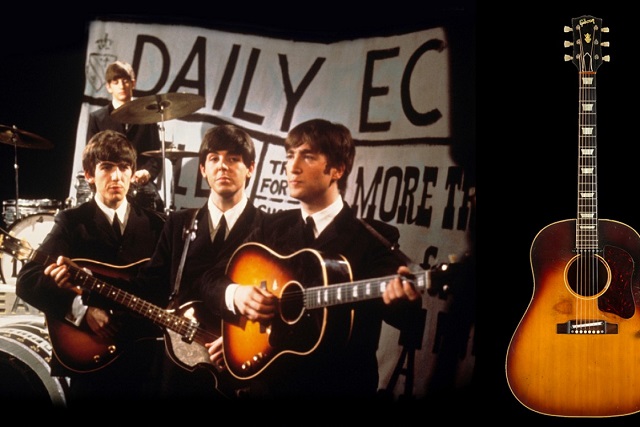 Following the group victory that is the Stratocaster, individual records begin with the Gibson J-160E that was once owned by Beatles songwriter, John Lennon. Aside from the fact the music legend once owned the guitar, it is also unique for being the guitar he used to compose songs like She Loves You and I Want to Hold Your Hand.
Owning a guitar such as this isn't just owning a piece of music history, but rather a part of global history because of the effect the Beatles had on the world. So, when the chance came to own it at Julien Auctions on November 7, 2015, someone shelled out $2.41 million, to place it second on this list.
3. Jimi Hendrix's 1968 Fender Stratocaster
Price – $2 million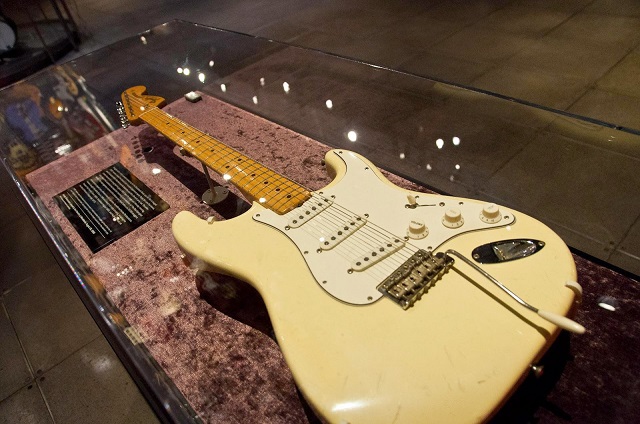 The only thing keeping a phrase like 'Jimi Hendrix is the greatest guitarist ever' from being a universal constant is its conflict of the assertion with the scientific method. Aside from that, it is a globally accepted opinion that the Seattle, Washington born guitarist is the greatest of all time.
Therefore, when his 1968 Fender Stratocaster, one of the guitars he played at THE Woodstock Festival, where he made history with his rendition of the Star-Spangled Banner, came up for auction, it was destined to set records.
That record was achieved by Paul Allen, the co-founder of Microsoft, and guitar obsessive. He paid $2 million in 1998 to add this guitar to his sprawling collection.
4. Peter Green/Gary Moore's 1959 Les Paul
Price – $2 million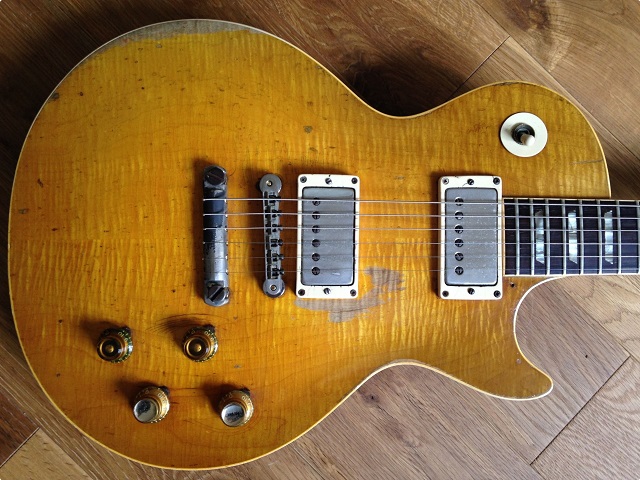 Les Paul is one of the most popular guitar brands in rock and roll, and it is no surprise that one of them made it to the top five of this list. Tying with Jimi Hendrix's Stratocaster, this Les Paul, which was initially owned by Peter Green of Fleetwood Mac, fetched $2 million at auction. It was bought by another iconic guitarist, Metallica's Kirk Hammet, from Richard Henry Guitars in 2014.
In addition to being the former property of Peter Green, it was also used extensively by Gary Moore, making this a double dose of iconic value. Does this guitar still work? Yes. Despite the fact its been used by two performers, it still works, although it has suffered some wear due to the usage. It is still worth paying $2 million for.
5. Jerry Garcia's Wolf
Price – $1.9 million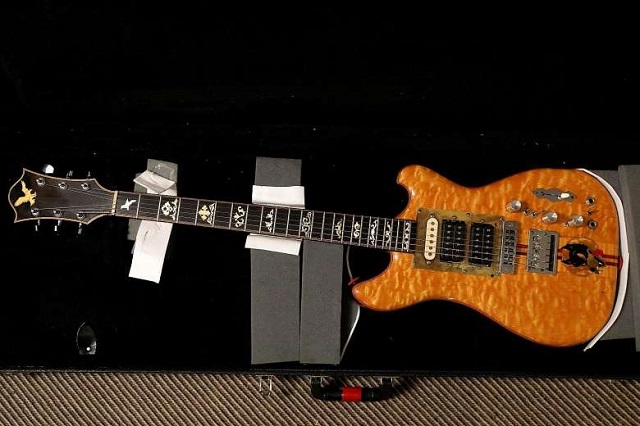 There are two of Jerry Garcia's guitars on this most expensive list, and the first of them is the Wolf, which was sold for $1.9 million in 2017. When the guitar initially came up for auction, it was further down the list after it sold for $789,500. However, when you own a piece of music history such as this, it is as much a prized possession as it is an investment.
When it came up for auction again in 2017, the owner recouped a sizeable profit on their capital when it fetched more than double its price. Even more brilliant is the fact that the $1.9 million was donated to the Southern Poverty Law Center. The guitar was built by Doug Irwin and earned his 'Wolf' name because of its unique artwork.
6. Bob Marley's Washburn 22-Series Hawk
Price – $1.2 million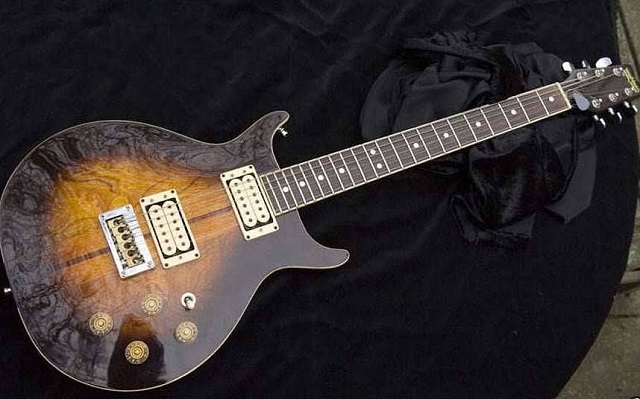 Here is a fun fact: Bob Marley only ever owned seven guitars in his lifetime. A remarkable thing considering most young adults have burned through ten guitars before they are 21 years old.
The rarity of the number of Bob Marley used guitars makes each of them one of the priciest things a person could own. One of them fetched an impressive $1.2 million when they came up for auction. It is believed that the Jamaican government bought the guitar.
It is rumored that the Washburn 22-Series Hawk owned by the Reggae legend sold for higher than $1.2 million. But, since this is the popularly quoted price, his fans would have to settle for sixth place among the top ten most expensive guitars ever sold at auction.
7. Keith Richards' 1959 Les Paul Standard
Price – $1 million
It takes a special kind of songwriting talent to have fourteen songs among the greatest songs of all time. That is the kind of magic Keith Richards was capable of when he had a guitar in his hands to compose and perform a song.
One of those guitars is the second Les Paul to make this list – the 1959 Les Paul Standard. It sold for $1 million when it came up for auction in 2003, which at the time, had it high up the list of the most expensive guitars ever sold.
Owning this particular Les Paul also comes with a bonus; you would own one of the rarest types of guitars in the world. The 1959 Les Paul Standard is particularly referred to as the holy grail of electric guitars.
8. Bob Dylan's 1964 Fender Stratocaster
Price – $965,000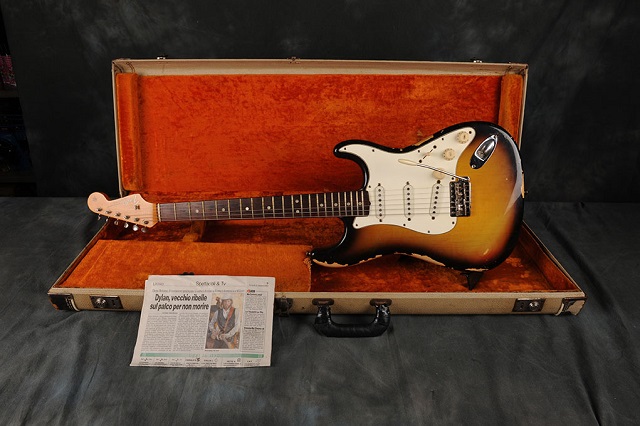 After seven guitars, we reach the first guitar that costs less than $1 million, Bob Dylan's 1964 Fender Stratocaster. It is the third Fender Stratocaster on this list, and one of the most popular types of guitar among professional guitarists.
This particular one, though, Bob Dylan's 1964 ax, is notable for being the guitar he played when he transitioned to electric guitars. He played it at the Newport Folk Festival in 1965, to loud boos from the crowd that had come to see him maintain folk purity with an acoustic guitar.
To say that makes this Stratocaster unique and valuable would be understating it.
9. Eric Clapton's Blackie
Price – $959,000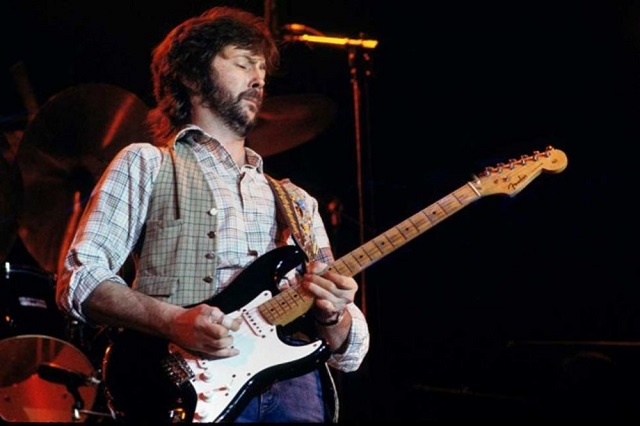 Eric Clapton has sold many of his guitars at auction to raise money for his Crossroads Center drug and alcohol recovery center located in Antigua and Barbuda. Only one of them, however, cracks the top ten most expensive guitars ever sold, and that is The Blackie.
Blackie has a background story that includes Steve Winwood, George Harrison, and Pete Townshend. Eric Clapton bought six guitars and gave one to each of them. The remaining three? He dismantled and created the Blackie out of them. To date, the Blackie is his most famous guitar, and if you guessed, it is a Fender Stratocaster.
Eric Clapton put up the Blackie for auction in 2004, 19 years after he retired it from his lineup of guitars. It was sold for $959,000.
See Also: Top 10 Most Expensive Air Jordan Sneakers Ever Sold and How Much They Sold
10. Jerry Garcia's Tiger
Price – $957,500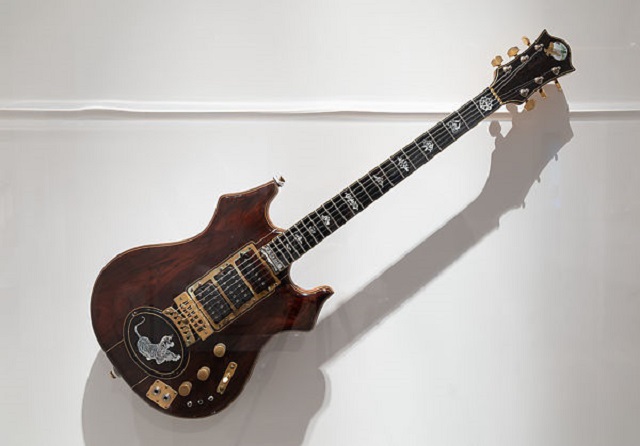 Jerry Garcia's second entry among the most expensive guitars ever sold at an auction is the tenth guitar on the list. The Doug Irwin custom guitar was used by the lead guitarist of the Grateful Dead between 1979 and 1989 as his main guitar. During this time, Jerry Garcia and the Grateful Dead exploded into global popularity thus, making the guitar that helped achieved it one of the most important and valuable music instruments in the history of music.
The guitar, named Tiger, derived from the artwork on it, is also unique for being the last guitar ever played by Jerry Garcia in public. The guitar achieved that status after its successor, the Rosebud, developed a technical problem.
With such history behind it, Tiger became one of the most sought-after guitars by collectors. So, when it came up for auction in 2002, someone paid almost a million dollars to own it.
Because of the tie between Jimi Hendrix's 1968 Fender Stratocaster and Peter Green/Gary Moore's 1959 Les Paul, honorable mention goes to Eric Clapton's Gibson 1964 ES335 TDC and his Martin 1939 000-42 Acoustic. Both of them fetched $847,500 and $791,500 at auction, respectively. At the time of sale of the 1939 Acoustic, it held the crown as the most expensive amount anyone ever paid for a guitar.