Travelling In Any Of These Luxurious First Class Cabins Is Worth The High Pay
Advertisement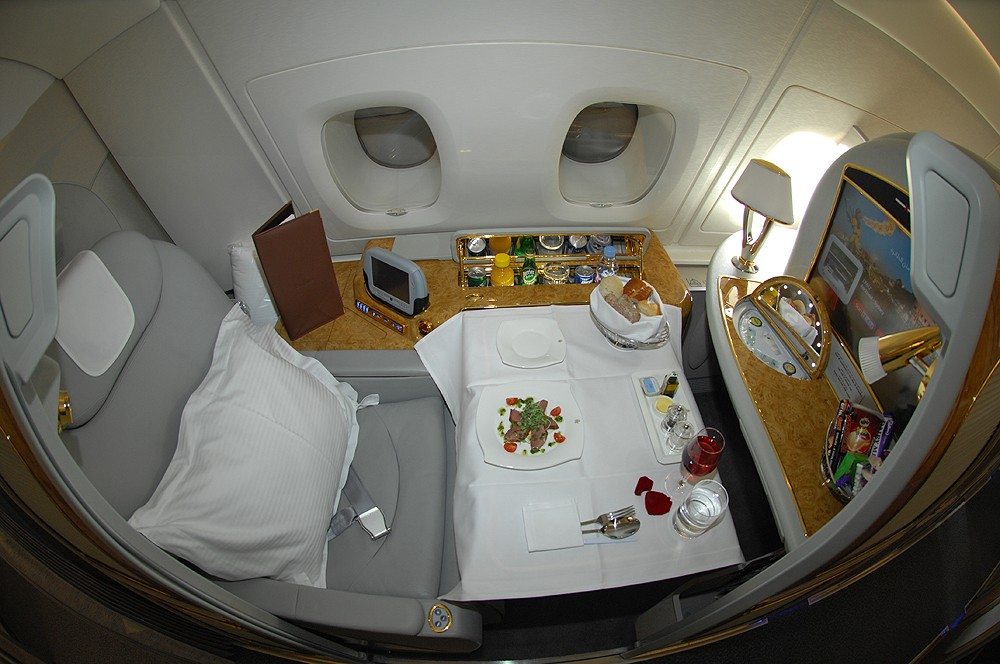 Of the three major classes of cabins available on commercial flights, the first class appeals more to the richest of the rich. To complement its pricey ticket, the first class cabin usually comes with exclusive and over the top amenities that passengers of other cabins can only wish for. From check-in to arrival its passengers are treated with utmost importance, they get to enjoy a bigger space compared to the Lilliputian of the other cabins, a separate restroom to avoid annoying queues, wider viewing system just for maximized fun, your own private butler in some spectacular cases (Etihad's Residence) and many other exclusive perks.
In this 21st century where airline transportation is increasingly becoming common, many airlines have emerged, thus increasing competition among them. In a bid to woo potential customers, airlines have come up with exclusive eye-watering features to maximize travelling experience. So, if you're a millionaire with 5 figures to spend on airline fare, take a look at these top ten World's Best First Class Airline Cabins, and chose the one that catches your fancy most.
10. Korean Air – First Class Suites
The Korean Air First Class Cabin offers 5 different types of sitting/sleeping positions. The latest style- Kosmo Suite 2.0 (pictured above) measuring 79 inches long and 24 inch wide offers the most privacy with its sliding louvres offering views from inside but not from outside. The Kosmo suite is the largest measuring 79 inches long and 26.5 inches wide. Featuring a joint-less seat mat a footrest, and back support which are all adjustable it is arguably the best for long distance flights. The three other suites are Kosmo Sleeper (78 inch long), Sleeper and Sleeper Ottoman which all features at least 17-inch high-resolution LCD screens, reading lamps and ear friendly headsets.
9. Thai Airways – Royal First Class
Thai Airways' Royal First class cabin is available on its Airbus A380 (pictured above) and Boeing 747s. Both offers about 8 ft long semi-private suites but the former is larger with its 180 degree seat measuring 27 inches in width while the later measures 23 inches. Its passengers get to enjoy a full body massage at its Royal First Lounge of Bangkok's Suvarnabhumi Airport while they wait for their flight. And when its boarding time, the hostesses welcome you with a glass of champagne, which you can enjoy while entertaining yourself with is 23-inch TV which includes 130 films, 300 television programmes, 500 music CDs and a great variety of games and special features.
8. All Nippon Airways – First Square Cabin
Advertisement
ANA is Japan's seconds largest airline. Its first class box-like suite offers privacy, luxury, comfort and space. Perhaps, its most distinguishing feature is the availability of numerous storage space- there is a mini closet for your suite and shoes, a space underneath the rotatable chair for baggage including many other compartments to store whatever you might like. Dine and wine on the adjustable dining table and cocktail table. For entertainment, there is a 23-inch monitor available from which you can view the latest blockbusters, original ANA programms and sports. Listen to your favourite music genre or listen to audio books from its Sony digital headset.
See Also: Inside of The $607 Million Boeing 747 Belonging To Mystery Billionaire
7. Qantas First Suite
Australia's largest airline Qantas has its first suite on international flights which features an adjustable arm-chair that can be converted a 2 m long 180 degree bed. There is also an ottoman for guests to your suite. Bedding features super comfy pillows, duvet and mattress made from sheepskin. On-board dining features eight-course tasting menu or a la carte menu offering signature dishes. All meals are cooked and designed on-flight by chef Neil Perry. Qantas recently took inflight entertainment to the next level becoming the first airline to issue Samsung virtual reality headsets to its first-class passengers. So passengers can either enjoy 3D entertainment from the headsets or go with the traditional 17-inch touch screen monitor. Other mouth-watering perks include SK-II skincare products, toiletries, a 100% cotton jersey pajamas, slippers and many more. Upon arrival a chauffeured limo will drive you to your destination.
6. Lufthansa First-Class Suite
German's Lufthansa airline is the largest in Europe. Its First Class Suite on A380 offers ergonomic seats that can be converted to 2 m long beds. There are automated air humidifiers which regulate cabin humidity for passenger comfort. Michelin-star-standard delicacies and caviar are served together with wines curated by world champion sommelier Markus Del Monego. For entertainment, there is a Bose headset and 100 movies in eight different languages. Passengers also have access to 200 TV programmes, TV series, latest news and sports highlights. Audio books and music are not left out. On its 747s, each seat has a separate bed. A chauffeur awaits you upon arrival.
Advertisement