Monica Lewinsky has built up a net worth of $1.5 million and is steadily reclaiming her public reputation, giving credence to the saying: what doesn't kill you, makes you stronger. At an age when most of her peers were still trying to find their path in life, the young lady found herself in the middle of one of the most scandalous affairs in American history. What would follow was a frenzied presidential impeachment as well as vicious tabloid coverage and Lewinsky thought of ending it all on several occasions.
Thankfully, she did not toe this path but rather decided to keep on keeping on, a decision that has paid off. Today, Monica Lewinsky is not only a foremost anti-cyberbullying advocate but is also an enterprising columnist. She is also a respected speaker on the topic and has appeared on several TV shows.
Monica Lewinsky is No Stranger to Wealth as She Hails from an Affluent Family
Perhaps if she were some poor girl that hailed from a less privileged background, the public sentiments might have been more sympathetic towards Monica Lewinsky back in the day. But at last, we will never know as she hailed from an affluent family which was part of the reason she got the White House internship in the first place.
As the story goes, Lewinsky grew up in Bel Air, Los Angeles, the daughter of an oncologist dad and an author mom. Her family was quite well off and she got to attend several elite prep private schools. Upon obtaining her college degree in 1995, she called upon her family connections to get an unpaid internship at the White House that same year. This was meant to be the start of a long and fulfilling career path but it turned out to be the opposite as it culminated in an affair that would dog the young lady for life.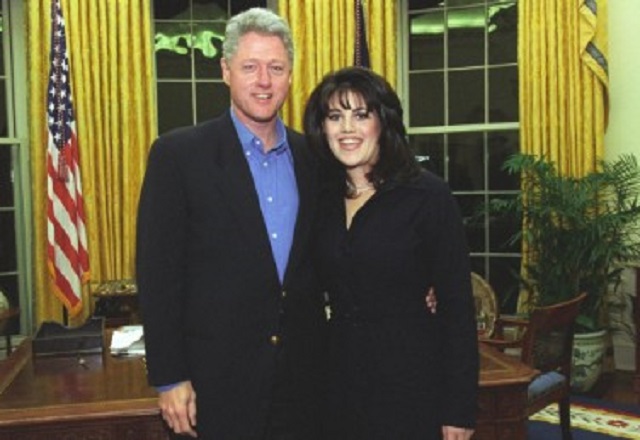 She Earned Millions of Dollars from Book and Endorsement Deals in the Aftermath of the Impeachment Saga
Though the two parties involved denied the affair for the longest time, it later turned out that Monica Lewinsky and then-president Bill Clinton had multiple sexual encounters between 1995 and 1997. Such a revelation threw America into the kind of frenzy that the nation had only witnessed on rare occasions. While the GOP swooped down to impeach and possibly remove Bill Clinton from office, the tabloids had a field day with Lewinsky. By the end of the whole saga, she escaped prosecution but was beset with huge legal fees.
The young lady was also saddled with a level of infamy that she never wanted and so decided to take advantage of it and earn some money to pay her legal fees. Lewinsky received half a million dollars for her participation in penning the 1999 memoir, Monica's Story. She then pocketed $1 million from a widely-watched TV interview with popular TV host, Barbara Walters, that same year. Monica Lewinsky was also tapped to serve as a brand ambassador for several companies, including dieting brand Jenny Craig. Her contract with the company brought her $300,000 and all went towards living expenses as well as legal fees.
She Also Launched a Handbag Line Known as The Real Monica Inc and Hosted Several TV Shows
Another source that contributed to Monica Lewinsky's net worth in the aftermath of the impeachment saga was the launch of her own handbag line. The former White House intern was forced to think in that direction as a result of the long periods of isolation that she endured during the investigation. Prosecutors forbade her from going out or contacting her friends and so Lewinsky found herself holed up in a dreary Washington apartment with not much to do. She began knitting and sewing and soon ended up with an exquisite handbag. Her friends saw it and complimented it and she decided to produce them on a massive scale.
The bags retailed for about $70 to $130 and were sold online. Whilst retailing her bags, Monica Lewinsky also occupied herself with TV work. She appeared in an HBO special undercover series and MTV's The Tom Green Show. She was then tapped to host a six-episode show for U.K. Channel 5 in 2000 titled Monica's Post Card. Three years later, Lewinsky reappeared on American TV screens to host the Fox dating reality series, Mr. Personality.
The show involved a lady picking out her preferred husband from a roaster of 20 bachelors based on their personalities rather than their looks. It is not known what Monica Lewinsky received for hosting these shows but it could have been anywhere from $250,000 to as much as $1 million.
Lewinsky Would Disappear From The Public Eye For Nearly A Decade, Turning Down Multi-Million Dollar Offers In The Process
All of the media work and business ventures that Monica Lewinsky embarked on was an attempt to speak up for herself, as well as move on with her life, but the world refused to let her be. Some hurtfully insinuated that she was capitalizing on her notoriety for gain and so she decided to escape from the toxic atmosphere in the U.S. This was in 2005 and she sought refuge in London.
During this time, Lewinsky was approached with offers worth as much as $10 million but she turned it down as part of efforts to repackage herself. She also studied for a master's degree in social psychology at the prestigious London School of Economics. With the master's degree in hand, Lewinsky tried to land several traditional jobs but this proved difficult as her past came up to haunt her in interviews. This situation lasted for nearly a decade before the lady decided to reclaim the narrative by getting back into the public eye in 2014.
She Is Now a Prominent Advocate Against Cyber Bullying
Monica Lewinsky's decision to come back to the public eye was partly motivated by the 2010 death of Clementi Tyler, a college freshman who committed suicide after he was secretly filmed and streamed kissing another man. The story brought back painful memories of the culture of shaming to Lewinsky and so, she decided to join the anti-bullying efforts. She kicked off things with a powerful op-ed for Vanity Fair in June 2014. She subsequently gave a TEDTalk on the topic in 2015.
Lewinsky remains committed to that mission to date and has spoken at several fora on the topic. She now works with several organizations on the issue, including the Bystander Revolution which was founded by billionaire author MacKenzie Scott and is dedicated to educating third parties on what they can do to combat bullying. Lewinsky became an ambassador of Bystander Revolution in 2015 and has appeared at several events for them. The role is not a lucrative one but it is nonetheless fulfilling for Lewinsky as she gets to fight against the hydra-headed monster of cyberbullying.