Fraternal twin sisters Mary-Kate Olsen and Ashley Olsen make up the famous Olsen Twins. The duo began their acting careers at 9 months old before transitioning to the fashion industry in their 20s. Thanks to their Dualstar Entertainment Group LLC which brings in annual revenue of $1 billion, they are worth about $200 million each. In other words, the famous Olsen Twins have a combined net worth of $400 million.
Here is all you need to know about the Olsen Twins in a nutshell.
Olsen Twins Parents, Sister, and Brother
The Olsen twins were born on the 13th of June 1986, in Sherman Oaks, California to Arnette "Jarnie", a personal manager, and David "Dave" Olsen, a real estate developer and mortgage banker. Their parents divorced in 1996 after having four children. The twins have an elder brother, Trent, and a younger sister, Elizabeth who is also an actress. They also have a half-sister, Courtney Taylor, and a half-brother, Jake from their father's second marriage to McKenzie.
Their English and Norwegian ancestry kind of explains the twins' unAmerican look.
Olsen Twins Net Worth
Most of us really do wish our parents put us through show business the way the Olsen Twins' did. These kids were already earning 5 figures before they could even talk. Who doesn't want that? At just 6 months old, their mother took them to audition for the role of Michelle Tanner on the ABC sitcom Full House and they landed the role. They were reportedly the only kids that didn't cry during the auditions. Filming began when they were 9 months old. In adherence to child labor laws, they each took turns to play the role of Michelle Tanner.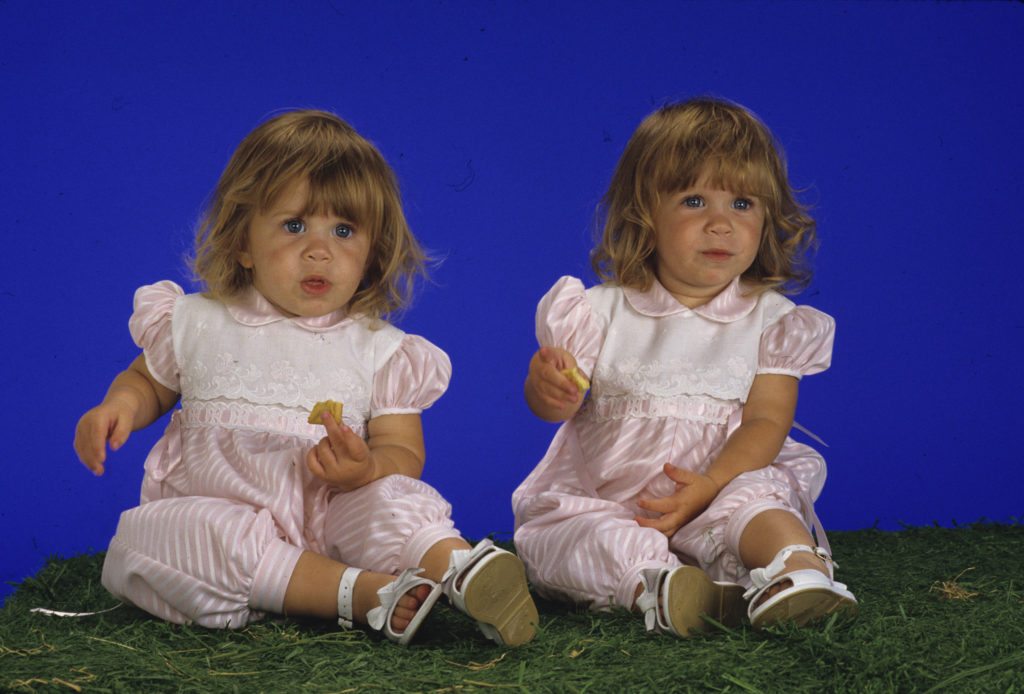 The show premiered on September 22, 1987. However, after the end of the first season, their mum got really worried about her kids and wanted to pull them off the show so they could have a normal childhood. But the Olsen Twins going by their later exploits were apparently not born to be normal. She decided they remained on the show after ABC upped their earnings. They reportedly received between $80,000 and $125,000 per episode. They reprised their role until the end of the show in 1995. The show ran for 8 seasons and 192 episodes. Calculating by an average earning of $102,500 per episode, the Olsen Twins made approximately $20 million from Full House.
In 1993 at the age of 7, their entertainment company DualStar Entertainment Group was established. When they were not on the set of Full House, the twins bolstered their income starring in other gigs, among them; 1992 Christmas TV film To Grandmother's House We Go as well as their company-produced Double, Double, Toil and Trouble (1992), How the West Was Fun (1994) as well as the musical video series The Adventures of Mary-Kate & Ashley (1994 – 1997).
In 1996 they made their feature film debut in the romantic comedy It Takes Two which grossed about $19.5 million at the box office.
From the late 1990s and early 2000s, the Olsen twins starred in sitcoms like; Two of a Kind, 7th Heaven, So Little Time and the animated series Mary-Kate and Ashley in Action!. Their subsequent Dualstar movies included; Billboard Dad, Passport to Paris, Switching Goals, Winning London, The Challenge and more. They starred in their second theatrical film New York Minute in 2004. The movie was a box office bomb grossing $23.4 million from a budget of $30 million. However, the twins received about $6 million for their role.
See Also: Lindsay Lohan Bio, Age, Height, Feet, Plastic Surgery
In addition to acting, the Olsen twins proved to be extremely marketable in terms of merchandise. Between 1992 and 2000, they benefitted from the proceeds of their fan club "Mary-Kate & Ashley's Fun Club" for which fans paid to receive their collectibles and photos as well as numerous freebies from key rings to postcards.
Their merchandise which ranged from clothes to fragrance, magazines, cassettes and even makeup items were a favourite among the tweenagers. Their Mattel produced dolls was also a huge success. The Olsen Twins officially became co-presidents of Dualstar on their 18th birthday in 2004. In the same year, they established a clothing and beauty line for teenagers sold exclusively at Wal-Mart stores.
In 2006 they signed an endorsement deal with luxury fashion label Badgley Mischka and established high-end clothing label "The Row", headquartered in New York. The brand's collection is often presented at the New York Fashion Week. The Row is available in at least 37 countries.
In 2007, the power twins added yet another clothing label, a low-priced but sophisticated "Elizabeth & James" and at the end of that year, Forbes estimated their net worth at $100 million. Dualstar Entertainment makes $1 billion in annual revenue.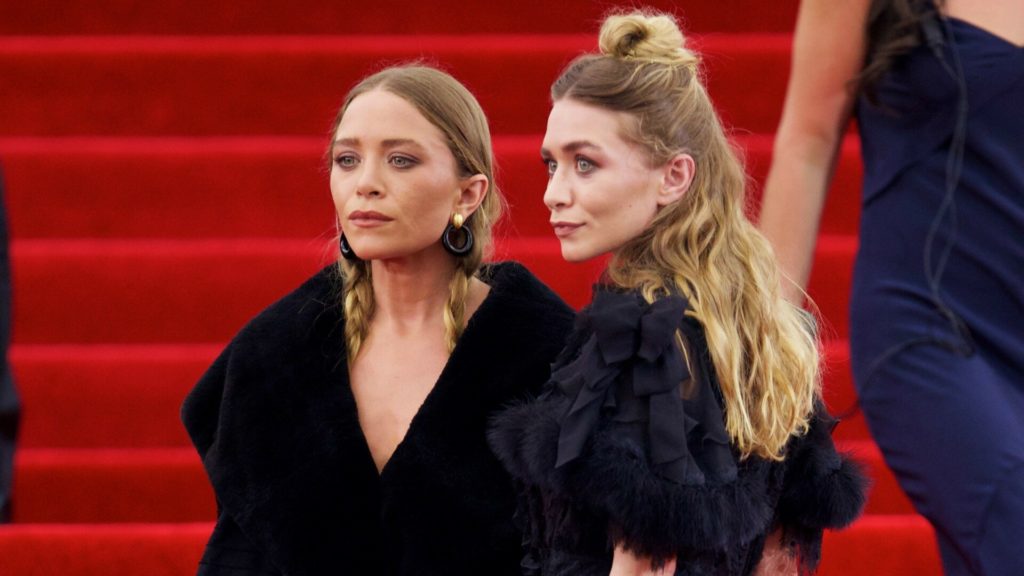 The Olsen Twins continue to upgrade and expand their fashion empire. In 2012, they won their first Council of Fashion Designers of America's Womenswear Designer of the Year Award. They won the award again in 2015. The Wall Street Journal awarded them with Innovator of the Year: Fashion Award in 2012.
The fashionistas were in 2007, jointly ranked by Forbes as the eleventh-richest women in entertainment, with an estimated combined net worth of $300 million.
Are The Olsen Twins Married?
While Ashley of The Olsen Twins is still single, Mary-Kate is currently married to Olivier Sarkozy, a French banker based in the United States. Olivier is also the half-brother of former French President Nicolas Sarkozy.
They started dating in May 2012 and supposedly got engaged in March 2014. The speculation followed photos showing Mary-Kate wearing what appeared to be an engagement ring. Consequently, they tied the knot on November 27, 2015, at a private residence in New York City.
Are The Twins Dead?
When you live your life in the limelight, death hoaxes become inevitable. Many rumors have emerged about the famous twins' death, some of which sounded so real it caused quite a ruckus.
In 2016, the headline "Ashley Olsen found dead in Italy," went viral and sent fans into a complete frenzy. Though a woman named Ashley Olsen did die, it was another blonde American woman, who just happens to have the same name as the famous fashion mogul. Ashley, 35, was found by her concerned boyfriend who hadn't heard from her in a long time. She was presumably strangled in her apartment.
Regardless of all the rumors and speculations, The Olsen Twins are alive and still raking in the millions with each tick of the clock.