Migos is an American rap group from Atlanta consisting of relatives Quavo, Takeoff and Offset. The group got their first major breakthrough in 2013 with the release of the hit single "Versace" which was later remixed by Drake. Since then, the rap trio has been on the rise, spawning a number of hits some hip-hop acts can only wish for. After staying on 300 Entertainment's roster for about a year, the group boycotted the major label in 2015 choosing instead to be managed solely by independent label Quality Control Music. The move saw their show earnings surge from $40,000 per show to $65,000 per show. The Dab pioneers have been featured by many top acts from Usher to Katy Perry, Justin Bieber and more. Here is everything you need to know about their hip-hop success.
What Are The Migos Names and How Tall Are They?
Being a hip-hop group, the key members of Migos include three rappers popularly known by their stage names as Offset (born Kiari Kendrell Cephus), Quavo (born Quavious Keyate Marshall) and Takeoff (born Kirshnik Khari Ball).
Quavo was born on the 2nd of April, 1991, Offset was born on the 14th of December, 1991 while Takeoff was born on the 18th of June, 1994.
Quavo's Height – 5ft 10.5 inches or 179.1 cm
Takeoff's Height – 5 ft 9½ inches or 177 cm
Offset's Height – 5 ft 9 inches or 175 cm
Migos Success Story
The trio Quavo (b 1991), Takeoff (b 1994) and Offset (b 1991) grew up together in Lawrenceville, Georgia. Bound by a common passion which is music, they began recording themselves from the 7th grade. In 2009, they started performing under the moniker Polo Club. They began generating buzz at local clubs, buying the DJ's drinks to play their record.
They renamed themselves to Migos in 2010 and released their debut mixtape Juug Season in 2011. Their second mixtape "No Label" included the local hit Bando which sparked the interest of ace record producers Zaytoven and Coach K. The latter is credited with exposing Young Jeezy and Gucci Mane to the mainstream.
Migos landed their big break in 2013 after releasing the Zaytoven-produced single "Versace". Released via Atlantic, 300 Entertainment and Quality Control, Versace peaked at #99 on the Billboard 200. The gold-certified single received recognition from media powerhouses like XXL, Rollingstone, Complex, Billboard, and Pitchfork. Versace was succeeded by the release of their critically acclaimed mixtape Y.R.N. (Young Rich Niggas).
See Also: Yo Gotti Biography
Record Sales and Earnings Per Show
After achieving their breakthrough, Migos went on to prove that it was far from being a one-hit wonder. The highly prolific rap trio released numerous mixtapes scoring Billboard-charting hits like "Fight Night", "Handsome and Wealthy" and "One Time".
Despite announcing in September 2015 that they had cut ties with 300 Entertainment, Migos went on to achieve a slew of milestones. They appeared on Forbes' 2015 Hip-Hop Cash Prince list with their show earnings estimated between $30,000 – $40,000 per performance. However, that number quickly surged to $65,000 per night after they left 300 Entertainment. The reason being that they were no longer bound to a 360 deal which gives the major label a cut of every revenue stream. With Quality Control as their sole management, the trio had more money left after expenses to split between themselves.
Migos' October 2015 iTunes-released single "Look At My Dab" went viral spawing a dance phenom "dabbing" which dominated 2016. Migos had people from all walks of life worldwide doing the dab dance. They ended 2016 with yet another hit "Bad and Boujee" (featuring Lil Uzi Vert) which thanks to its lyrics "rain drop, drop top" became an internet phenom, helping it achieve platinum certification and top the Billboard Hot 100.
Thanks to the thumping success of the single, Migos' second album Culture, released in early 2017 debuted at #1 on the Billboard 200.
Read More: All About Lil Boosie
Quick Facts About The Music Group
Quavo was born Quavious Keyate Marshall on April 2, 1991. Takeoff was born Kirshnik Khari Ball on June 18, 1994. Offset was born Kiari Kendrell Cephus on December 14, 1991.
Quavo is Takeoff's uncle, and Offset is Quavo's cousin.
They run their own clothing line Young Rich Nation (YRN) and record label YRN the label. According to their management, the former brings in "a couple million".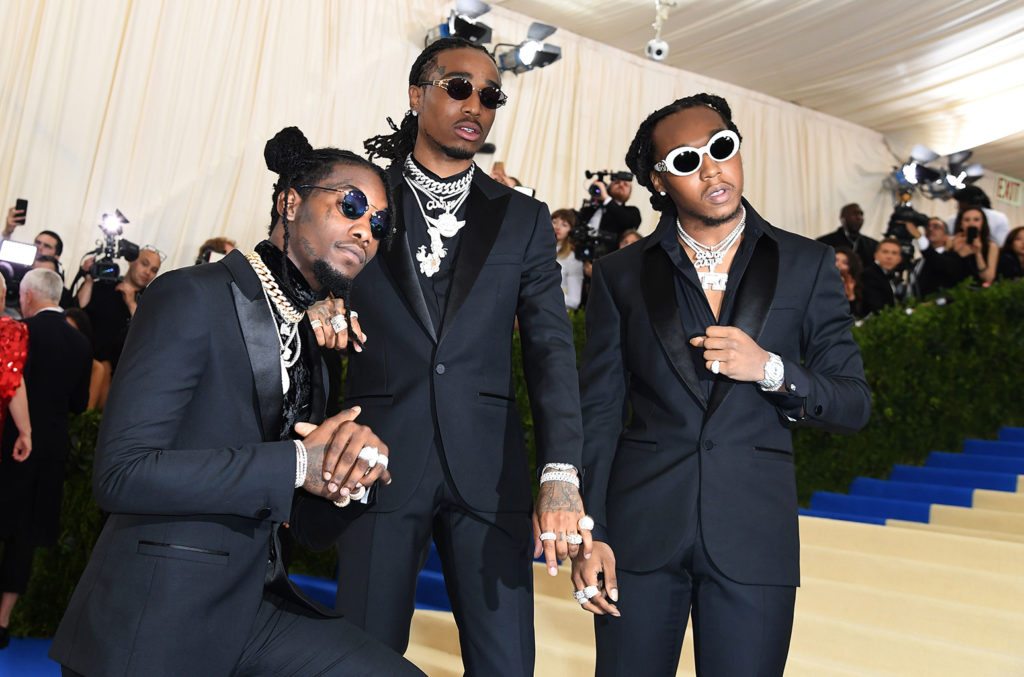 They go around with stacks of cash.
Quavo played as a quarterback on his school's varsity team Berkmar High School Patriots.
Some of their idols include Gucci Mane, hip-hop duo Outkast and the Hot Boys.
Donald Glover thanked Migos after he scooped a Golden Globe Award for his FX TV series Atlanta which he creates and also stars. In his acceptance speech, he said: "I really wanna thank the Migos, not for being in the show, but for making "Bad and Boujee. That's the best song ever."
Offset has been incarcerated and freed twice. His arrest is linked to he 2015 Georgia Southern University concert incident. Migos appeared late for the performance and played for less than the set time. Their van was later found to contain marijuana and firearms.