What is Mia Khalifa's net worth?
| Net Worth: | A little over $3 million |
| --- | --- |
| Salary: | Unknown |
| Income Sources: | Webcam modeling, her YouTube channel, live streams on Twitch, job as a sports commentator |
| Age/Date of Birth: | 30 years old (February 10, 1993) |
| Height: | 5 ft 2 in or 157 cm |
| Nationality: | Lebanese-American |
| Last Updated: | 2021 |
Mia Khalifa is a Lebanese-American media personality, webcam model, and former adult film actress who has a net worth of $3 million
It has been years since Mia Khalifa switched career paths but her name remains one of the most prominent ones in the adult film industry today. Her stint as a porn actress may not have been a long one, but it is certainly one for the records. Despite the controversy of her past, Mia Khalifa found a way to build an impressive net worth, in a rather unusual way.
Due to her fame in the porn industry, Mia Khalifa left most of her fans shocked when she announced her exit. Very few people could have guessed her move to sports journalism, if at all. Piggybacking on her already established popularity, it did not take long for Khalifa's newfound interest to become a source of income for her.
How much does she make? What is her net worth? Read all about Mia Khalifa in the scoop below.
Rise To Porn Fame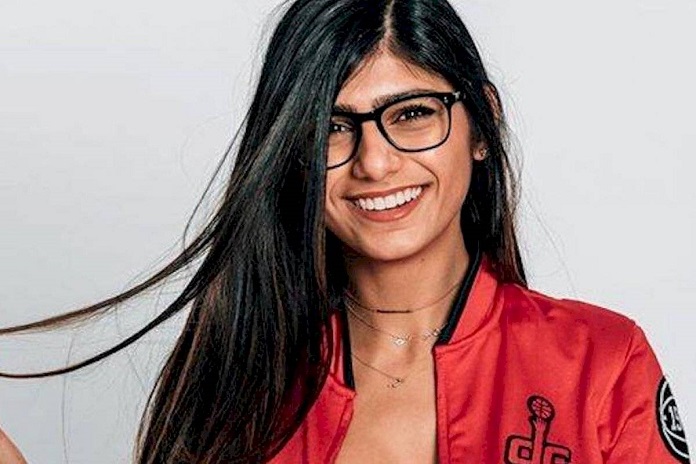 Since she moved to the United States with her family in 2000, the Lebanese-American sensation has lived there, right from when she was a child. Like many teenagers, high school was not one of Mia Khalifa's favourite stages, especially since she got bullied a lot for being awkward. Luckily, she remained in school and eventually made it to the University of Texas at El Paso where her journey to fame began.
To support herself in college, Mia Khalifa had to shuffle between waitressing and modelling gigs until she graduated and moved to Miami. There, she came across the person who would eventually set her on the path to fame.
It started with nude modelling and with a body like hers, she easily fit right into the business. Not long after, she said yes to appearing in a couple of pornographic flicks, and that was it. Her career in the adult film industry began in October 2014, and by December of the same year, her videos had garnered millions of views on Pornhub.
Replacing Lisa Ann, a veteran actress in the industry with a huge impact, Mia Khalifa became the most searched personality on the adult site in just a couple of months. This saw her fanbase increase by five-folds.
An Unexpected Move to Sports Journalism
Going by her level of fame alone, quitting at the height she had attained may seem unreasonable to many, but the lady had her reasons. Mia Khalifa's exit from the adult film industry was as a consequence of her most popular video. Due to the controversial nature of her costume, she got more than she bargained for in backlash, including several death threats.
These threats opened the actress's eyes and she realized she wasn't interested in acting porn anymore, leading her to quit after only three months in the business. After quitting, Mia Khalifa took on several jobs to make ends meet before eventually settling into her interest, social media.
If this wasn't so terrifyingly communistic, I would say they were lucky to not have to be subjected to an Arsenal match https://t.co/Q7fraGklQG

— Mia K. (@miakhalifa) December 15, 2019
The notoriety attached to her name, combined with her often shocking take on sporting subjects quickly made Mia Khalifa a rising social media personality. Soon enough, her reach began to interest media outlets and she was approached to host several sports shows.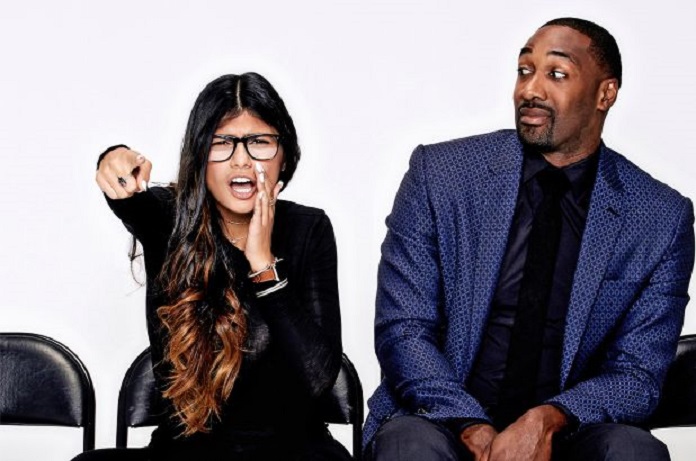 Notably, the social media sensation hosted Out of Bounds, a daily sports show, with Gilbert Arenas, as well as co-hosts SportsBall with RoosterTeeth's Tyler Coe.
Analysis of Mia Khalifa's Salary and Net Worth
Between her time in the pornography industry and her current career path, Mia Khalifa has managed to amass wealth in millions. Her net worth is estimated to be $3 million.
As for her salary, her official earning was never disclosed during her three months with her porn studio, Bangbros. Besides the aforementioned income sources, another avenue through which the young woman gets money is from her social media pages.
Riding on her popularity, Mia Khalifa makes money as a webcam model on websites like Findrow and Patreon. In addition to earning from premium subscription plans, Mia also earns from her YouTube channel, as well as live streams on Twitch.
The exact amount she earns as a sports host remains undisclosed as well but it has certainly contributed to her total net worth today.
Why Her Net Worth is Somewhat Low
Judging by how explosive her name was – still is – Mia Khalifa's current net worth would undoubtedly come as a shock to many. In mere three months, she not only managed to overtake colleagues who had been in the game for many more years, she somehow retained her fame too.
After she tendered her resignation in January 2015, following the worldwide recognition that made her the most-viewed female actress on Pornhub, most people expected her to leave with millions. However, as the former actress would later reveal, this was not the case.
Despite topping the rank of most searched porn stars on the internet, as well as on the said adult site, Mia Khalifa did not make much from porn. The online influencer revealed in late 2019 that she barely made $12,000 in total. According to the former adult actress, not a dime was paid to her in royalty for any of her content, despite how viral they went and how long they trended.
People think I'm racking in millions from porn. Completely untrue. I made a TOTAL of around $12,000 in the industry and never saw a penny again after that. Difficulty finding a normal job after quitting porn was… scary. Full interview here: https://t.co/xHK7SmhfrY pic.twitter.com/fwJlyzHznq

— Mia K. (@miakhalifa) August 12, 2019
One disheartening thing about fame, especially one acquired through a means as controversial as pornography, is how hard it hijacks one's identity. When Mia Khalifa decided to walk away from it all, she was probably not prepared for what she would meet out there.
With her porn videos all over the place, securing a job proved very difficult for her, especially with corporate organizations. Those that were willing to employ her used her popularity as a bargaining tool to pay less. These are only some of the challenges Mia Khalifa faced before she transitioned into her new career path.
As a result, most of Mia Khalifa's total wealth today comes from her post-pornography endeavours, in spite of it, and not necessarily because of it. This explains why her net worth is so low in comparison to what one would expect from a celebrity as popular as she is.
Highlights of Her Career
Military Academy
Whataburger (2014)
Number One Performer (2014)
The Washington Post
Women's Right in Libanon
United States Ambassador to Saudi Arabia (2016)
Out Of Bounds (Daily Sports Show, 2017 to February 2018)
Co-host SportsBall alongside Tyler Coe (2018)
Ramy (May 2020)
Profile Summary
First Name:
Mia
Last Name:
Khalifa
Estimated Net Worth:

A little over $3 million
Salary:
Unknown
<strongSource of Wealth:</strong
Webcam modeling, her YouTube channel, live streams on Twitch, job as a sports commentator
Last Updated:

2021
Also Known As:

Mia Callista
Sex/Gender:

Female
Profession:

social media personality, sports commentator, webcam model, and former pornographic actress.
Famous For:
Being a p*rnographic actress and having appeared in numerous adult videos
Colleges/Universities Attended:

University of Texas at El Paso
Educational Qualifications:

Bachelor of Arts degree in History
Religion:

Unknown
Birthday & Zodiac

Age/Date of Birth:

30 years old (February 10, 1993)
Zodiac Sign:
Aquarius
Birth Place:

Beirut, Lebanon
Nationality:
Lebanese-American
Ethnicity/Race:

White
Country of Residence:

USA
Physical Attributes

Height:

5 ft 2 in or 157 cm
Weight:

55 kg or 121 pounds
Eye Colour:

Black
Hair Color:

Dark Brown
Other Body Measurements:

40-26-36 in or 102-66-91.5 cm (bust, waist, and hips)
Relationships

Marital Status:

Married
Spouse/Partner:

Unknown (m. 2011 div. 2016), Robert Sandberg (m. 2020)
Family and Relatives

Father:

Unknown
Mother:
Unknown
Children:

Unknown
Siblings:
Unknown
Other Relatives:

Unknown